There's practically nothing that I need less of in my life than coffee mugs. And I truly say that with only a small amount of sarcasm. The fact of the matter is that I've already got more than I need stuffed into our kitchen cabinets, so I have zero justification for adding more to my collection. Even still, I'm constantly pining after pretty mugs that I see in local shops and online, too. I just can't help but feel like a really beautiful mug helps get the day off on the right foot, so I thought I'd put together a list of the dozen mugs I wish I could buy in the hopes that you can adopt one of them into your own collection.
1. Wheel Thrown Porcelain Mug with Green Speckle Glaze
3. Handmade ceramic mug in sandstone
7. Ceramic Porcelain Tea or Coffee Cup
10. Ready-to-ship blue drop mug
Are you a mug person? Or, maybe more importantly, are you a coffee person? I can't start my day without a little caffeine. No, really. I get a terrible headache if I skip my morning cuppa Joe, so it has become a natural part of my morning routine. I barely even think about it. I'd like to get into the routine of an evening cup of hot tea, so that's next on my to-do list come fall. Let me know which of the mugs above caught your eye in the comments below!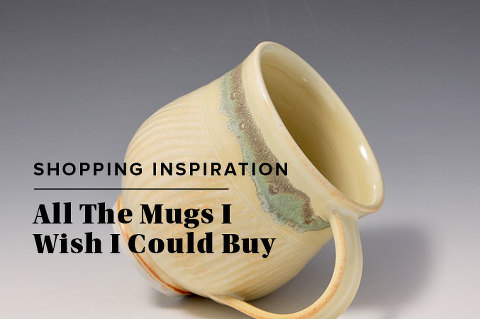 *I earn a small percentage from purchases made by the affiliate links above. Affiliate links are not sponsored. You can rest assured that I would never recommend a product that we don't use and love ourselves.