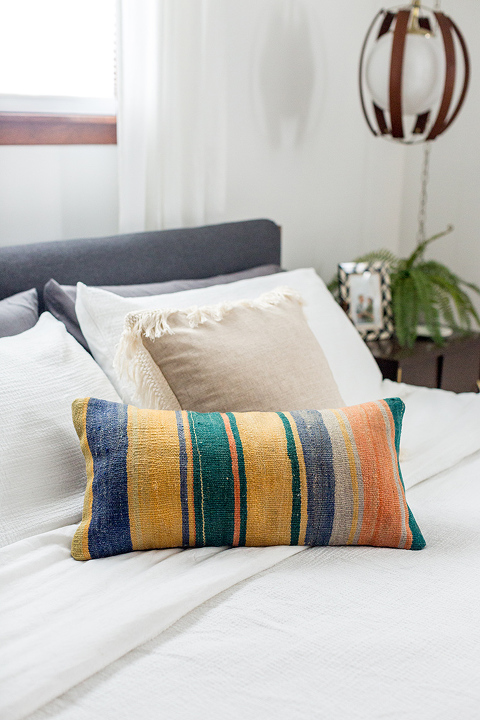 When you change the linens on a bed in your home, what's your typical routine? Do you strip the bed, wash the sheets (and duvet or comforter, too, if you can), and then put the same set back on later? Or do you have two sets of bedding for each mattress so you can strip the bed and immediately remake it while the laundry is going?
John and I started off doing the former, but have recently switched over to the "double set" routine. I love being able to remake the bed right away with clean linens, that way I don't have to look in on a stripped mattress all day while I wait for the laundry to finish. This method also allows me to take my time with the laundry since I'm not so rushed to remake the bed right away in order to sleep in it that night.
Still another reason why I'm so excited to have made this switch in our routine is that it allows me to change up the look of a room each time I wash the bedding. In other words, our second sets aren't exact replicas of the first. I've picked out different styles of bedding for each of the two mattresses in our home so that I can do a subtle change-over to new colors or patterns with each load of linens I run through the wash. To show you what I mean, I'm sharing our king size bed below styled two different ways, depending on which set is in the wash.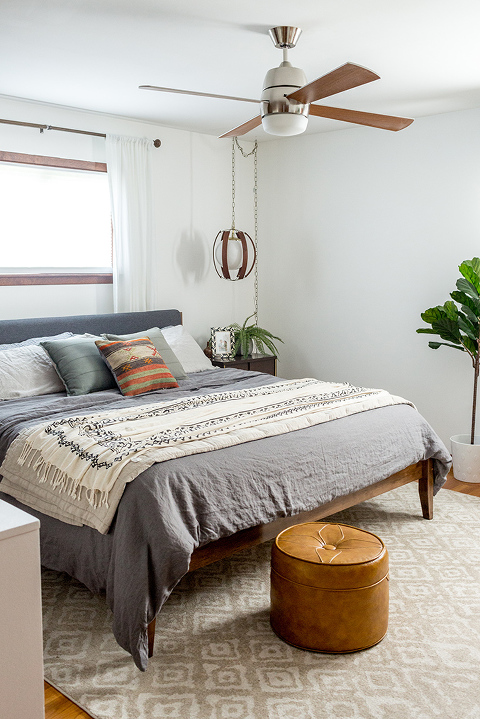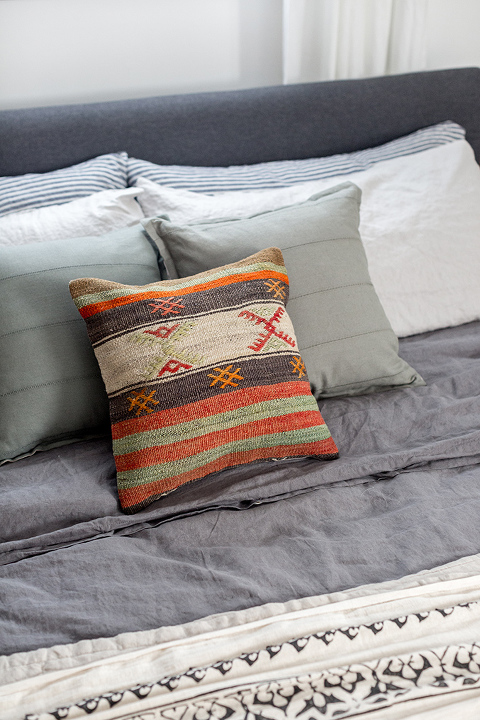 First up is the look we enjoy most often—darker, more pattern-heavy bedding. You might remember that this was all inspired by the One Room Challenge makeover I revealed back in May. I started with a rich gray duvet, then layered a lighter-colored throw blanket and quilt at the end of the bed to break up that moody gray foundation. Then, for the functional pillows I chose a combination of light gray shams and striped navy and white ones. The decorative throw pillows on top brought in pops of color, like sage green, terra-cotta red, and orange.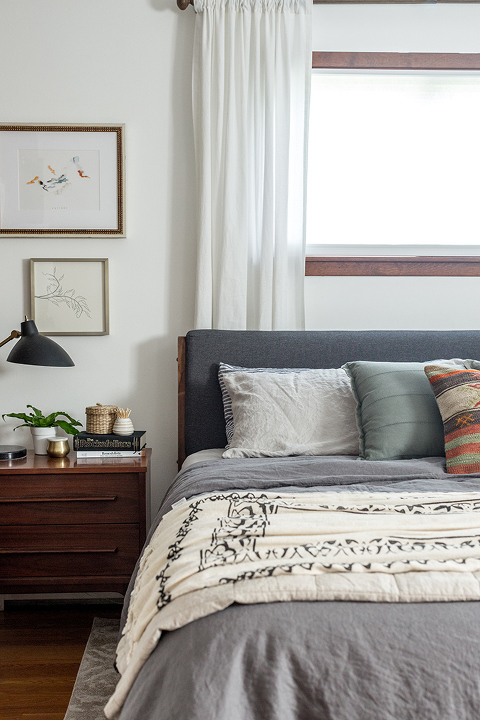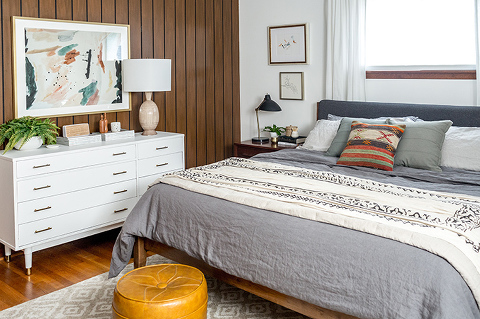 We love this look for every day because the darker duvet helps hide the inevitable pet hair that builds up on the bedding. We've never been a pets-off-the-furniture type of family, so we tend to maintain clean bedding with regular laundry days and darker colors to mask the worst of the pet hair. Speaking of laundry, though, let's take a look at the alternative bedding we have set aside for our king bed when the "everyday" set is getting all cleaned up in the wash.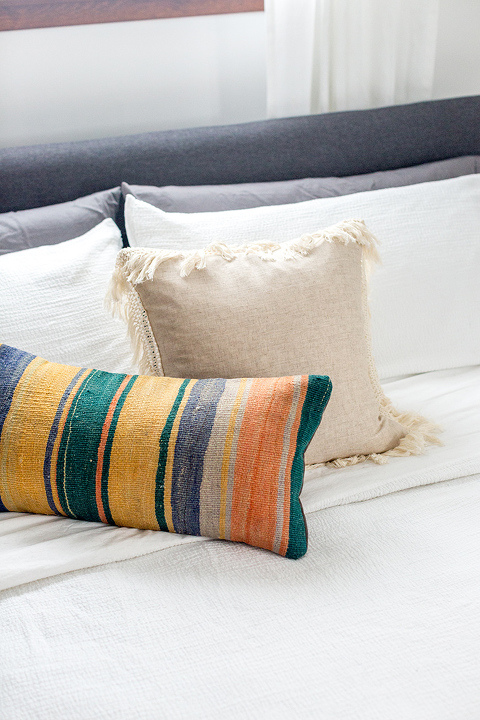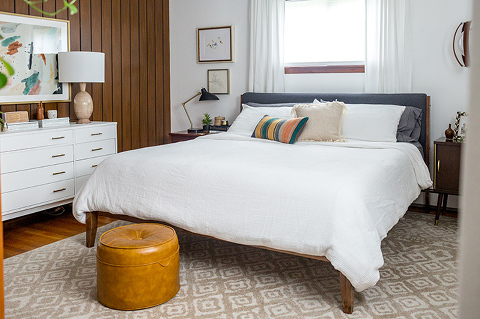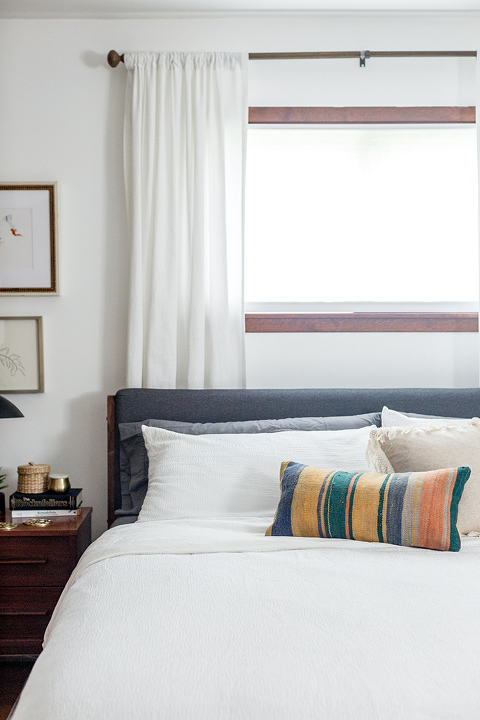 This second set is similar to the first, just flipped—dark sheets and pillowcases underneath and lighter-colored linens on top. As for decorative pillows, I keep things simple with a colorful striped lumbar pillow and a fringed oatmeal tone option to complement it. I don't have an extra set of throw blankets for the end of the bed in this look simply because I don't want to over-stuff the dresser in which we store our extra linens. I don't think it really needs the extra layer of pattern or color, anyway. That continuous white duvet looks so fresh all on its own.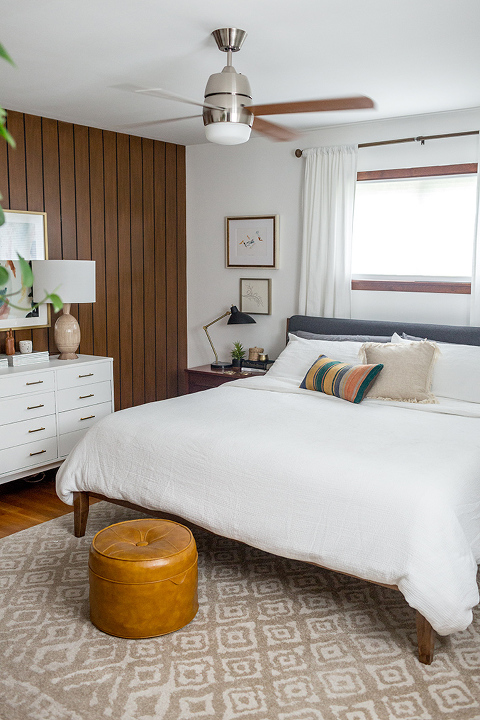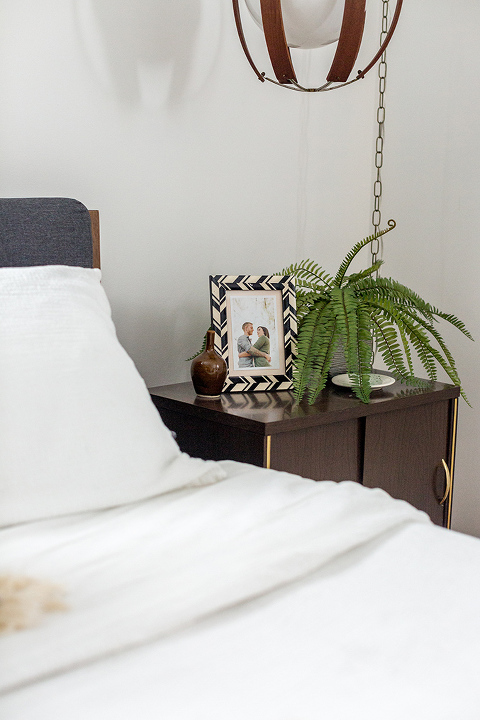 The light and airy option you see above might actually be my favorite of the two just because it's a nice change from the darker duvet we use most of the time. I'm sure you can guess why it's not quite feasible for everyday use, right? The pets!
While I'd love to enjoy white bedding (and, for that matter, white chairs, white rugs, white sofas, etc.) it's just not possible in a home that plays host to four animals. It's a trade-off I'm more than willing to make for our fur babes, though, so I manage to satisfy my love for mostly-white linens with this second look while the regular bedding is in the washing machine. It has turned out to be the perfect happy medium.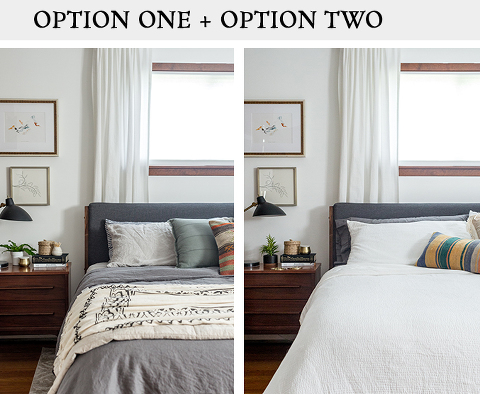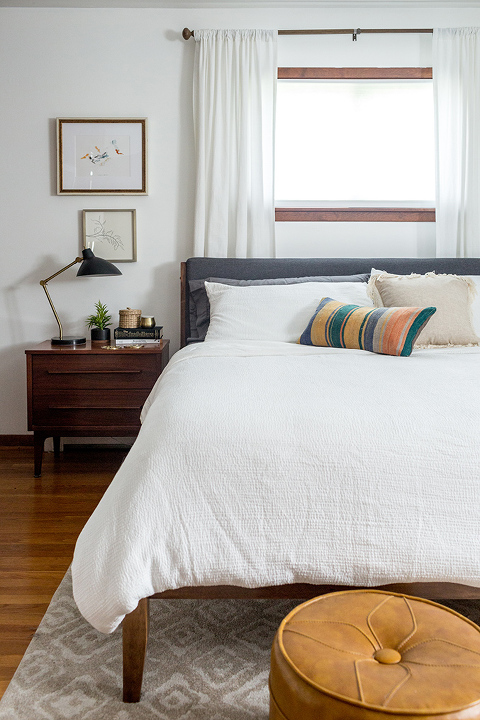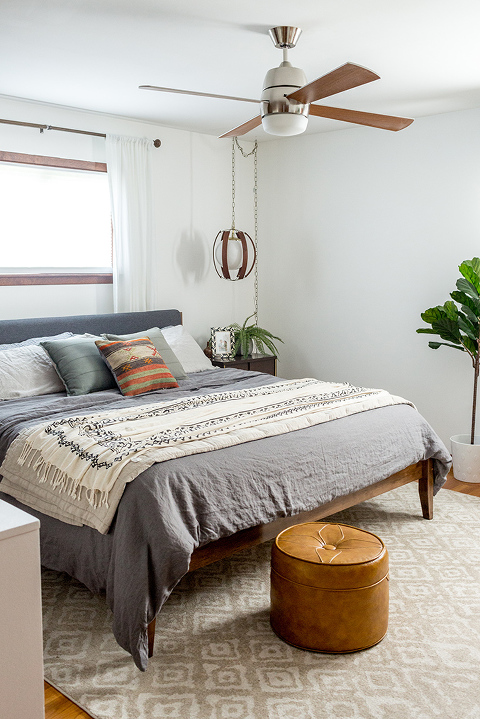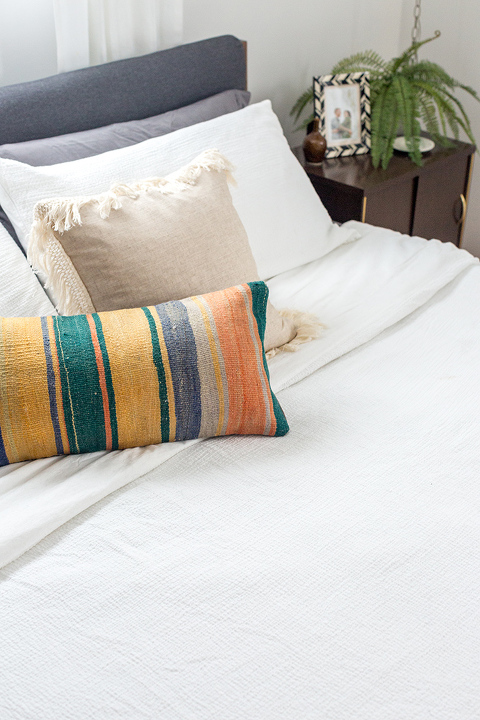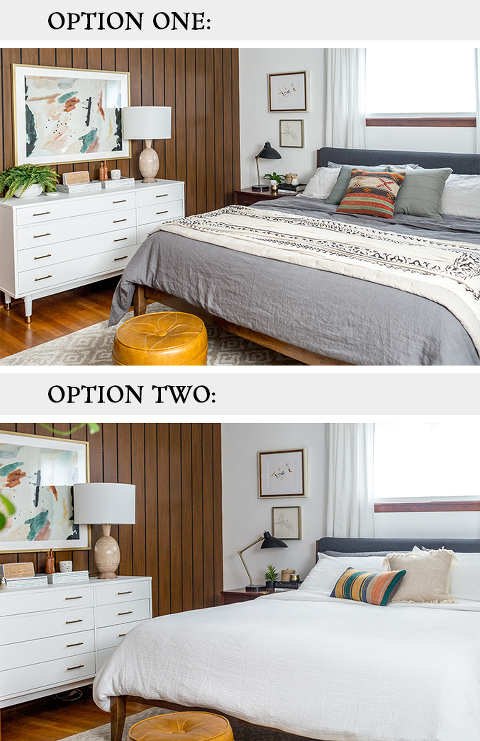 I'm really curious to hear which of the two looks is your favorite, so please feel free to let me know in the comments below. I'd also love to hear about your linen-washing routine. Do you keep multiple bedding options for the mattresses in your home, or do you save on space (and budget!) by keeping just one for each? I definitely don't think there's any one right way to do things, and I'm sure you all probably have all sorts of clever solutions for laundry day, so do tell below!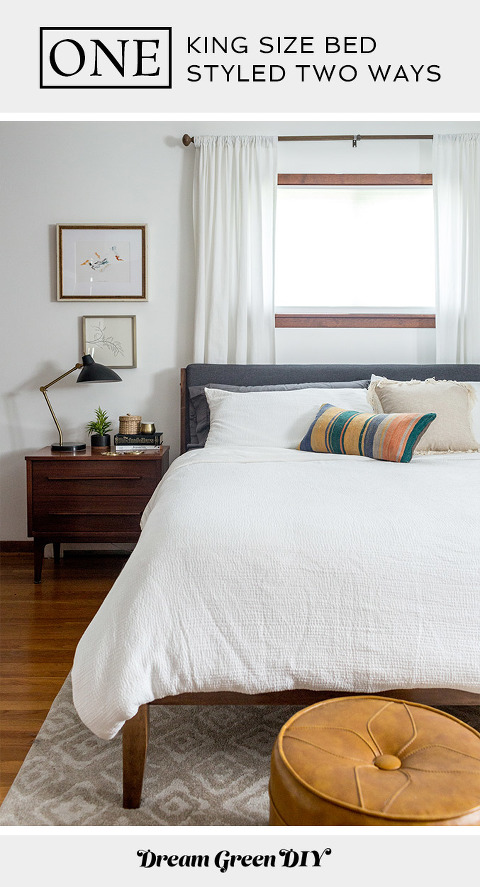 *I earn a small percentage from purchases made by the affiliate links above. Affiliate links are not sponsored. You can rest assured that I would never recommend a product that we don't use and love ourselves.