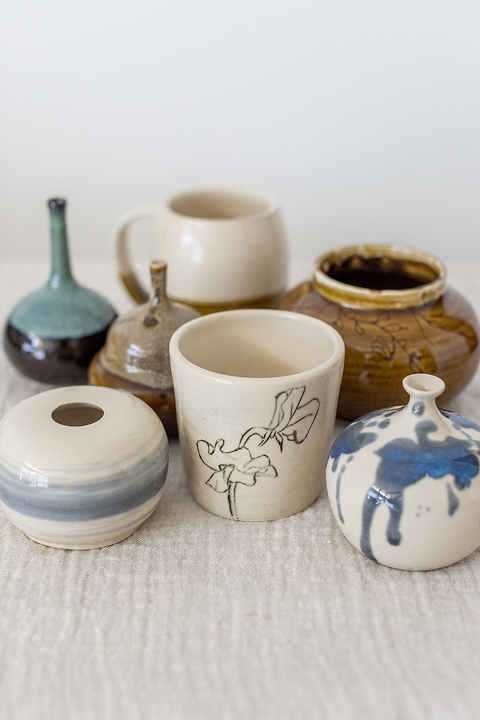 Well, it's official! I'm no longer titling these posts "What I Made In My ___ Pottery Class"! That's not to say that I won't be taking any more classes. I definitely need to keep learning in a classroom setting. BUT I think it's high time that I start calling these little groups what they are: collections.
I know I'm starting to sound like a broken record, but when I first started out in January, I really had no idea that I would still be making pottery eight months later, so I always assumed there'd be an end to the whole "What I Made In Pottery Class" series. Turns out that's not the case, though, because I absolutely love ceramic-making, and don't plan to slow down any time soon.
Keep scrolling to see my most recent roundup of finished pieces from the studio, and you'll also get to hear my biggest pottery announcement yet!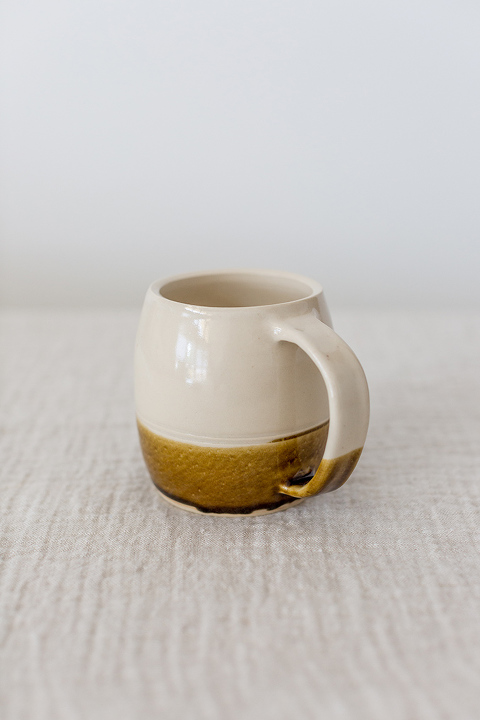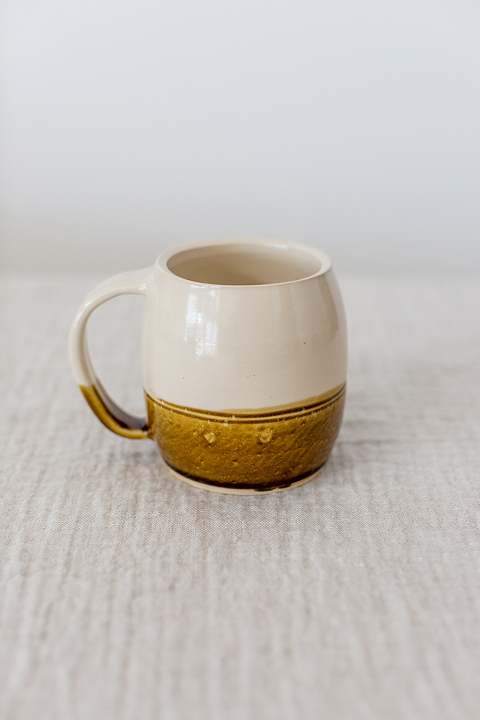 Mugs are still something I only do occasionally, mostly because there's a little bit of pre-planning that goes into them and I tend to run out of time. In a nutshell, the mug body and handle are made separately and attached later on after the mug body gets trimmed up. They both need to be generally the same in terms of dryness, and I often miss the boat on that. Happily, I managed to get one assembled just in time for this latest batch. I'm smitten with the etched lines in the middle. What do you think?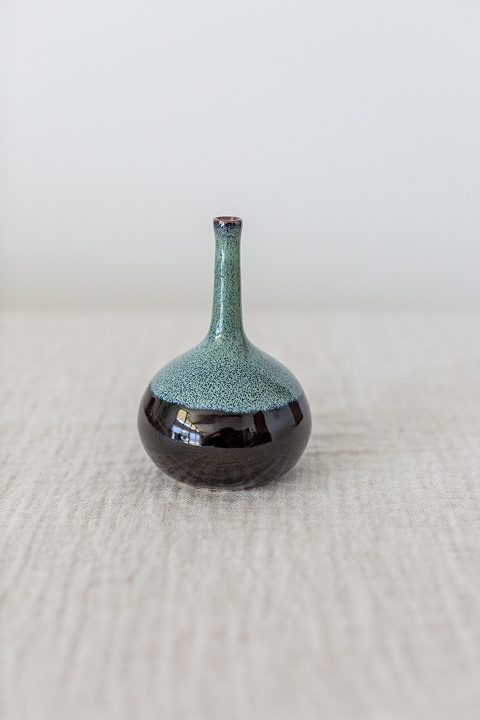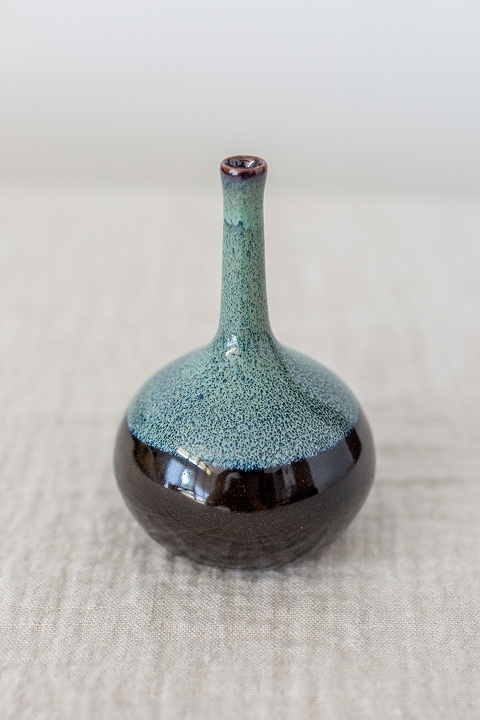 Lately, I've been a little overwhelmed by too many glazing ideas and freeze up when it comes time to actually finish the pieces off. There are just so many beautiful techniques to experiment with, so I sometimes find myself wandering the studio looking at other members' work for help with spontaneous decision-making.
The half-blue, half-black bottle you see above was a direct copy of a demo piece the owner had sitting out in the glazing room. Although I can't take even an ounce of credit for it, I love how the finished bottle turned out, and am excited to try other two-toned looks later this year.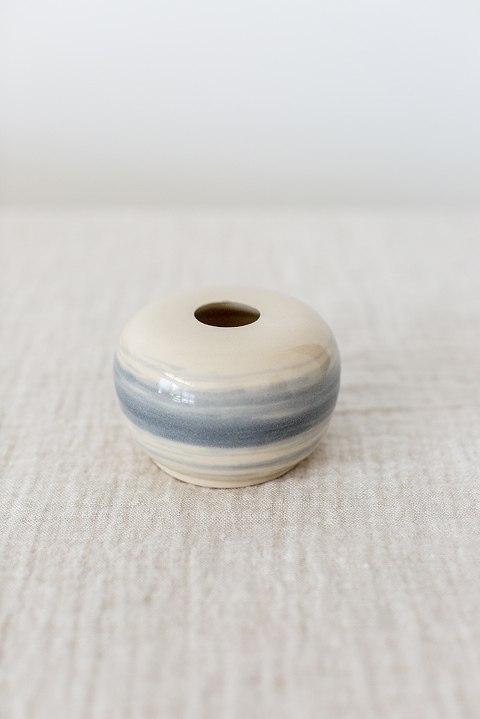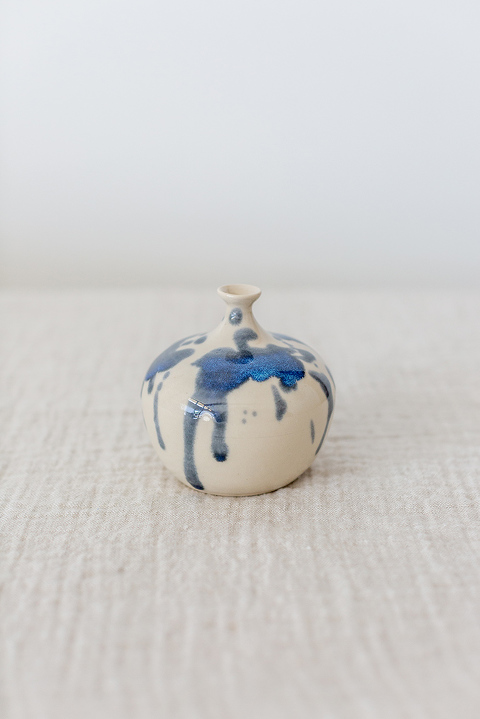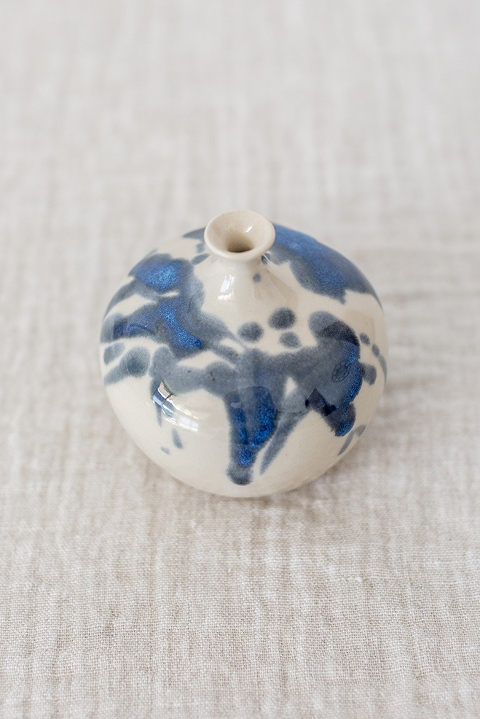 Those two above are slightly simpler in terms of color, but I'm still all for it. I'm really drawn to the blue color of the decorative accents (see how it sort of shimmers in the thicker drops on that vase?!), and I'm very much into the fact that the clear glaze lets all of the natural imperfections in the clay show through, too.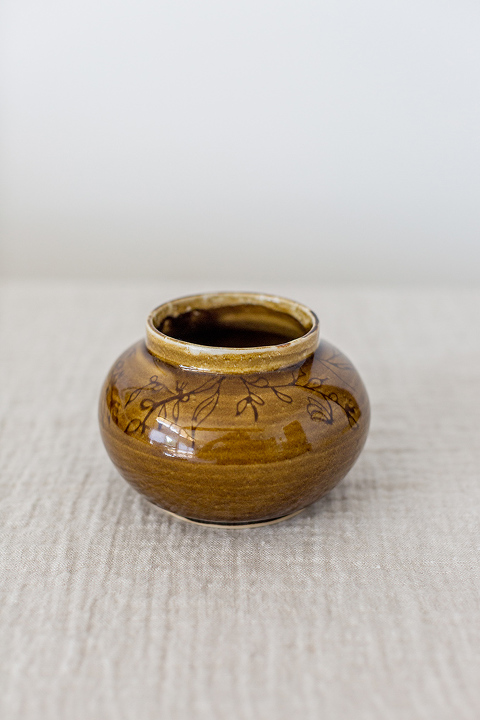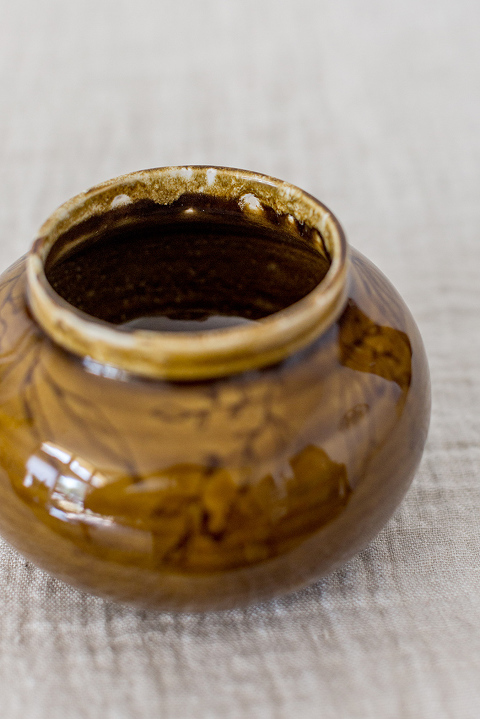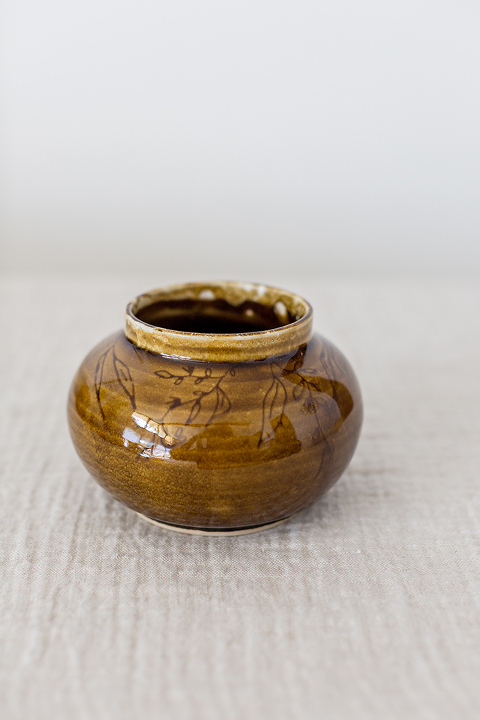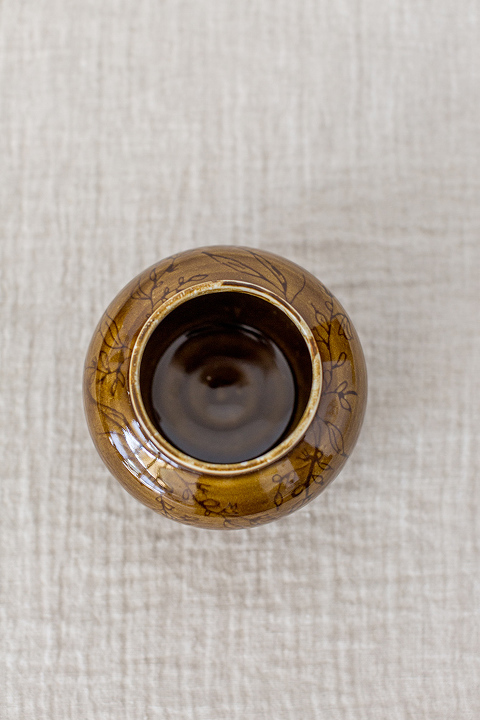 This larger bowl vase was another new technique I tried out that was inspired by a demo piece the owner had sitting in the glaze room. To get the effect, I dipped the vase in clear glaze, and then scratched the floral pattern through the glaze so that bare clay showed through. Then I dipped the vase in brown glaze. The brown is darker where I scratched through to the bare clay, and looks lighter where it layered over the clear glaze. I might try a similar technique in my next batch with a lighter color, like blue or green.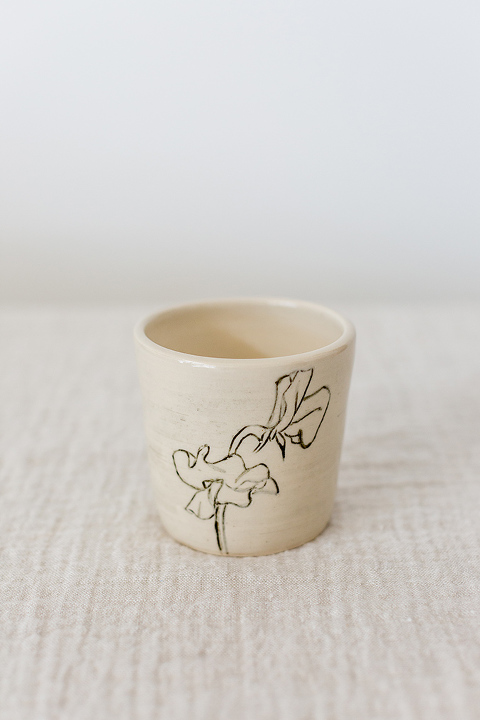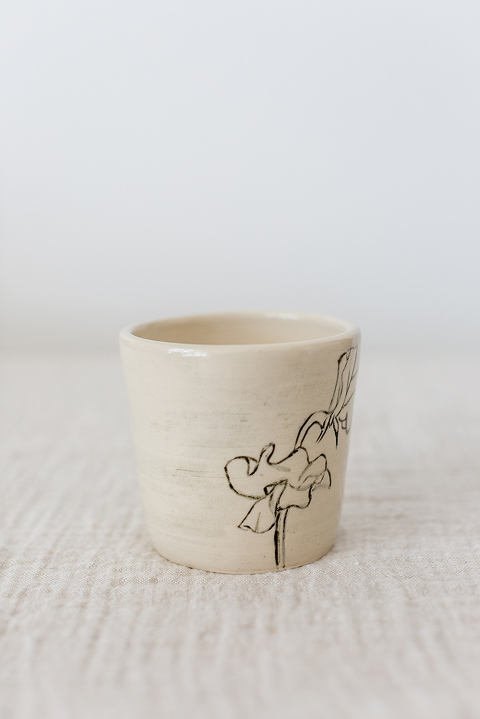 My favorite piece of this particular collection might just be that flower vase above. I wanted to see if I could get the look of a charcoal drawing over paper, and think I somehow managed to pull it off by filled the carving with black glaze, and then using clear over top. It's pretty minimal and neutral, but I can't help but fall in love with the simple finished vibe.
At any rate, I really hope you're enjoying these peeks at my ever-growing pottery collection. It has been so thrilling to watch my ceramics shelf fill up with each passing week, and I can't wait to finally let you guys in on the mix, too.
Speaking of, are you ready to hear my biggest pottery news yet?! DGD Pottery will officially open for business via Etsy on Tuesday, October 9! If you're a Dream Green DIY newsletter subscriber, you already heard the exciting news, but I wanted to let the whole world know today in honor of the reveal of my first "official" collection. I'll be sharing much more about the shop opening soon, but in the meantime you're invited to sign up for the DGD newsletter here for early access and news. Thanks, as always, for your support—I couldn't do it without you!