I go through phases when it comes to buying clothes. Six months or more might go by without purchasing a single piece for my closet, but then I think to myself, "Self, it's been an awfully long time since you treated yourself to something new…" and I'll go out and purchase enough clothing to redo my entire wardrobe! That's a slight exaggeration, but it's definitely not a good cycle to be in, so this year I'm focusing on creating a collection of pieces that will keep my closet feeling exciting, whether it's filled with new pieces or not.
I've lately been tricking myself by stowing off-season clothing away so that, when the weather changes and I make the switch, all of those items that were hidden away in boxes and drawers feel brand new to me—at least mentally. I just pulled all of my fall and winter clothes out of storage yesterday, and there were pieces in there that I had forgotten I even owned. There were even a few tops and sweaters that I bought on clearance at the end of last winter that still had the tags on them so they truly are brand new!
Anyway, this method is working wonders on me in terms of curing my previous bad shopping habits, so I figured it might be worth mentioning in case it inspires you to do the same. Now that I have all of my seasonal clothing out where I can see it, I'm making a REALLY SHORT list of the pieces that I might want to treat myself to (like one or two pieces, max) to fill in the holes. Here are 12 of the pieces currently on my short list.
Cozy Fall Staples To Stock Up On
2. Bubble-Sleeve Sweatshirt Dress
3. Juliette collarless sweater-blazer
6. Long-sleeve everyday cashmere crewneck sweater
7. Balloon-Sleeve Pullover Sweater
10. Dreamy cotton pajama set in stripe
11. Mock-Neck Rib-Knit Swing Dress
I'll tell you one thing…I'm definitely not cured because I would love nothing more than to buy every single piece on that list above. I'm making serious progress, though, because I just saw sale announcement emails pop into my inbox from both Madewell and J.Crew, and somehow managed to delete them without falling prey to the lure. What are your seasonal clothing habits? Do you have a particular weakness for any one brand? Do tell in the comments!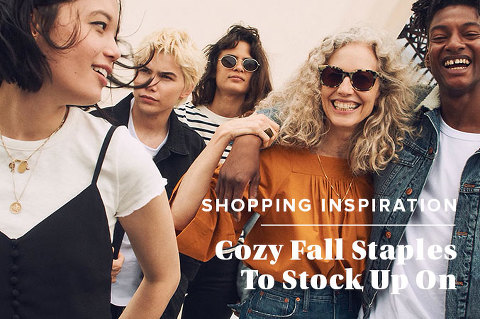 *I earn a small percentage from purchases made by the affiliate links above. Affiliate links are not sponsored. You can rest assured that I would never recommend a product that we don't use and love ourselves.