Ummm, so it's fall. Like, very suddenly fall! I'm totally okay with it, but was a little taken aback by the sudden shift in temperature this past weekend. We went from consistent 70- and 80-degree days, to mornings in the 40s and daytime highs hovering around 50. The crisp air is a welcome change, but I'm scrambling a bit to officially change both our home and my wardrobe over to suit the cooler weather. What does that entail exactly? Well, let's just say I'm sitting here in my office dressed practically head to toe in wool, and I'm also cuddling up close to the one faux fur blanket we keep handy for fall and winter.
Which, of course, is the perfect segue into today's topic: faux fur textiles. Below I'm rounding up 12 of the fluffy pieces I'd love to add to our collection. Animal print seems to be really trendy this season, so I included at least one or two items that feature that telltale wild palette or pattern. Which is your favorite?
12 Faux Fur Home Accents For Fall
3. Faux Fur Electronics Storage Bean Bag Chair
4. Snow Leopard Print Faux Fur Pillow (has since sold out, but here's something similar)
5. Faux Fur Oversized Throw Pillow
6. Broken Stripe Long Faux Fur Bedding Set
7. Charlita Faux Fur Bar Stool
9. Royale Surf Stripe Faux Fur Throw Blanket
11. Reafort Faux Sheepskin Rug
12. Sheared Stripe Faux Fur Throw
If I could only pick one from the list, it would have to be that black and white Snow Leopard Print Faux Fur Pillow. Unfortunately, it looks like it sold out since I prepped this post late last week, but I've got my fingers crossed for a restock. If you can't wait, here's a similar option that gives you the look for less than $30. Tell me about your favorite faux fur pick in the comments below.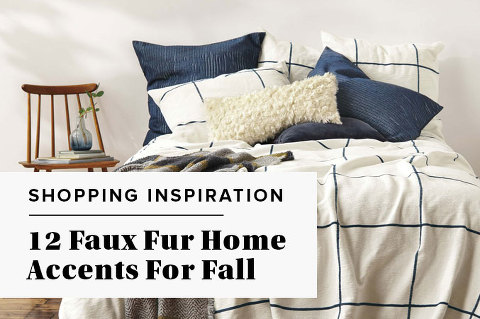 *I earn a small percentage from purchases made by the affiliate links above. Affiliate links are not sponsored. You can rest assured that I would never recommend a product that we don't use and love ourselves.