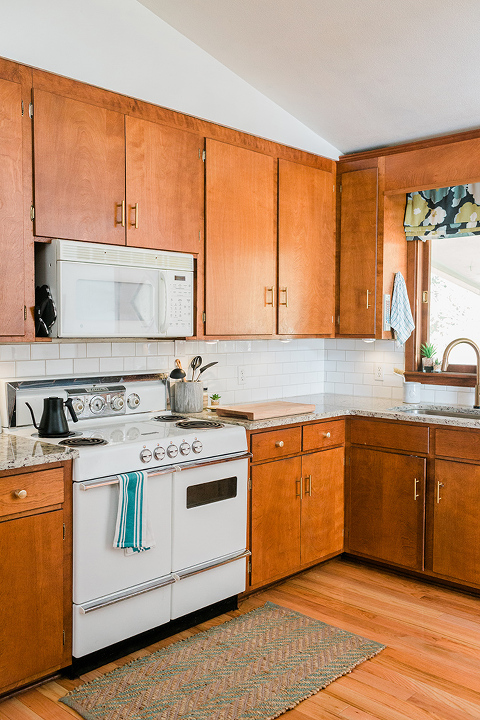 I don't know about you, but I really struggle when decorating a kitchen. I'm all about pretty thrifted art, overstuffed upholstered seating, and cozy textiles, but you really can't put much (if any) of that in a kitchen. Walls are typically taken up by cabinetry so there's no room for art, and there's usually not enough space for a seating area filled with throw pillows and blankets. The other issue I run into when decorating a kitchen is that I can't stand cluttered countertops, so even cute "for looks" tabletop décor makes me go cross-eyed.
As I explained last week, I decided to really buckle down and try to crack the kitchen code when it comes to décor, and today I'm excited to reveal the new updates in partnership with Tuesday Morning. After stepping back to survey the results post-styling and rearranging this past weekend, I'm finally comfortable calling this room "done"—and just in time for Thanksgiving, too! Scroll on for a few of my biggest takeaways from this project.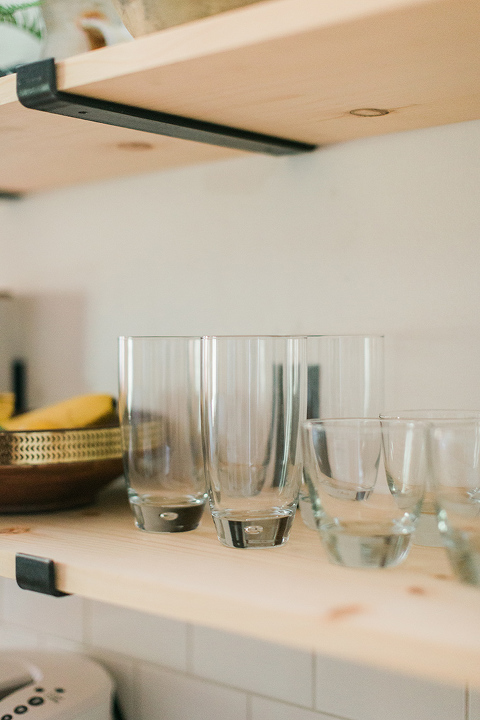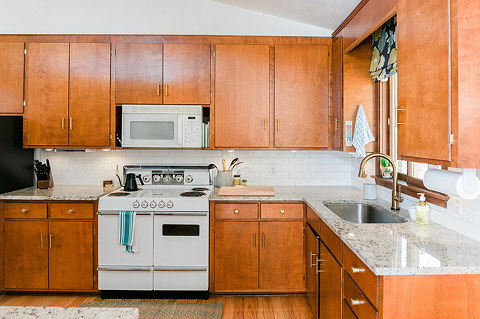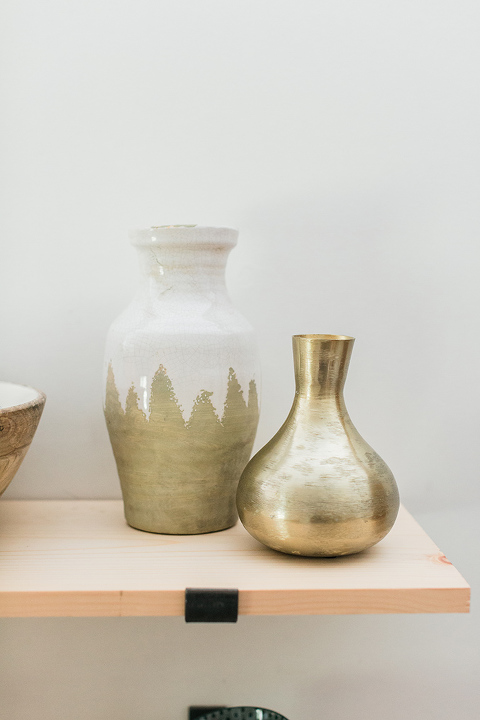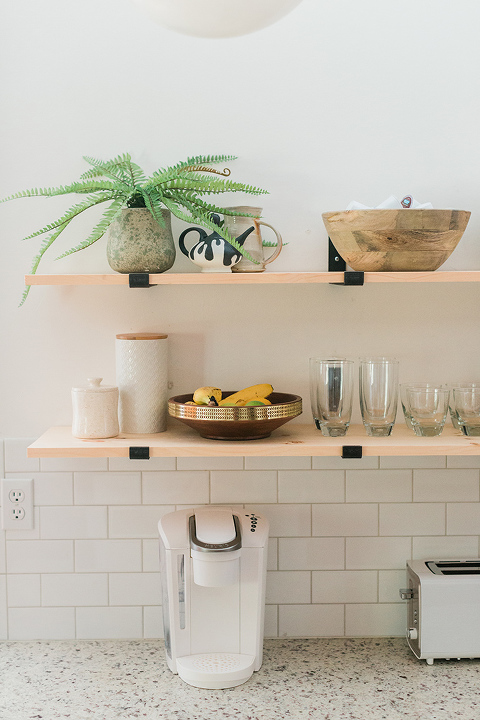 Hidden Storage
I figured I'd go ahead and start with one of the most obvious ways to add function to a kitchen: hidden storage. Things like lidded baskets and ceramic jars are great for hiding extra kitchen rags, dry ingredients, and even pet treats.
As an example, I picked up a tall white ceramic container at Tuesday Morning for $14.99 (compared to $36 full price!) that I'm now using to hide Rocky's dog bones in. The retro-inspired pattern on the side is so perfect for our 1960s kitchen, and you'd never think that it held smelly, crumbly dog treats.
I also grabbed a marble jar from the bath aisle (priced in-store for $9.99, $20 retail value) that I use for sugar nowadays. The marble pattern is so much prettier than the wrinkled sugar bag I would otherwise have had to plop out on the shelf.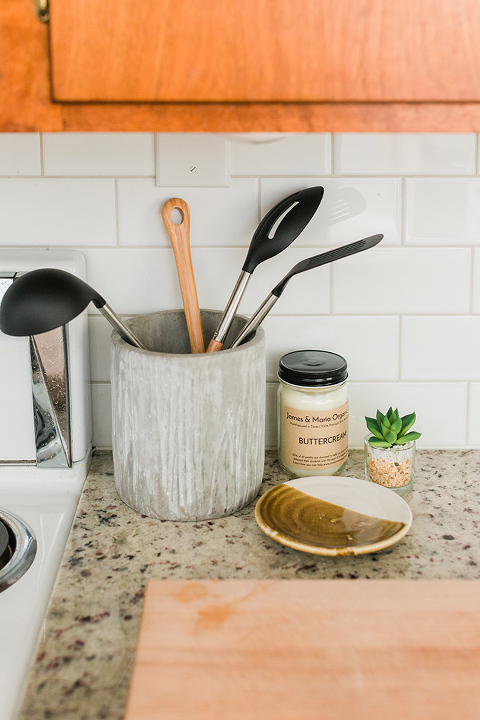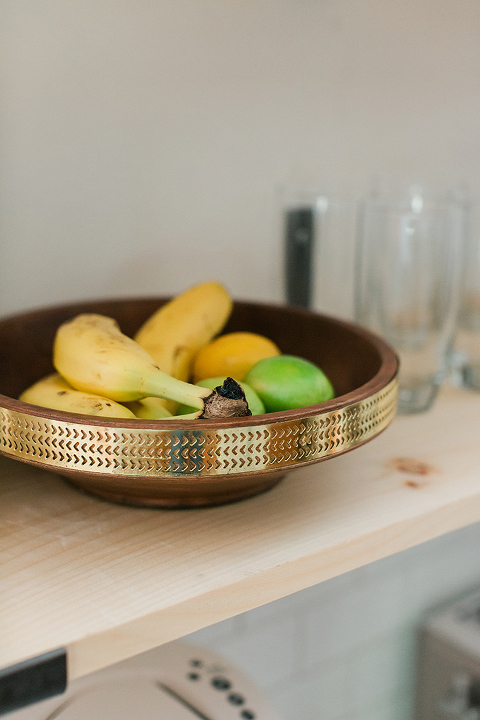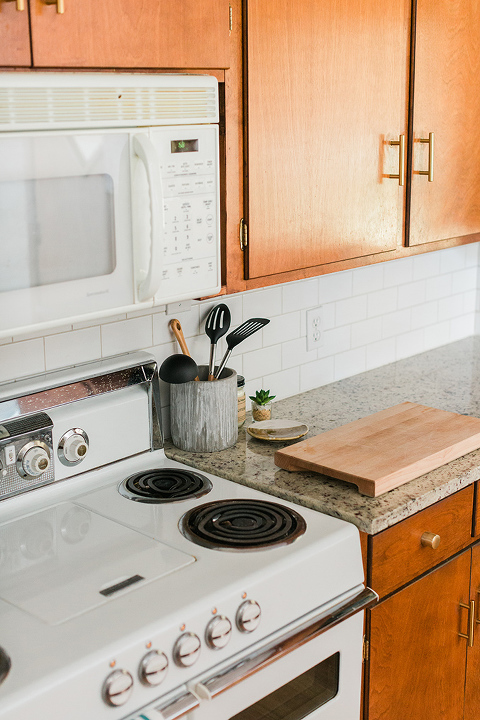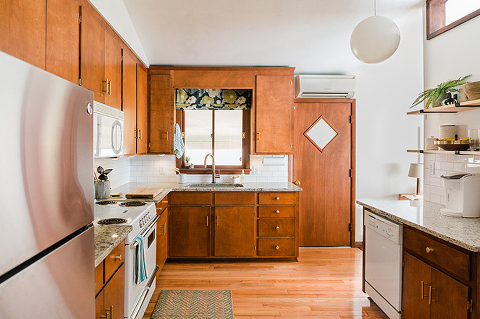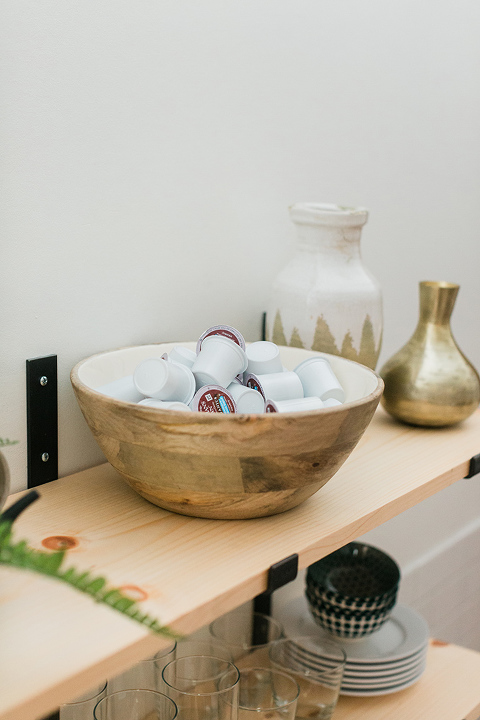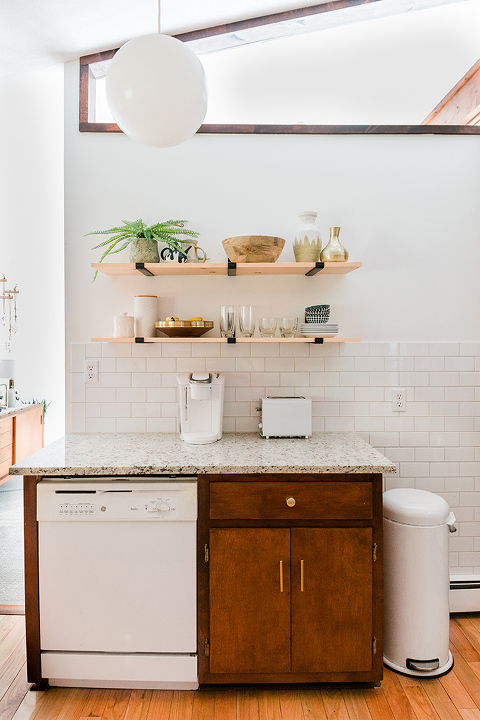 Exposed Storage
On the other hand, hidden storage isn't the only way to make use of countertop and shelf square footage. I also love having select items at-the-ready in exposed storage—things like open bowls and metal baskets—so I can grab them at a moment's notice.
One of my favorite purchases from my shopping trip was the wood and brass bowl we're now using as a fruit container. The rich wood tone of the bowl speaks to our cabinetry, and the punched-out design in the brass rim accent is so eye-catching. I also love that it was marked down from $54.99 to $29.99.
Another exposed storage upgrade we made was where our coffee pods are concerned. At the last second, I grabbed an oversized serving bowl from the kitchen aisle (cost me $19.99, compared to $35 full price) that we use for our Keurig K-cups. It's a lot easier to pick one off the top of the pile first thing in the morning instead of having to dig around in a cabinet for the box of pods. Oh, and I should mention that the name brand K-cups, themselves, came from Tuesday Morning, too—at practically half price. I'm not making this up.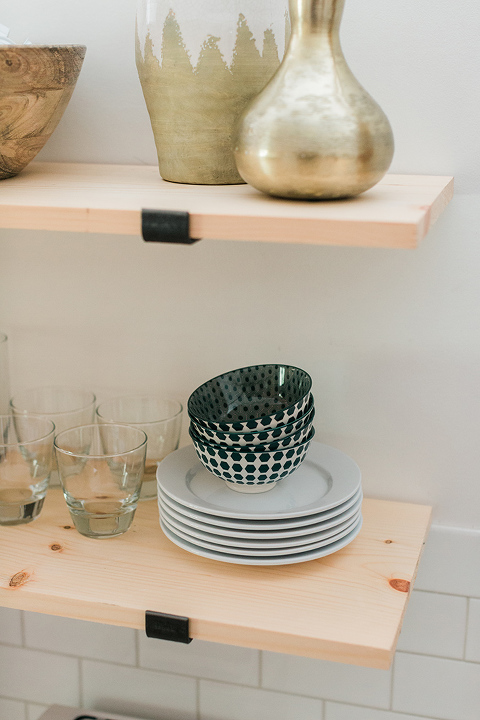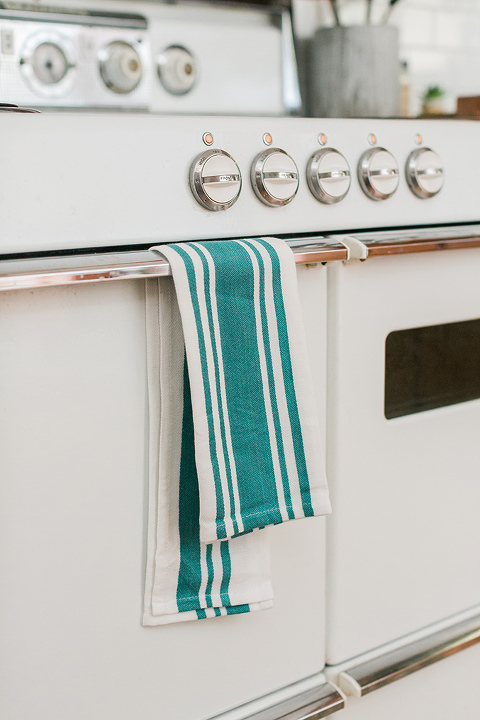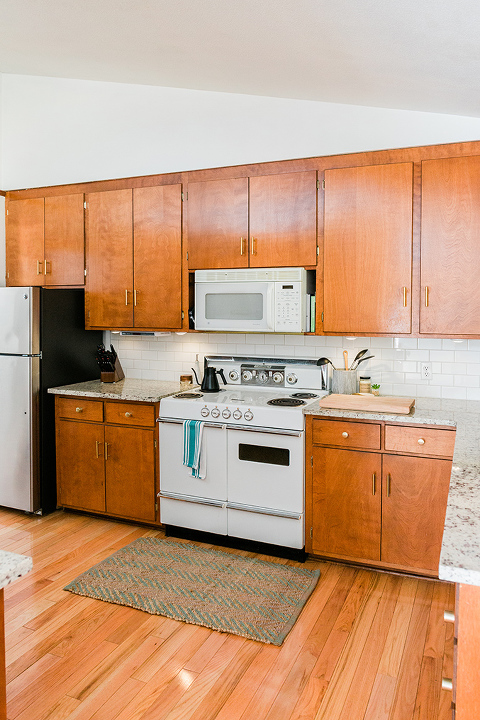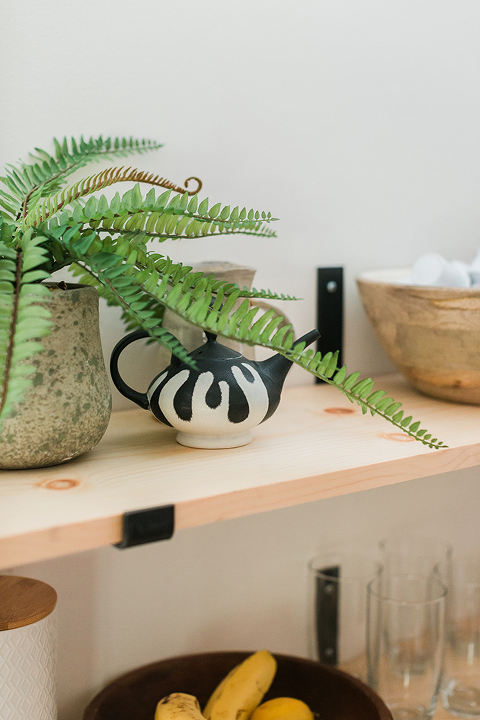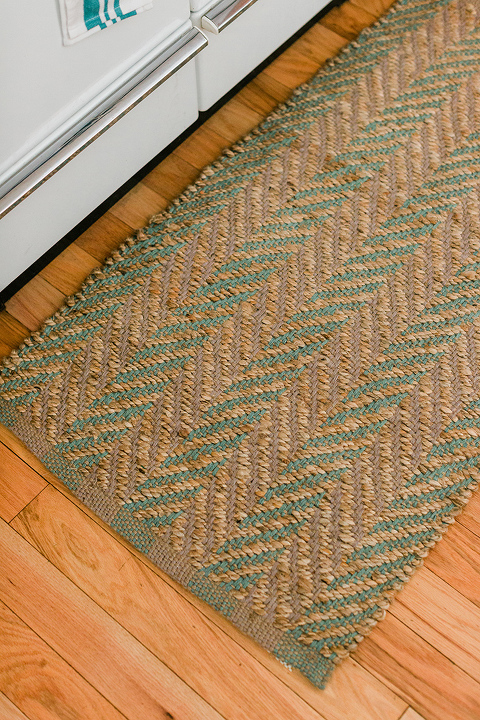 Soft Textures
I know I mentioned that you can't have soft textiles in a kitchen, but that's not altogether true. I lingered for an extra long time in the towels section in-store to make sure I stocked up on pretty towels for our kitchen that would add a bit of color and texture. I also chose a pair of black and white check oven mitts while I was at it ($5.99, compared to $14.99) because we keep those out by the stove and I wanted them to look just as nice as they functioned.
Of course, another place to add softness in a kitchen is on your floors. I knew I wanted to lay down a rug in our space—something that pulled the blue color from our curtains—and I think I found the perfect one. The jute rug I grabbed has a modern zigzag pattern in it that I love, plus that blue hue I was looking for, but it's not so bold that it distracts from the rest of the space.
Here's another random tip for you: pick up an ergonomic kitchen mat to lay underneath your main rug! It doesn't have to be pretty or expensive—in fact, I grabbed mine from the clearance section—because you'll never see it, but your feet will really come to appreciate that extra cushion when you're slaving away over dinner.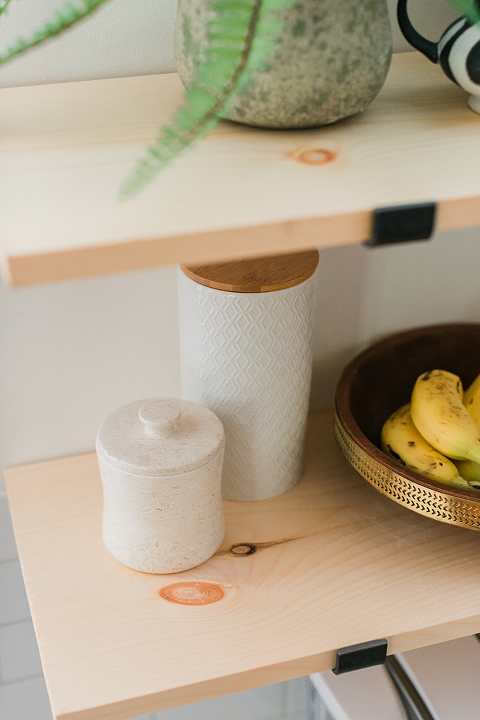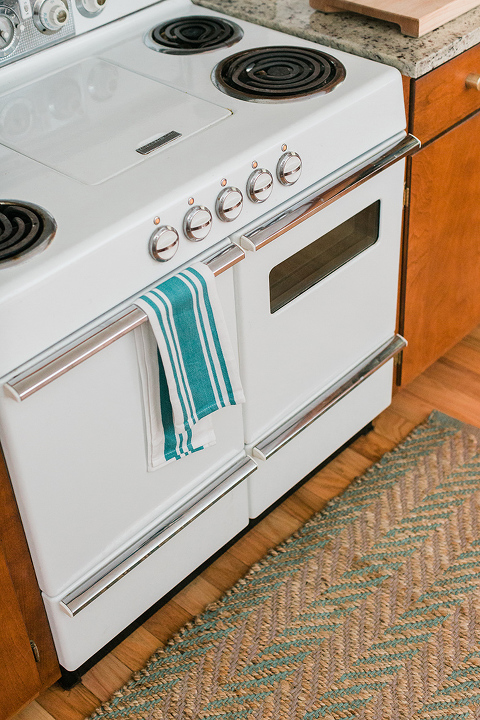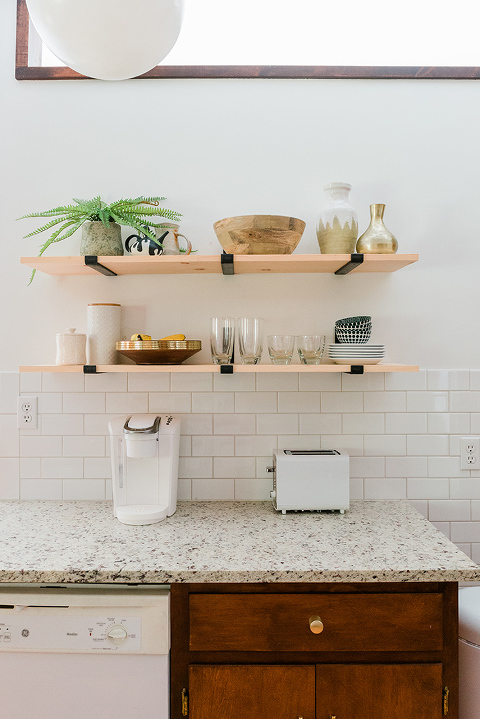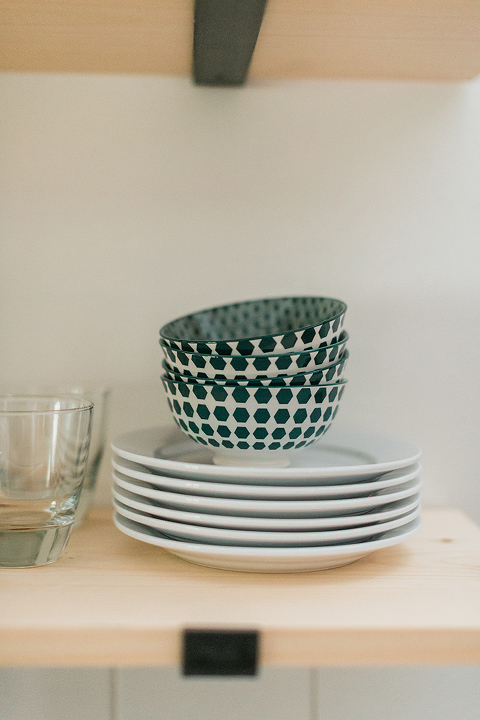 Maximize Wall Space
I finally got around to upgrading our DIY open kitchen shelving, which has really helped me maximize the empty wall space we originally had in our kitchen. Now the extra deep shelves have plenty of room for stacking extra plates, bowls, and cups on, and we don't have to worry about opening the kitchen cabinets when we want a quick snack or easy lunch.
I bought six white plates for $2.99 a pop and a set of four cereal (read: ice cream) bowls that cost $3.99 each. I also added eight new glasses to our collection since we seem to go through those too quickly for our dish washer to keep up on a weekly basis. Oh, and don't worry—I plan to share the full tutorial on how to hang and style those shelves in just a couple of weeks!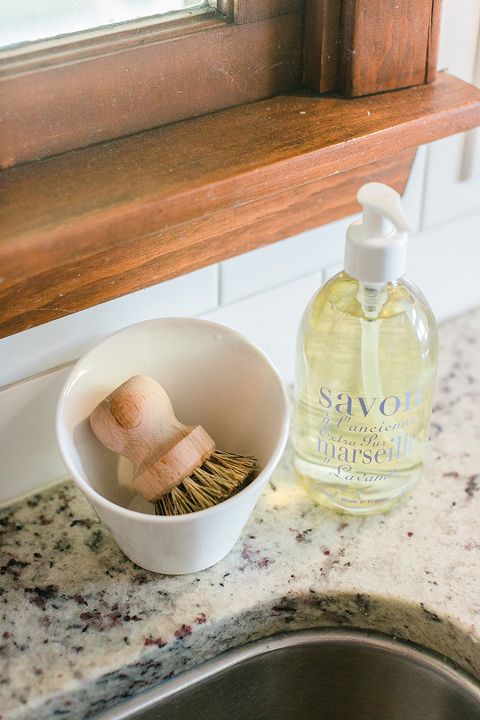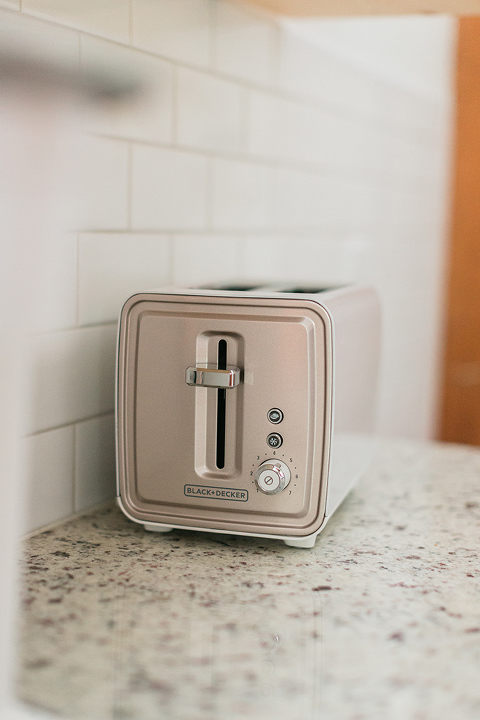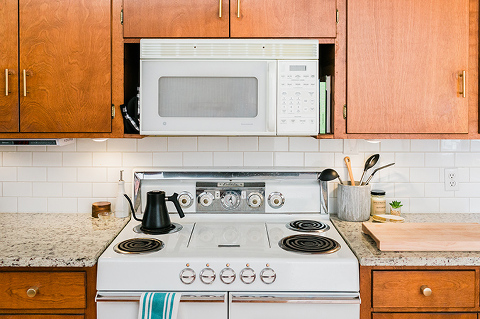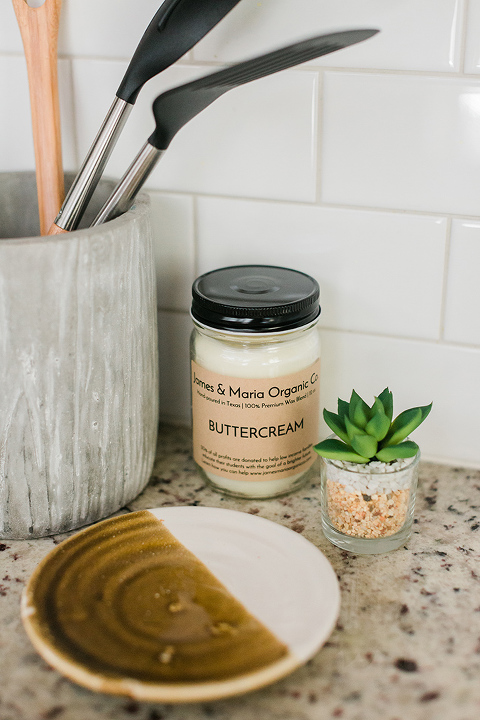 Blend-able Neutrals
To me functional décor needs to look nice but also serve a purpose. I'm over the whole "just for looks" decorative phase I was in for so long, and want to make sure every item in our home serves a real function. So, I tried to keep that in mind when choosing replacements for some of the pieces in our kitchen that were looking a little worse for wear.
One way I managed to make the more boring purchases for our kitchen look great, too, was through color—or, really, lack thereof. Our toaster, for example was pretty dingy, so I knew I wanted to replace it. The new one I picked up for $17.99 (compared to $49.99 originally) sports this really nice rose gold face and a white finish on the sides, so it blends right in with the subway tile backsplash. You hardly even see it! I also picked up an angular white cup that we're using to hold our dish brush by the sink, so the dirty bristles are hidden from view and you see mostly just the glossy white finish of the cup instead.
When in doubt, grab items and containers that match your backsplash or cabinetry (like the new set of wooden-handled utensils I bought and now keep by the oven) so they don't shout, "Look at me! Look at me!"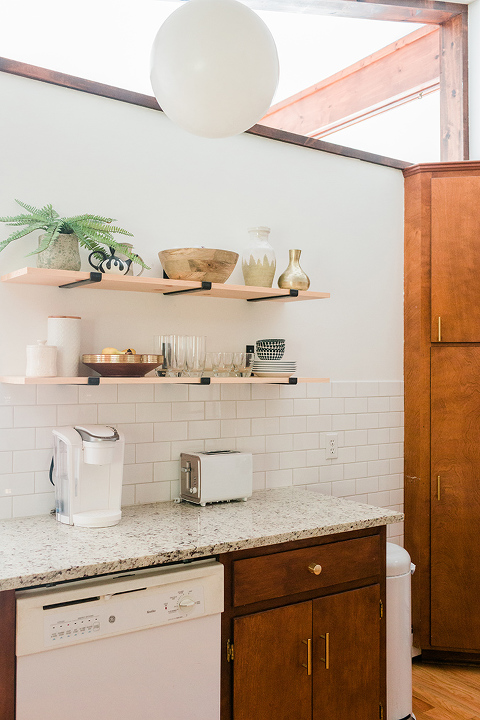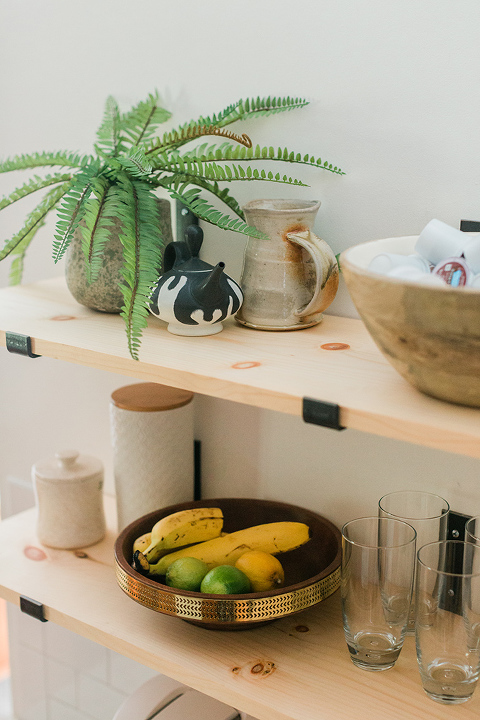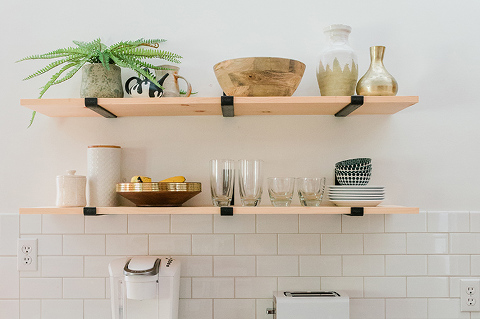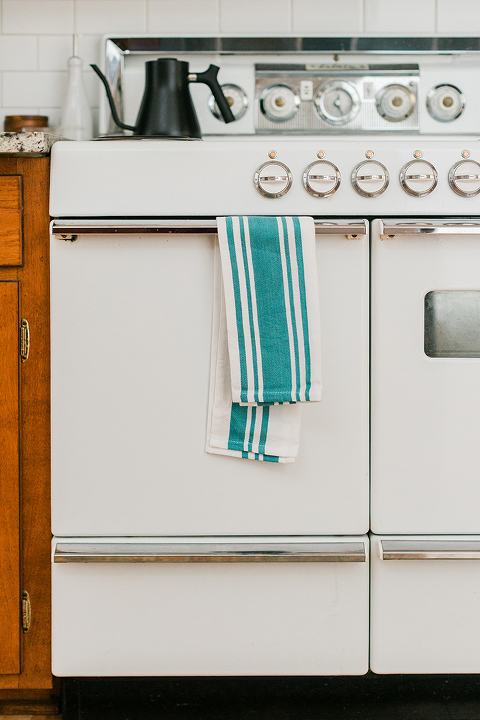 I know I have more to share on this topic (especially when it comes to drawer storage) but I've already rambled quite a bit and don't want to overwhelm you! Did you notice our new under-cabinet lighting? I'm so excited to talk more about this extension of our functional kitchen upgrades, but the topic deserves its very own day, so stay tuned for that after we get back from Thanksgiving break.
Did I leave any advice or tips out that you put to good use in your own kitchen? Do tell in the comments below. And don't forget to add a Tuesday Morning drop-in to your holiday shopping spree list! Find your closest Tuesday Morning store location here.