Only two-ish weeks until Christmas, which means we're also that many weeks away from some much-deserved time off! At least I hope that's the case for all of you.
As an entrepreneur I don't get perks like paid time off or health benefits, so this time of year is the one time I really allow myself to indulge. I take two full weeks off between Christmas and New Years, and that time has come to mean a lot of things for me. I use it to catch up on home projects, plan a few extra special things for the blog (I'm considering a site redesign this year!), and I also try my best to prioritize self-care in the form of uninterrupted down time.
This fall-to-winter transition has felt especially dry, a fact proven by the state of my skin. So, I'm currently on the hunt for a new face mask or two to add to my collection as I gear up for time off. At-home facials are one of my very favorite ways to relax, and these 12 are at the top of my wishlist right now.
12 Face Masks To Inspire Self-Care
1. YOUTHMUD Tinglexfoliate Treatment
2. Water Replenishment Cotton Sheet Mask
4. Honey Potion Renewing Antioxidant Hydration Mask with Echinacea GreenEnvy
6. Hello, Calm Relaxing & Hydrating Face Mask with Cannabis Sativa Seed Oil
7. Laneige Water Sleeping Mask
8. Black Tea Firming Overnight Mask
10. Blue Tansy AHA + BHA Resurfacing Clarity Mask
11. Rose Face Mask
12. Pumpkin Enzyme Mask Enzymatic Dermal Resurfacer
Have you ever done an at-home face mask, or do you prefer going to see a professional? I've gotten a pro facial once in my life, and it really was pretty magical. I remember it being a little overwhelming in the moment (all that steam, the plethora of scents), but I might just have to treat myself to one in the new year. Until then, though, I'm going to invest in one of these options above to tide me over during the holidays. Let me know if you've got a favorite that I didn't list in today's post. Oh, and don't forget that any one of these masks makes a great Christmas gift, too…Just saying!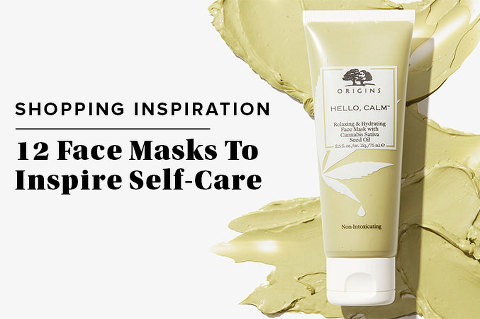 *I earn a small percentage from purchases made using the affiliate links above. Affiliate links are not sponsored. Rest assured that I never recommend products we wouldn't use or don't already love ourselves.