If you're anything like me, then you're probably already done with your holiday shopping for the year. John and I had most of our gifts purchased, wrapped, and under the tree by Black Friday, but I'm still ordering a few odds and ends to fill up stockings. Just in case you're looking for a few ideas, I thought I'd round up a collection of gifts perfect for the women in your lives—after all, those are the types of goodies I know best seeing as I'm a gift-loving gal myself.
Holiday Gift Guide: Gifts For Her
1. Paddywax Mesa Collection Scented Soy Wax Candle: I know candles have kind of a bad rap, but they're so universally loved! I like that this one is soy-based.
2. Befettly Moon Pendant Necklace: Dainty gold jewelry is so on-trend right now. I think you'd be hard-pressed to find a woman who wouldn't appreciate this pendant necklace.
3. Food52 Genius Recipes: This pretty cookbook is one they'll want to leave out on the counter.
4. Travel Neck Pillow: This one won't get to you in time for Christmas anymore, but you could always print a picture of it and stick it in her stocking as a stand-in until the real gift arrives.
5. Teo Aroma Essential Oil Diffuser: I own this diffuser myself and couldn't recommend it more.
6. Beats EP On-Ear Headphones: Everybody could use a pair of good headphones! (Note: looks like the white ones are already sold out, but the black version should get to you by Christmas)
7. Envelope Travel Clutch with ID Card Holder: There's room in this wallet for credit cards, money, and even a cell phone. I also think she'll love the tone-on-tone leather finish.
8. Sheepskin Lined Cable Knit Throw: Whenever I'm stumped for what to get someone, I almost always default to a really luxurious, extra soft throw blanket, like this one.
9. Fluf Zipper Lunch Bag: This is, quite possibly, the coolest lunchbox I've ever seen. That grid pattern is so fresh and modern.
10. 3-Inch Ceramic Pot: Bonus points if you fill this pretty ceramic pot with a live plant before handing it over on Christmas morning!
11. Kate Aspen Under the Stars Glass Coaster Set: I love that you have to get just a little closer to these star-covered coasters to see what the delicate pattern actually is.
12. Davines Volu Hair Mist: A hair mist that adds instant volume to thin hair? Please excuse me while I go add it to my own Christmas wish list.
Oh, and you might have noticed the new design on today's graphic. I've been feeling the itch to upgrade a few things visually around these parts, so just a heads up in case you notice things looking a little different on the blog in the next month or two.
A new website design might just be in the near future, too, although I'm undecided on that. It's so much work (and stress) redoing my website since I've only ever done it myself. So, with that said, fellow bloggers, let me know in the comments if you would recommend any particular web designers, and if you're a designer who might be interested in teaming up, please do shoot me a message!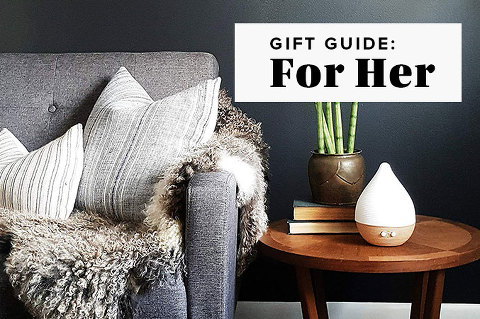 *I earn a small percentage from purchases made using the affiliate links above. Affiliate links are not sponsored. Rest assured that I never recommend products we wouldn't use or don't already love ourselves.