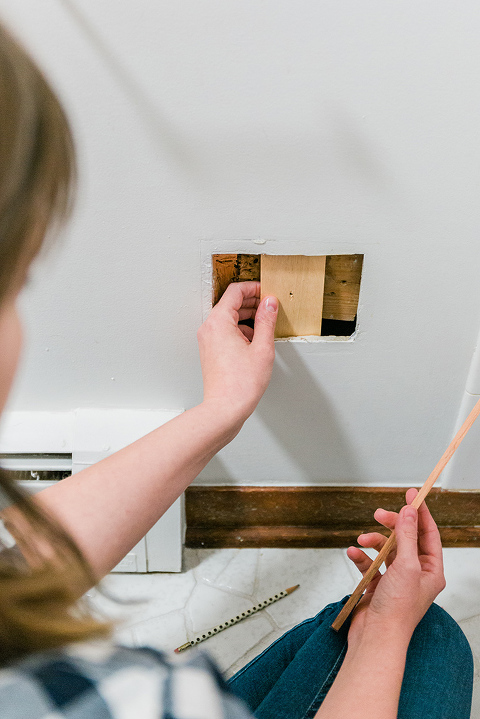 I actually hesitated for a second before sharing today's post because I'm very aware that drywall repair isn't the prettiest thing to document or the most exciting thing to talk about either. But then I thought to myself that I would have really appreciated having a post like this to reference when I was doing the project in person.
I also feel like it's important that I talk about all types of home projects—not just the "pretty" ones—here on the blog because they all go toward the greater good. That is, the greater good of having both a beautiful and a functional home to enjoy.
That was a bit of tangent, but I just wanted to preface today's story by saying that, while it might not be the most WOW-worthy post you've ever read on Dream Green DIY, I'm hopeful that it will still be useful to those of you dealing with a dreaded hole in your drywall. Without any further hemming and hawing let's get to it!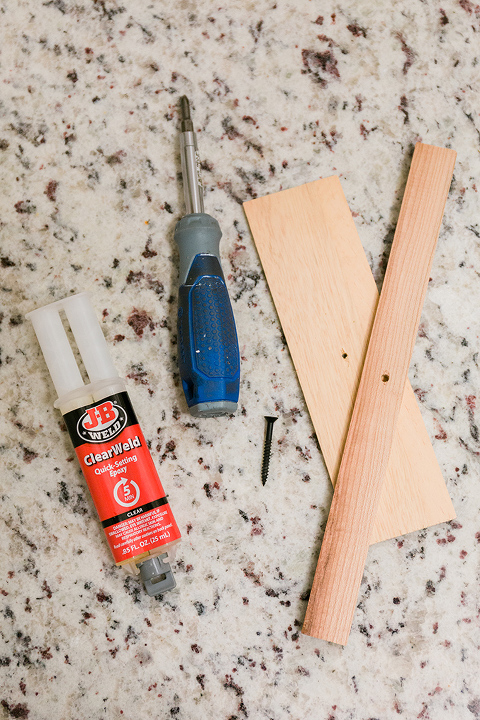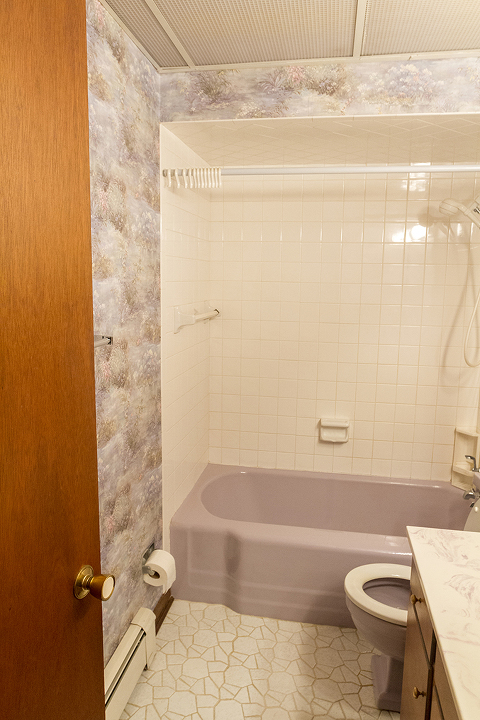 The hole that prompted it all was in our main upstairs bathroom. As you can see in the "Before" photo above (taken when we first moved in), the space boasted a flush-mount toilet paper roll holder that was built into the wall. I actually didn't mind the look or functionality of it. What I didn't like was that it was hung only 12 inches high.
It was uncomfortably low, so after three long years of procrastination, I finally decided to replace it with a new gold holder, which I installed a much more appropriate 26 inches above the floor. The only problem was that, once I had the old holder out and the new holder installed, I was left with a giant hole in the drywall that needed to be patched (see below).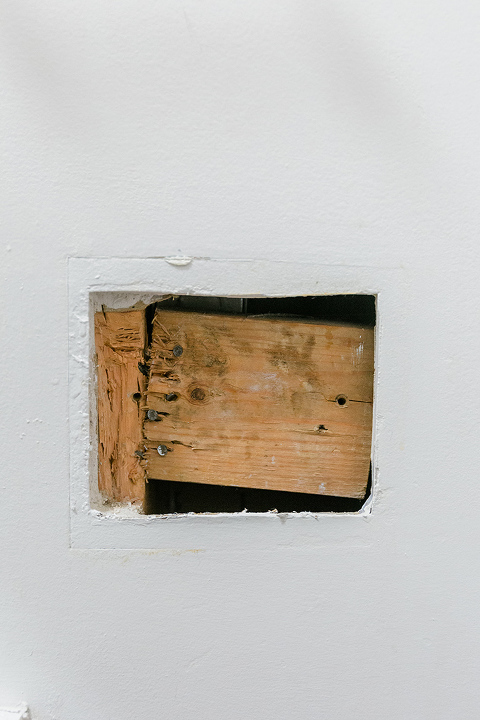 The hole was about seven inches wide and six high, so it was a little too large for one of those handy drywall patches that you can pick up for about five bucks at the hardware store. In order to patch the hole correctly, I really needed to go the extra mile and cut a custom piece of new drywall to fit.
Before I could get to that, though, I needed to create a brace for the new drywall square to sit against. The wonky piece of wood you see in the picture is actually set pretty far back into the recess, so it wouldn't work for my patch. After talking it over with my dad, I learned that I could use two pieces of scrap wood and a screw to create a brand new foundation for my patch.
I started by applying a small amount of quick-setting epoxy to just the top and bottom of one piece of wood, then I slipped it behind the existing drywall so that it spanned the hole. A second piece of wood was then screwed into the first (without glue!), this time on the face of the existing drywall, so that the epoxy on the wood piece inside was clamped against the interior of the drywall.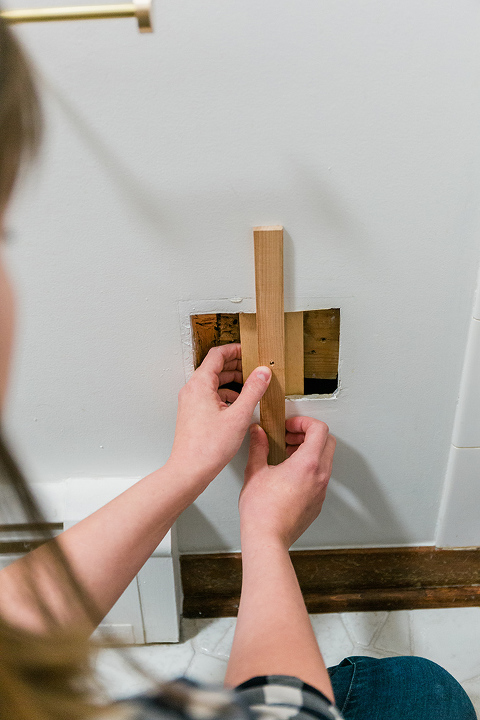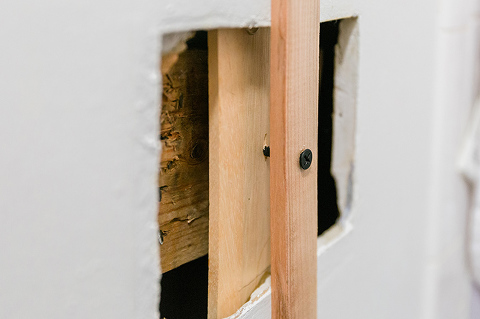 I left the two wood pieces screwed together like this for more than enough time for the adhesive to firmly set according to the epoxy directions, then I was able to remove the screw and discard the outer piece of wood. That left me with a firm, flush wood support over which to glue down the piece of drywall that I had John cut to size for me, seen below!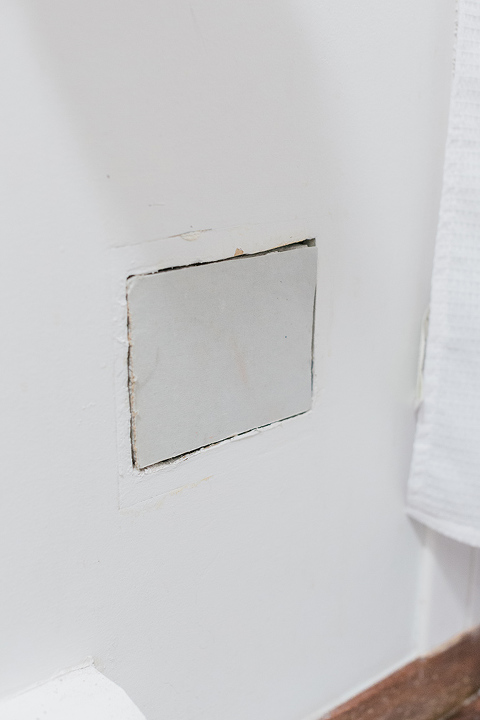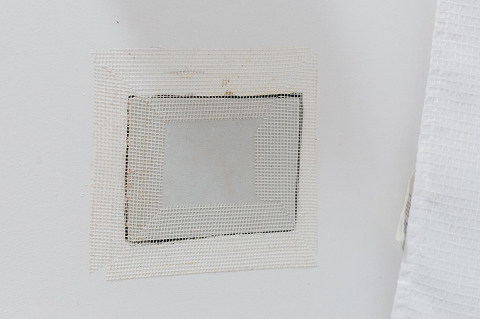 Next, I covered the seams around the cut drywall patch with mesh joint tape, making sure to press the sticky side firmly against the face of the wall. You might have noticed that I trimmed the edges of each piece of tape into an angle with scissors. That was so they didn't overlap anywhere, which helped the next step go faster.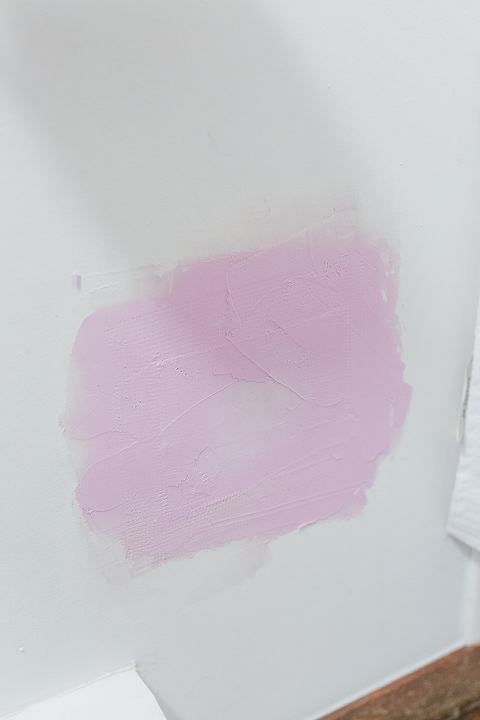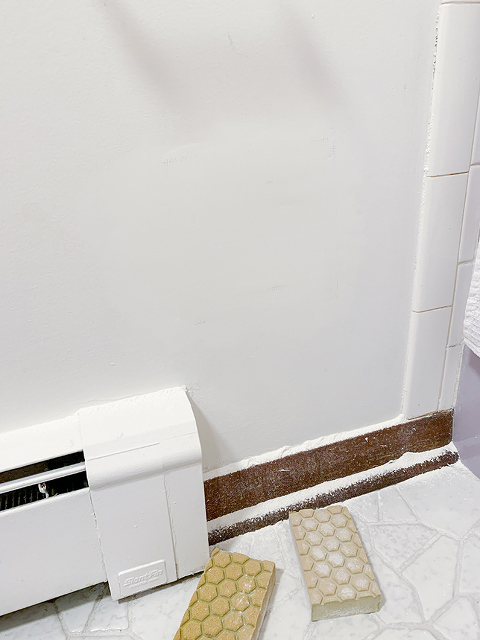 Time to spackle over the entire thing to create a smooth surface for painting! To do so, I used a putty knife to spread a thin, even layer of spackle over the patch, going a few inches beyond it, too, so that I could feather out the finish when sanding later on. I waited until the spackle was dry, then used sanding blocks to smooth out the wall.
Keep in mind that you might need to spackle and sand one or two more times before you get a really even finish. Luckily, this step isn't too time-consuming so just be patient and muscle through until you no longer see the joint tape or seams between the patch and the wall.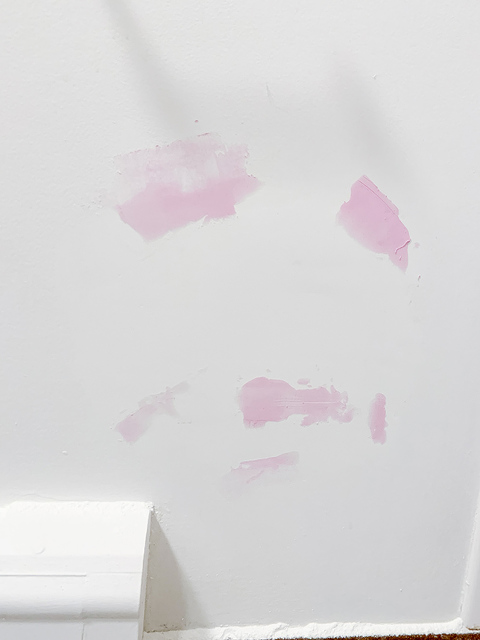 With the patch complete, all I needed to do to finish was paint! I tried to skip priming and ended up having to redo my layers of paint to completely cover the patch from view, so please learn from my mistake. Always prime the patch with something like KILZ stainblocker before layering on your top coat color! It'll save you from a lot of wasted time and paint.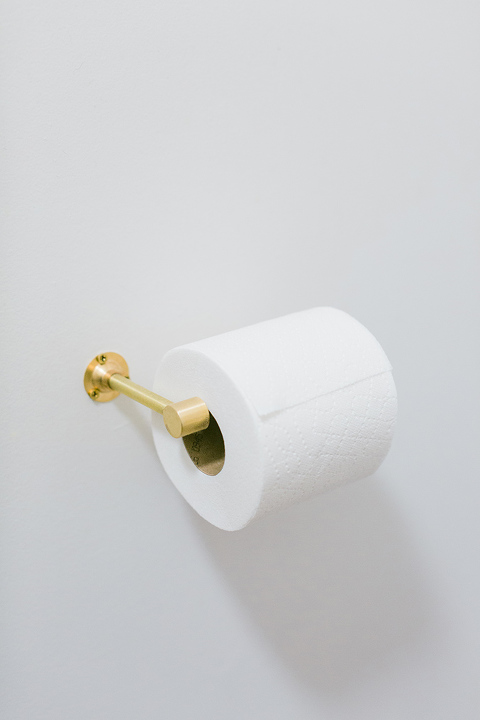 Oh, and in case you're curious about the newer, much higher toilet paper roll holder that you see in those "After" photos above, I ordered it from this shop on Etsy. I love the brassy finish (it matches our gold sink faucet!), and the one-sided L-shaped design also makes roll replacement much faster.
Let me know in the comments if you've ever had to patch a drywall hole before! Did you use a different method? I think I had put the project off for three years because I expected it to be a big hassle, but it was actually a lot easier than I expected. As always, shout out below if you have questions about the process that I explained above.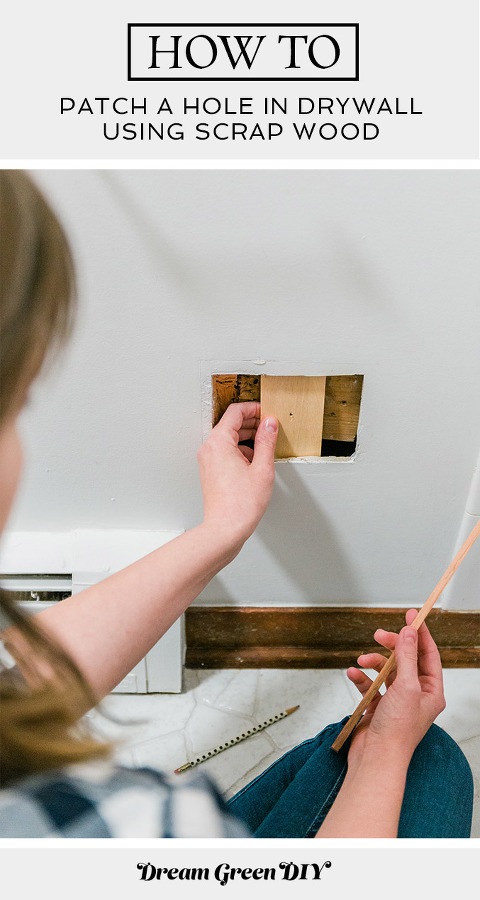 *I earn a small percentage from purchases made using the affiliate links above. Affiliate links are not sponsored. Rest assured that I never recommend products we wouldn't use or don't already love ourselves.