Does anyone else feel like today is January 356th? This month has felt immeasurably long for some reason (maybe I'm just mourning Christmas), but we're finally about to start a brand new month in just a couple days time. Are you as ready for February as I am?
One of the best parts about this second month of the year, of course, is Valentine's Day! John and I rarely make a big deal about the holiday, but it's still nice to have something festive and sweet to look forward to after a busy start to the new year. Keep scrolling for a roundup of Valentine's Day themed gifts to consider in case you're shopping for the "Galentines" in your life—or, better yet, send a link to this post over to your honey so he or she can shop for you from the collection of goodies!
Valentine's Day Gifts Under $20
1. Pair of Mugs ($11.99)
2. Violet + Vanilla Candle ($14)
3. Hello Love Warm Blush Art Print ($16)
4. Floral Satin Kimono ($16.69)
5. Love Knot Bangle Bracelet ($9.28)
6. Je Na Sais Quoi Journal ($18)
7. Gourmet Cooking for One or Two ($14.57)
8. Heart-Shaped Coconut Dish with Spoon ($10.99)
9. Macrame Heart-Shaped Square Throw Pillow ($19.99)
10. The Astrology of You and Me ($16.50)
11. Bath Salts With Dried Flowers ($5.99)
12. Monochrome Tassel Drop Earrings ($12.99)
What caught your eye from the list above? I personally would love to unwrap that pretty bracelet or heart-shaped pillow come February 14. Oh, and don't worry if you're more of a "no gifts" Valentine's Day participant because I've got plans to share a super low-key dinner-for-two type of post next week that should give you lots of lovey dovey inspiration for celebrating at home on a budget.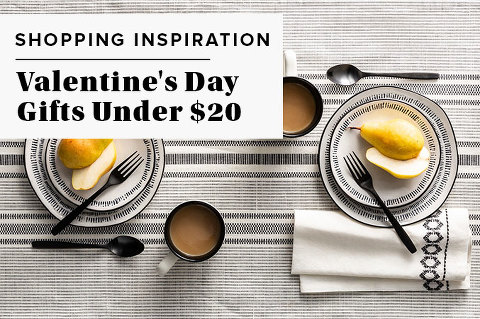 *I earn a small percentage from purchases made using the affiliate links above. Affiliate links are not sponsored. Rest assured that I never recommend products we wouldn't use or don't already love ourselves.