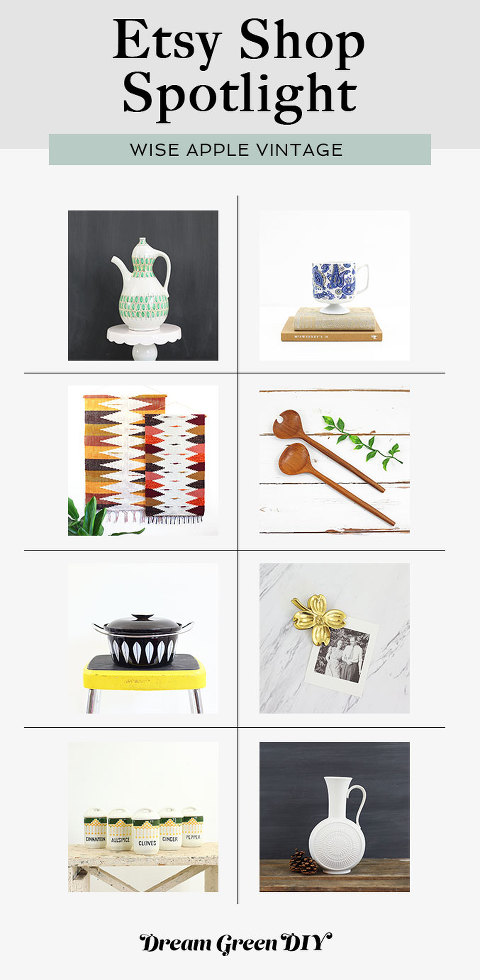 If you're new to Dream Green DIY, then you might not know that this is more than just a one-woman show. Nikki McIntosh, the founder of Wise Apple Vintage, has been helping me with marketing for about two years now, and I can't even fathom what work life was like before she joined me here at DGD. She helps every day to make sure you guys see new posts (and old posts, too) by scheduling things to Facebook, posting to Twitter, and making sure the blog's Pinterest feed is also full of fun content that we think you'll love.
Nikki is a great help with administrative things around these parts, but she's also an incredible advocate and support system for me as an entrepreneur. I always smile when I see an email from her pop up in my inbox because she has such a bright, happy personality that's infectious.
And the Etsy shop she founded and runs when she's not working on DGD tasks is much the same way—light, colorful, and full of the types of treasures that all you fellow mid-century-modern-lovers out there will appreciate. In fact, Nikki and I first connected over our love for retro home décor and accents, and I still get a thrill taking a digital wander through the Wise Apple Vintage shop each week. Keep scrolling to see what's currently on my wish list.
Favorites from Wise Apple Vintage
1. Mid Century Nymølle Denmark Coffee Pot
2. Mid Century Paisley Pedestal Mug
3. Vintage Handwoven Wall Hanging
4. Vintage Danish Modern Carved Wood Salad Servers
5. Vintage Cathrineholm Black and White Enamel Lotus Pot
6. Vintage Virginia Metalcrafters Dogwood Blossom Brass Clip
7. Vintage Geometric Spice Jars from Czechoslovakia
8. Vintage AK Kaiser Bisque Vase
I honestly want to add all eight of those pieces to my cart right this second, but I've got to make sure I leave some goodies for you guys, too. Did you know that DGD Tribe newsletter subscribers get an exclusive discount to Nikki's shop? Sign up here so you can get the coupon code the next time I send out a newsletter (HINT: it goes out next Wednesday).
What's your favorite piece from that list above? Let me know in the comments, then hop over to Etsy here and give the Wise Apple Vintage shop some love!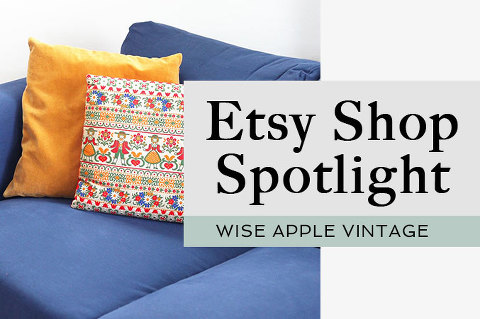 *By shopping the affiliate links above you'll be supporting not one but TWO small businesses: my own and today's featured Etsy shop spotlight. Commissioned affiliate links are not sponsored. Rest assured that I never recommend products we wouldn't use or don't already love ourselves.