I have had an absolute blast lately over at my parents' house as they work to design their brand new spaces. Mom and Dad have miraculously already finished the unpacking phase, and, believe it or not, we've totally finished an overhaul of their master bedroom, too! The people in my family are nothing if not impatient, so everything has been on hyperdrive.
Since most of the furniture arrangements are settled at this point, we're now turning our attention to art. There's a big blank spot over their sofa that Mom and I are focused on right now, so I've been hunting down possible options online for the last several days. I couldn't help but roundup a dozens of my personal favorites, and I'm linking each and every one of the 12 below in case you're dealing with a blank wall of your own right now.
Art Prints I'm Loving Right Now
2. Botanical I
3. Florida
5. Skyline
6. Close
7. Dahlia I
8. Plant Cell 1
9. Curaçao
10. Marche
11. Tulips
12. Format II
Do you have an instant favorite from the list above? If we're talking options for our house, I'd have to say that #3 Florida (the portrait) is the one I'd choose. As for my parents' house, I'm leaning toward something like the first or second prints. Something nice and neutral would be just perfect to complement their traditional style furniture.
I know I keep talking about their new house and that you're probably curious to know (and see!) more, so I'm planning to share the full empty home tour with you next week. I'm also ready to share the walkthrough of their completely made-over master bedroom, and I'm hoping I get the go-ahead to share that sponsored story next week, too. Stay tuned because things are about to get really exciting here on the blog with a whole new house to design!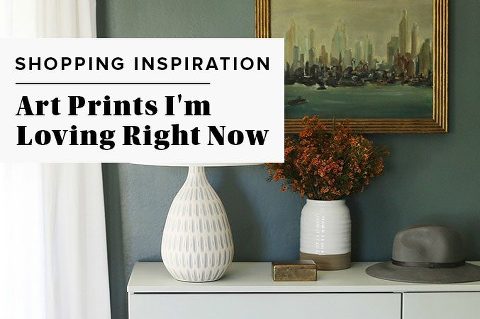 *I earn a small percentage from purchases made using the affiliate links above. Affiliate links are not sponsored. Rest assured that I never recommend products we wouldn't use or don't already love ourselves.