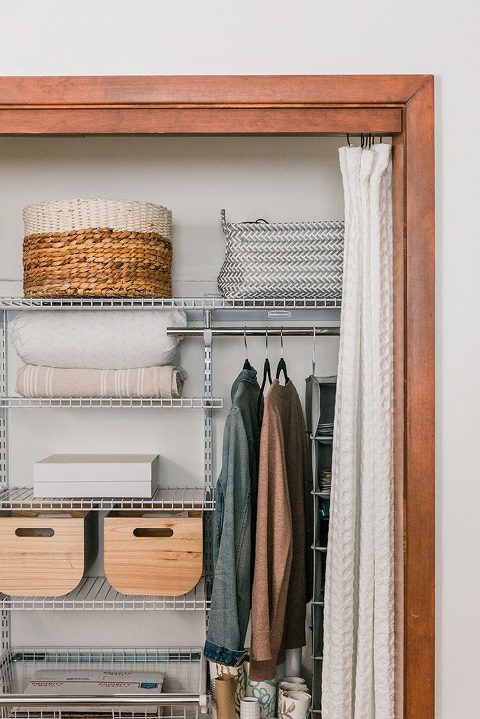 *This post has been sponsored by Rubbermaid® FastTrack® Closet™. All thoughts and opinions are my own.
Think about your very first response to this question: What's the current state of your guest room closet? If you don't happen to have a guest room, feel free to imagine any extra storage area in your house or apartment that plays host to things like wrapping paper, seasonal decorations, and the like.
At any rate, I'm going to go ahead and guess that the answer is "not good." Our own guest room closet was completely overrun with a bunch of toppling, teetering junk—all of which was just generally underused. To fix the issue (which, I'm embarrassed to admit, has been the case for several years now), I teamed up with Rubbermaid to implement their Rubbermaid® FastTrack® Closet™.
We've been enjoying the newly updated closet for a week or so now, and today's the day when I finally get to take you through the process from start to finish—including proof that you can use this type of closet system for so much more than just your average wardrobe closet. You can use it like we did to create separate zones for everything from blank greeting cards, wrapping paper, and seasonal clothing to guest essentials like toiletries and towels! Keep scrolling to watch us go from the chaotic wasted space pictured "before" to the organized multipurpose "after" look you see above.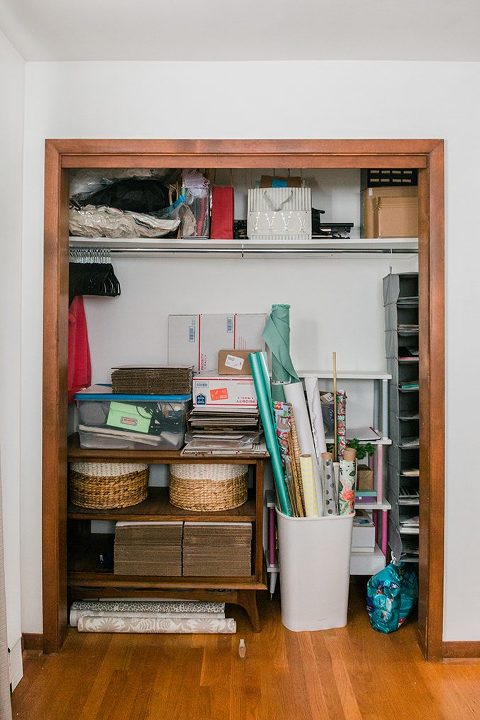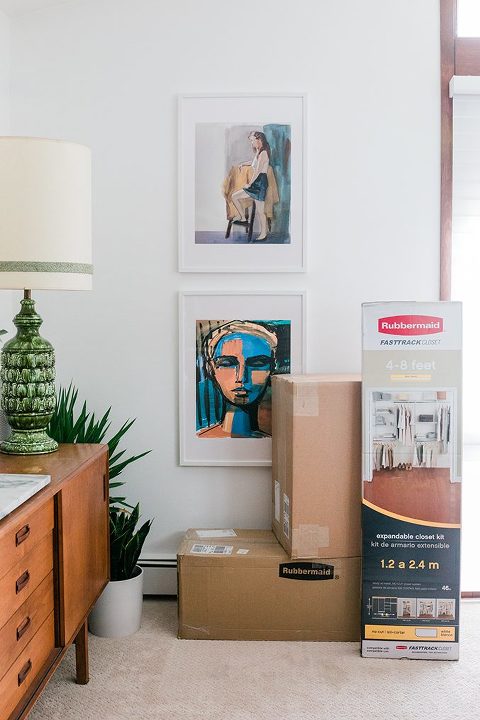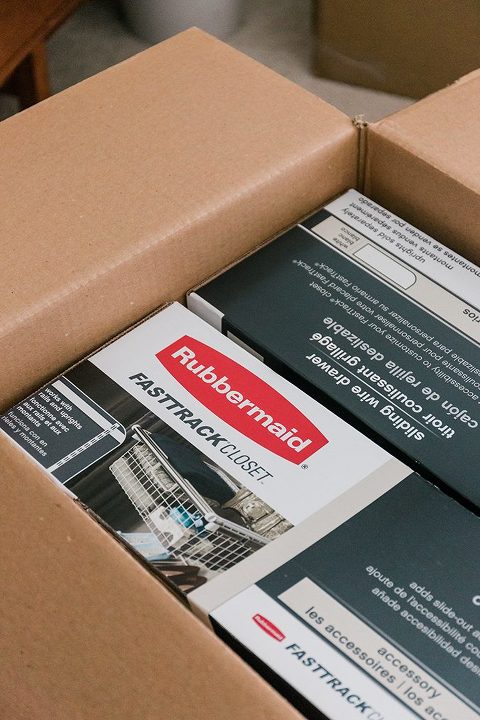 To tell you the truth, I think I put this whole process off for so long because I thought it would be a real struggle to tackle on my own. I remember my parents huffing and puffing through the install of a much older style of closet organizer from another brand in my childhood bedroom decades ago. It wasn't a pretty picture, and I think the memory kept me from trusting in DIY closet organizers up until this point.
Turns out that my fears were completely unfounded—at least when it comes to the FastTrack Closet, in particular. I'm not fluffing things up when I say that it's the fastest way to organize your home, and today's modern systems offer lots of flexibility—whether you're looking to outfit your master bedroom closet with things like rows of sleek, adjustable shoe shelves or you want to do something like we did with your own guest room closet, like adding shelves for linens to help reduce wasted vertical space.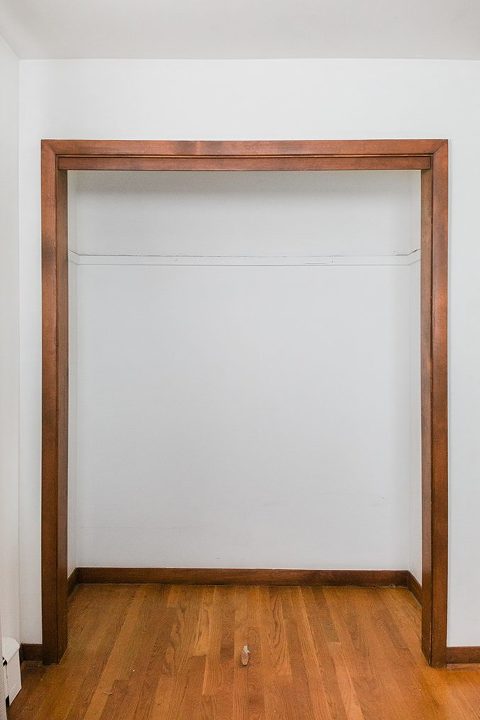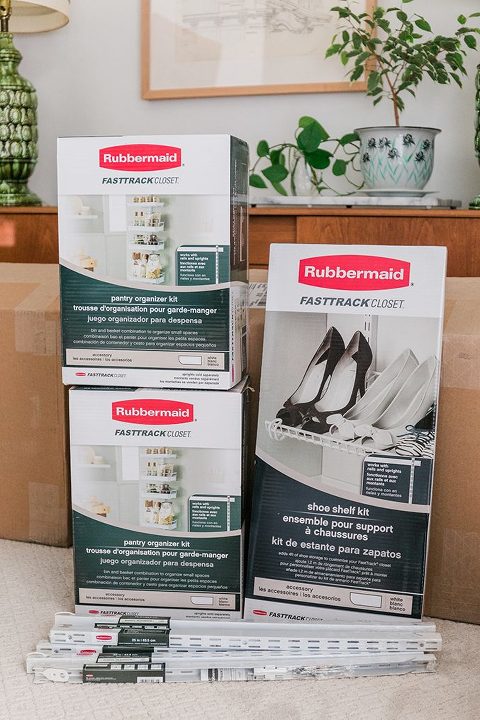 Anyway, I know I'm rambling, but it's just one of those things that I wish I had known, and I want to make sure I recommend it to you (and the butcher, and the mail lady, etc.) now that I know better. You probably want to know where to go for a closer look, though, right?
We ended up ordering ours online from Lowes.com using the Rubbermaid Design Tool, which made things so simple. All you have to do is input things like your closet shape and dimensions right there on screen, and then you can plan out your shelving and brackets design without having to troubleshoot through it all in person. After you're done designing, you order your supplies and get to building after it all arrives.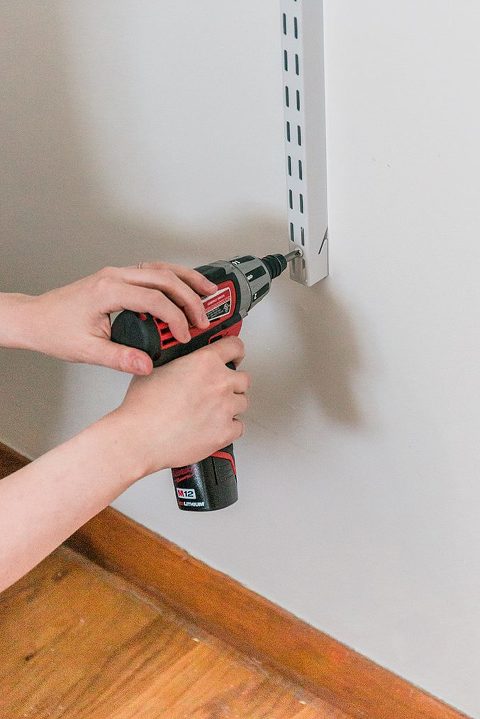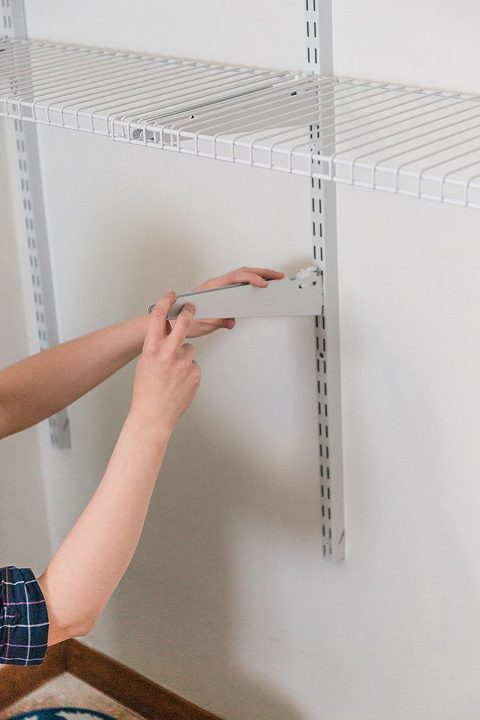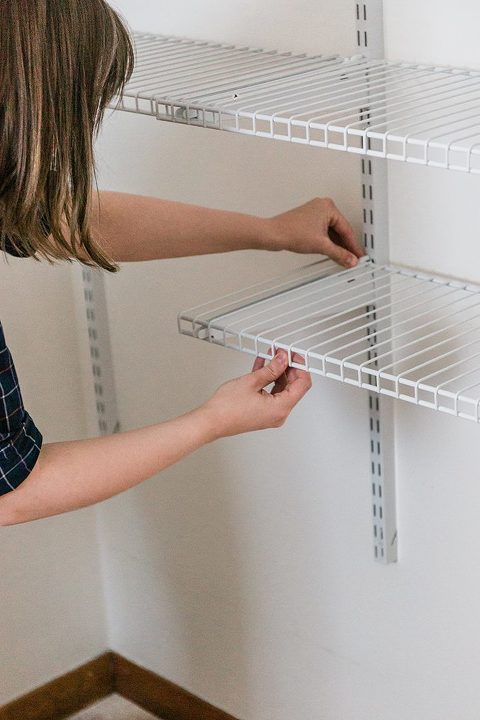 I put the entire system together by myself one afternoon before John came home from work, so I can say with 100 percent confidence that you can do this on your own, too. An abbreviated description of the process goes something like this: use a level and drill to install your hanging rails on studs; hang and screw in the uprights; install your brackets, clothing rods, and accompanying shelves however you laid them out in your online design; and then finish by installing any other accessories you might have picked out (i.e. shoe shelves, a pantry organizer, etc.).
One thing I didn't fully appreciate about install until I was in the thick of it is that you can overlap the rails and shelves to customize the widths of both. In other words, you don't have to worry about cutting anything down. I was able to overlap the rails and shelves to be the perfect width of the closet, so no heavy duty saws or cutting tools are needed.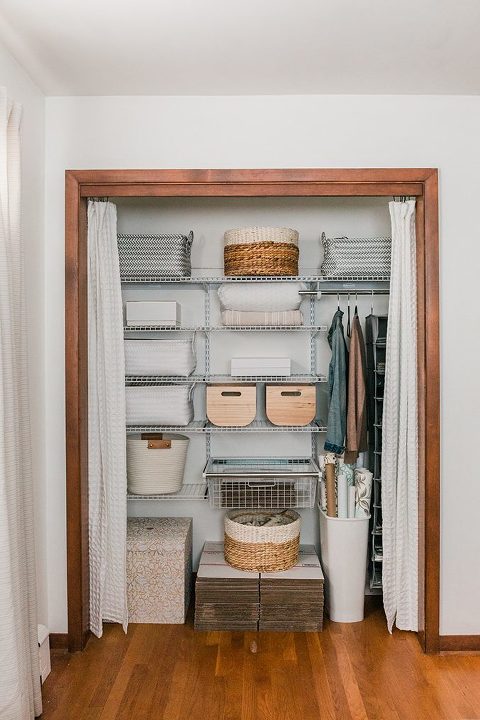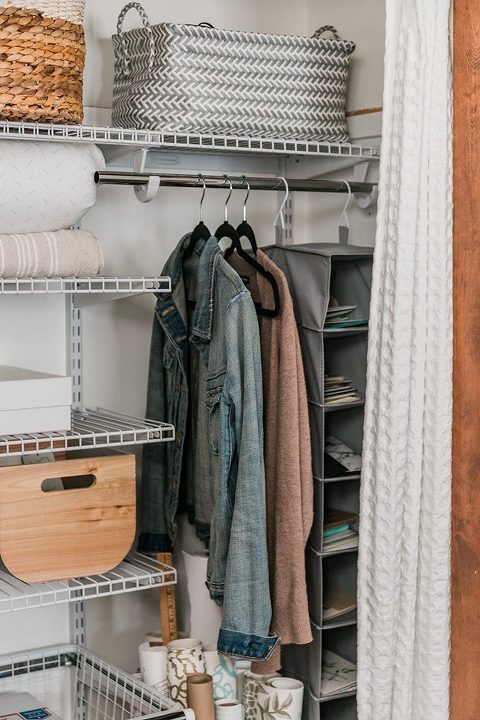 You extra keen observers out there might have noticed the curtains on either side of our finished closet…Well, let's just say that it's my solution to yet another issue I've been dealing with since we moved in: sliding closet doors. We have them on both our guest room and my office closets, and they've always been such a pain to live with on a daily basis.
I didn't snap a picture of them in today's post, but you can see them in this older one about halfway down in my office when it was still painted green. You can see the doors slid slightly apart to show the yellow-painted closet behind, if that helps you spot it easier. The thing about having two sliding closet doors is that you can't fully access the inside at once. There's only ever going to be a standard door's width worth of space to reach through.
So, when I took the doors off our guest room closet to install the new organizer, I ultimately decided to leave them off. In their place, I hung a tension rod and two extra long white shower curtains so I can close the closet from view if I need to, but I can still access the entire contents at once by whipping the curtains out of the way. If I had put the old sliding doors up, I wouldn't have been able to use the pull-out drawer that I added to the center of the closet anyway, so it just made sense to try the new curtained look instead.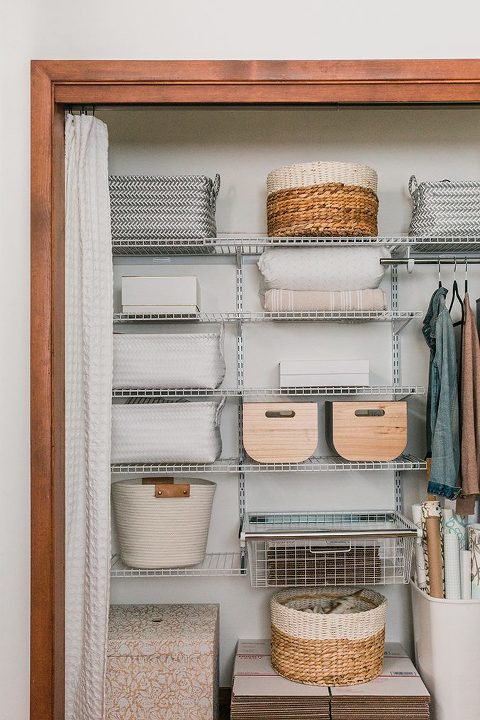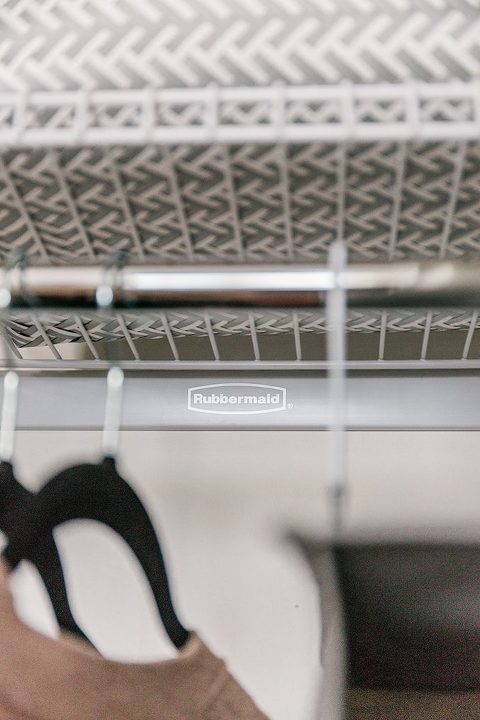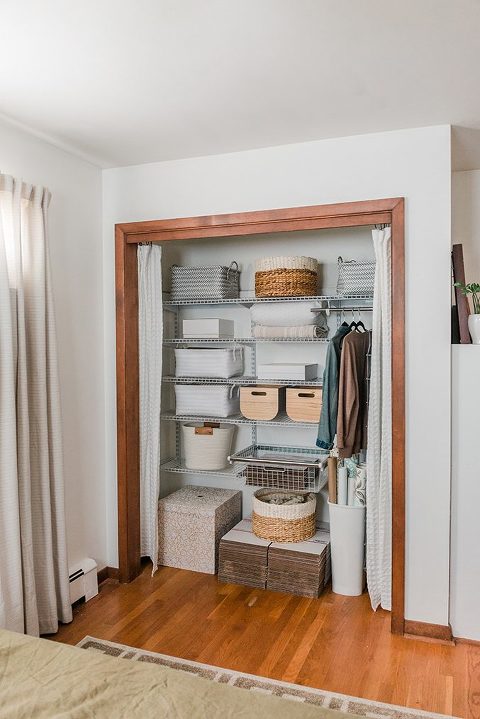 We may end up adding bifold or French doors down the line, but I haven't felt the need to even use the curtains since I hung them. The closet is so clean and organized—even with all my junk put back in—that I don't mind seeing it in plain view. I doubt our guests will mind either, especially since they're welcome to take a few things down from the shelves themselves! We have an extra pillow and blanket sitting at-the-ready for overnight visitors, and I also set up a box full of toiletries in case they're needed.
As for the rest of the closet not intended for guests, I've got all my wrapping paper sitting pretty in a white upright container, my collection of blank greeting cards sorted in a hanging unit off to the side, and I even managed to fit a couple of jackets and sweaters so those out-of-season clothing items don't have to take up room in our master bedroom closet.
All those boxes and baskets are working overtime, too, corralling things like bulk cat food, my camera equipment, knitting supplies, empty gift bags and tissue paper, old college paperwork, and there's also a spot for extra packaging/postage supplies so I can use the closet as my shipping station for DGD Pottery orders. You name it, and I probably found a place for it in our guest room closet.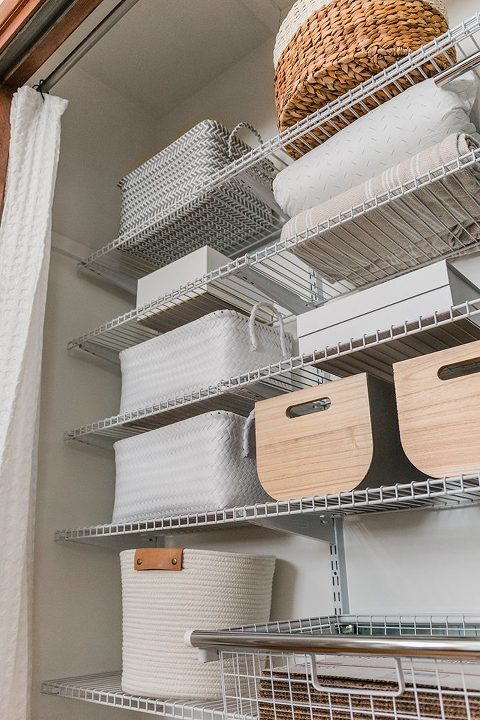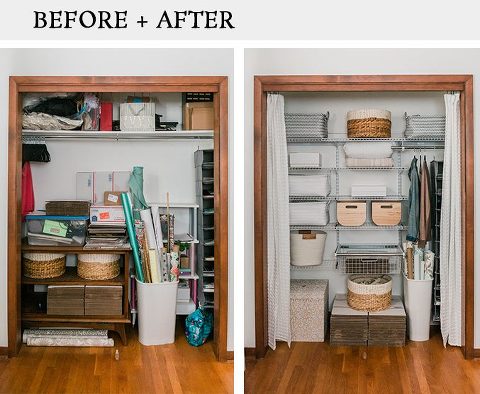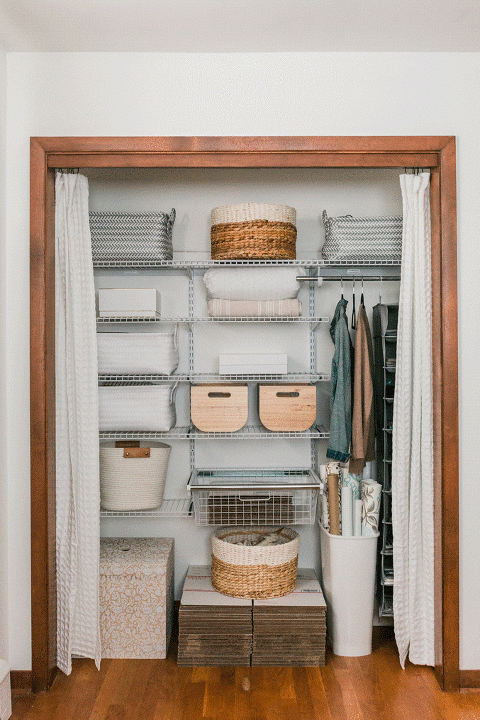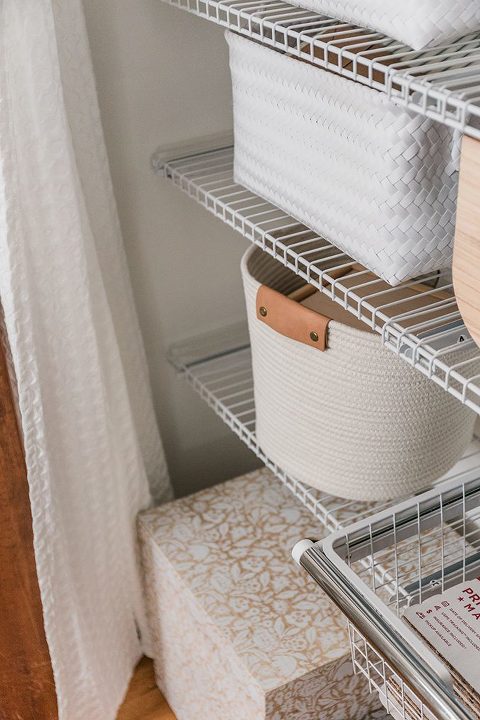 If all of this is making you anxious to get your own guest room closet looking and functioning better this year, then make sure you check out the Rubbermaid FastTrack® Closet at your local Lowe's store. You might be thinking that the system install won't go as easily or as quickly for you, but I promise that it's far, far easier than what you're probably imagining. The instructions that come with the organizer are only a few steps and pages long—nothing at all like those novels you get with other "assembly required" systems. I promise, you can do it!
Visit the ​FastTrack Closet Instant Win & Sweepstakes​ by clicking the link now through June 15, and you could win BIG (think: a $1,000 FastTrack Closet, Lowe's Gift Cards valued between $50 and $100). Enter here!