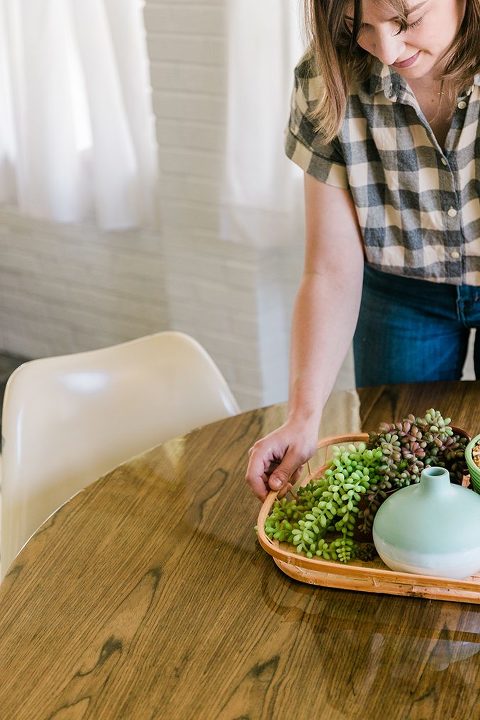 *This post was sponsored by Famowood Glaze Coat
Have you guys picked up on the fact that '70s design is trending hard right now? Practically every time I hop on Instagram or Pinterest, or whenever I flip through a new shelter magazine that's just arrived in the mail, I'm inundated with photos of spaces filled with shag carpet, high gloss tabletops, earth-toned art, macrame, and the like.
I'm usually partial to the sleeker, more minimalist style of the 1960s, but I'd be lying if I said that I wasn't at least a little curious about the boho-infused decade to follow. So curious, in fact, that I decided to dip my toe in the water with one '70s design concept in particular—a high gloss varnish bar top! We might not have a built-in bar in our house, but we do have a pedestal table that could stand to be made over, so last week I used the Famowood Glaze Coat treatment to give the piece a bit of nostalgic 1970s flair. Scroll to get the scoop!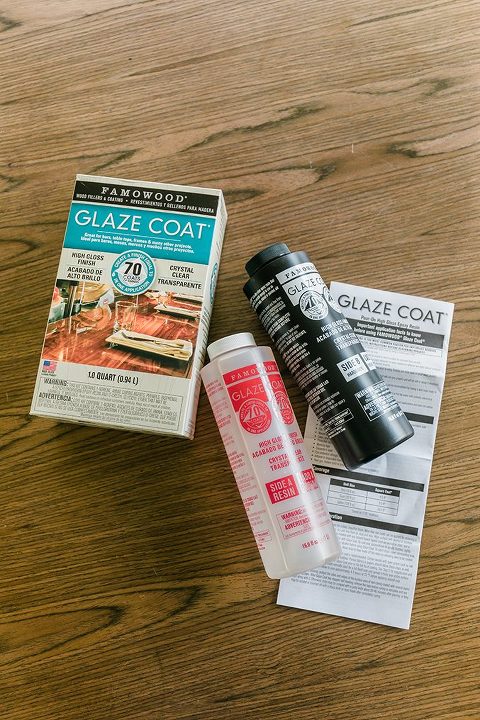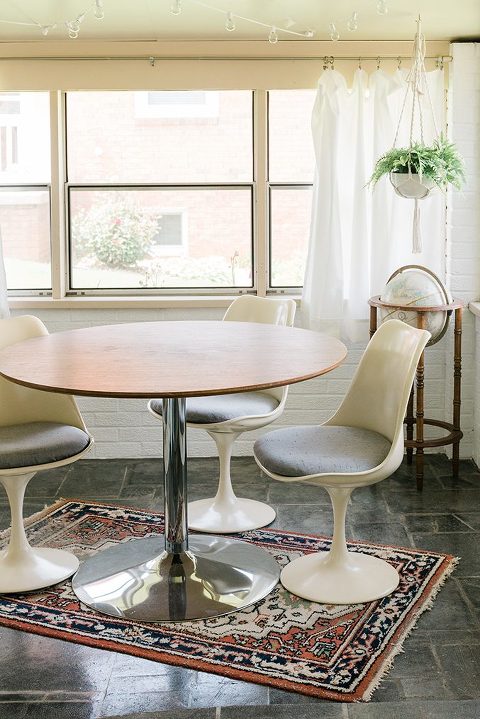 That photo above shows the table before we tackled the project. We loved the shape of the table, and the metallic chrome on the base goes so nicely with the dark stained wood top. John and I often eat dinner on the table during the spring and fall when we can have the windows open in the sunroom to let in the breeze.
The only problem was that the table came to us in a matte finish that was ultra prone to scratches and scuffs. I've been meaning to seal the table practically since 'Day One' of getting it, but more than three years later, I just hadn't been motivated to cross the task off my miles-long to-do list.
But all of this 1970s design inspiration lately finally gave me the perfect idea for an easy DIY solution in the form of high gloss epoxy. I just love the look and feel of those thick clear coats you see on vintage bar tops, so I thought I'd try out the finish on our table. It would help protect the finish (for good!), and the mirror-like sheen would give me the cool '70s vibe I was after.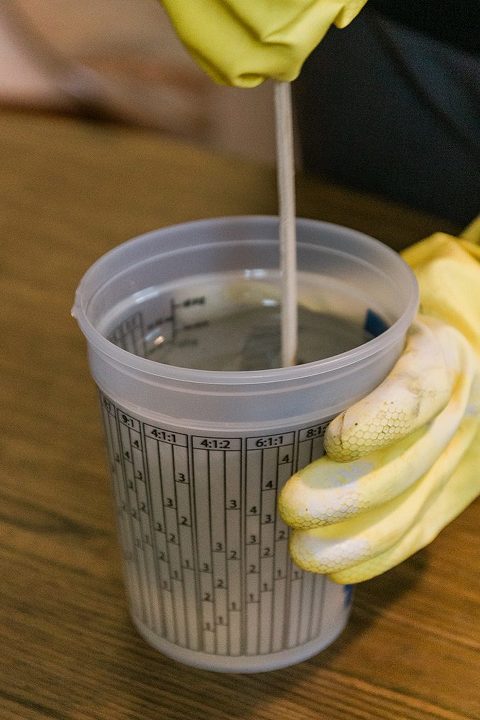 As for the process, the best advice I can give you is to follow every single direction that comes with your Famowood Glaze Coat. Don't even think about taking any shortcuts or else you'll be left with an imperfect finish, and this type of high gloss product shows novice mistakes easily. Take all the precautions that the instructions give you—everything from choosing your project area wisely, having a buddy on hand to help out, and covering the finished project while it cures so it can do so in a dust-free environment.
I asked my mom to help me out with the project since she only lives a few minutes away now, and I'm so glad I did. Now that I've been through the process, there's no way I could have done this one on my own. Because of our pets (specifically Tonks the cat, who likes to jump up on furniture), we refinished the table in our guest room since I knew I could close the door while it cured.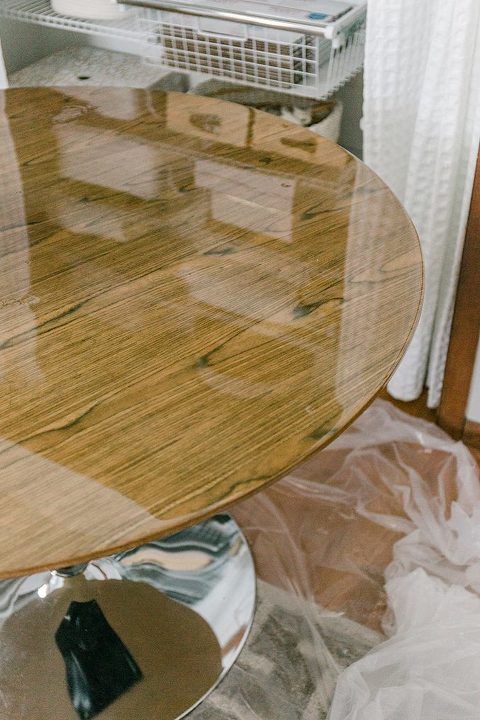 That said, I think next time I'll choose a bigger area in which to do the refinishing, because we didn't quite have as much room as we needed to work our way around the table. We made it out okay in the end, but just a heads up that you'll want to work in a space that's large enough for you to maneuver around your piece of furniture.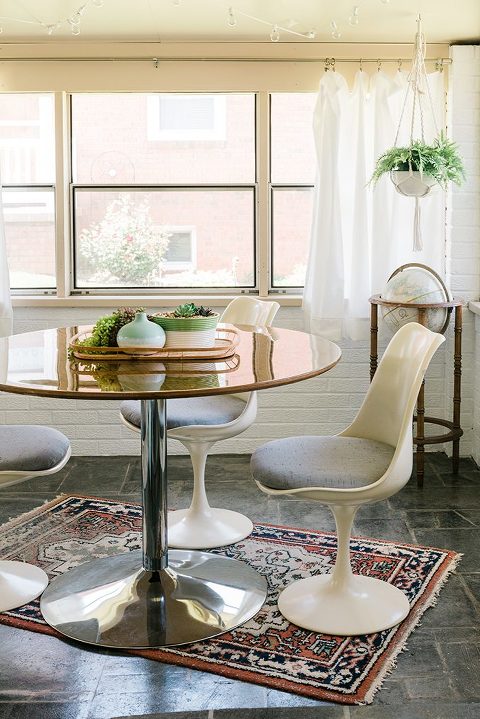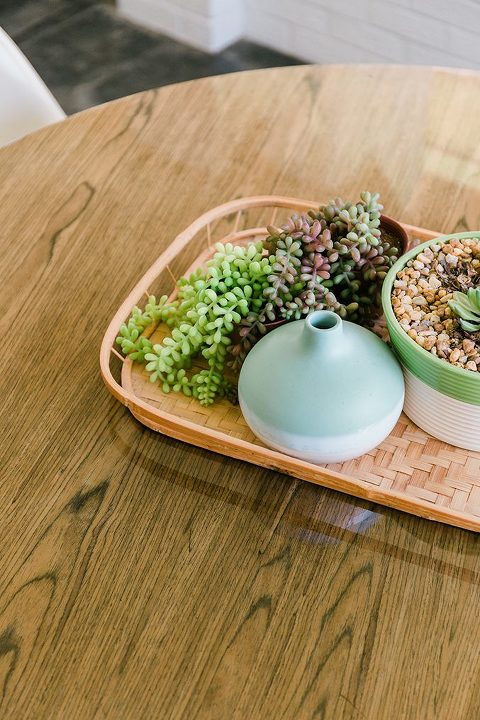 Despite the small working area, the project otherwise went smoothly (pun intended!), and now we have a beautiful glossy dinner table to show for it. If you look closely, you'll spot tiny pieces of dust that floated down onto the table during the process, and you might be able to see that the edges aren't quite perfect, but after more than eight years working as a "professional crafter" I've come to appreciate those little imperfections. The DIY process is all about experimenting and trying new things, so tiny spots or flaws are just proof of your adventure.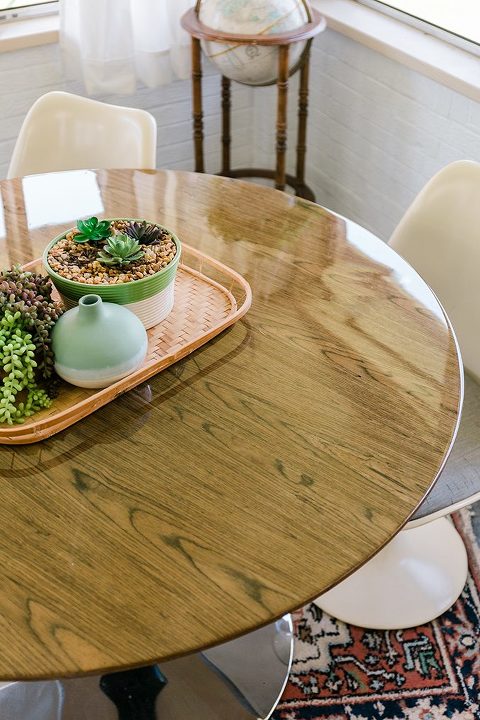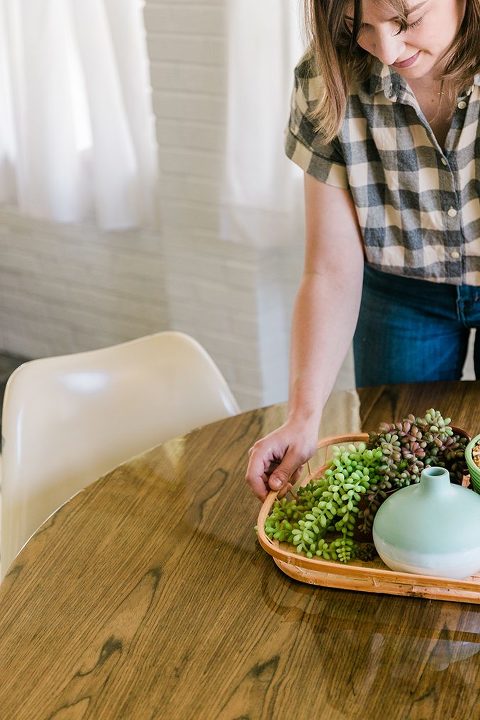 At any rate, I'm absolutely smitten with our '70s style table, and might just have to give another retro project a try before the season wraps up. What do you think? Have you given 1970s-inspired high gloss epoxy a try in your house? Tell me about your own experience in the comments below, or, if you haven't given it a go yet but want to try it firsthand, let me know what piece of furniture you'd like to make over next.