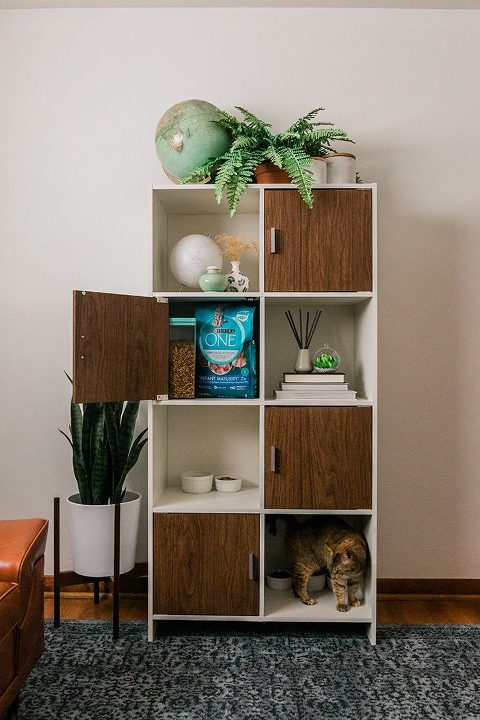 *This post has been sponsored by Purina ONE®​. All thoughts and opinions are my own.
The other day, I was at the vet for a post-surgery follow-up for our cat, Ginny, who had just had some teeth pulled. While I was there, I happened to ask the tech if there was anything we needed to be doing to help her out as she gets older (she's 11 this year). Come to find out that every single one of our four pets is now considered "senior"—even little 7-year-old Tonks!
Of course, I know that pets age faster than humans and that "dog/cat years" are a thing. However, I was still a little surprised to realize that our fur babies are anything other than exactly that: babies. The good news is that I learned all sorts of ways we could help our pets live the longest, healthiest lives possible from our vet, so I wanted to share a couple of the tips and tricks we learned in case they help your own furry friends do the same.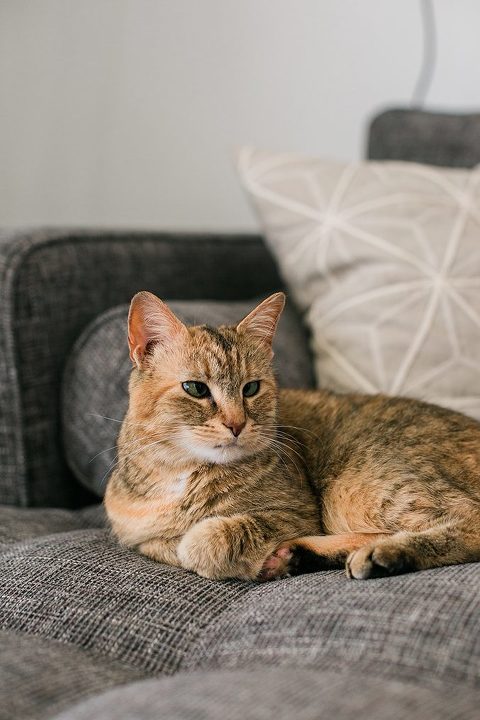 Let's start with the obvious first—namely, food. You know how, as infants and toddlers, we're fed specially formulated baby food, and that eventually evolves into veggies and other organic ingredients, built to help us grow mentally and physically strong? Well, that same type of evolutionary eating is important for pets, too.
We started our three cats and one hound dog off with kitten and puppy foods when they were little, and we have slowly transitioned them to adult formulated foods as they got older. I knew we'd eventually need to change their kibbles over to a more "mature" variety as they became seniors, but just didn't realize it would happen so soon. Time goes too quickly, doesn't it?!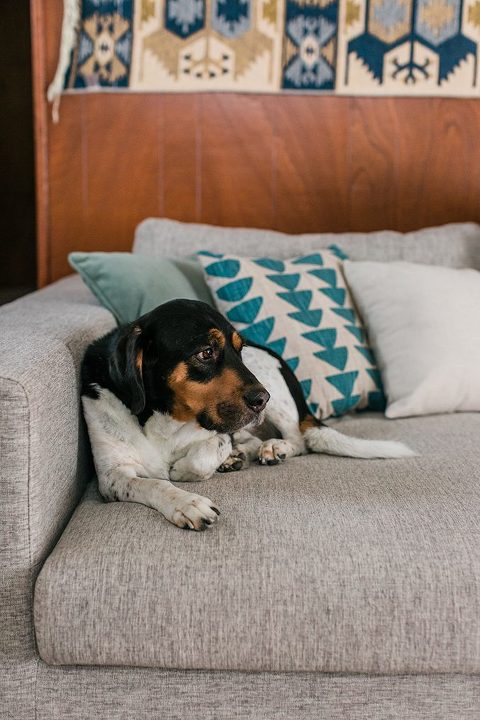 Anyway, the time for all of that is apparently now. So, we recently changed our pets' then-current Purina ONE®​ dry food over to their "Vibrant Maturity" formula (both the dog and cat varieties). Purina has been a mainstay in our home for all 14 years that we've had pets, so it was a no-brainer to stick with the same brand. John and I love that they never use fillers in their food, and the first ingredients on the lists are immediately recognizable. Chicken has always been a favorite amongst our pack, too, so we decided to stick with that main ingredient when switching their foods.
Obviously, the best part is that we know they're all getting the nutrition they need. This type of food includes antioxidants and Glucosamine, which will help them have more energy and mental power, plus the high-quality protein diet is great for supporting the heart and muscles. You can learn lots more here!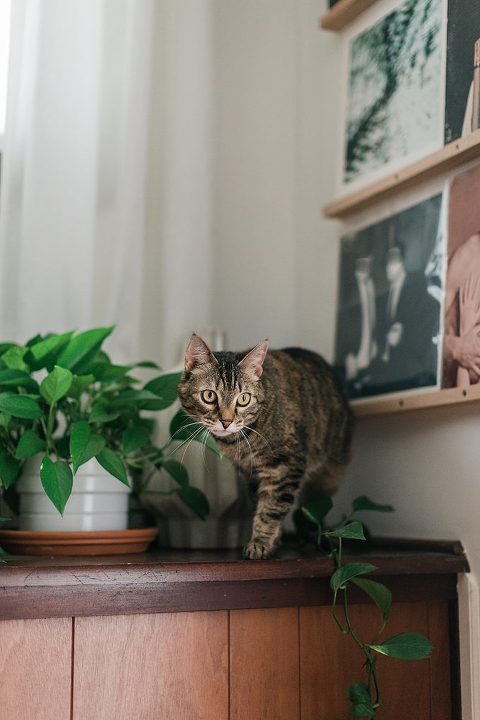 I know it's a little silly, but I'm also a big fan of how easy Purina ONE labels are to read. There can be a bit of hesitancy involved when considering changing your pets' food, but I was able to spot exactly what we needed when I was wandering the pet food aisles at Target. The age range is printed in big, bold letters, and the bag made it obvious what types of benefits the specific food promoted. Now that I know exactly what to get Luna, Ginny, Tonks, and Rocky (and I know they like it!), I'll use Target's Order Pickup service to take a bit of time out of our monthly restock.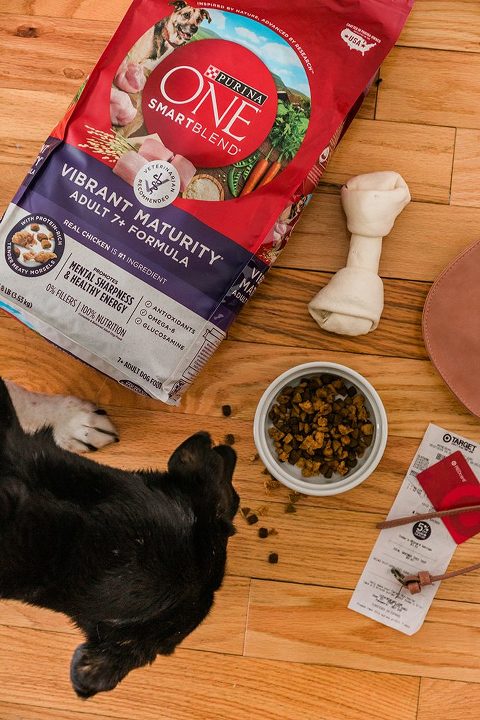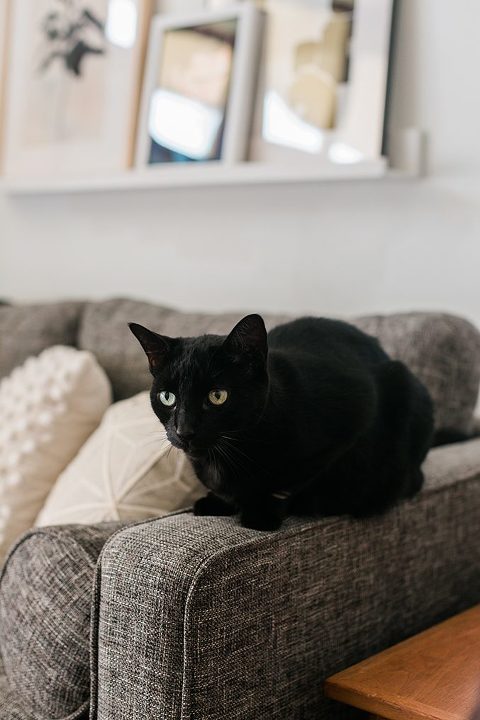 This second tip is a little more specific to cats, but one other thing we're doing to help them out as they age is keeping their food a little lower to the ground. They get plenty of play and exercise to help keep their joints healthy, so I didn't think it was quite so necessary to put their food up high anymore. So, I converted the cubby shelf in my office into a cat food station. Their Purina ONE bites are kept in an air-tight container behind one of the doors, and their bowls are in the two lowest cubbies for easy reach. Keeping food and water lower to the ground helps our older cats so they don't have to work quite so hard to get to it.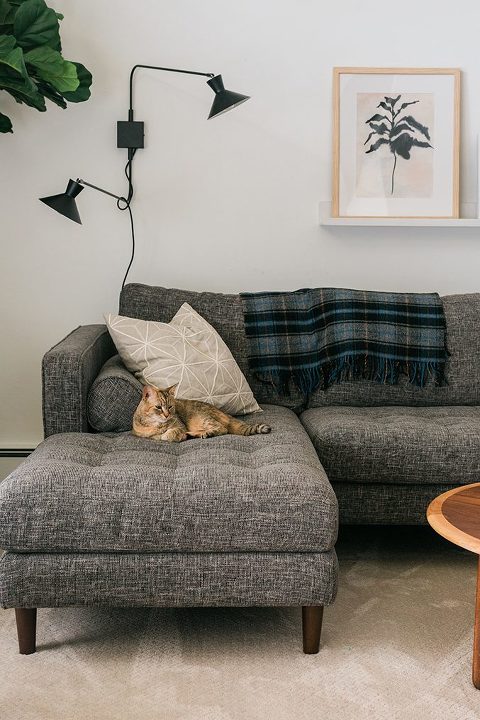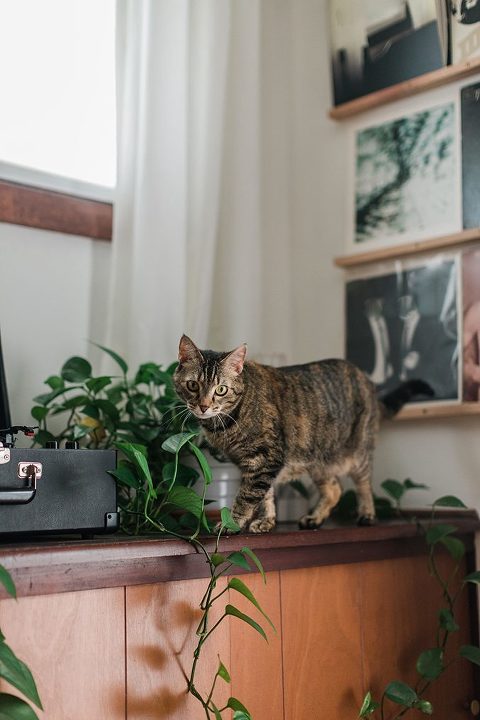 This topic might not be for everyone, but our home is so much about the people and animals who live in it. I could go on and on! Hopefully, my learn-as-we-go insight also proves that having pets (young and old!) at home doesn't mean you have to sacrifice style and décor either.
So, now I'd love to hear from my fellow pet moms and dads! Tell me about your own pet routine in the comments. Do you do anything special to help your fur babies live easier, better lives as they age?