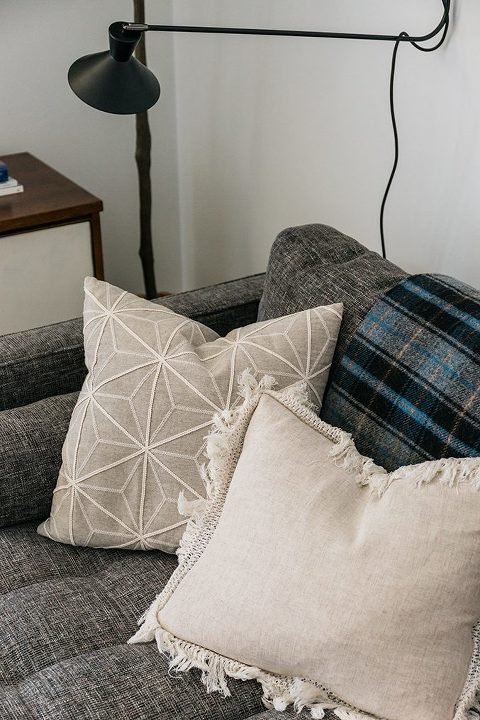 *This post was made possible by Article
I'm about halfway through the process of redecorating our living room around our new Article sectional (click back here in case you missed the intro for this project!), and I'm absolutely loving the results. As with any redesign, I've made plenty of mistakes and taken many, many things back to the store, but there have been lots of "wins" to help keep me going, too.
Of course, the best success of all has to be our new sectional. I'm planning a long review post for later on with tons of real life commentary and photo close-ups, all centered around our new Sven Sectional, but for now we're just enjoying getting to know the piece. I hate to share any spoilers too early in the process, but John and I (and all four pets) have been lounging on the sectional day and night, and my initial thought is that it's perfect. Stay tuned on more from that front next week after the big room reveal.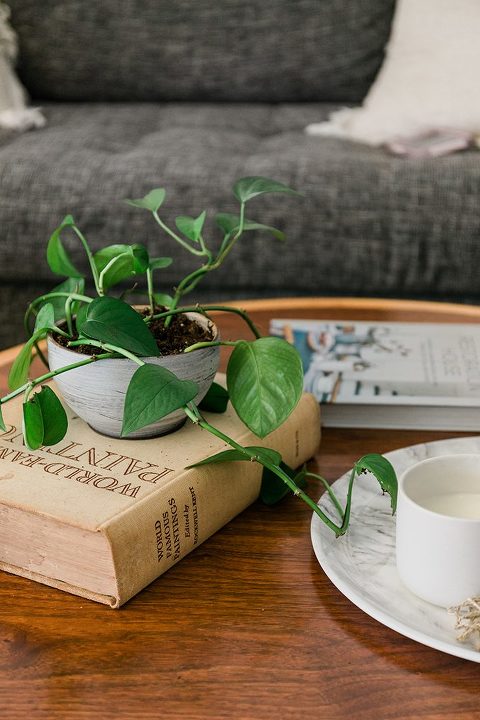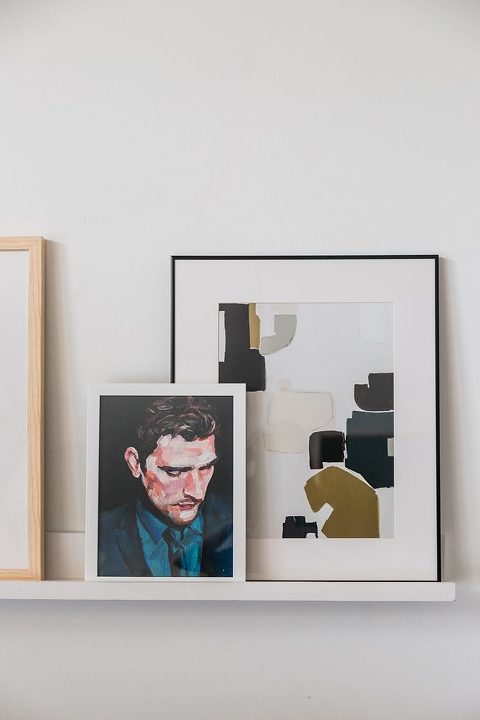 Aside from the couch, we also introduced a new collection of art to the space to help tweak the overall color palette a bit. Did I tell you guys about the art ledge that I hung up in the living room a few months ago? I know I mentioned it on social media, but sometimes I forget to share these types of mini updates here on the blog, too—whoops!
At any rate, I decided back in early spring that I was sick and tired of putting holes in the wall for art (I change my mind frequently, if you hadn't already picked up on that), so I hung an art ledge above our couch. That way I can just lean new pieces of art in place when the mood strikes instead of nailing them to the wall. I absolutely adore the three new prints we chose for the space, and appreciate that I didn't have to damage the drywall to put them up.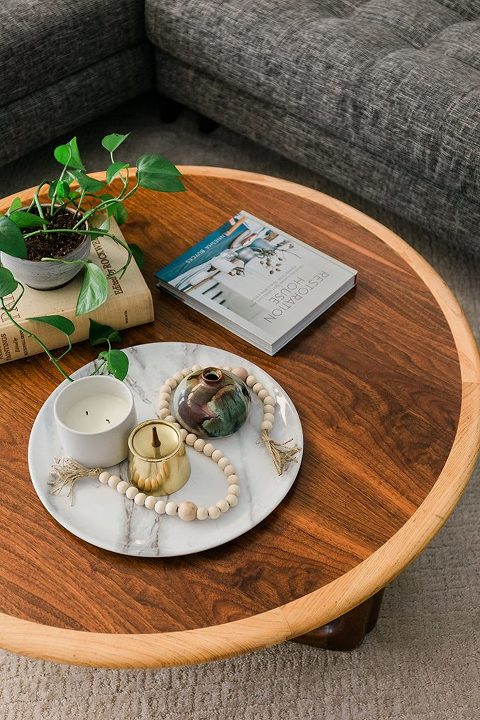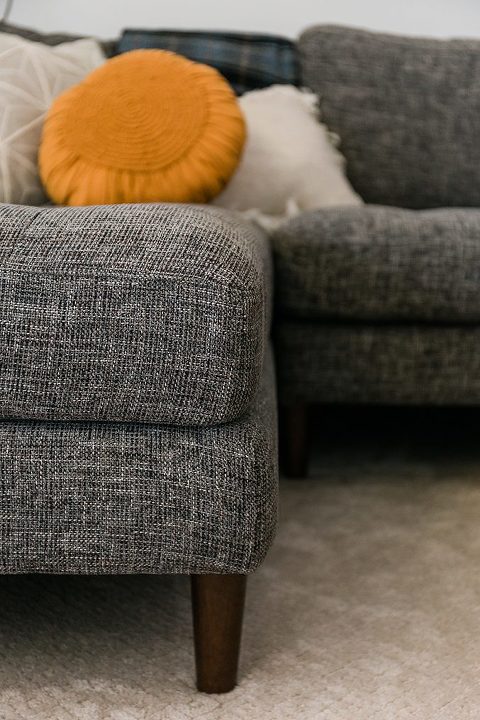 After factoring in a new couch and new art (plus a few new pillow covers that I ordered at the last minute after these photos were taken), I really wanted to try making use of décor we already had to fill out the rest of the room. So, instead of investing in the boho rattan coffee table that I had spotted at an antique store a few weeks ago, I brought up the vintage round coffee table that we already had in our downstairs family room to pair with the new sectional. I love how the rich wood tones of the coffee table speak to the tapered wood legs of our new sectional—don't you?!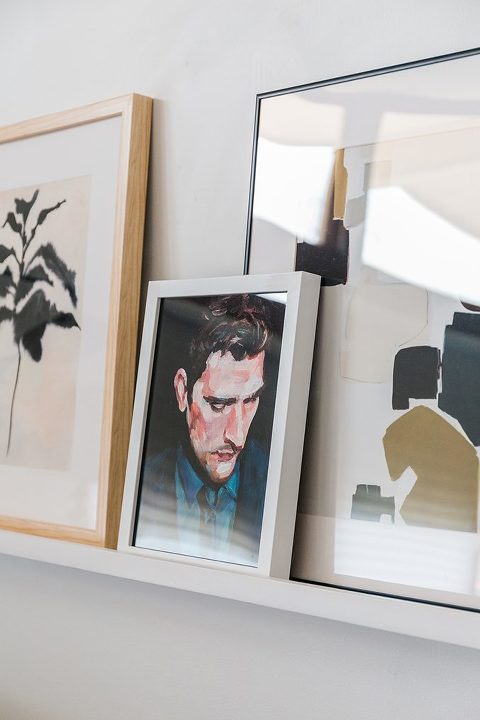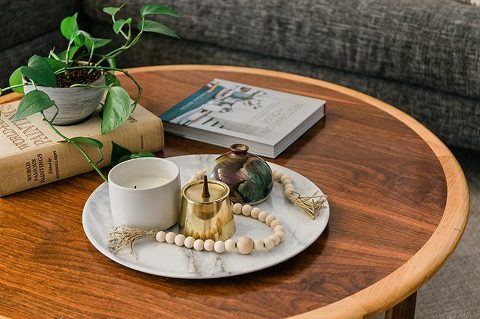 Another thing to point out quickly is the beaded garland you see styled on the coffee table above. I was looking through inspiration images on Pinterest, and happened to spot something similar in a designer space. I searched quickly online for something similar to buy, but after realizing just how expensive they are to purchase ready-made, I whipped up my own using supplies that I already had in my craft closet. I started by stringing the beads on a piece of thick twine, and then made two tassels to go on either end. Took me about 20 minutes, and saved me $20+!
Check back for the full reveal of the revamped space next Monday, and I'll be sharing our candid thoughts about our new Sven Sectional from Article the Wednesday after that. Got decorating ideas of your own to share? Leave them in the comments, because I'm still a long way from being done with the room, and could use all the inspiration I can get.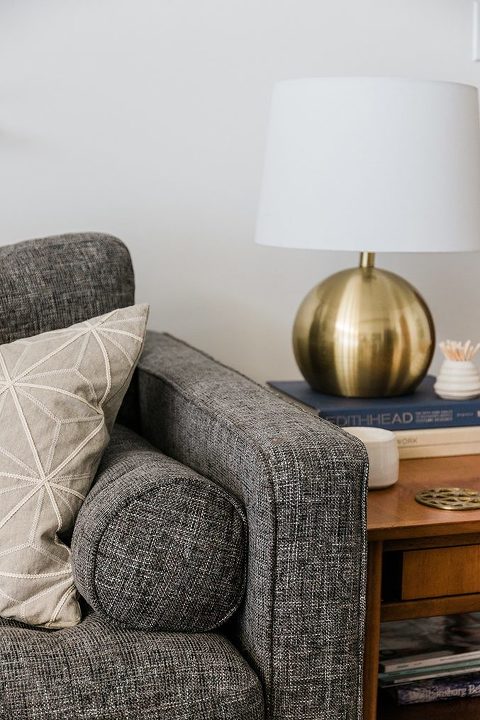 *This story was an in-kind partnership with Article. We were given product to style and experience first-hand. All thoughts and opinions are our own. Thank you for supporting the brands that support Dream Green DIY!