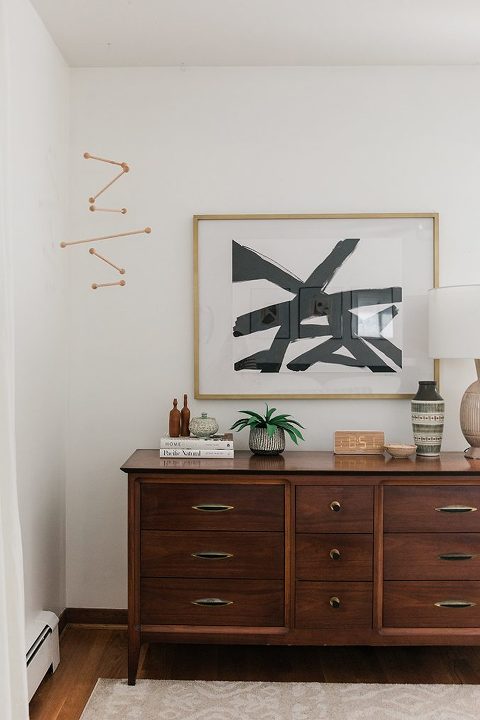 It's not all that often that I get the chance to buy new (read: vintage) furniture for our home since I made a vow a few years back to limit my antique shopping. We've had the same secondhand collection of furniture for years and years, and I'm very much okay with that. I appreciate that our home is filled with, more or less, one-of-a-kind treasures, and I'm most proud of the fact that I've learned to love what we already have instead of going out and filling my car with antiques just because I felt like it. That's major progress, people!
Even still, I'm not cutting myself off "cold turkey" from shopping for antique furniture. I'm allowing myself a couple of loopholes, one of which is if a piece isn't quite up to snuff anymore. In other words, the quality of the item leaves a little to be desired. I still love the vintage chairs, dressers, and cabinets we bought seven or eight years ago, but back then I didn't have much of a budget to speak of, so I looked past squeaky drawers, chipped tabletops, and less-than-pristine finish work.
Now as 30-somethings, both John and I want more out of our furniture. We want them to be beautiful and functional. We want to invest a little more money into pieces that feel like they're heirloom quality. I will absolutely always have a mix of both in our house because, of course, I'm not rich by any means, and that's a-okay by me. But I think it will be fun to search for vintage furniture over the next decade or so that will add a bit of sophistication to our home. Do you know what I mean? I hope so!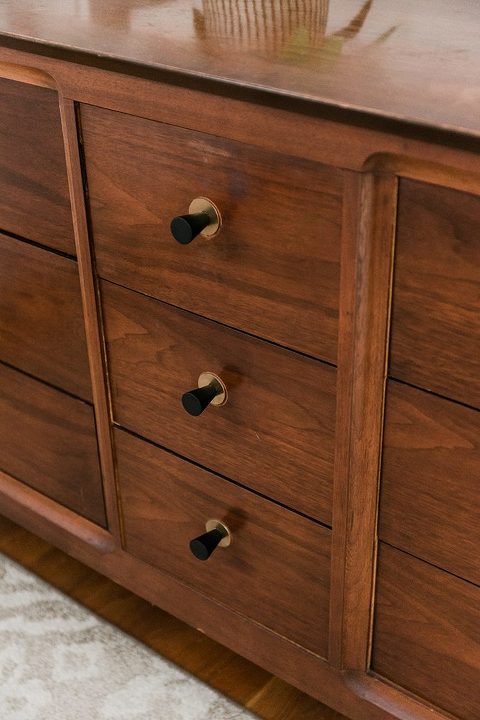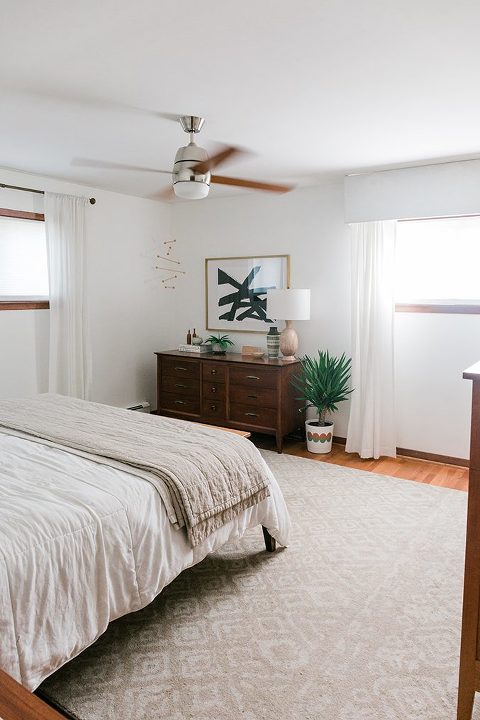 Anyway, all that to say that we recently added a new-to-us mid-century dresser to our bedroom collection, and I'm excited to finally share the story behind it. Following what I explained above, John and I decided that it was time to let go of the old painted mid-century dresser that we had had for almost a decade—long before we even got married. It was beautiful, for sure, but I had watched John struggle to open the painted drawers for far too long, so I suggested we sell it and get something a little higher end for him to use every day.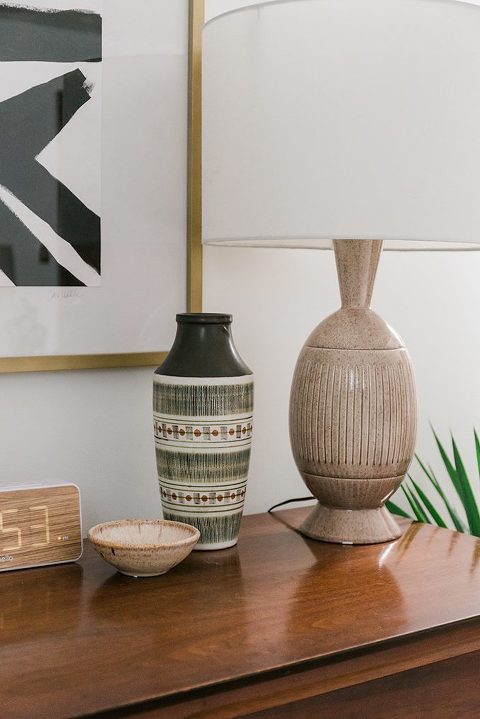 I spotted the new dresser you see in today's post on Facebook Marketplace as part of a set of three: a lowboy dresser, a tall dresser, and a headboard. I didn't really have a need for all three items, so I messaged the seller asking if she'd be willing to separate the collection. She was, although I ended up having to pay a little extra to get it done.
This solid wood piece is exactly the type of thing I was envisioning, though, and, happily, John loves it, too. It's not painted, which is something I was hoping for, and it also is a closer match to the tall dresser my dad built for me that I use every day. We especially love the beveled detailing on the front of the dresser, and the fact that it packs lots of storage—nine drawers in all!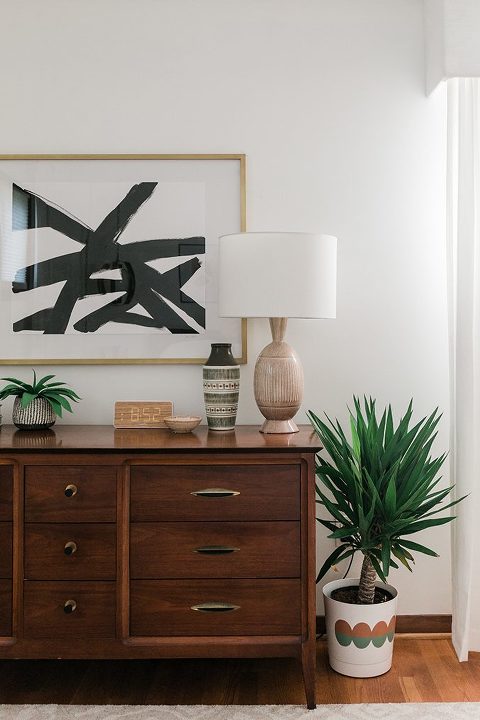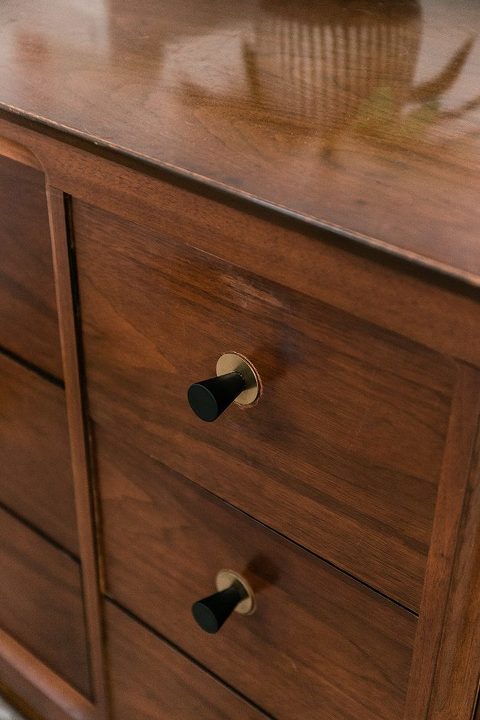 Even though it's a gorgeous piece, it wasn't totally perfect right off the bat. If you click this link, you'll see the dresser in its original state. We appreciate that it came with a mirror, but it was a little low for everyday use, so once we got the dresser home, we carefully removed the mirror and put it in storage. We might end up deciding to put it back on later, but for now we love having a large piece of DIY art (more on that another day!) hung above the dresser.
We also loved the original hardware on the long drawers, but not so much the middle ones. The old circle drawer pulls had come loose over the years and inevitably spun around too many times, leaving behind deep round scratches on the wooden faces of the drawers. The old circle handles were also a little traditional for our taste (again, see the original look here).
So, first, I removed the old handles, and then ordered new matte black ones to go in their place. To hide the scratches on the faces of the drawers, I sandwiched gold-painted metal washers behind the new black pulls. The washers aren't quite big enough to cover the scratches entirely, as you'll see in the photo above, but this quick fix will work until I have time to refinish the drawer fronts properly later on down the line.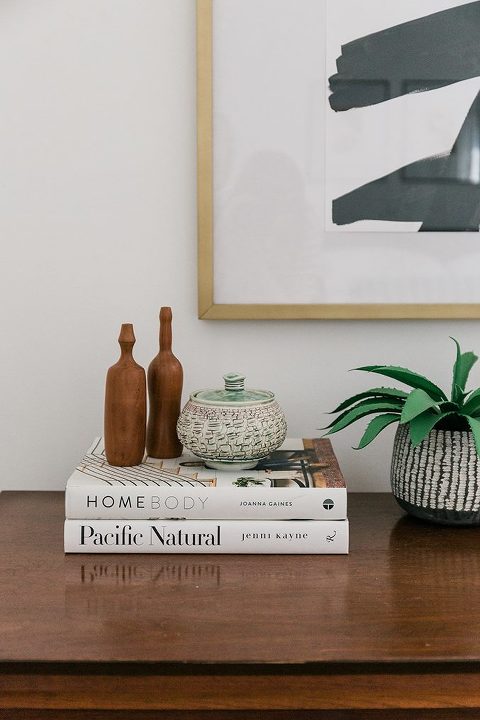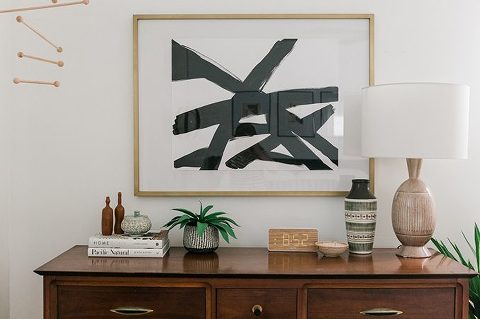 So, what do you think? Are you as much a fan of our new-to-us upgraded mid-century dresser? And if you've been antique furniture shopping lately, what types of pieces have been at the top of your wishlist?