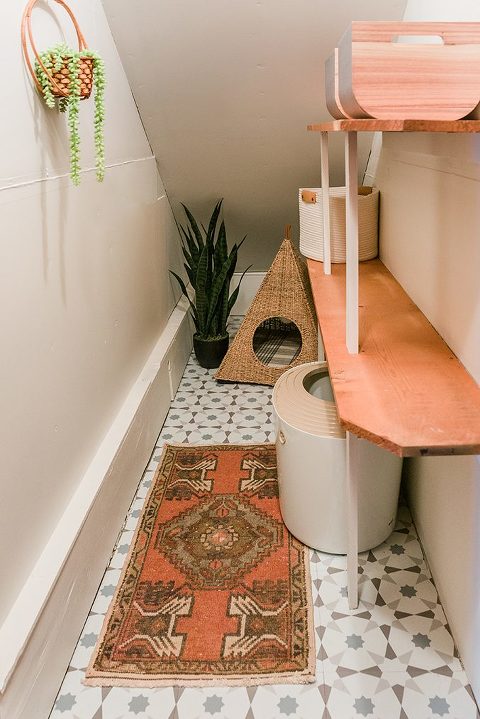 One of the number one questions I got after revealing our Pet Hideaway Closet Makeover earlier this month was: "Where did you get that litter box?!" It might not be the classiest or most appealing thing to talk about (especially if you're reading this first thing in the morning…sorry about that!), but it really is a good-looking litter box.

So, I spent a little time today gathering links to all the items I used in the refresh—from that fan-favorite litter box, to the peel-and-stick tile floor, too! Keep scrolling for all the details, and let me know in the comments if you have any other questions from the closet makeover.
I should also mention that, if you're a little lost about what the heck I'm talking about, you can click back here for the whole story, where I explain what inspired us to turn an under-appreciated closet in our basement into a colorful hideaway for our cats.
Resources From Our Pet Closet Makeover:
1. Cat house ($143)
2. White litter box ($28)
3. Wood and fabric storage box ($15)
4. Peel-and-stick patterned tiles (ON SALE: $9.98)
5. Mini dust pan set ($9)
6. Faux snake plant ($58)
7. Vintage rug ($60)
8. White rope basket ($13)
9. White basket with handles ($13)
10. Wall basket plant holder ($19.97)
*I earn a small percentage from purchases made using the affiliate links above. Affiliate links are not sponsored. Rest assured that I never recommend products we wouldn't use or don't already love ourselves.