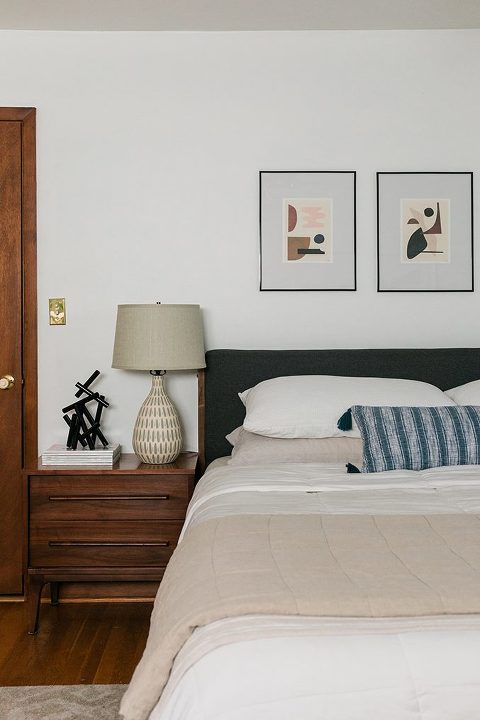 It was actually just a couple of minor initial changes in our master bedroom that prompted this latest room makeover. First, we upgraded our tired old white painted dresser to a nicer wood one that we found at an antique store. I also made the rather sad decision to cover up the DIY faux wood paneling feature wall that I had hand-painted last year. While I loved that rich wood-like texture, it was just a little too much for a bedroom that's meant to be a relaxing space. So, I repainted the wall white to match the rest of the space.
The new all-white painted room inspired me to rethink some of the art, and we also rearranged the furniture so that our new-to-us mid-century dresser could be the focal point. In the end, I decided all of these smaller changes combined as the perfect excuse to go all out, so I changed up the bedding (mostly using linens we already had!), the framed prints, and also the surface styling throughout the space. Long story short, our bedroom is looking pretty different since the last time I shared it here on the blog, so here's a quick look around the refreshed room!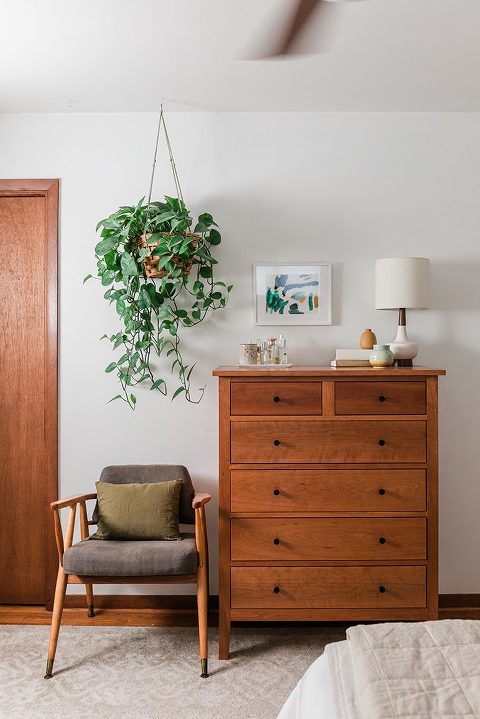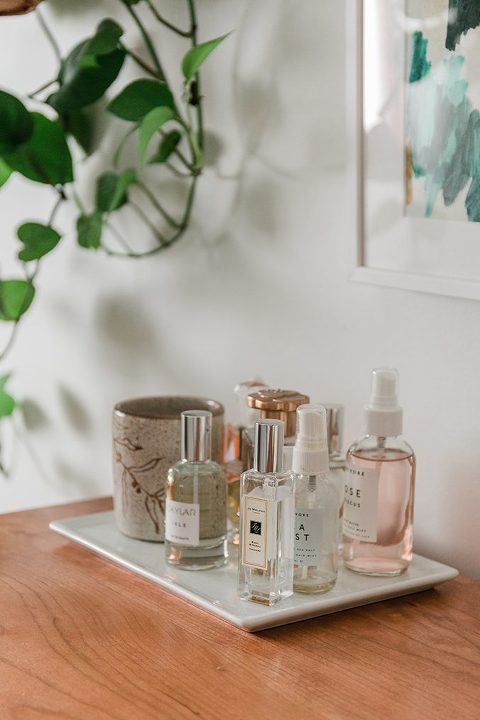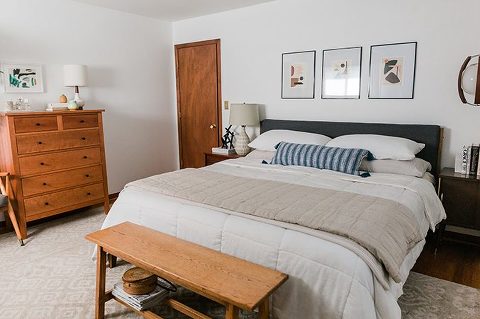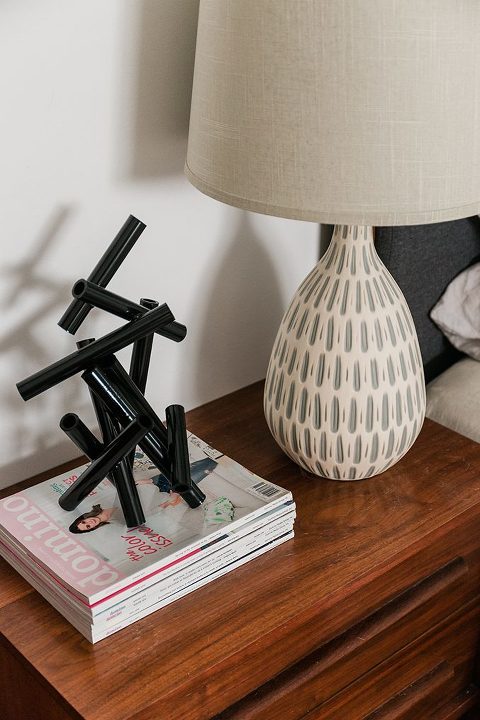 Large lumbar pillow: Target | Pillowcases: Cultiver | Table lamp: Target | Table Lamp Shade: Target | 2-drawer table: Galaxie Modern | Bed: Wayfair | Black Kinetic Pipe Sculpture: DIY
I honestly didn't have to buy much at all for this makeover, which was a relief since I'm trying to be extra careful with my spending right now. Please don't curse me for saying it, but Christmas will be here before we know it, and that's usually the most expensive time of the year for me, so I'm keeping myself on a tight budget.
The bedding is actually just a plain white insert that I usually put inside a duvet, but this time around I left it uncovered to really shine. I have to wash it a lot because the dog gets in bed with me every morning after John goes to work, but I adore the bright white color, so it's worth it to me.
I also layered two oatmeal-colored quilts at the foot of the bed to break up all the white, and stacked the headboard pillows in a sort of different way for me. They're placed one on top of the other so that you can see the bottoms of the pillows. It was such a simple change, but I think the look adds something special and unexpected to the bed overall. The striped tassel throw pillow and side table lamp are the only new pieces I bought for the bed area.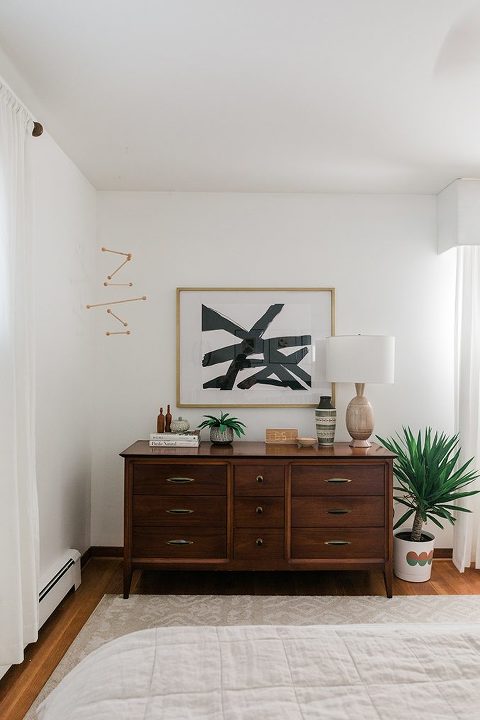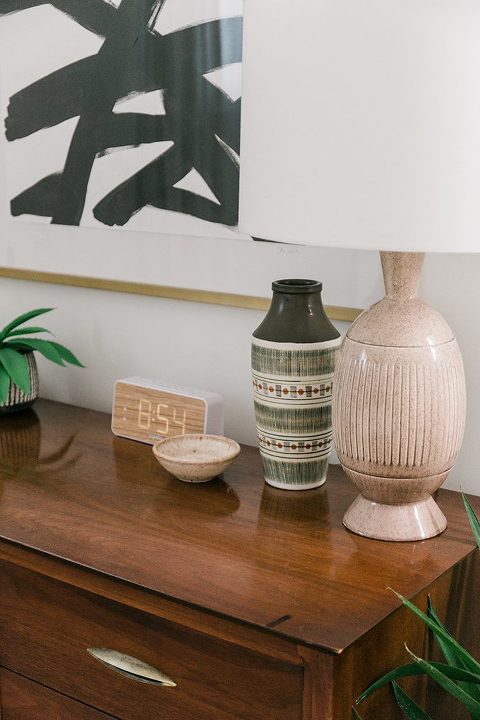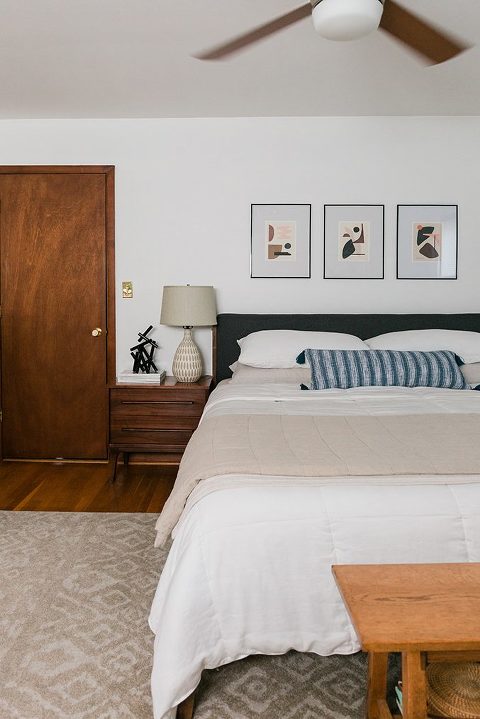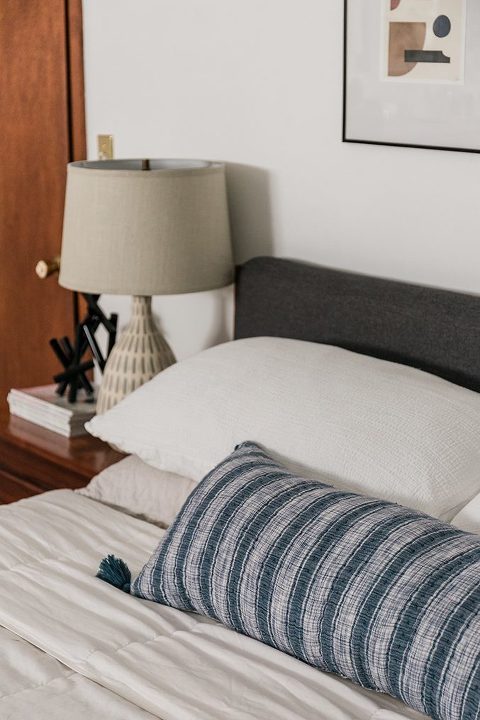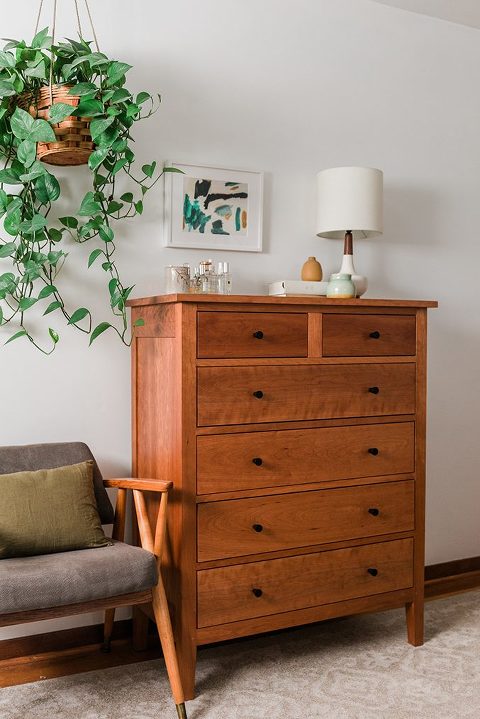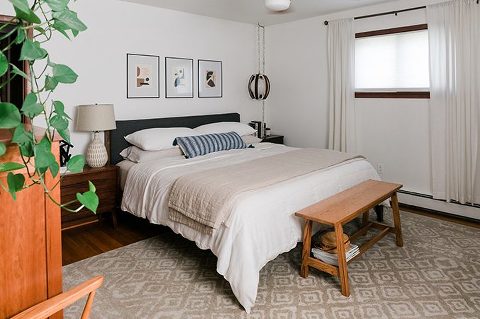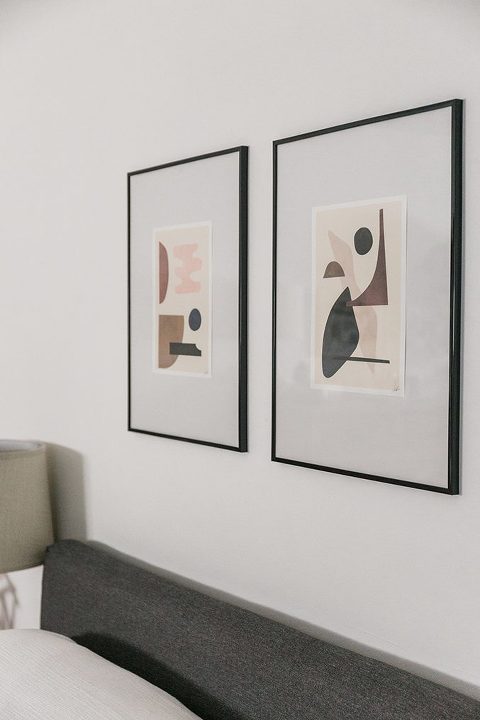 Yellow bud vase: Heath Ceramics | Colorful abstract art: Minted | Ceramics: DGD Pottery | Side chair: Galaxie Modern | Lumbar pillow: Cultiver | Black dresser knobs: Etsy
Oh, actually that's a slight fib because I did also buy the new black frames for over the bed…In them I added art prints that were very kindly gifted to me from the artist Jan Skacelik. The modern geometric shapes and soft color palette were the real jumping-off points when I was trying to settle on an overall tone for the space. Because of the new art, I tried to go really minimalist and modern with the décor. The final look feels so refreshing whenever I walk into the space, so I'm considering it a win!
That said, I made plenty of mistakes while trying to nail the look I had in my head. Before settling on the plain white and oatmeal bedding, I bought a bright mint-colored bedding set from Target. It ended up going back to the store in the end, though, because it was just too bold for what I was going for. I also went through a couple of art options for that spot over our new dresser before finally deciding to paint my own abstract art piece. I'm planning to share more about that process in its own blog post, so stay tuned!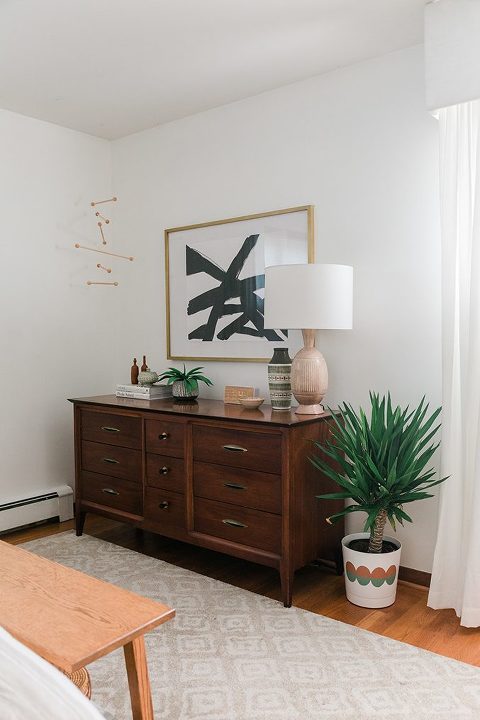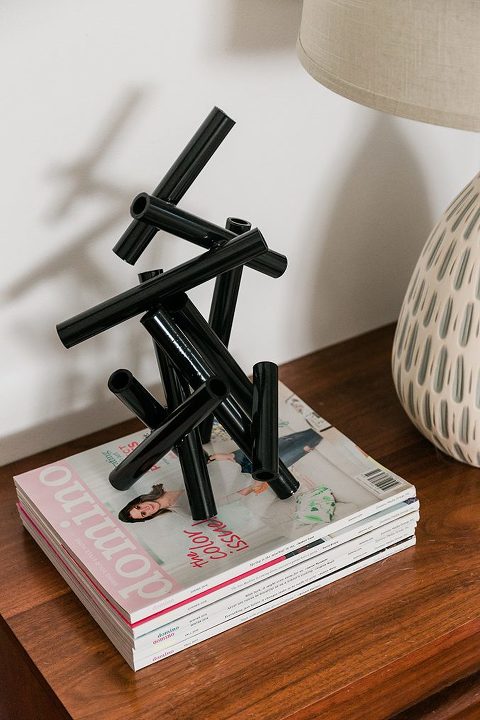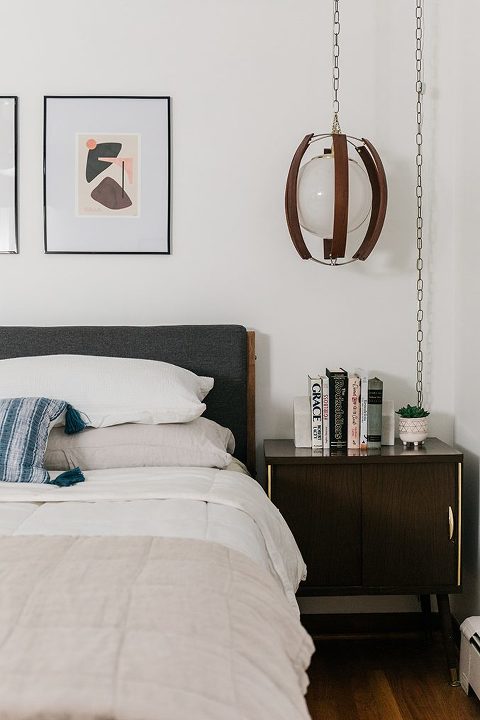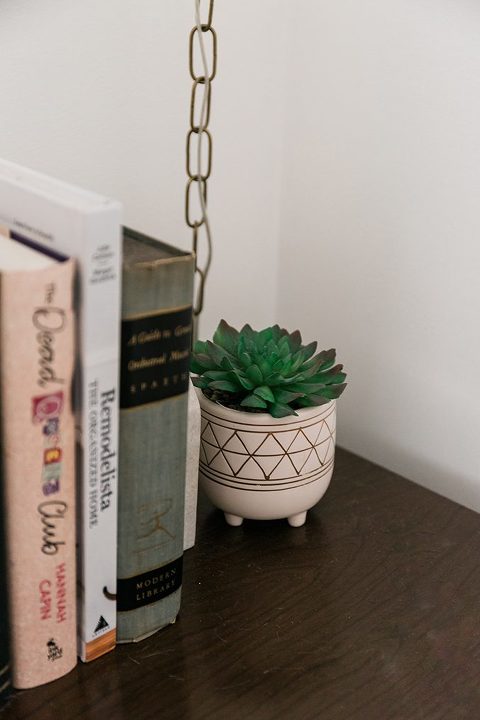 Remodelista book: Amazon | Vintage Hanging Lamp: Circa | Slider table: Queen City Marketplace | Fan: Wayfair (similar) | Geometric Art: Jan Skacelik Art
As for the styling in the room, I tried to keep that pretty simple, too, choosing just a few favorite DIY projects to display (my kinetic pipe sculpture and wood mobile!), as well as a handful of my most nostalgic antique store scores—like the pair of wooden vases I found in Richmond four or five years ago, the tall ceramic vase I bought from a consignment store in North Carolina this past winter, and the hanging mid-century light my dad restored for me. Everything tells a story, and I love that.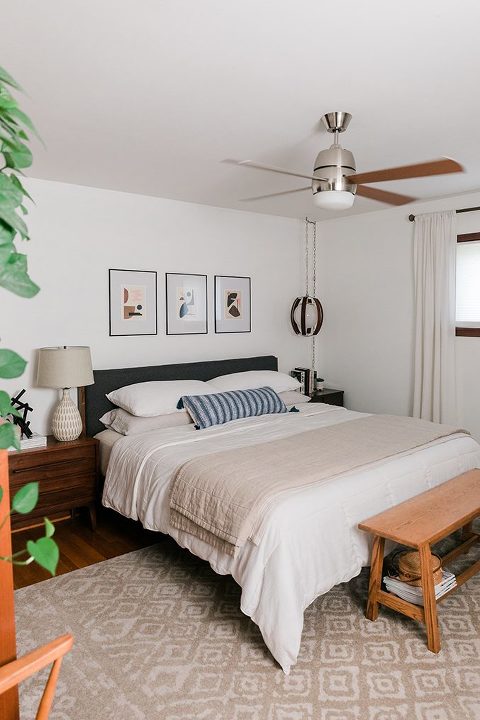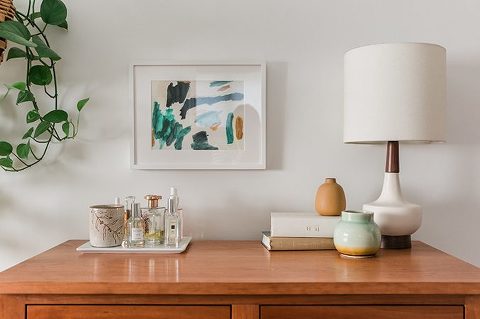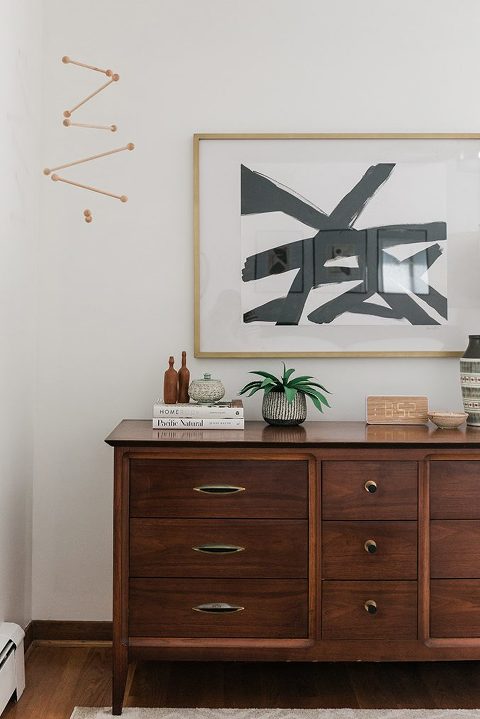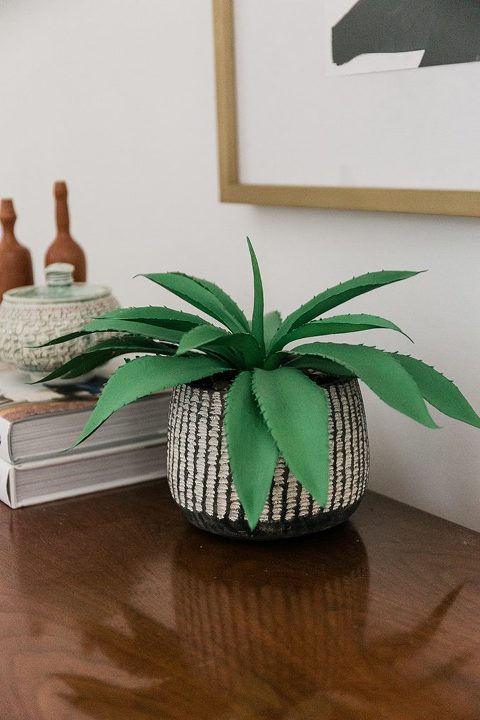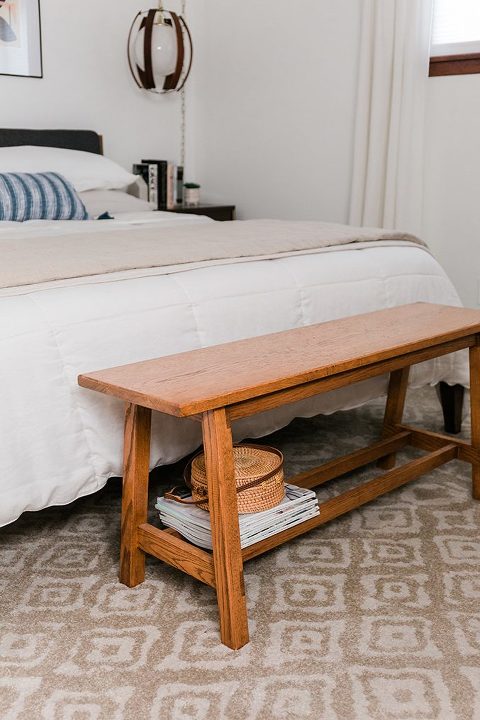 Rug: Home Depot | Rattan Bag: Amazon | Clock: Target | Painted Pot: DIY | Abstract Painting: DIY | Brass switch plate: Amazon | Wood mobile: DIY
I've actually already made a few tiny tweaks to the design since photographing this tour. For example, I decided to take down the DIY upholstered cornice that I had built to conceal our wall-mounted AC unit. Virginia has been sweltering hot this summer (like much of the world!), and I started to worry that my cornice board was limiting the flow of cool air coming from the AC, so I took it down.
I'm trying to be better about embracing functional imperfections throughout our house, like exposing the unsightly AC unit. It was kind of silly to try to hide such an important unit just for aesthetic reasons, so I'm letting it run freely out in the open. As dumb as it sounds, that's kind of a big step for me since I'm usually willing to let design win over functionality and comfort.
Anyway, I hope you enjoyed the tour! I tried to link to most of the resources throughout the post, but let me know in the comments if you want more information on any one piece. Shout if you have master bedroom décor ideas of your own, too. I'm sure I'll be feeling the itch to make this space over sooner rather than later. I can't be stopped!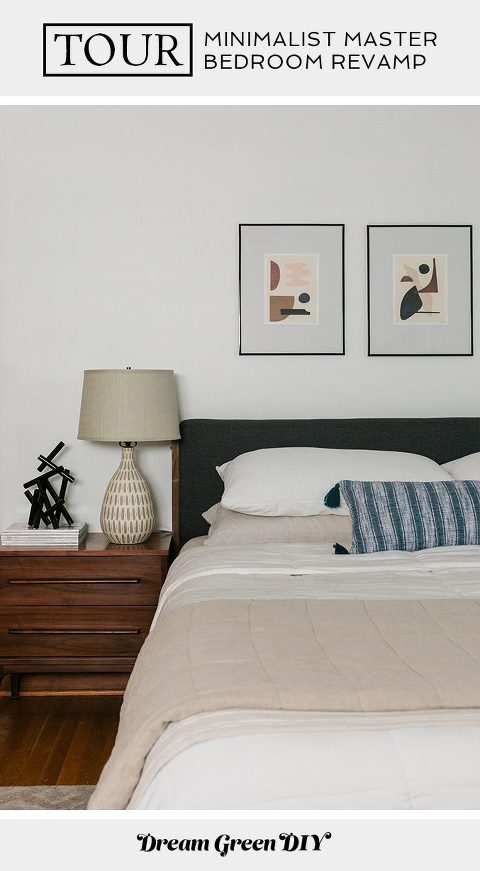 *I earn a small percentage from purchases made using the affiliate links above. Affiliate links are not sponsored. Rest assured that I never recommend products we wouldn't use or don't already love ourselves.