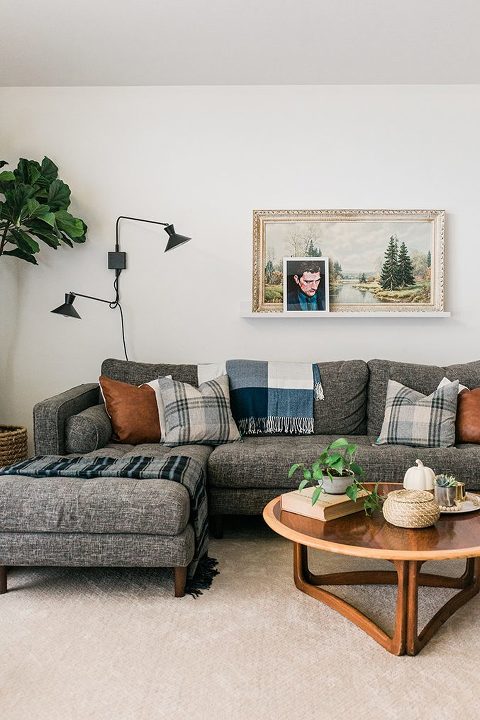 As you may remember from Monday's post, I'm actually already knee-deep in Christmas décor for a styled photography job that I booked late last month. But just before that, I was quickly working my way through the process of decorating our house for fall for a different styled shoot. Oh, how funny it is at times to be a blogger…Always jumping the gun on holidays and seasons!
Happily, I don't really mind since I always look forward to seasonal shifts, especially since it almost always involves a few home décor changes, too. That said, I know not everyone really looks forward to the process of decorating and redecorating to suit whatever holiday or time of year we're transitioning into. So, back when I was turning our living and dining rooms over to autumn, I thought I'd pay extra close attention to my process so I could pass the shortcuts along to you guys.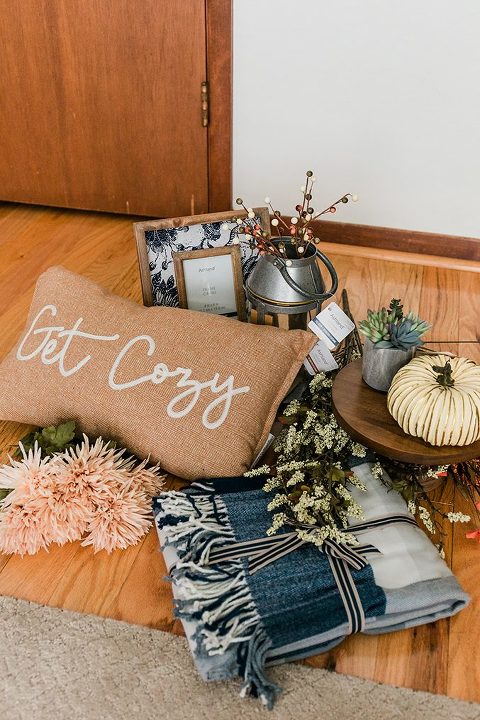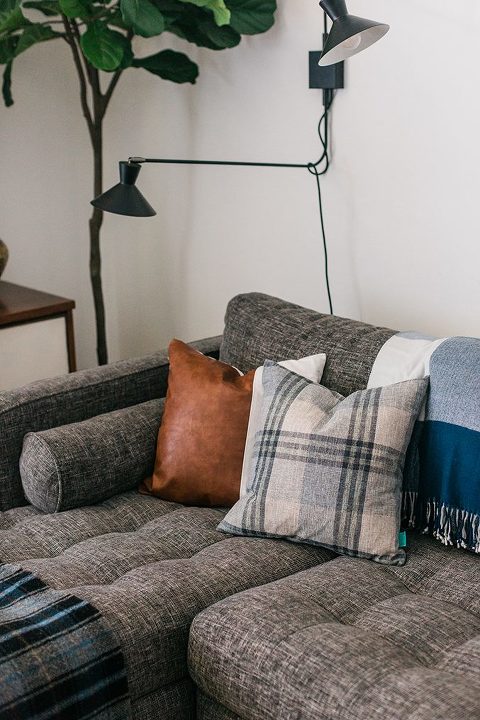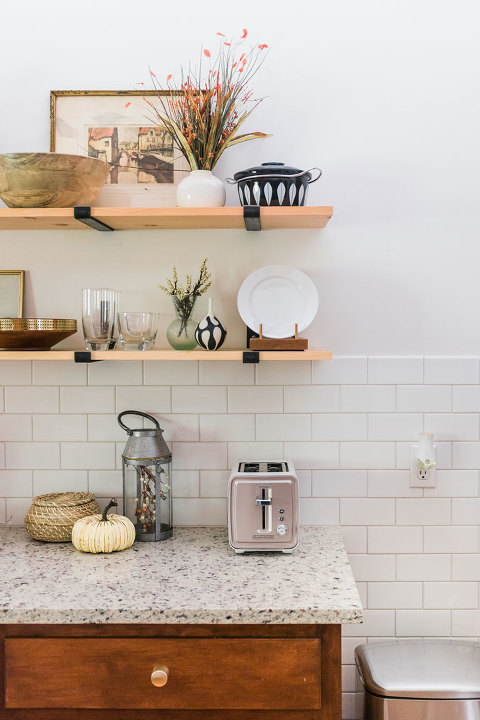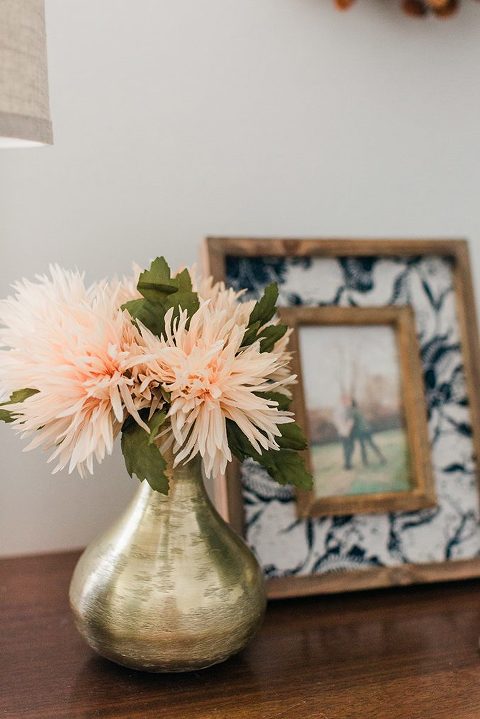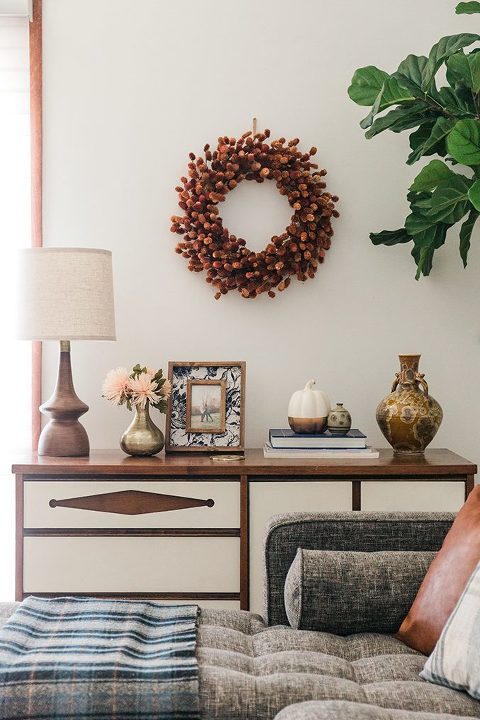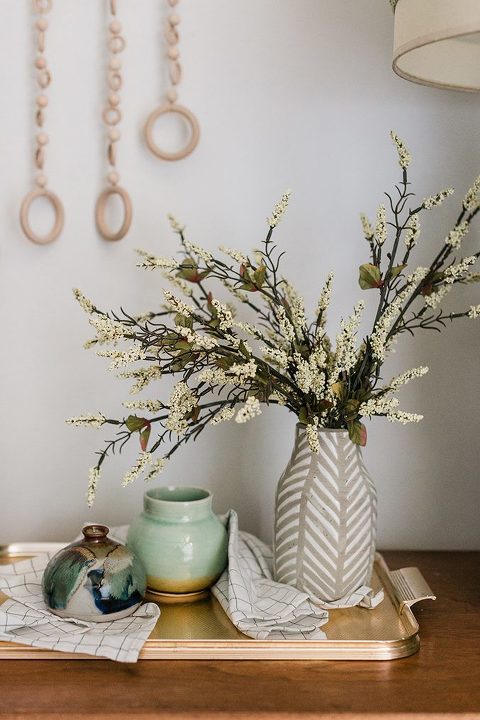 Plaid Blanket | Sofa | Sconce | Plaid Pillows | Leather Pillows | Art Ledge | Navy Portrait
The first thing is budget, of course. We tend to reuse mostly the same décor every fall (think: ceramic pumpkins, knit blankets, plaid pillows, etc.), but in case you're headed to the store to stock up on a new collection of autumn items, make sure you keep a budget in mind.
That might sound like the most obvious thing in the world, but if you keep just a loose idea of how much money you hope to spend, you'll probably end up going past it in a hurry without meaning to. When I say "set a budget," come up with a hard and fast number, and make sure you tally up your items on a calculator (I just used the one on my phone) before heading to the cash register. My goal was to spend no more than $150 on refreshed fall décor, and, because I kept that number top of mind while shopping, I spent just $148 plus some change.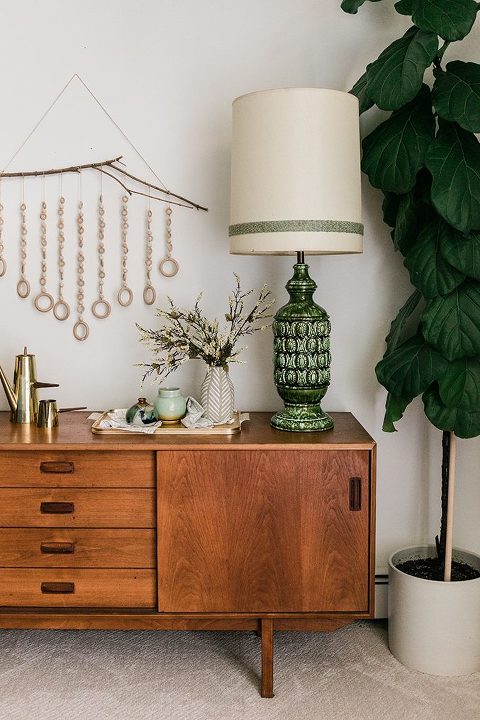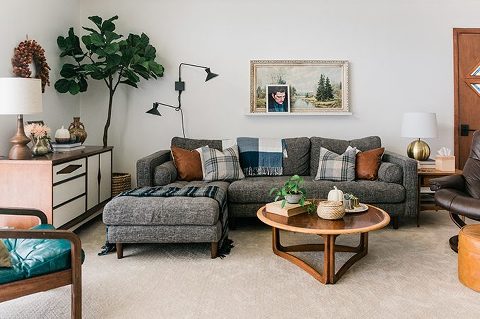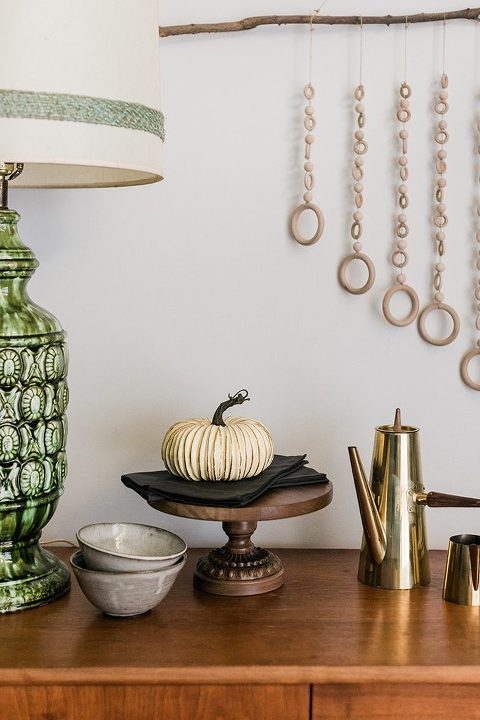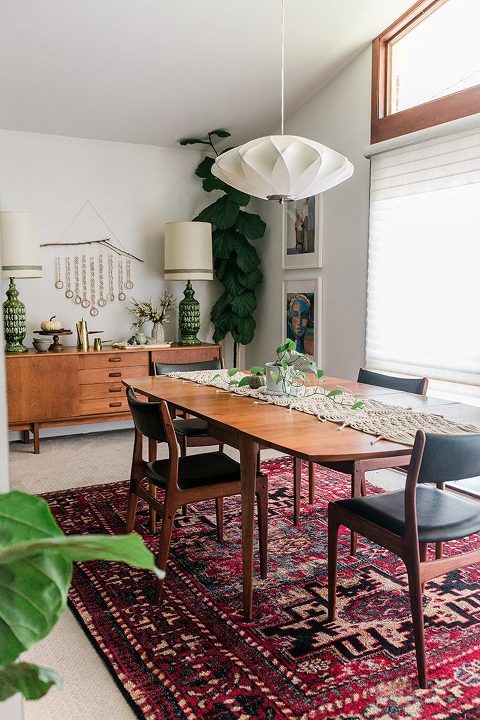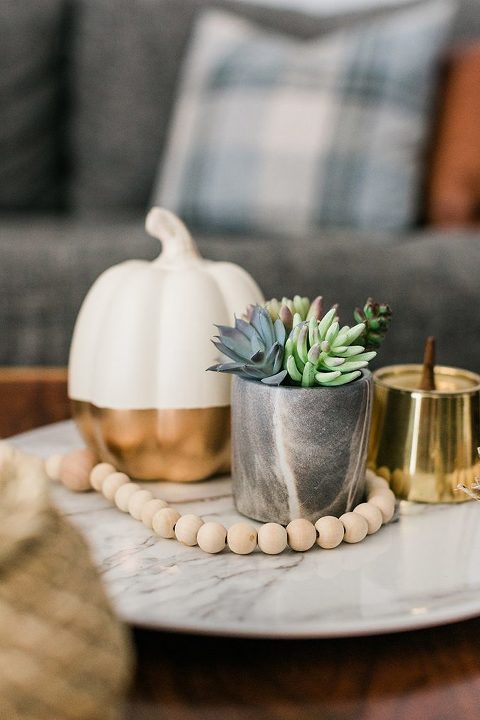 Rug | Pair Of Framed Portraits | Carpet | Floral Picture Frame | Wood Lamp
The other trick I decided to implement this year was a 1-tote maximum. John and I just spent about a month and half emptying out all the junk in our basement, so the last thing I want to do is fill it back up with tons of seasonal décor we only get to enjoy a few months out of the year.
With that goal in mind, I first made a bee-line to the storage section at the store I was shopping in to grab a clear storage tote. I kept it open right there in the cart as I wandered the décor aisles, and decided that I would only allow myself to buy whatever could fit in the tote. That way, I knew exactly how much space my fall décor would take up on the shelf in our basement.
The other great thing about this trick is that it forced me to really consider and think through my purchases. Bound by both the space parameter (one tote) and my budget ($150), I carefully chose only the items that I knew I'd love year after year. There was no room for impulse shopping this time around!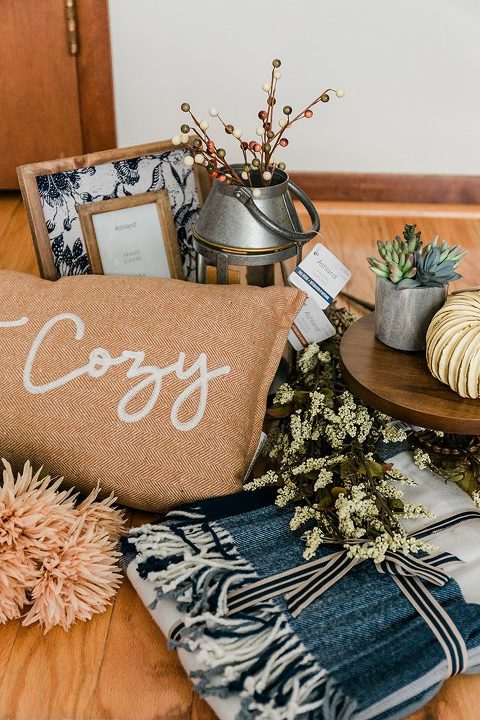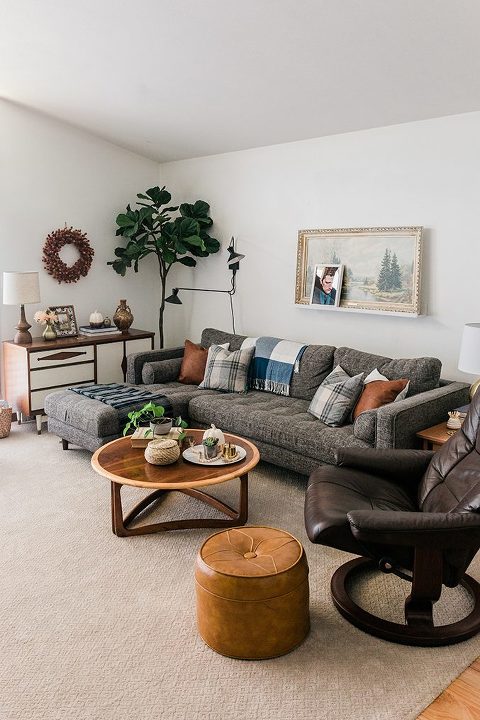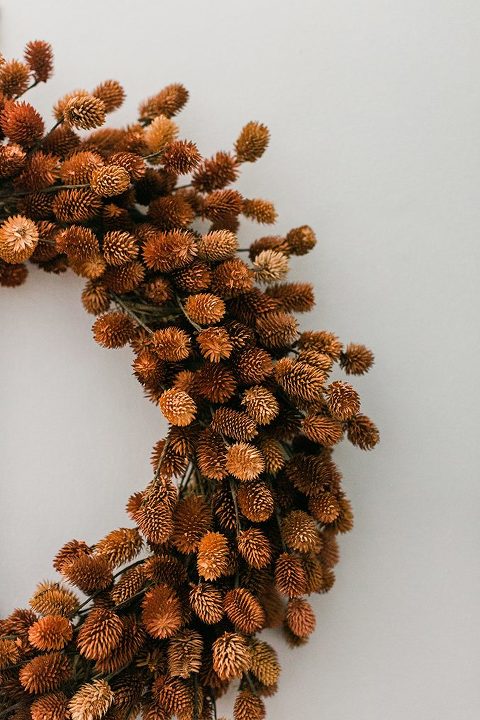 Faux Fiddle Leaf Tree | Dried Wreath (similar) | Chandelier (similar) | Macrame Runner
The next step, of course, was to get it all home and start styling. I spent days arranging items and then rearranging them to get the perfect balance of "fall" without going overboard. Some of my favorite moments: the pair of plaid blankets we layered on the sofa (and use almost every night now that it's a little cooler outside!), the dried fall wreath that I hung up on the wall in place of a piece of everyday art, all the extra jewel tones I layered throughout the space to deepen the overall look, and, of course, the pretty ceramic pumpkins I put out everywhere.
After playing around with things and finding spots for each item, I actually ended up with a small pile of pieces that didn't quite end up suiting our home (sadly, that includes the cute "Get Cozy" pillow…I just don't think I'm a "quote pillow" type of person!). Making those few returns back to the store helped bring my final tally even lower, and I'm even more committed to the items I stuck with post-shopping-trip.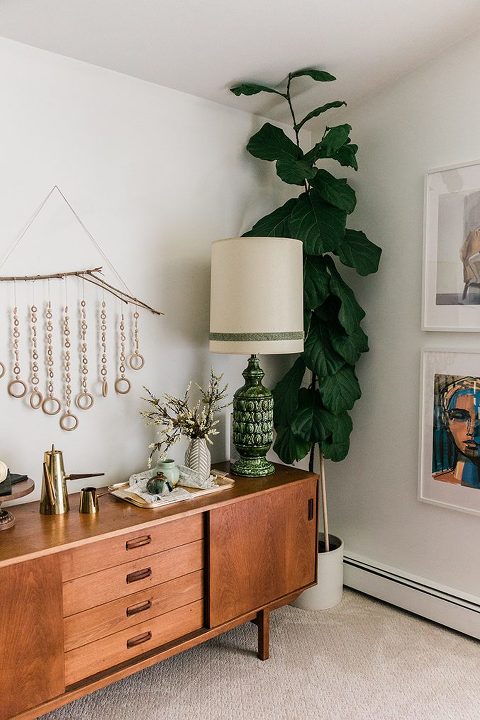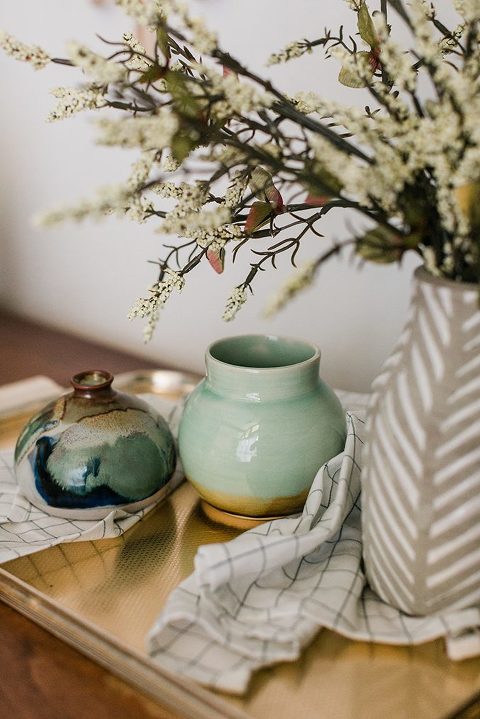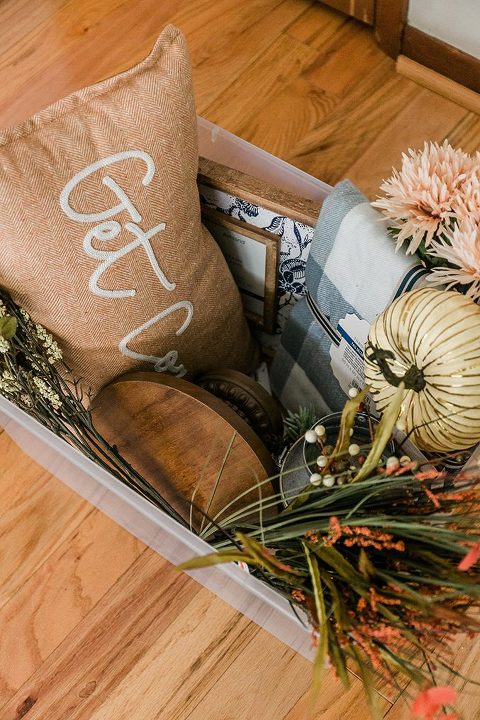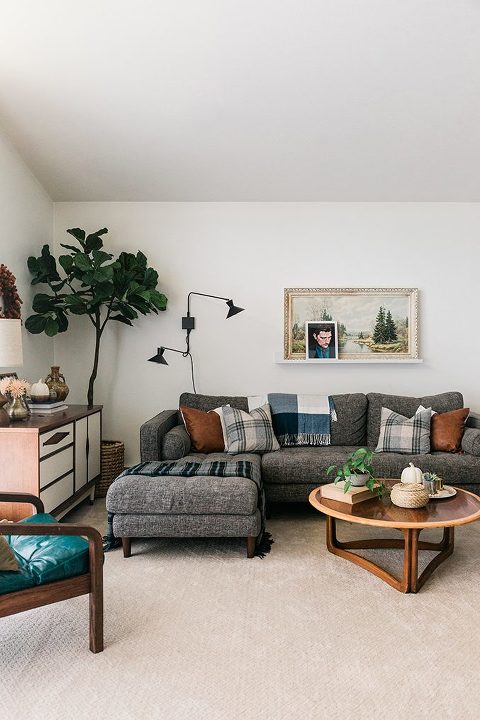 DIY Wooden Rings Wall Hanging | Lantern | Cake Stand | Foam Pumpkin | Gray Napkins
The thought of eventually taking all of our fall décor down to transition to winter is so much less overwhelming since I know for a fact that it will all fit nicely into one reasonably sized tote. Oh, and if you're wondering about what happened to all of these autumn pieces while our living room is looking like full-on Christmas this week (follow along on Instagram for proof of our chaos), don't worry—the Christmas tree and reindeer will all be safely tucked back away until December just as soon as I finish photographing what I need to for my freelance job.
Have you started decorating for fall yet? I'd love to know if you have any tricks of your own to help keep unnecessary clutter at bay. I think it's so easy to be tempted to overbuy, but setting a budget as well as a storage maximum seems to have helped make this year's fall decorating go a lot smoother at our house. Leave your own tips in the comments below!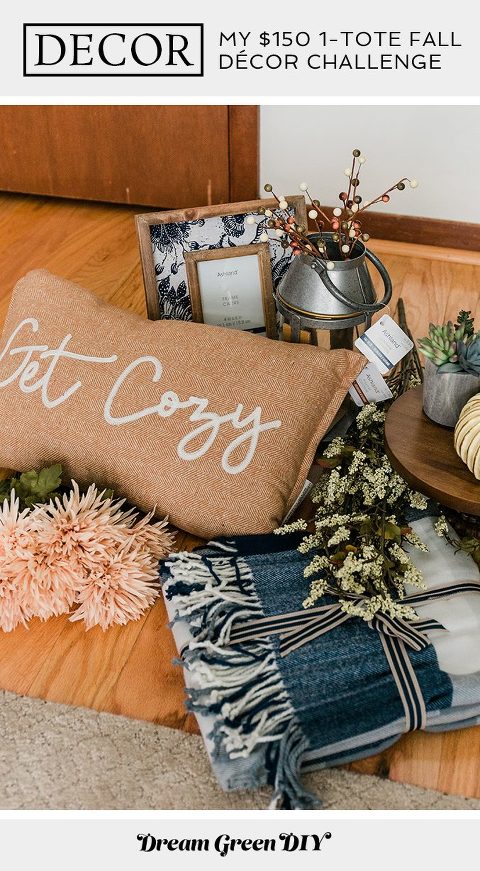 *I earn a small percentage from purchases made using the affiliate links above. Affiliate links are not sponsored. Rest assured that I never recommend products we wouldn't use or don't already love ourselves.