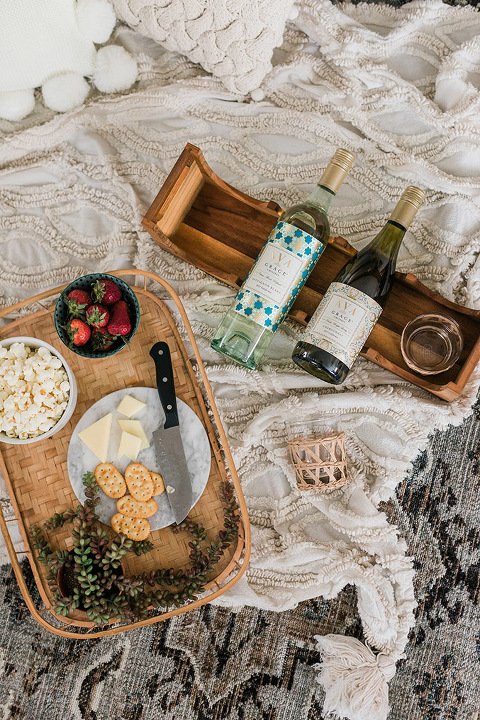 *This post was sponsored by AVA Grace Vineyards.
I think it's pretty safe to say that we all have one favorite season. That time of year that makes us feel all bubbly inside with anticipation. For me, that season will always and forever be fall. Now that it's officially autumn, I'm starting to think through my mental bucket list of seasonal must-do's—things like pumpkin picking at the orchard, spiced latte coffee shop orders, lounging in thick knit sweaters, and weekly fall movie nights. My list goes on and on, but I know that fall isn't everyone's favorite time of the year.
For some of you out there fall is actually a time of mourning! If summer is your all-time favorite season, then of course fall taking over leaves a little bit of a sting. To be honest, I'm not very good at making the most of summer myself. I'm sure that's just because my heart is pining away for fall the entire time, but I tend to leave lots of traditional summertime activities uncrossed on my list (think: swimming at the pool, trips to the coast, outdoor festivals).
So, today I wanted to share quick inspiration that will have us both making one final effort to appreciate summer by way of a simple at-home picnic. I didn't make it out to the park for a "real life" picnic this summer, and feel like I missed the boat. Thankfully, any of us (whether we're on Team Summer or Team Fall) can put together a mini ode to those warmer months right at home.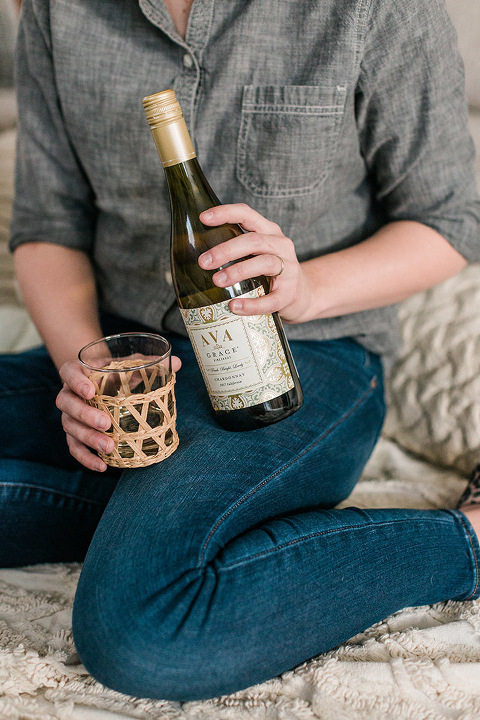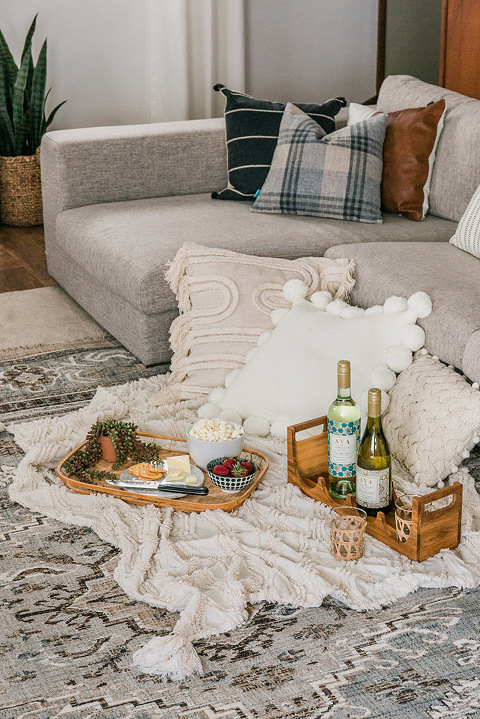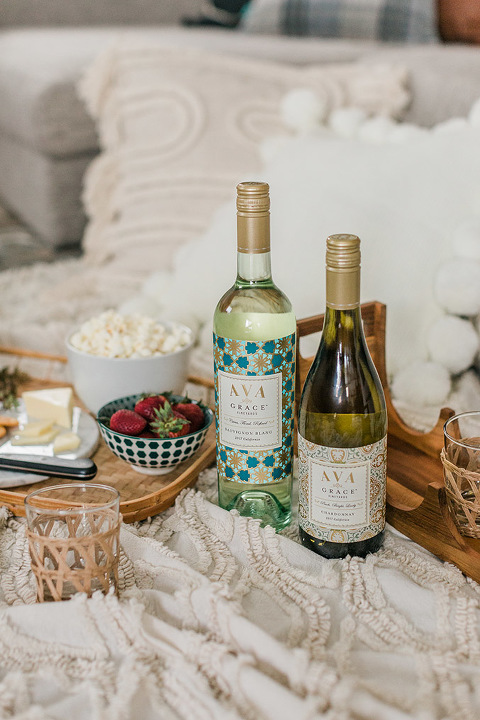 For me (and, I think, possibly for you, too!), it all starts with the wine. I'm partial to varietals from AVA Grace Vineyards, not only because the bottles are some of the prettiest around, but really it's because of the taste. I don't consider myself a wine expert, by any means, but I know what I like and don't like. This, I like!
I picked up bottles of AVA Grace Sauvignon Blanc and Chardonnay for our indoor picnic—the first because I can't get enough of those vibrant hints of grapefruit and naturally bright melon flavors, and the latter for those oaky apple and lemon notes. So far, no matter what varietal I try from AVA Grace, I always respond with a quick "Wow, that's good!" after every first sip. It's a crowd-pleaser, guys.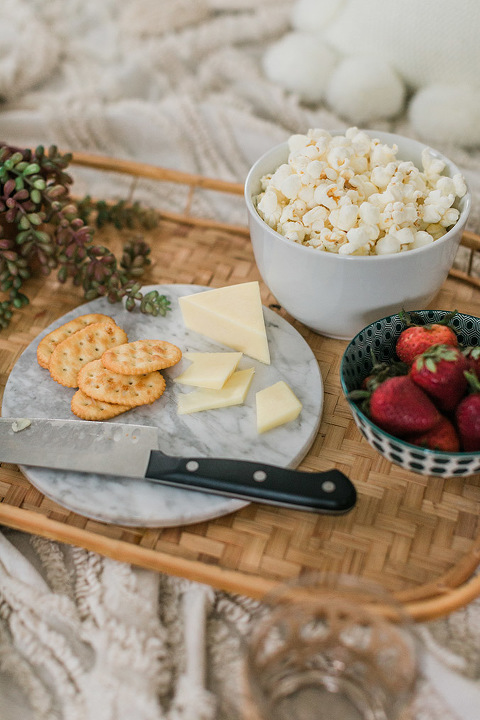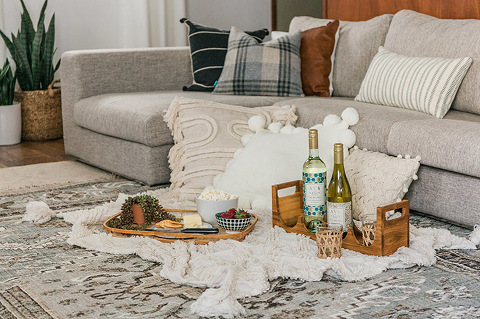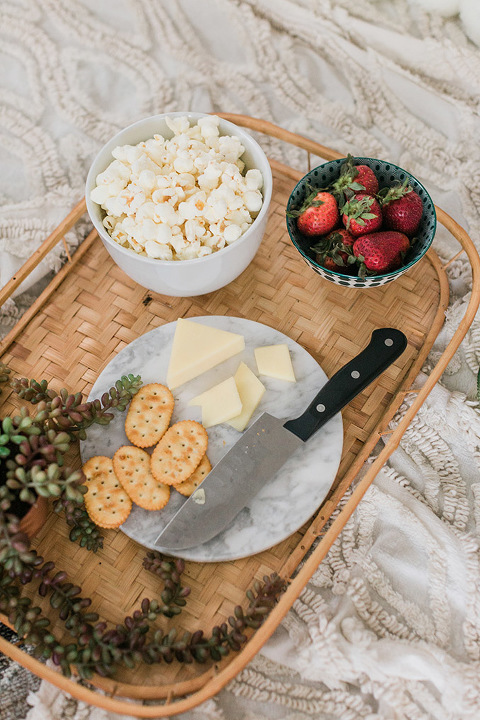 No picnic is complete without the food. I think one of the main reasons we don't do things like enjoying a picnic at home more often is because we tend to overthink things. That's why I kept this spread beyond simple. We're talking a bowl of strawberries, pre-popped cheddar popcorn poured straight from the bag, and some cheese and crackers. The food doesn't have to be fancy—the AVA Grace wine checks that box—so just grab whatever sounds good to you from your refrigerator and pantry, then place it on a tray for easy grabbing.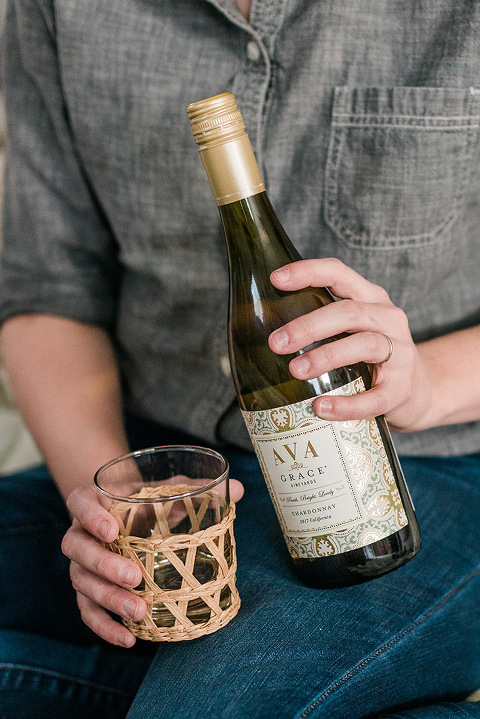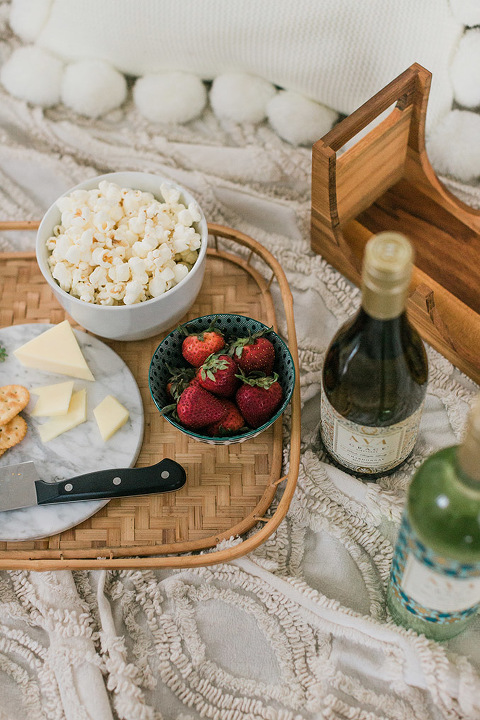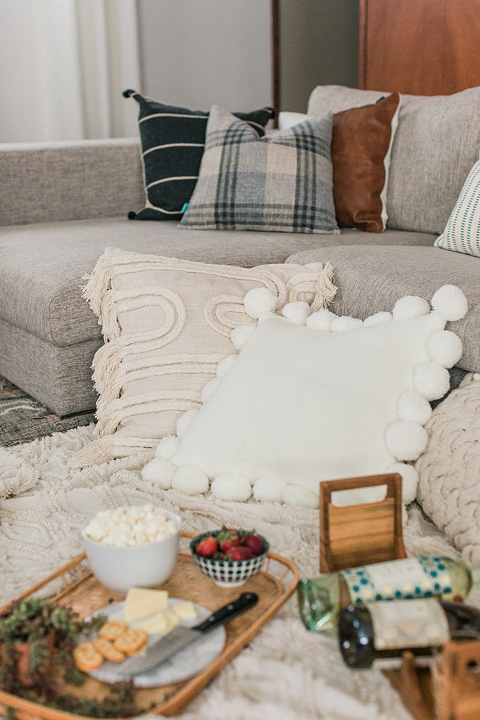 Another thing that doesn't have to take much effort at all is the picnic aspect itself. Move the coffee table off to the side, put down a blanket, and then surround the area with pillows for extra comfort. That's it!
It took me about three minutes to pull this picnic together, but John and I ended up spending an entire Sunday afternoon enjoying the spread. We watched football, sipped wine (from ultra stable, picnic-friendly stemless cups), and munched on snacks all the way through to dinnertime. It was one of those really good afternoons that I know I'll be thinking about all season long.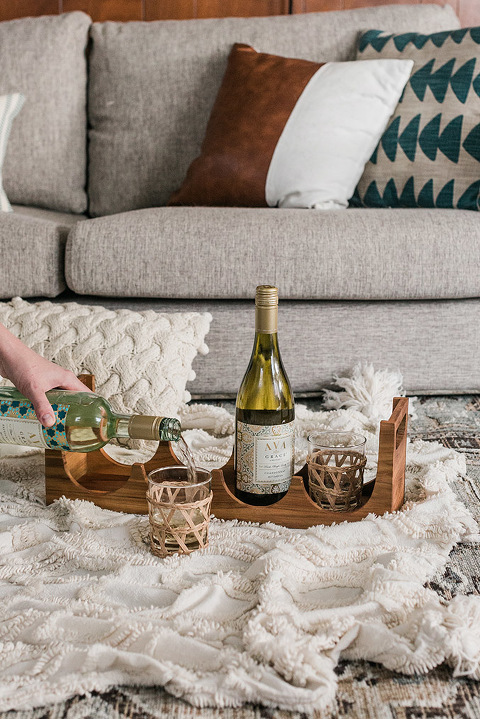 So, what sparks joy for you? Is it summertime and those carefree moments under the sun? Or are you partial to the cozy comforts of fall? No matter what makes you happy, I think it's possible to channel those seasonal memories any time of the year. Whether you treat yourself to a little at-home picnic like we did, or you choose to embrace the cold with a bonfire under the stars with friends, let's all agree to try harder to be in the moment and live our best lives, shall we?
Tell me in the comments what your favorite season is, and let me know which AVA Grace Vineyards wine varietal is your go-to! I think I've tried them all by now, but maybe your recommendation could spark a new thought or food pairing idea, so do tell below.