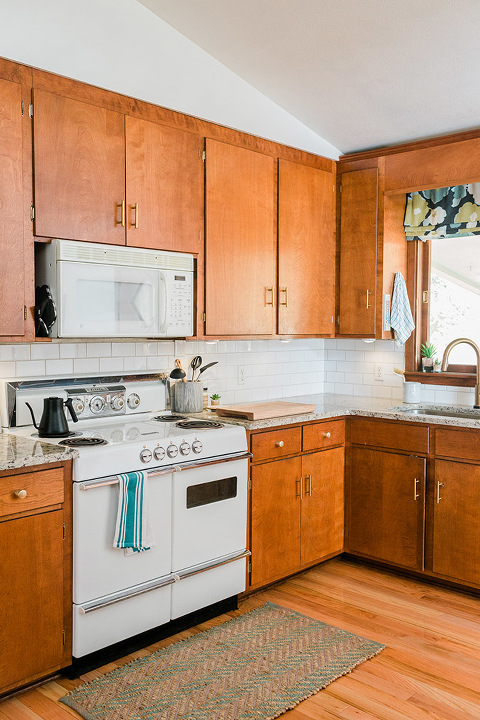 Week 1 | Week 2 | Week 3 | Week 4 | Week 5 | Week 6
(FYI that links will "go live" one at a time as the event progresses)
Well, the cat's finally out of the bag, folks. I'm joining up as a guest participant in this season's One Room Challenge event! Click that link in case this is your first time watching an ORC transformation unfold, but if you've been following along here on Dream Green DIY for the past year and a half, then you're probably already familiar with the event because I was a guest participant in the Spring 2018 round of ORC, specifically focusing on making over our master bedroom. This time, though, it's all about…wait for it…the kitchen!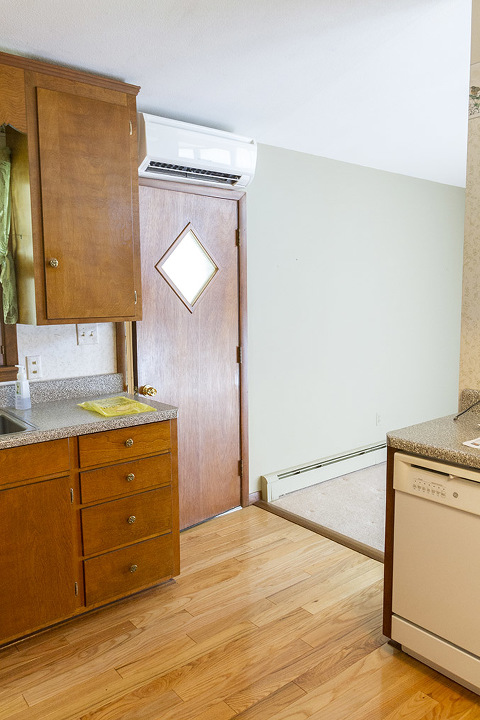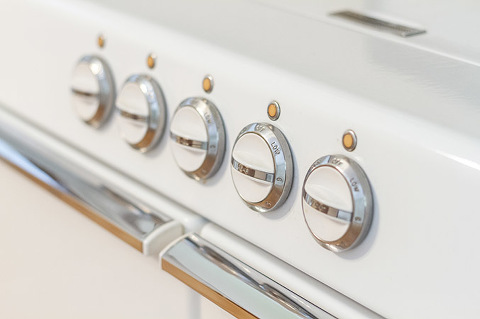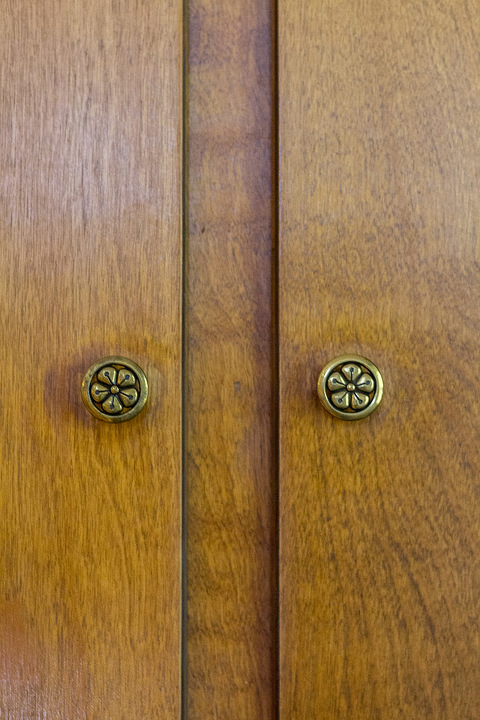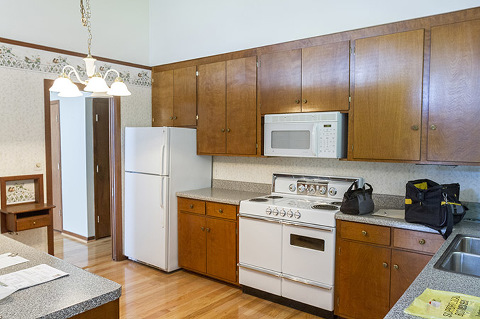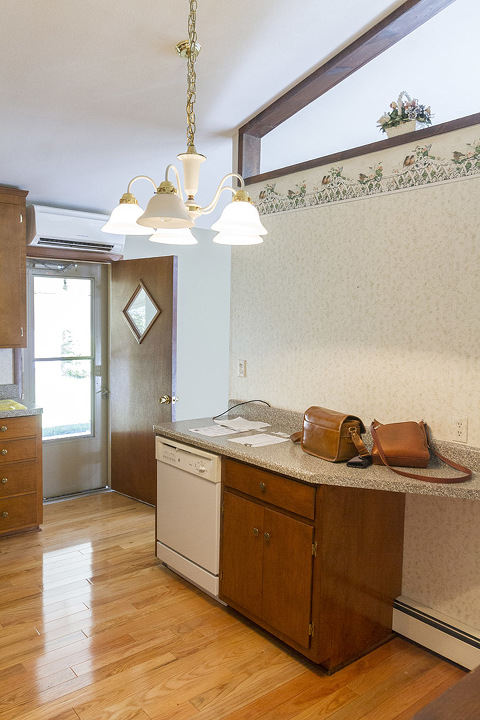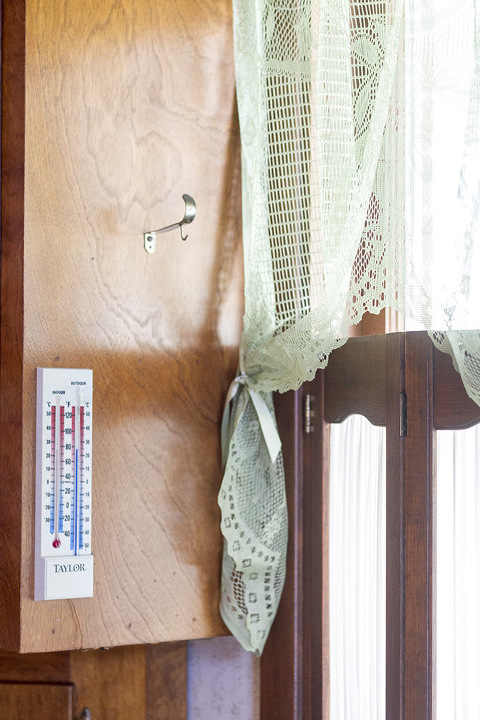 For those of you who are brand new to Dream Green DIY thanks to the One Room Challenge link-up (welcome!), let me take two shakes to catch you up. My husband, John, and I moved into our 1960s A-frame ranch almost exactly four years ago to the day. This is our first single family home, and also our first fixer upper, so we've taken our time making updates as budget and our schedules allowed. We're passionate about sticking close to our home's mid-century roots, and have kept as much of the original character intact as we can. Click here to take our updated home tour so that you newbies can get your bearings!
At any rate, our kitchen has always been a labor of love. So far, we've taken the dated wallpaper down, painted the room white, updated the light fixture, put in new cabinet hardware, replaced the old formica counters, added a gold sink faucet, and installed our own white subway tile backsplash.
That series of photos above shows the state of the kitchen when we moved in (the photos were actually snapped during our inspection day before we had even officially purchased the house!). Below, you'll find a bunch of progress images that document some of the work we've done ourselves over the years (painting, DIY tile backsplash), as well as a few projects (like re-plumbing, new granite countertops) that we hired out.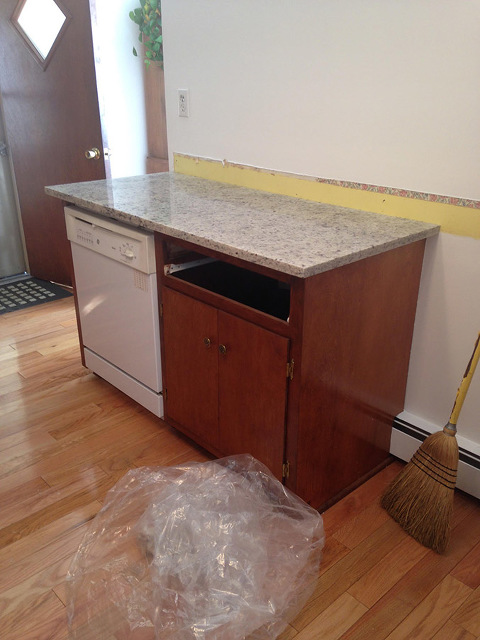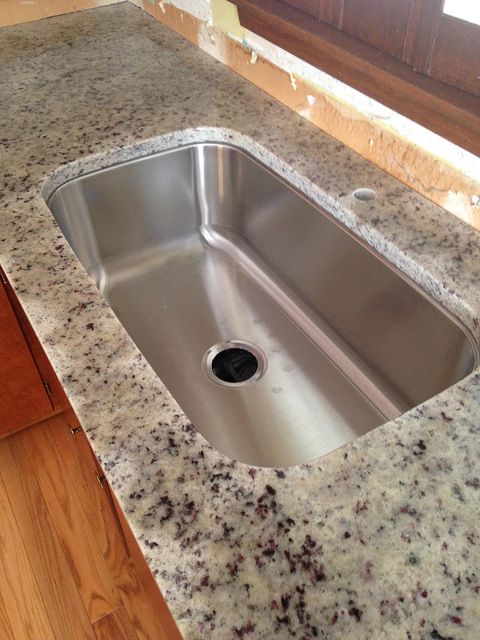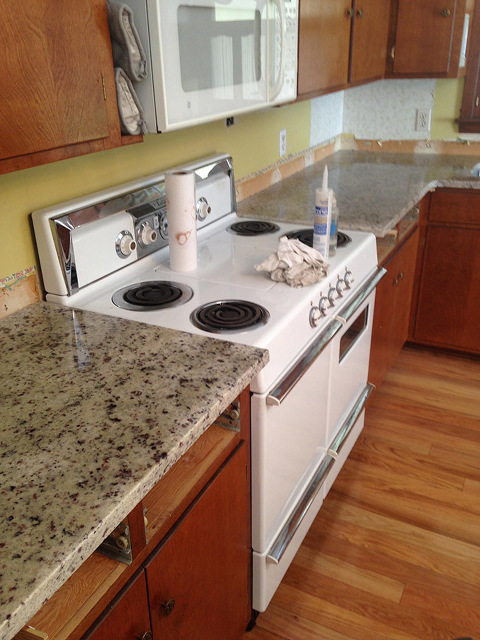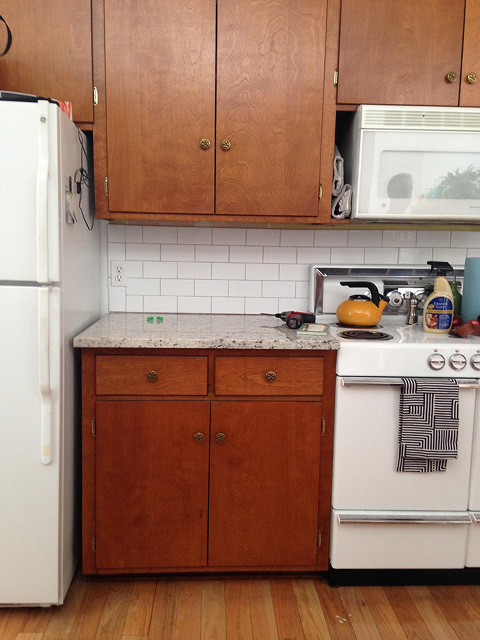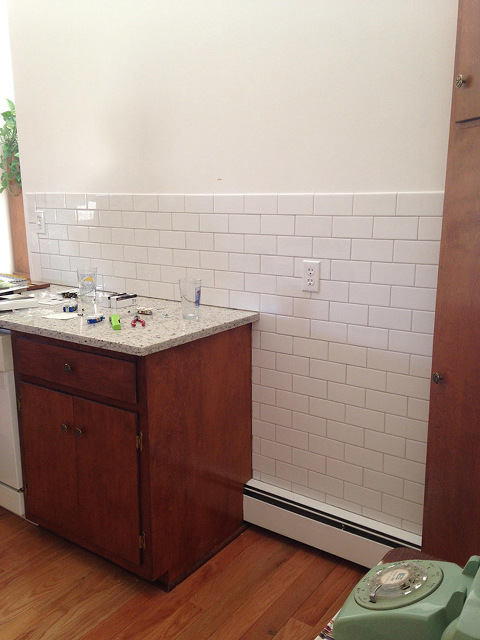 The updates we made in those first few years living here all made a huge difference. We were able to dial back some of the 1990s updates the previous homeowners had made, and worked hard to play up the classic, retro elements that we love about the house. It's a really hard-working space, and there's tons to appreciate about it, but there was plenty that we didn't love, too. Namely, the lighting.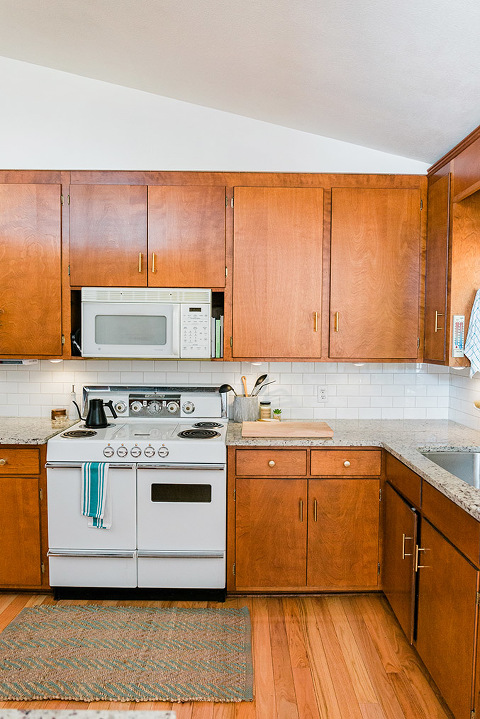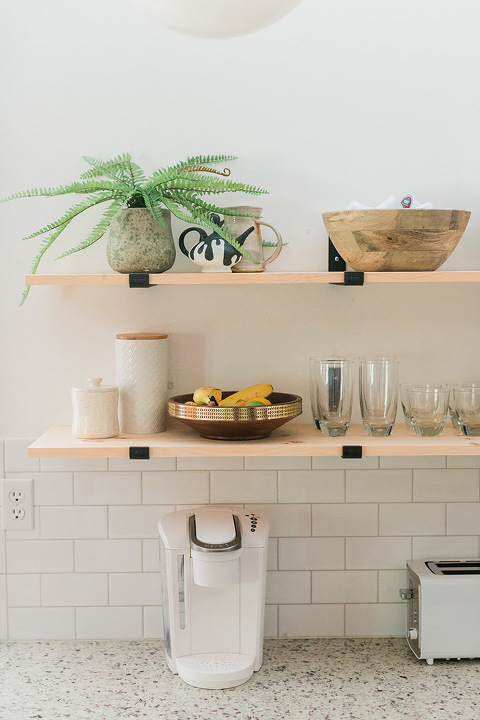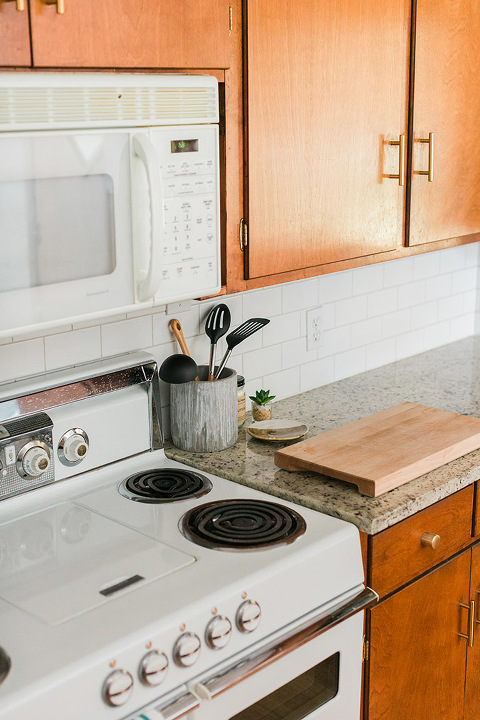 This last handful of photos is actually a little bit misleading, if I'm being completely honest. It looks like the space is nice and bright, and full of sunshine, but that's really just all thanks to the magic of photo editing. The space, in reality, is really dark and dim, making cooking and congregating a little less enjoyable than we'd like.
The biggest issue is the window. Our kitchen window actually looks out onto a covered carport, so any light we get inside the room is mostly just indirect reflected light coming from the concrete carport floor. When there's a car or boat parked in the carport, we get next to no light. Natural sunshine is scant, at best, and the rest of the room is blocked from the windows along the front of the house thanks to a separating wall that leads into the dining room. You can see the partition wall I'm talking about in the photo just below. It has a cool cut-out detail at the top near the ceiling that allows some of the dining room window light into the kitchen, but it's not nearly enough.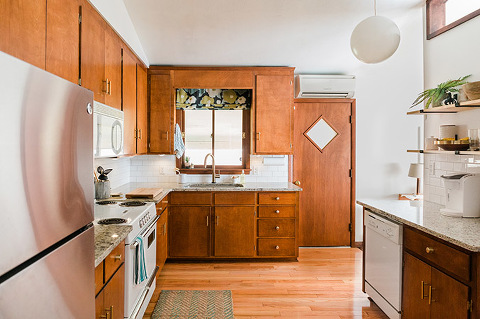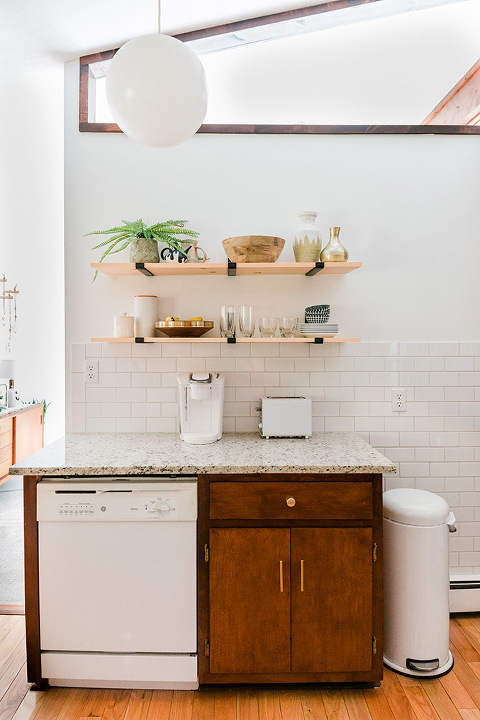 So, this One Room Challenge event is going to be all about maximizing the natural light we do get in the kitchen, plus upgrading the artificial light fixtures to make cooking (and seeing where we're going) much easier. We don't have the budget (or even an interest) in knocking down walls or spending thousands on big renovations, so this transformation is going to be all about tricking the eye with big and small cosmetic updates that you guys will be able to easily replicate in your own homes if you're budget is tight, like ours!
Stay tuned as we make-over this pint-sized space, and make sure you visit the One Room Challenge event website hosted by Linda, of Calling It Home, for even more design inspiration. Thanks for following along!