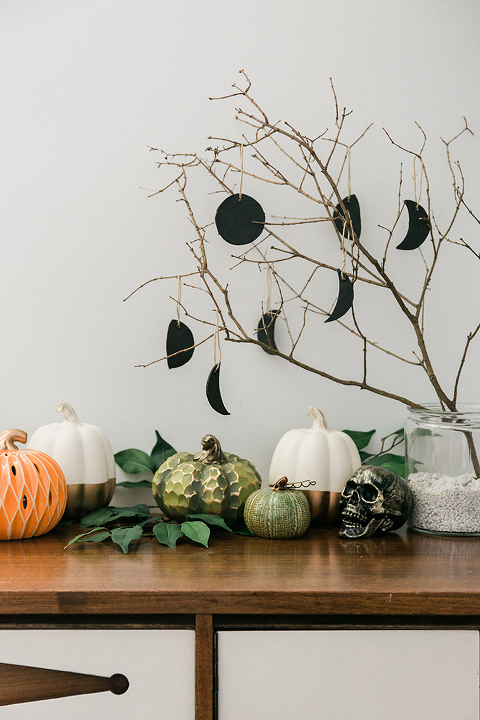 Who's excited for Halloween?! While I'm not big on super scary movies and dressing up in costume, there is still so much to love about this holiday. Number one, in my eyes, Halloween is the unofficial kickoff to the holiday season, and second, once October 31 arrives, I feel like it means I have full license to be caught in oversized sweaters cuddling with mugs of steamy tea all day long.
Basically, if you gave me a choice between laying out on the beach in the high heat of summer or burying myself deep in a knit blanket while watching fall movies, I'd readily choose the latter! Which is why I'm especially excited about my latest project for Hunker. My editor and I spent time last month scheming and dreaming up sophisticated Halloween décor projects to try, and we ultimately came away with visions of a moon-themed ornament collection.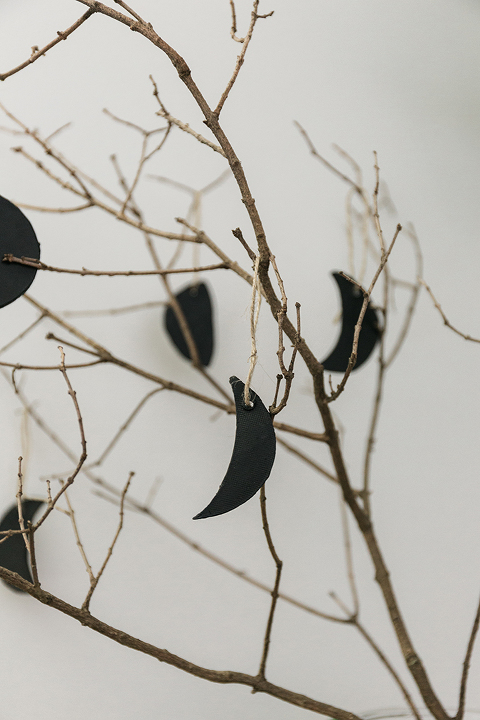 Make the leap over to Hunker here to find out how to make your own air dry clay Halloween ornaments, and then you'll be able to fully revel in the spooky silhouettes of all the phases of the moon. I love that, when paired with a few tell-tale autumn colors (think: evergreen, burnt orange, sage, and gold), those suspended black moon shapes just scream "Halloween." But in the most sophisticated of ways, of course.
And since it has been a while since I said it, I just wanted to take a quick second to thank you guys for supporting me and my freelance writing. Every time you click through to check out the tutorials I've written for Hunker, my editor sees and it goes a long way in helping to support this blog. So, thank you so much for "keeping the lights on" here at DGD, and I hope my step-by-step craft projects manage to inspire you to get creative all year long!