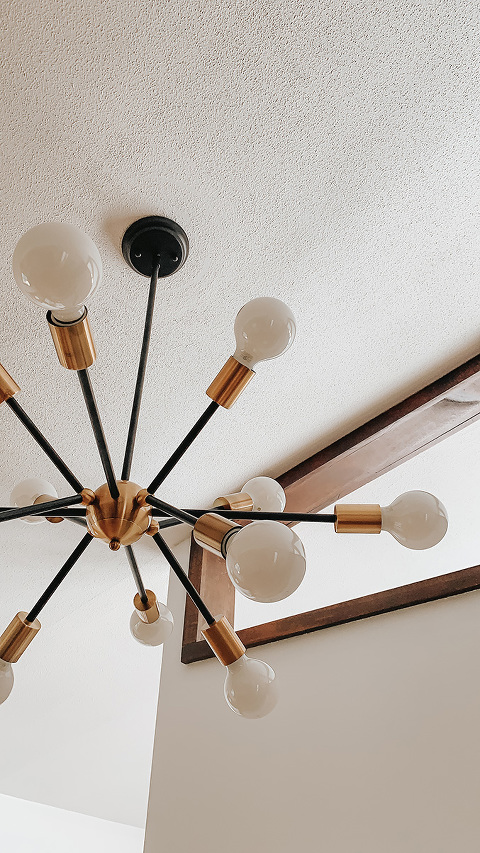 Week 1 | Week 2 | Week 3 | Week 4 | Week 5 | Week 6
(FYI that links will "go live" one at a time as the event progresses)
Hello, and welcome back to our little slice of the Fall 2019 One Room Challenge event! If you're new here, then make sure you click back to this post so you can see where it all started, but the long and short of it is that we're doing everything we can to add light to our dark retro kitchen.
As much as I'd love to add a skylight to give the room a natural light source, my husband John isn't into the idea. I think his hesitation stems back to a leaky skylight in his house growing up. No matter how many times I've tried to convince him that modern skylights don't have that issue, he won't budge.
The other option is to break down the wall separating the room from our dining room (and, consequently, a huge bank of windows along the front of the house), but I'm not a fan of open concept living, so the wall stays. Another big reason we're not knocking down the wall is budget. We don't have much of one to speak of, so instead we're planning to upgrade the artificial lighting in the room, and we're also contemplating painting the upper cabinets white to help bounce light around. Below is the mood board that helps illustrate our vision.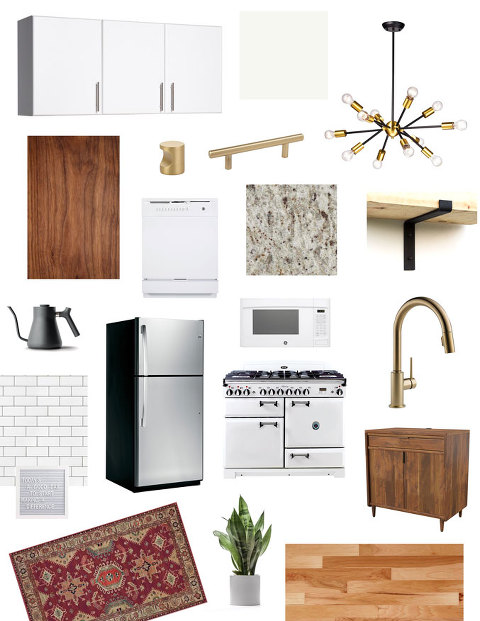 Last week you heard about the single cabinet that we decided to take down. This update actually made a far bigger difference than I expected it would, and we suddenly added a good amount of new light to the space from where it streams in at the front of our house. That was the good news. The bad news? Taking down the cabinet and the header board over the sink exposed an off-center florescent light fixture that we needed to deal with before moving forward with the project.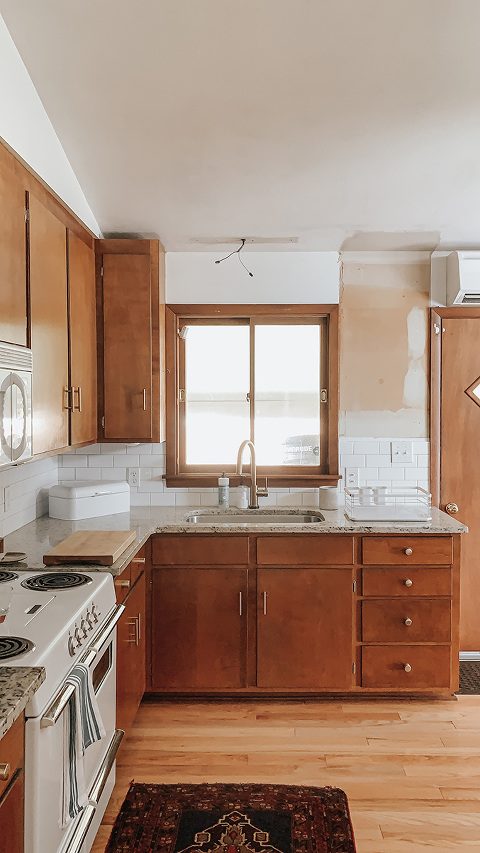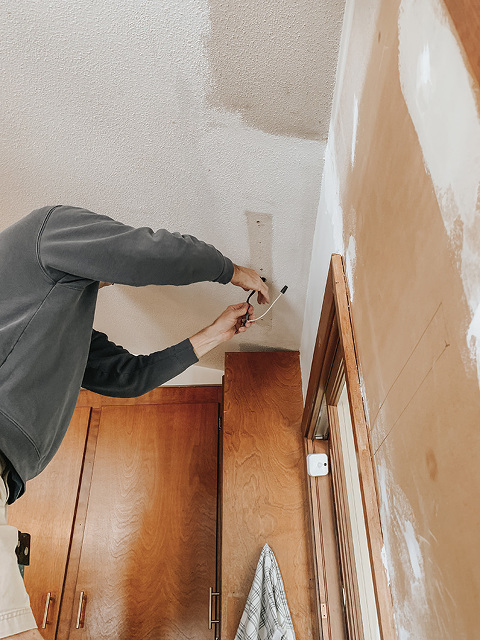 We essentially had two options where the light was concerned. We could (1) move the light box over several inches so that we could properly center a new pendant light over the sink, or (2) we could figure out how to make the existing off-center wiring work by installing track lighting that didn't need to be exactly centered.
In the end, John and I decided that we would rather skip the hassle of having to move the existing wires, so I asked my dad to come help me install track lights. My parents had a similar setup in their old house, and I remember it offering them lots of light and flexibility. Exactly what we needed!
Track lighting isn't necessarily the most stylish of options, but we weren't interested in making this particular sink light a focal point. We had other plans for adding focal lighting to the space (more on that in a second), so we hoped this track lighting system would blend in while giving us the added functional light we needed in the space.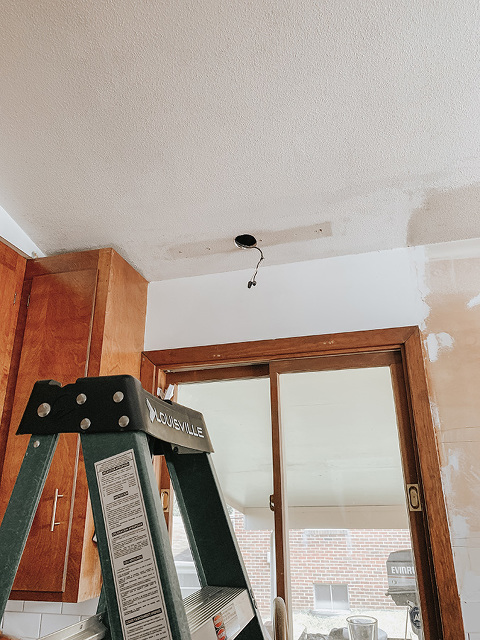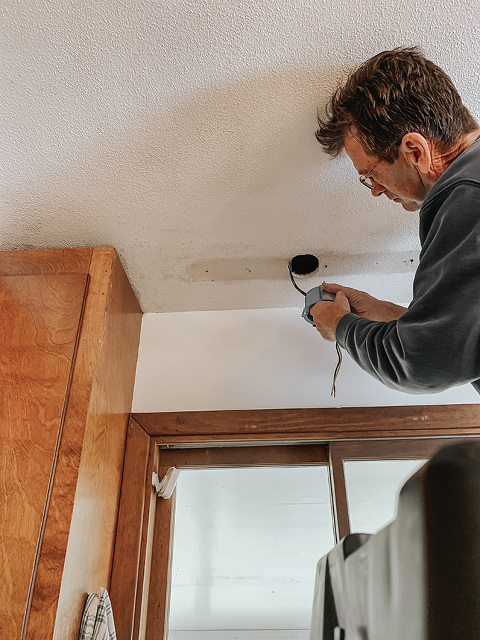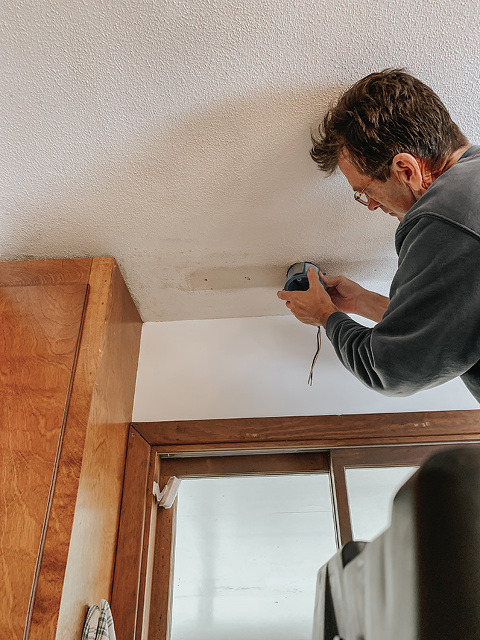 After taking down the old florescent light, dad I discovered that the original fixture wasn't installed with an electrical box. So, the first thing we had to do was go out and buy a new box to add with the track lighting system. If I had known that we would have to cut into the ceiling to put in a new box anyway, I might have moved forward with the centered pendant light after all, but I'm glad we stuck to our original plan because the new track is actually awesome!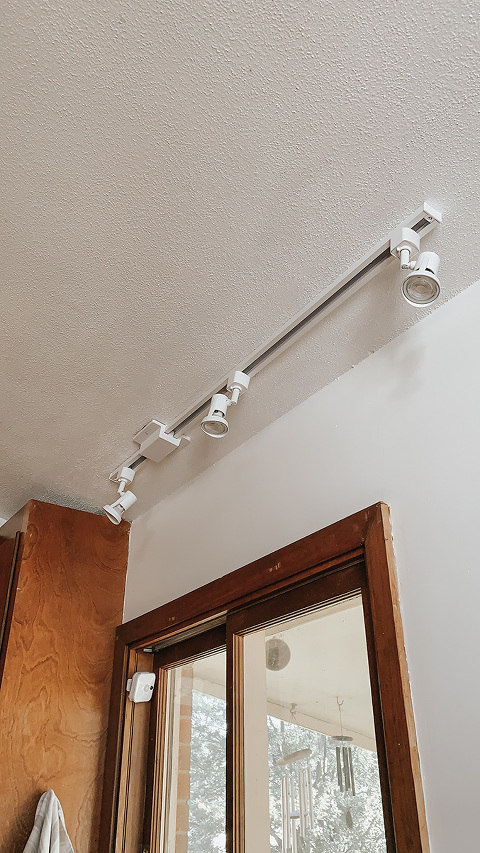 I love the fact that the track lighting sort of blends into the white ceiling, and the fact that we can customize the angle of the bulbs is even better. We're starting with one pointed toward the stove, another angled down over the sink area, and the other looks toward our go-to prep space on the other side of the kitchen. The new track lights make a huge difference in how much light the kitchen gets, but we weren't quite done yet.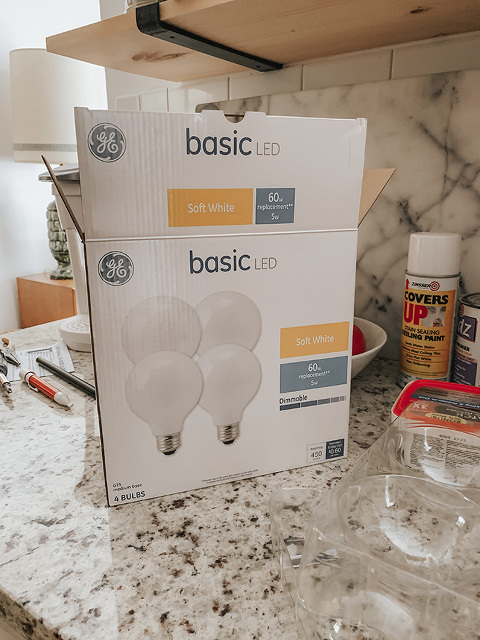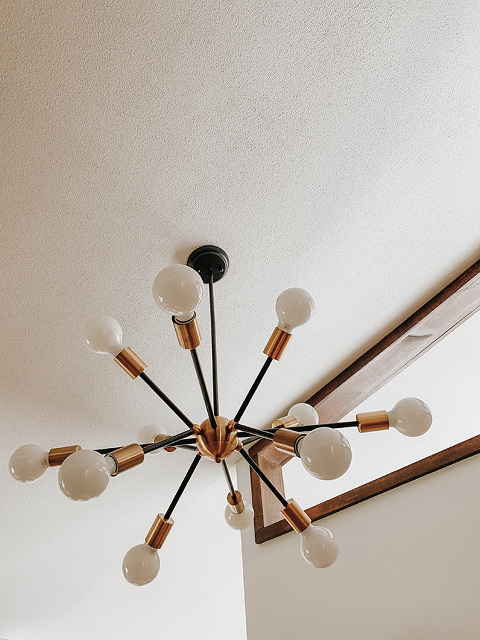 The second lighting upgrade we made was the overhead fixture in the room. Before, we had put up a retro globe light that I found years ago at a local secondhand home appliance store. It cost less than $10, I think, and served us well, but we both eventually had to admit that the 2-bulb fixture just wasn't bright enough for a kitchen.
So, I decided to make the biggest possible upgrade I could: a 12-60-watt-bulb Sputnik chandelier that I found on Wayfair. It had the abundance of light that we needed, and also was the perfect complement to our mid-century kitchen. The best news of all, though, is that it cost less than $150! I didn't quite account for the fact that 12 LED lightbulbs would cost an additional $60, but I'm pretty excited that we only spent a little over $200 for this show-stopping focal point for the space.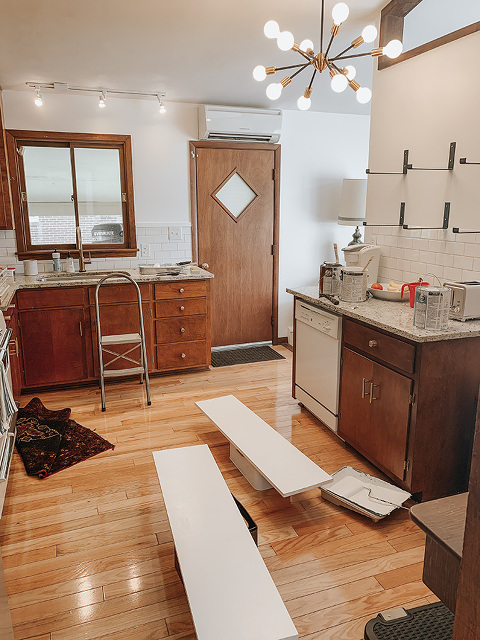 I'm going to leave you with the chaotic sneak peek photo you see above before we close out this 'Week Four' update. As you might be able to guess, we've moved on to the paint and final styling stages of the project, and I can't wait to share more. I've got a few surprises up my sleeve, and still haven't made the final decision about painting those cabinets…Should we paint them, or leave them stained wood? Weigh in below, and don't forget to visit the One Room Challenge event website hosted by Linda, of Calling It Home, for more design inspiration and other 'Week Four' project updates!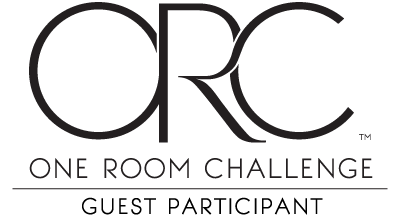 *I earn a small percentage from purchases made using the affiliate links above. Affiliate links are not sponsored. Rest assured that I never recommend products we wouldn't use or don't already love ourselves.