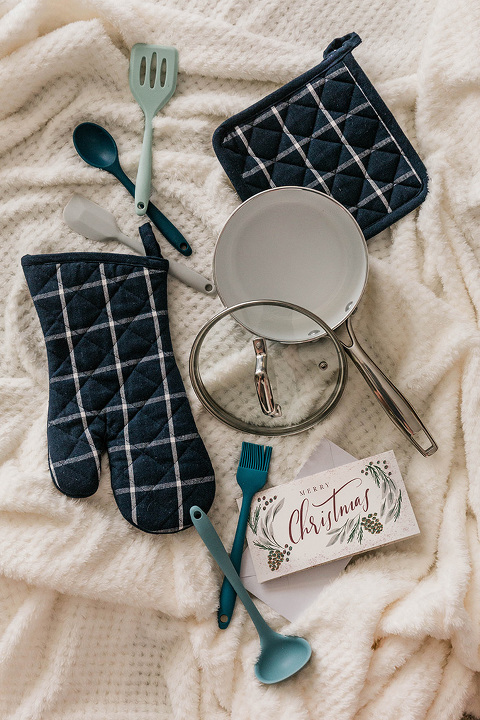 *This post was sponsored by Tuesday Morning.
I'm going to start today's post by saying something a little controversial…The fact of the matter is that I think we've all gotten so used to describing the holiday season as being "stressful," that we're making it happen almost on purpose.
Think about it! Whenever someone asks you how you're doing this time of year or how your Christmas prep is going, what's your natural instinct? Is it to say that you're super busy and stressed? I've found myself defaulting to that language lately, and I really want to change that. The holidays are only stressful if we make it that way, so I'm going to actively try adjusting my attitude to make this Christmas a relaxing one.
Whenever I'm working on reframing my stress level specific to any one part of my life, it almost always starts with getting organized and planning. The cool thing about planning is that you don't have to carve out any extra time in your day to do this. You can think through your plan of attack during your morning commute, while eating lunch, or even in the shower.
And that's exactly how I came up with this new trick for simplifying Christmas shopping: gift trios! Keep scrolling to see how I pulled together three totally unique gifts for three totally different types of people on my list using finds from Tuesday Morning.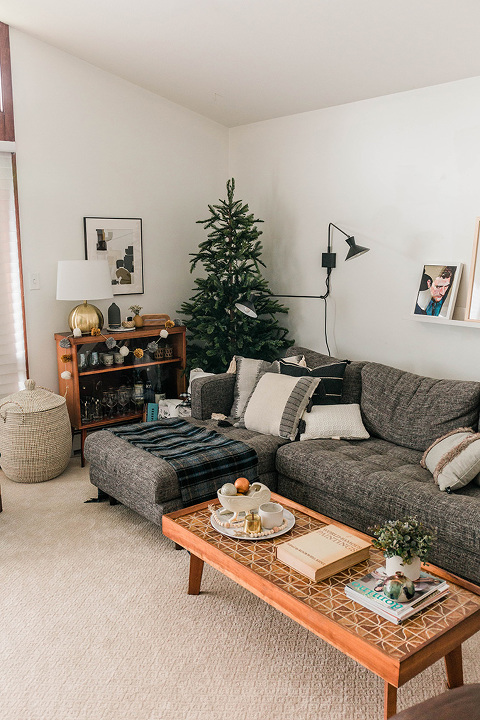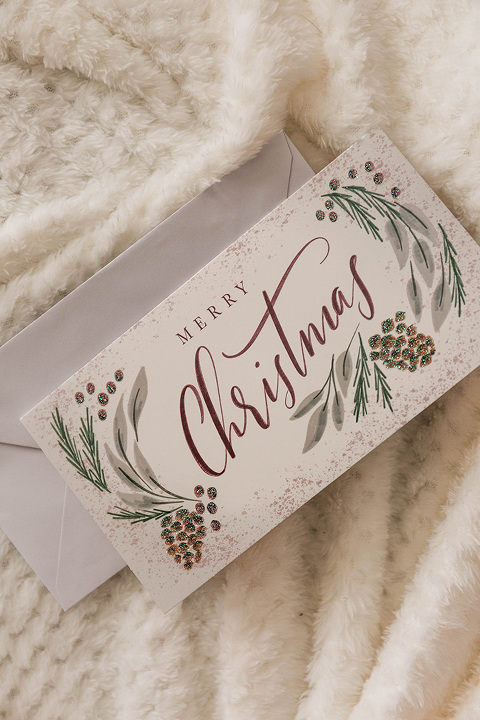 Essentially, these trios are based on the idea that whenever I would go into the store intent on buying Christmas gifts I would immediately feel overwhelmed by all the possibilities. There was just too much to consider buying, so I thought I'd limit myself to pulling together thoughtfully curated collections of just three items for each person.
Say I was looking for a gift that my coffee-loving sister-in-law would love. I might have felt instantly overwhelmed by the idea of getting her a coffee maker, mugs, filters, a bag of ground coffee, maybe even a coffee bean grinder…But by putting a 3-item limit on my shopping, I'm able to focus and pick out one set of beautiful ceramic mugs, a milk frother, and a modern matte black kettle instead. The trio concept streamlines your shopping and also keeps you from going overboard, which can lead to stress in and of itself!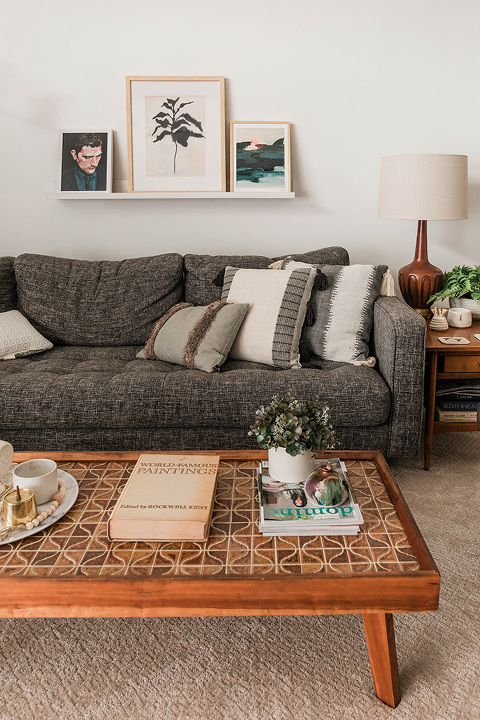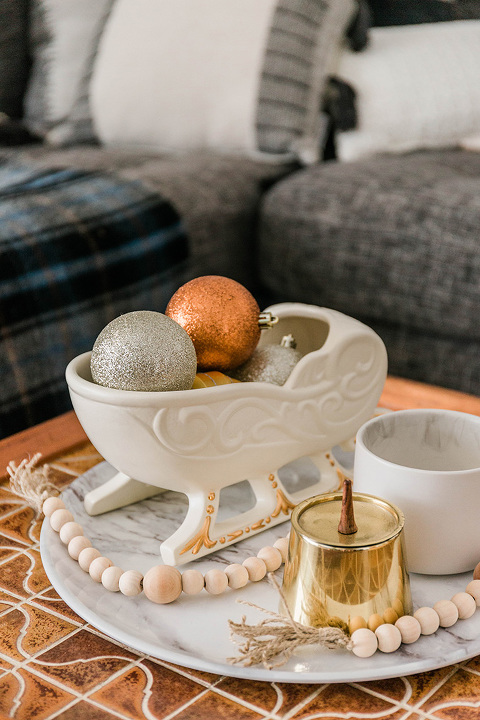 It might seem like a simple, no-brainer type of idea, but it's amazing how this tiny mind shift can make your Christmas gift hunt feel less harried and mountainous. The great thing about heading to Tuesday Morning specifically for your holiday shopping is that you won't blow your budget either since everything in-store is 20-60% off department store prices.
When you see the gift trio ideas I pulled together below, you might notice that I also included baskets in the mix. That was for two reasons. The first and main one being that I had plenty of room in my budget to include a pretty basket as an unexpected fourth item in my gift trios (they averaged around $15 apiece!) that my recipients can use anywhere in their spaces. The second reason for choosing to "wrap" my gifts in baskets is because it's so much more environmentally conscience than wrapping gifts in paper that could ultimately get thrown away.
I'm sharing details about each of the three trios I put together below, and hope you won't miss the handmade Christmas wreath bows we made using wired Tuesday Morning ribbon that my recipients can then repurpose on their front doors all winter long!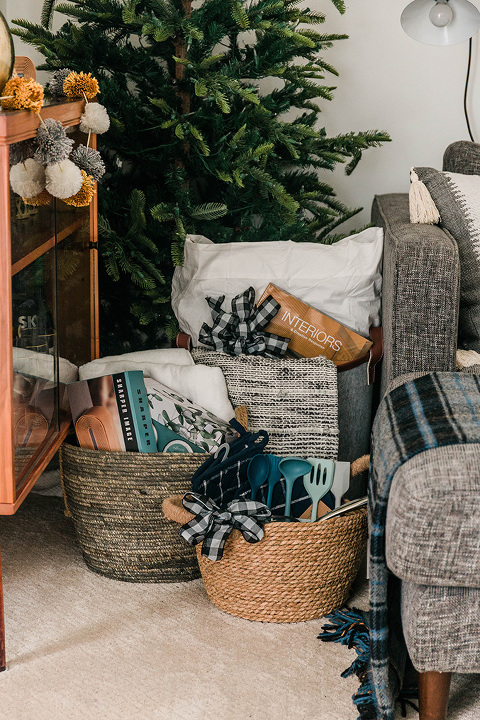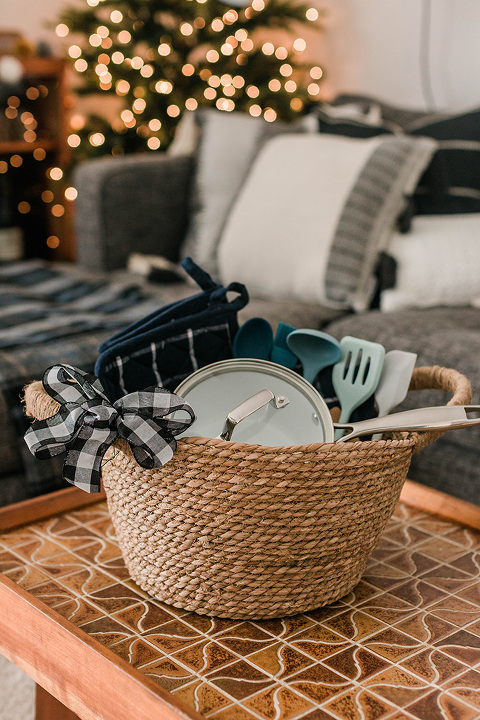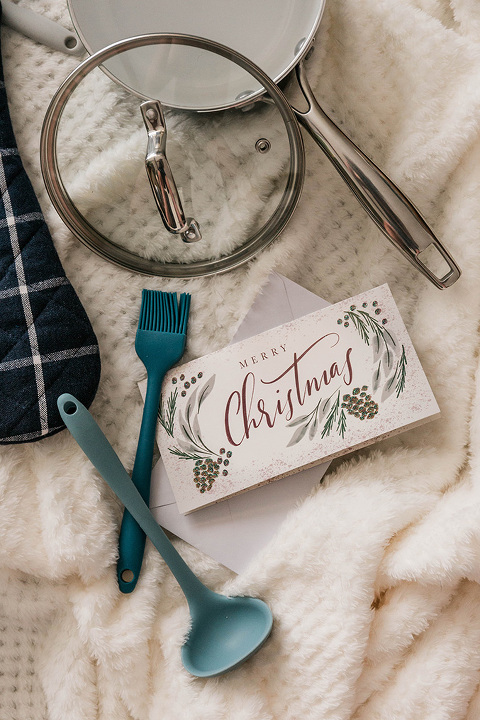 Gift Trio #1: Kitchen Staples
First up, we've got a gift built specifically for those people on your list who love to cook. Instead of grabbing any three items that speak to you from the kitchen aisle (although that's a tall order since there's so much temptation on those particular store shelves!), try thinking a little more strategically.
As an example, if you spot a sauce pot that you think your mom will love, make sure you choose accessories that will make that gift feel especially practical—like a set of silicone kitchen tools in her favorite color. This cute blue mini 5-piece set was priced in-store at $9.99, compared to $25 traditional retail cost! Finish it off with a coordinating oven mit set for $4.99 (compared to $9.99) that feels like a natural finishing touch for this trio.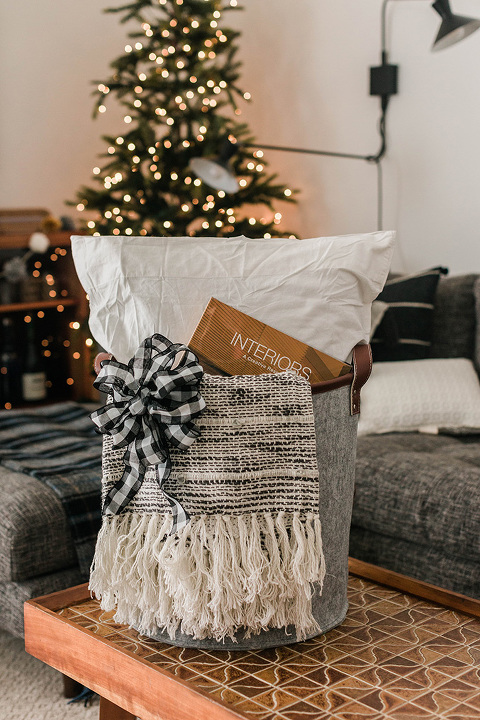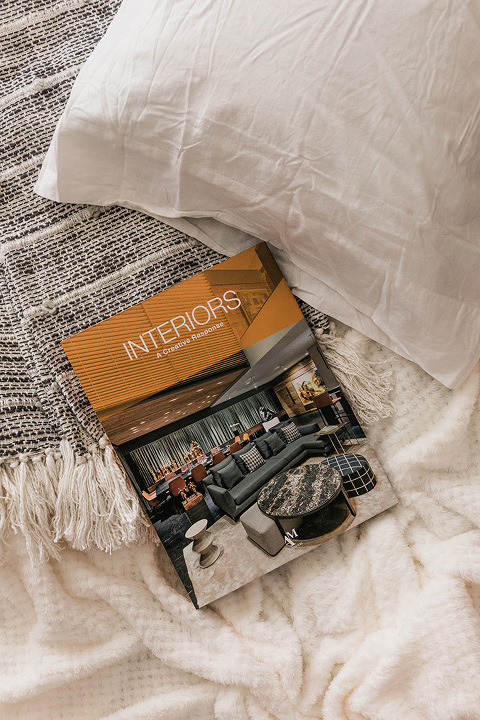 Gift Trio #2: Book Break
It's pretty natural to go into a gift buying spree with your own experiences in mind, and one thing I love to personally receive is a book. I'm always talking about how I never have time to read anymore, and that's something I hear a lot of my friends and family say, too. So, I want to try giving my sister an excuse to get cozy and crack into a good book in the new year!
The first item in this particular gift trio, of course, is the book. Tuesday Morning has a whole section dedicated to gorgeous coffee table books geared toward all sorts of enthusiasts. I picked up and considered vintage car books, cookbooks, and even books on famous classic movie stars, but going back to the idea of shopping with myself in mind, I ended up choosing a big, bold book all about interiors. My sister and I are so similar that I knew if I loved it, she'd love it, so into my cart it went.
To go with this, I also found a super cushy name brand gel foam pillow for $19.99 (compared to $49.99) and a throw blanket for her book break. I cheated just a tiiiiiiiiiny bit on the trio idea by also scooping up a set of soft organic cotton pillowcases to go with the pillow ($8.99 Tuesday Morning cost, $19.99 retail value), but I really wanted my sister to be able to enjoy her gift RIGHT THAT VERY SECOND, so the pillowcase was a no-brainer to go with her new book pillow.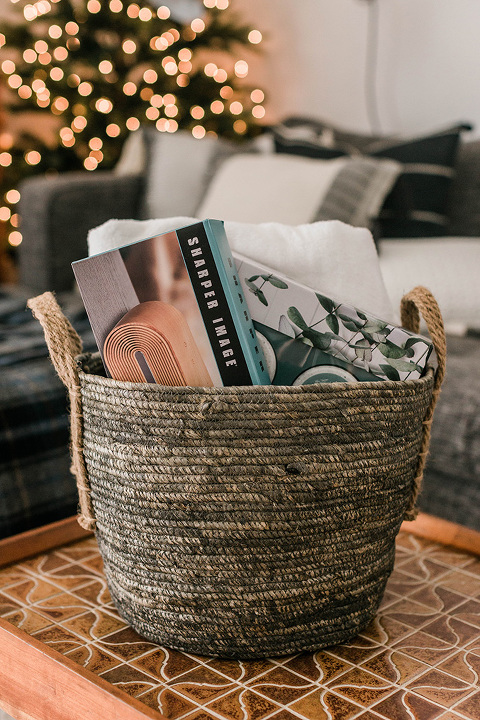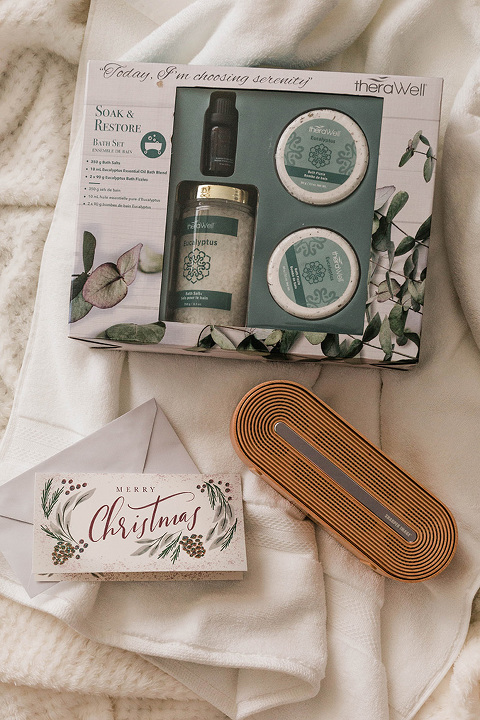 Gift Trio #3: Relaxing Self-Care
For this last trio of items, I wanted to specifically think about that one person on my list who seems to have it all. This type of gift recipient is, not surprisingly, always a struggle for me to shop for, and I know I'm not alone in that. After thinking about it for a while this year, I realized that I needed to reframe my thinking from what to "buy" them, to what I can "give" them, and I ultimately landed on the concept of giving them a MOMENT.
With that in mind, I pulled together three pieces that I felt would offer someone a self-care experience. I found the fluffiest white towel I could find in the bath aisle, a "Soak & Restore" bath set ($14.99 Tuesday Morning cost, $25 retail value), and a really gorgeous bluetooth speaker that they can use to play music or even guided meditations while soaking in a long, hot bath.
I actually loved the speaker find so much that I gifted a second one to myself! It was priced in-store for $19.99, but cost a whopping $99.99 retail. Yeah…You know I wasn't going to let that epic discovery slip through my own fingers.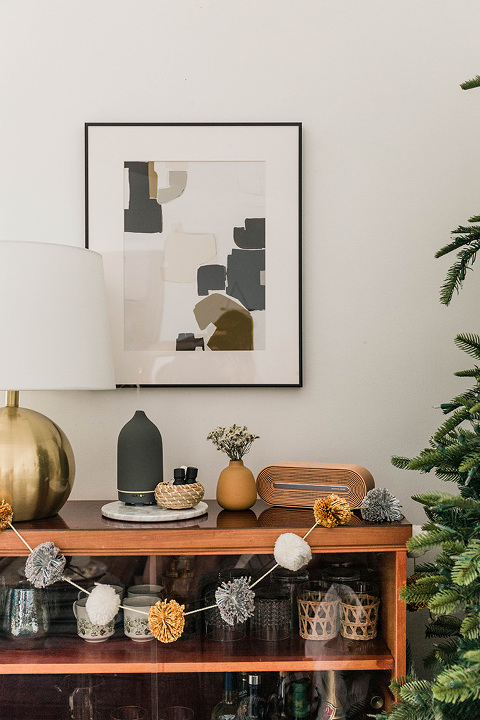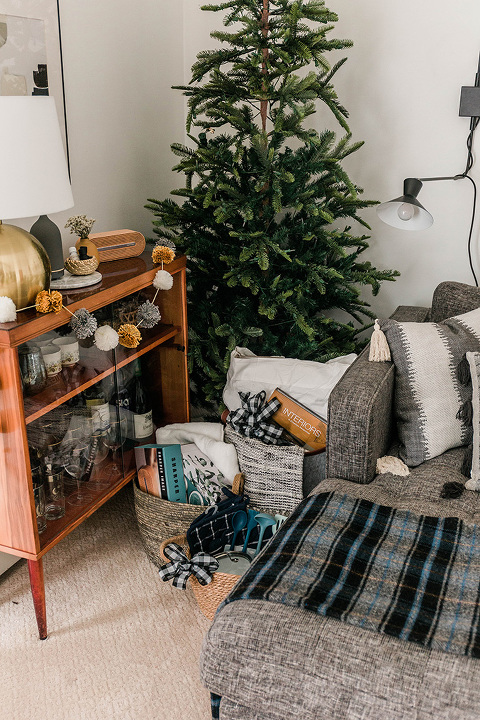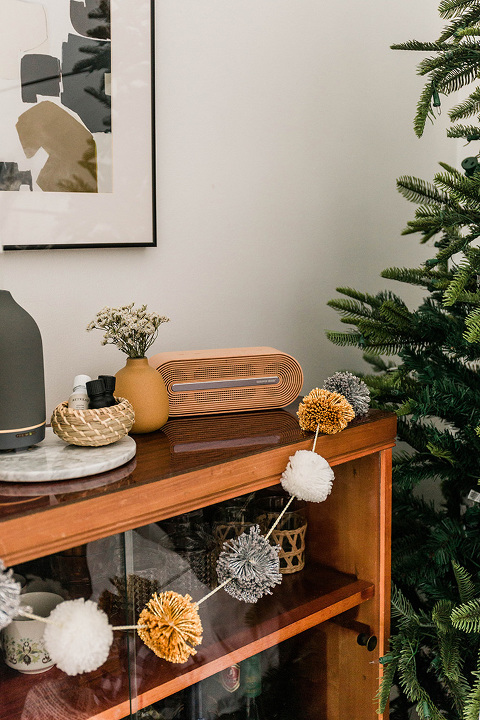 So, who are you shopping for this Christmas? Maybe an eco-enthusiast, someone who loves to entertain, or maybe you've been struggling to gift the right thing to the one on your own list who "has everything"?
Tuesday Morning really does have it all (including seasonal Christmas décor, which is how we pulled together this wintery look in our living room!), so click here to find your closest store, draft up a rough list of your gift trio ideas, and go shopping! How cool would it be to have it all done by Thanksgiving? That's my goal, anyway, because I want to be able to really, really relax this holiday season. Who's with me?!