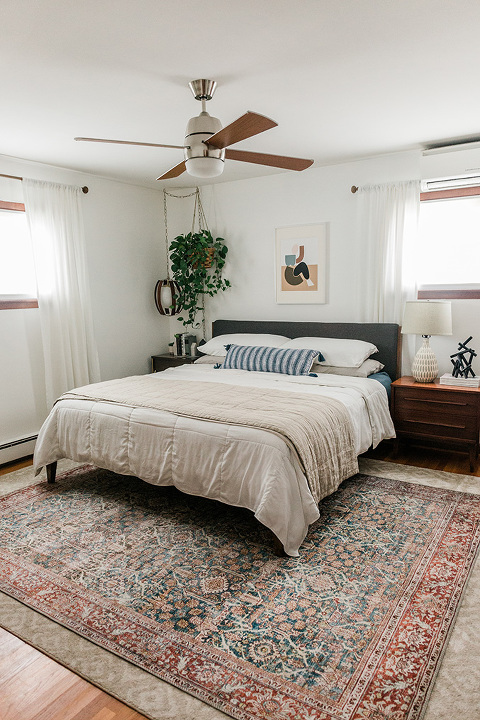 Now that I've finally settled back into the work groove, I've got the itch to start planning big home projects. Do you get that way, too, in the new year? As soon as the Christmas decorations came down, our home looked so bare, but in the very best of ways. I really appreciate the fresh minimal look after the holidays, and definitely spent the last two weeks enjoying it, but it also makes me crave a little more color in a roundabout way.
I've been slowly adding a few décor updates to my to-do list, which means I've been all over the web looking for tangible inspiration to help guide my ideas. See if you can find a few hints about what I plan to tackle first in today's weekend link roundup below!
Weekend Inspiration: No.82:
1. High, extra long shelving for books and plants seems to be a growing trend, so I'm stock-piling inspiration images (like this) to help motivate me for a living room update I want to try next month.
2. I'm so impressed by Sarah Sherman Samuel's clever idea to hide her television with a tapestry.
3. Our hallway is rarely documented here on the blog because it's dark and really cramped, but since I walk up and down it countless times throughout the day, I figured it could still stand to get a makeover—even if just for me! I'm thinking fresh gray paint, a vibrant vintage rug, and maybe even framed photos, like Ashley did!
4. Whatever I end up doing to our home this first part of 2020, I hope it turns out as cozy, welcoming, and warm as Liz's house! She's my pick for #followfriday this week.
5. My friend Jeran, of Oleander and Palm put this adorable dollhouse spice rack together for Hunker, and I'm in love with it. Can you believe it's an Ikea hack?
6. This isn't really project-related, but if you're a fellow content creator, definitely hop over to Ahalogy to peruse this roundup of tips. I was so grateful to be asked to share my own insight for the piece, but there are tons of other perspectives to consider in the article. I'm taking notes based on what others said!