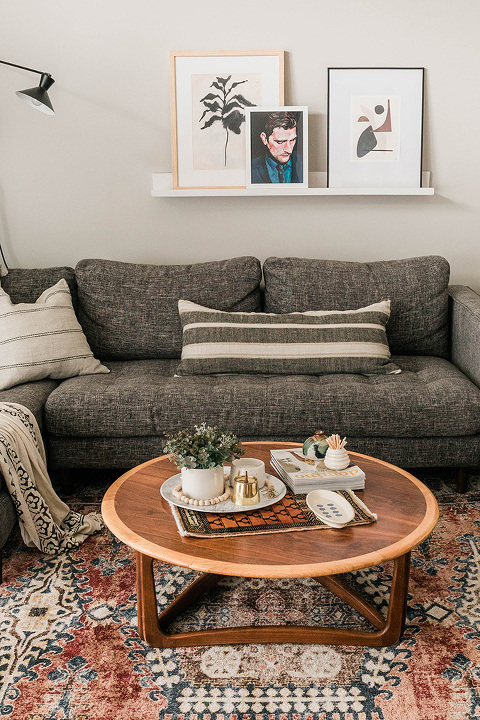 Have you guys heard of the concept of a mini rug before? If not, you're not alone! I was first introduced to these pint-sized rugs via a new-to-me vintage rug shop called (you guessed it!) The Rug Shop. Katja and I connected over social media, and she offered to let me test out one of her gorgeous mini rugs with the intent that I could help inspire you guys to try this slightly unusual type of rug out in your own spaces.
My initial plan was just to show one way to style these smaller scale pieces, but my mind wouldn't stop churning when I finally sat down to brainstorm. Instead of just one way, I tested out three different ways to style a mini rug, and you can see the trio of looks if you keep scrolling below!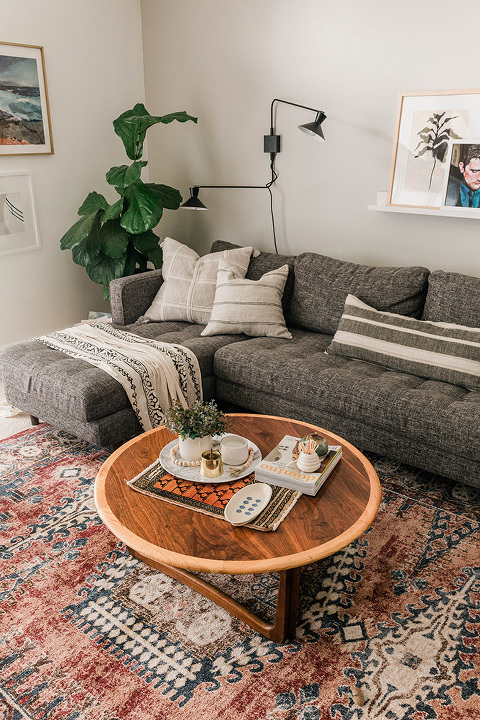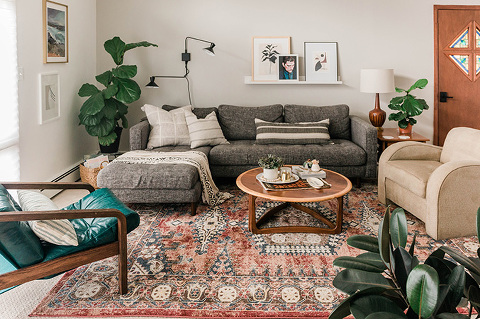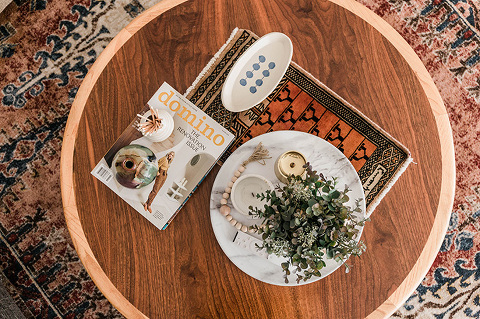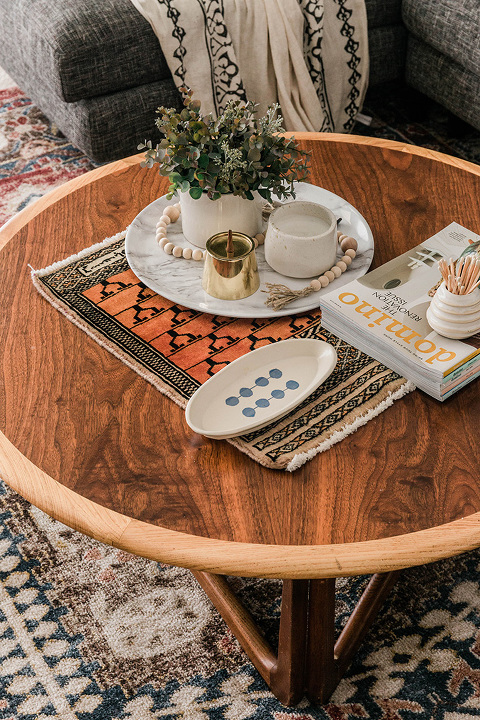 1. Coffee Table Centerpiece
The mini rug I chose from The Rug Shop clocks in at just 12"x20.5". It's tiny! But I didn't find the size of the rug limiting at all. The first way I tried styling it was under a centerpiece arrangement on our coffee table. I actually started by trying this look on our dining room table, but the mini rug felt a little lost on such a large surface. On our smaller coffee table, though, it was perfect.
I layered it under a stack of magazines, a ceramic dish, and a tray of other odds and ends. It's kind of like how designers will tell you that a large area rug has the power to establish a "zone" in your space under a grouping of furniture. By adding this mini rug under the items we keep out on our coffee table, it helps the whole arrangement feel more intentional and interesting.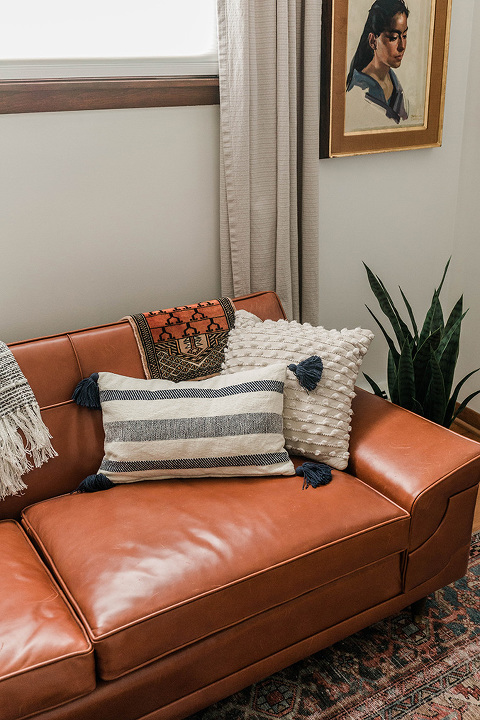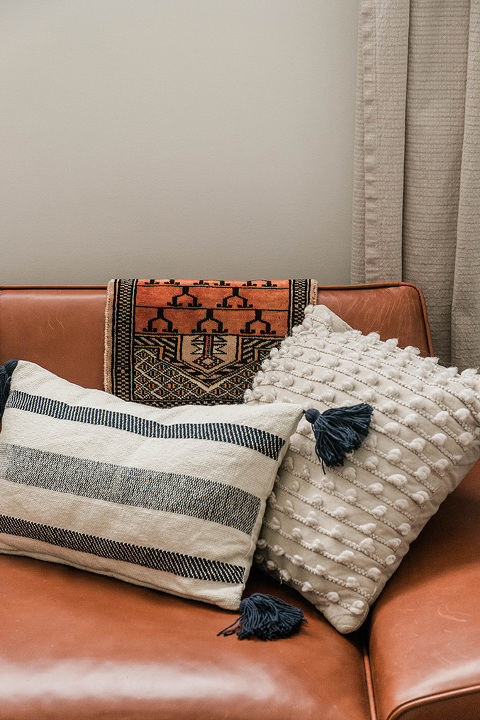 2. Overlay On Furniture
This second look is even easier than the first, if you can believe it. All you have to do is toss the rug right over the back of your favorite sofa, accent chair, or even your headboard to add a pop of color to the room. My mini rug from The Rug Shop is super soft, so it feel wonderful to lean back on where I tried it over the tufted sofa in my office.
This styling is a simple way to bring in more pattern to your space without having to use throw pillows. John would have me arrested if I bought any more throw pillows for our house because (a) we have way too many already, and (b) because they tend to get in his way when he's trying to lounge on the sofas and beds in our house. This mini rug is a great compromise because it adds that color and pattern I crave without throwing more bulky pillows onto our furniture.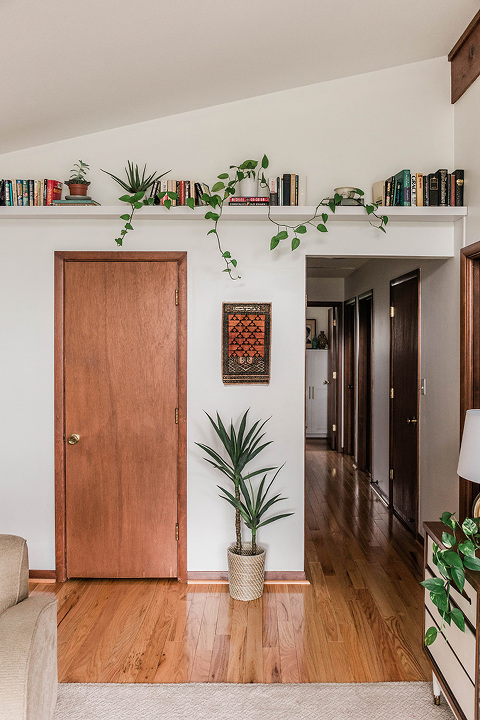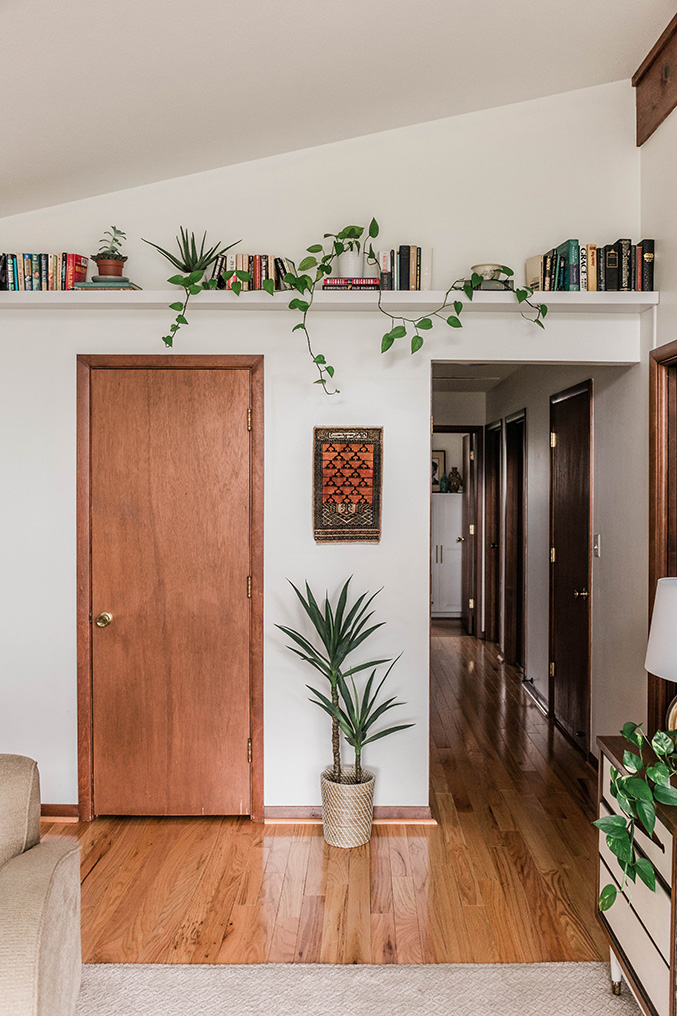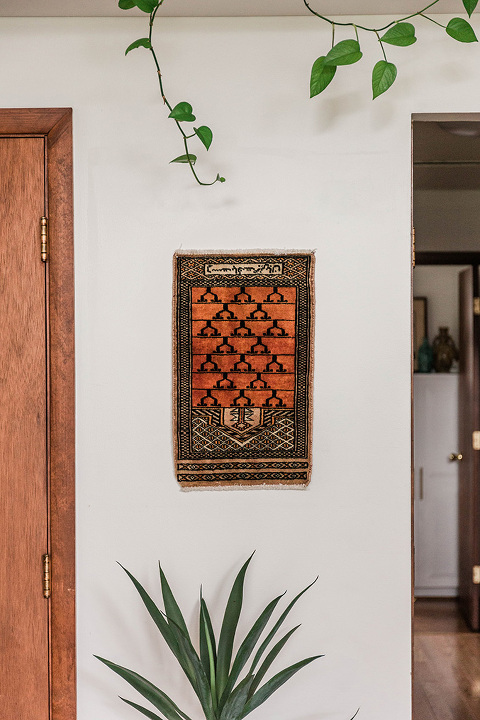 3. Hung As Art
Okay, so this one might be a litttttttle bit controversial, but I know Katja has mentioned doing exactly this on social media, so I'm considering it fair game…Try hanging your mini rug as art up on the wall! The nature of vintage rugs is that they often come with a tiny bit of distressing and softer edges. Delicate frayed corners and uneven edges just add to the beauty of the piece, in my opinion, so I have zero qualms about tapping a couple of tiny picture hanging nails through the fibers to get it up on the wall. You're not damaging it—you're adding to it!
I used just two small nails to hang our own mini rug up on the wall, and it turned out to be a great way to fill an awkward patch of drywall next to our upstairs hallway. Since mini rugs aren't heavy, you don't have to worry about them sagging, so hanging it up on the wall is a guilt-free way to celebrate all of that one-of-a-kind color and pattern.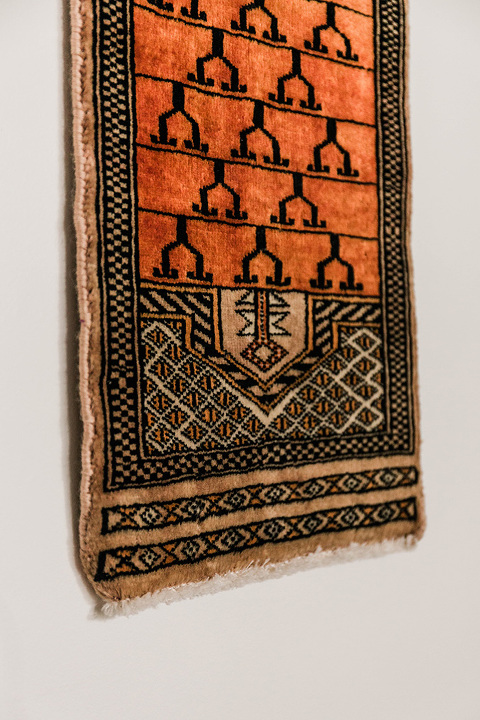 Big thanks to Katja for teaming up with me to bring this post to life, and definitely give The Rug Shop a follow on Instagram! I know Katja is working extra hard behind the scenes to get her website up and running, but in the meantime, she's wonderful with communication via Instagram direct messages and email.
In fact, we chatted back and forth for days because I was really curious to know about the lettering on the mini rug I chose from her collection. Katja worked tirelessly to get me a translation in partnership with her warehouse manager. Turns out that it's the name of the weaver, and is basically an artist signature on the piece. How cool is that?! Let me know in the comments which of the three looks is your favorite.