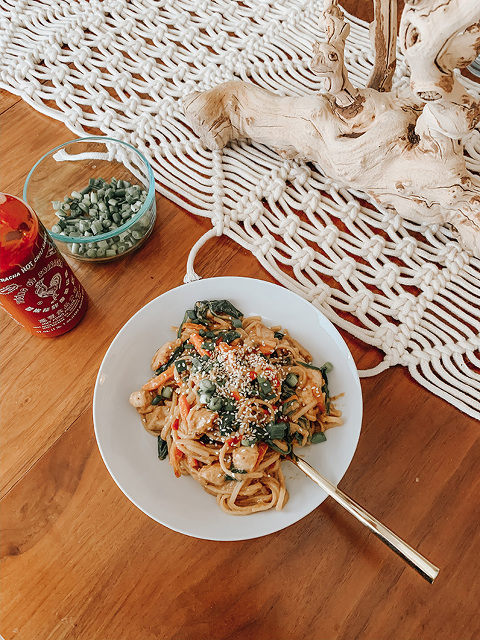 Before being home-bound, John and I had a regular routine of going out to dinner roughly once a week. It was our way to have a little break from cooking, and it was actually a great way for the two of us to indulge in our respective favorite flavors. You see, he likes seafood, whereas I don't. I love cream-based entrees, but John is lactose-intolerant, so we usually don't cook with cream at home. Going out to eat was our way of being able to enjoy our favorite things without putting the other one out, so to speak.
Now that we're stuck cooking at home every night (aside for the very occasional to-go meals we've ordered from local restaurants here and there), John and I are trying to be more respectful of each other's tastes. We've worked extra hard to find recipes that we can compromise on, and we've actually been really lucky. We've found lots of great options, so today I wanted to share six of the best make-at-home recipes the two of us have loved throughout our social distancing in the hopes that they might inspire your dinnertime, too!
Weekend Inspiration: No.94
1. We're kind of a little bit obsessed with everything on the Pinch of Yum website, but this is one of our all-time favorites: Chipotle Turkey Burgers with Nectarine Basil Salsa.
2. This recipe for Dairy-Free Chicken Fettuccine Alfredo allows me to enjoy a creamy pasta dish without the milk that John can't have—win, win!
3. I'm somehow just now hopping on the Bon Appetit train, but I'm glad I finally discovered it. I watch their test kitchen videos almost everyday, this one for Grilled Chicken Sandwiches being my most recent favorite.
4. This Cashew Chicken recipe is a little bit involved, but has incredible flavor that carries through into leftovers the next day. Save it for the weekend when you have a little more time!
5. I think it's safe to say that we all know Ina can do no wrong. And that's especially true with her recipe for Chicken Thighs with Creamy Mustard Sauce. The good news if someone in your family is lactose-intolerant, too, is that you can leave out the creme fraiche and still be left with a decadent dish.
6. Even if you're down to just your pantry staples, chances are good that you have all you need to throw together a platter of Chicken Breasts with Honey-Balsamic Glaze. We had it with a side of potatoes and fresh green beans. Yum!