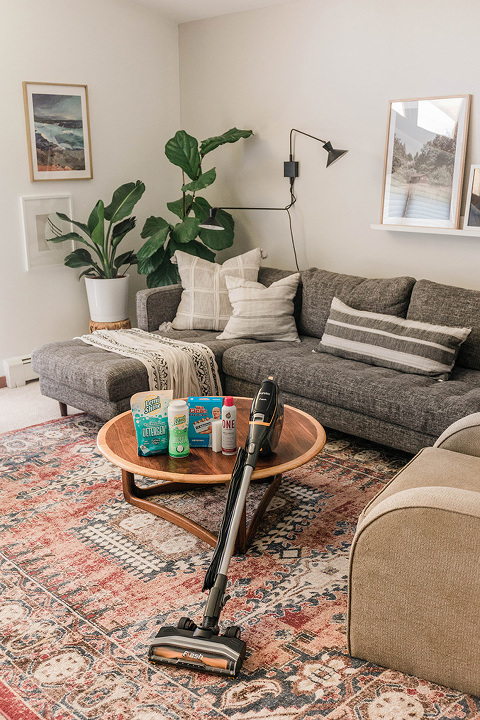 **This post is sponsored by BabbleBoxx.
The phrase "Spring Cleaning" probably makes you react in one of two ways: you experience sheer panic and stress, or you just shrug your shoulders, take a deep breath, and get on with it. I guess there's also a third reaction where you ignore everything and hope things take care of themselves! If only Cinderella's clean-freak mice and birds really did exist, am I right? Anyway, I tend to be in that "shrug your shoulders" camp, tackling what needs to be done knowing that I'll feel a whole lot lighter once my list is all crossed off.
My method, though, is that I don't tackle it all at once. I have a little mental list of 10-minute tasks that I can do whenever the mood strikes during the weekend or when my work-from-home schedule allows for a small break throughout April and May. Keep scrolling for a breakdown of the 10-minute spring cleaning chores that I like to tackle this time of year.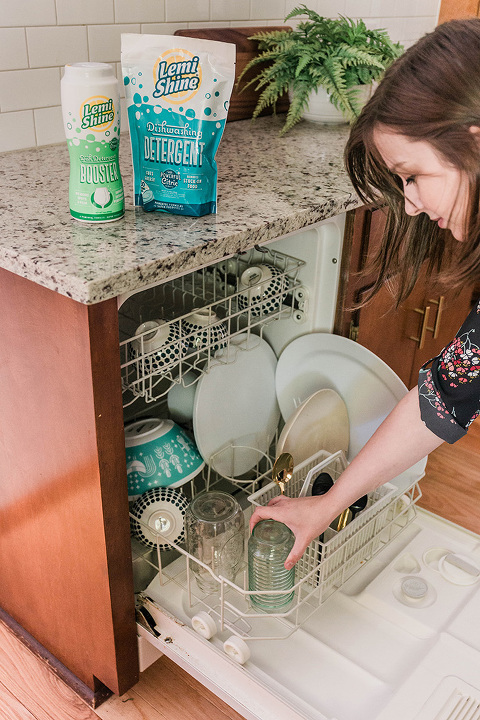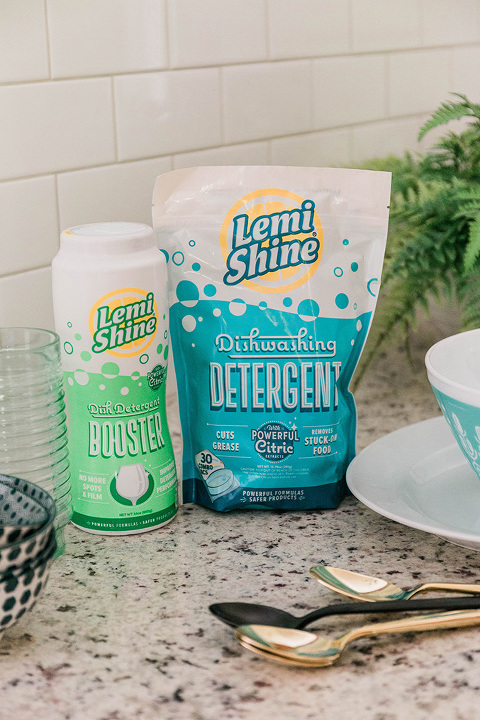 Aside from keeping things quick and easy when it comes to spring cleaning, I also like to prioritize non-toxic cleaning. We've been slowly switching all of our older, harsher cleaners over to citric-extract-based options that are free of gross chemicals, and I've especially loved the Auto Dish Detergent and Dish Detergent Booster from Lemi Shine.
The dish detergent pod (which goes right in your washer's receptacle) handles all of the dirty dishes, glasses, cutlery, and Tupperware we throw at it right from the dinner table, and the booster fights back against the hard water that, before, had started to ruin our more delicate gold and matte black flatware.
The booster is super easy to use, too. If you only have one receptacle in your dishwasher that's for detergent, just put the booster right in the bottom of your washer, and let it do its thing.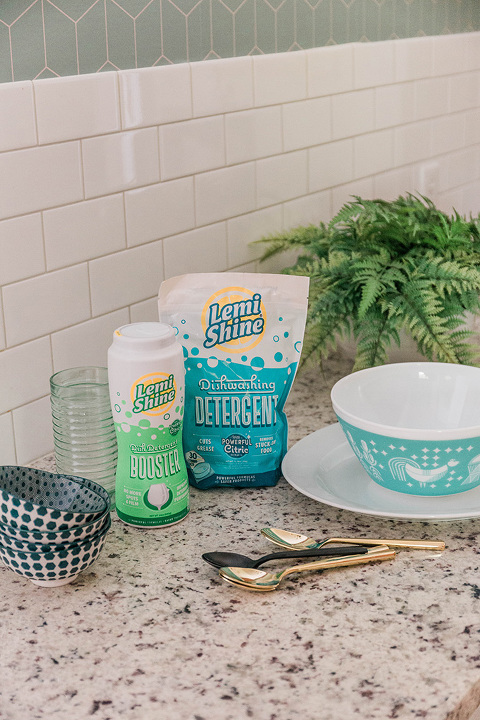 As for how to put these two products to work for your spring cleaning tasks (in under 10 minutes of hands-on time, of course), I love to save one cycle of our dishwasher exclusive to those types of items that might not get much love throughout the rest of the year.
When was the last time you ran your pretty glass flower vases through the wash? Or maybe your everyday scrub brushes that you use at the sink to hand-wash dishes or clean your veggies? Bulky items sometimes end up with just a quick hand-wash throughout the year, too, just because they're too big to fit into the dishwasher along with your other everyday plates, bowls, and glasses.
That's why I like to save one load this time of year just for awkward things like these! You can fit a ton of things in, and then give them a much more thorough clean using Lemi Shine detergents and boosters.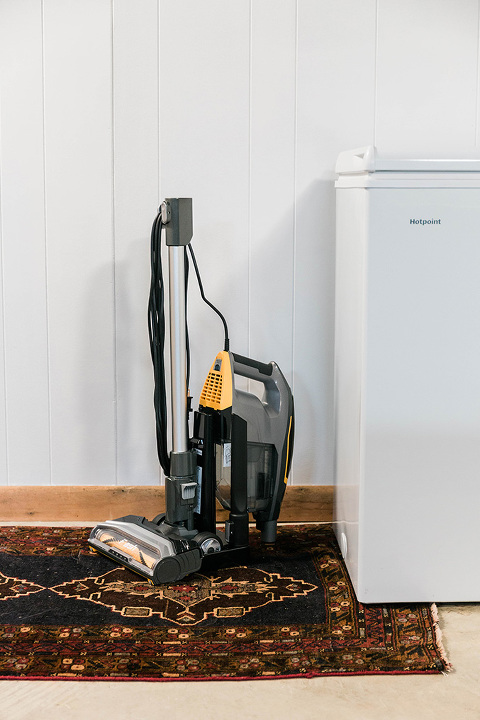 For a family like ours that has four pets in it, vacuuming isn't so much a spring cleaning chore as it is an "every single day, sometimes multiple times a day" type of task. Our three cats and one hound dog follow us from room to room, and lay on all the furniture, so you can probably imagine just how bad the tumbleweed fur problem could be.
That said, John and I are both sticklers about cleaning and living in a tidy space, so we're constantly getting the vacuum out to keep on top of fur removal. When people visit our home, they're often surprised to hear that we have four pets because the place smells so pet-free. Their words. Not mine! And that's entirely because of our absolute obsession with vacuuming.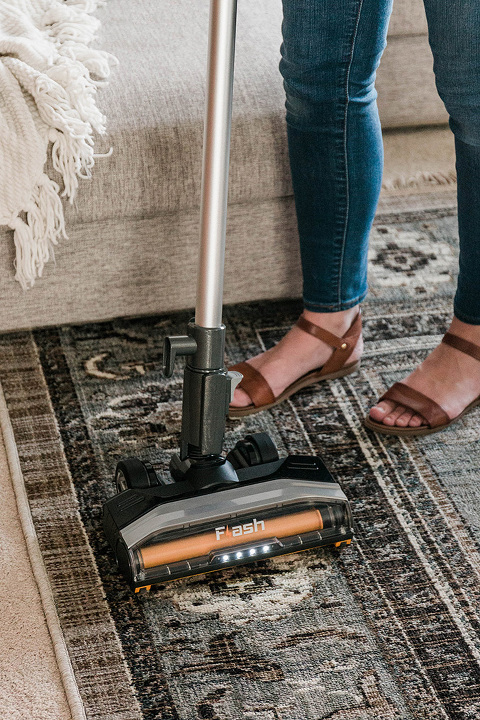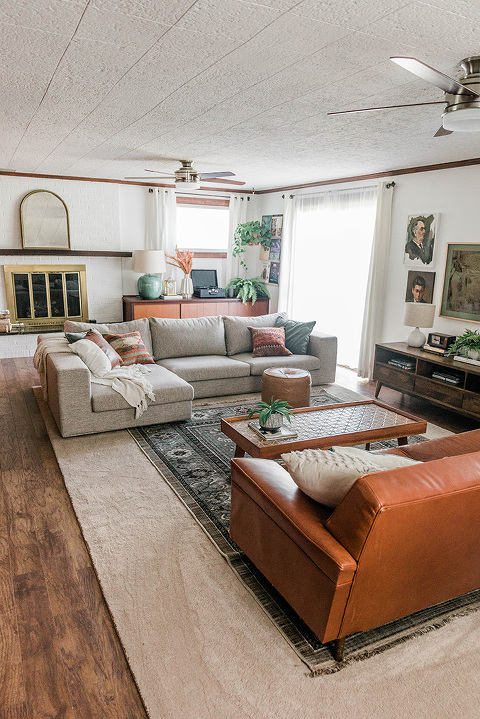 Before this year, we had always relied on our clunky canister vacuum to clean both floors of our home. It made us sort of dread the daily vacuuming chore, so in honor of spring cleaning season, we added a Eureka NES510 Flash Corded Stick Vacuum Cleaner to our collection.
The lightweight design and swivel steering makes this vacuum so much easier to use for quick cleaning, and the powerful suction works on all of our different floor types—ceramic tile, laminate, hard wood, carpet, and area rugs. It also easily converts into a hand vacuum, which I love to use when catching up on seasonal spring cleaning chores, like vacuuming all of our baseboard heaters, ceiling fan blades, behind bulky furniture pieces, and around picture frames.
We keep the portable storage base for our Eureka vacuum in the unfinished side of our basement next to the chest freezer for easy access, and have gotten into the habit of just using it downstairs in the lower half of our home. That way, we don't ever have to drag the big canister vacuum down the stairs. It might sound silly, but this upgrade has made cleaning so much more enjoyable and less stressful. Pssst…Get 15% off the Flash from Eureka now through May 17 using code "15OFFNES510F" at checkout on Amazon!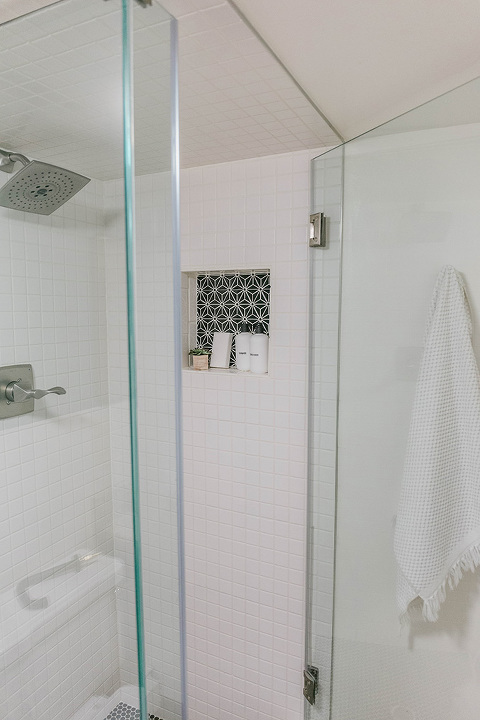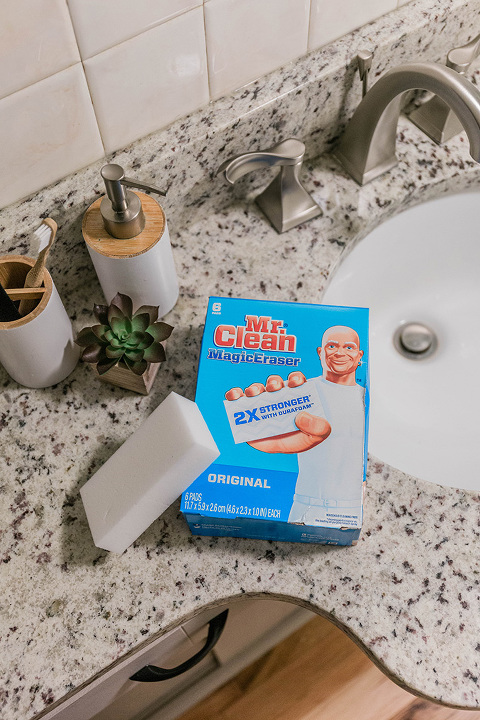 Okay, who here hates cleaning the shower? I feel like I'm always hit with a huge cloud of chemicals and toxic fumes the moment I start spraying the walls down with harsh cleaners, and it's impossible (impossible) to really get into those hard-to-reach spots without having to crawl fully clothed into the bathtub or shower pan. I hated doing it, but I'm pretty sure that's because I was doing it all wrong for the longest time.
This spring I finally tried out a new shower cleaning routine, and so far it works like a charm. Instead of waiting until things get really bad, I stay on top of the task with a Magic Eraser from Mr. Clean. I think it's safe to say we all pretty much swear by this magic sponge for cleaning everyday things like the stovetop, light switches, walls, and around the sink drain, but it's also a dream for cleaning the shower.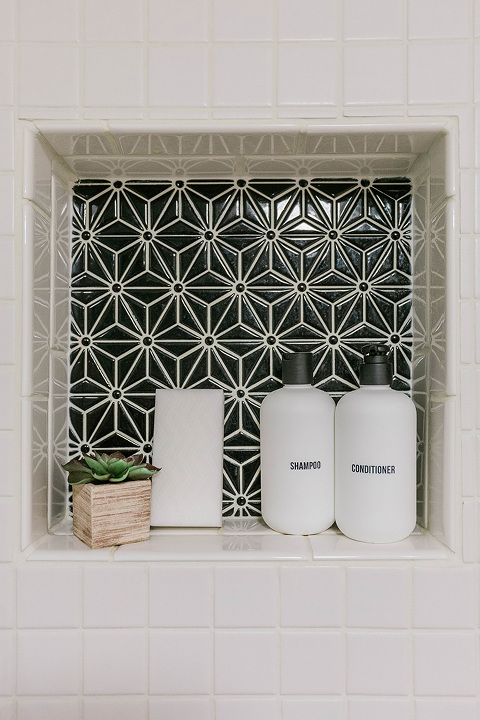 I keep one up on the shelf in our shower (clear of the direct water path so it doesn't degrade over time), and then grab the sponge right at the end of my shower while I'm still in it to lightly scrub down the shower walls, fixtures, and the bottom of the bath. It takes maybe 30 seconds to do, and since this Eraser is two times the cleaning power of all-purpose bleach sprays, I know our shower and bath are actually clean.
If you want to try taking things one step further for spring cleaning, here's a 10-minute task that will probably make your stress feel a little lighter. I know it does for me, anyway. After taking your next shower, shut off the water and use a Mr. Clean Magic Eraser to scrub your shower ceiling. I don't usually hit this area during my regular everyday cleaning routine since it doesn't get as dirty as other spots in the shower, so I just add it to my spring/fall to-do list.
Cleaning your shower ceiling honestly takes less than five minutes, though, so you could use your remaining five to also wipe down the walls in your bathroom outside the shower. I don't know about your bathroom walls, but ours get a little streaky thanks to steam. Since you don't have to grapple with a bucket of soapy, bleachy water or a spray bottle, the task takes half the time. This eraser really is magical.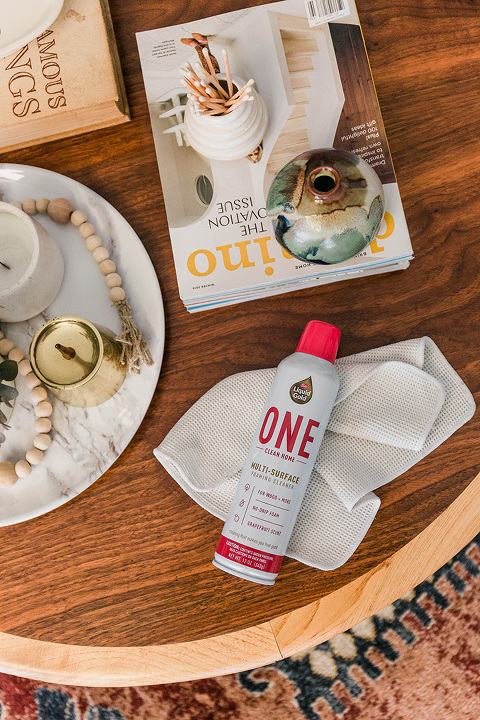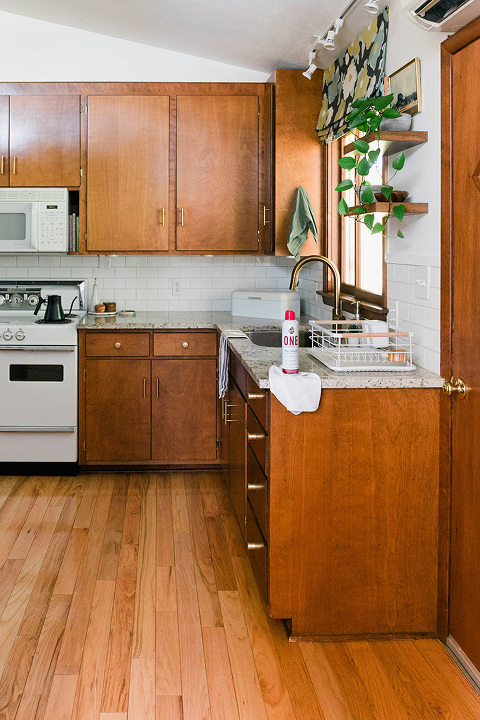 Here comes another non-toxic cleaner for you to try. Have you heard of ONE Clean Home from Scott's Liquid Gold? Before this season I truthfully hadn't, but it has become a household name around these parts now that I've tried it out.
The foamy no-drip formula stays where you spray it, and wipes clean, leaving behind a fresh grapefruit scent made from essential oils. The main thing about this natural cleaner is that it's safe for pets. Like I mentioned before, our pets hop up on all the couches and low furniture (think: nightstands and coffee tables), so their paws touch lots of surfaces in our house. Since ONE Clean Home is pet-safe, I don't have to worry when I use it to clean our home.
My favorite place to spray this handy cleaner during seasonal chores is around the storm door off our kitchen. This is the door we use most often, so it sees a lot of action (read: dirt and grime). Since Scott's Liquid Gold is safe on metal and finished wood, I can use it to clean our storm door and its frame until both shine. I might actually start doing this more than just seasonally since the process is so much quicker and sweet-smelling now.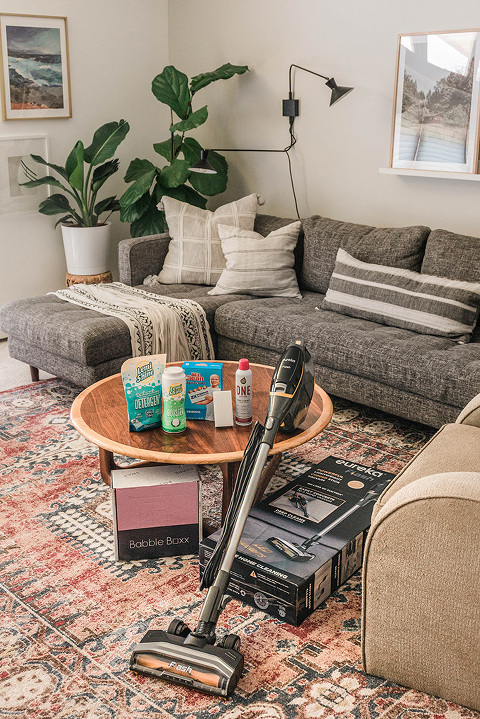 I know I'm talking a mile a minute, and have hit you with tons of info, but it's just such a fun topic for me to chat about. Honestly, it probably took you longer to read this post than it will to knock out these spring cleaning chores, so feel free to shut your laptop or set down your phone right this second, then go get cracking. And in case you want to stock up on the tools I'm using this season, here are those links again below. Happy cleaning!
Lemi Shine Dish Detergent and Booster | Eureka Vacuum (15% off with code "15OFFNES510F"!) | Mr. Clean Magic Eraser | ONE Clean Home from Scott's Liquid Gold