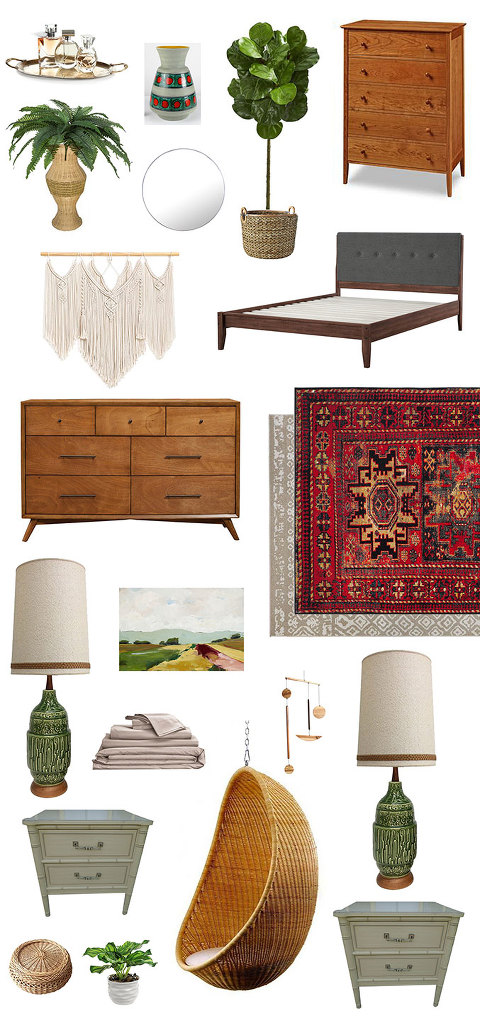 Okay, so, yes, it probably does feel like I've made over our master bedroom about 1,000 times already. You're right! The truth is that I just don't have anything else to do around here when I'm not working on photography and writing jobs in my home office. I have a feeling I'll be stuck at home social distancing for a good part of the rest of the year, so that means I have plenty of time to makeover spaces in our house (using almost entirely what we already own, of course). To be honest, I'm totally okay with this "predicament." Bring on the restyling and rearranging!
The next room on my list, as you can see from today's post, is our bedroom. I decided to mix things up in our dining room a few weeks ago by changing out the rug for the one that used to live in our bedroom, which started a chain reaction that motivated me to get creative with our bedroom design. I'm thinking about adding more color and also toning down the vibe of the space—it was starting to feel a little too formal! Keep scrolling for a quick itemized list of the changes I plan to make, and the handful of things I need to invest in online.
Master Bedroom Makeover Plans:
1. The first thing I want to address is our dresser. Last year I bought a vintage one off Facebook Marketplace that I thought I'd love, but it just hasn't been the right fit for the long haul. I was hoping to find one that matched the light cherry wood finish of the dresser my dad made for me, but it's way darker (I should have brought a drawer with me to compare in person when I went to look at the FB marketplace dresser!), and it's also a touch too traditional/formal for our style. So, since I'm not able to thrift shop right now, I decided to invest in this lighter tone retro-looking dresser that also has a slightly simpler, more casual vibe.
2. Like I mentioned before, I pulled a few things from our bedroom to makeover our dining room a few weeks ago, including the rug, our new turntable, and record stands (turns out that I don't listen to music quite as often in the bedroom as I thought I would…live and learn!). I replaced a lot of those pieces in our bedroom with what was in the dining room—things like our macrame wall hanging and the rug. I can't wait to share how much impact that bright, bold rug has on our bedroom design, and I love that it didn't cost a dime!
3. The only other thing I did spend money on is the bedding. Now, I think we all know that changing linens is the fastest way to makeover a bedroom for not a lot of money. It's a no-brainer, right?! So, I ordered this tasseled set in 'Taupe' to give our bed a fresh new feeling. We tend to swap out bedding about once a month, if not more often, because all four of our pets sleep with us in the bed. Our linens take a beating thanks to all that fur and all those claws, so I'm excited to add a new set to our arsenal, both from a functional standpoint and an aesthetic one.
If you're liking this direction, let me know in the comments! And if you're looking to shake things up in your own master bedroom, I worked with the team at AllModern to pull look-a-likes for our favorite new and vintage treasures so you can get the look for yourself. Stay tuned for the final reveal later this month!
*I earn a small percentage from purchases made using the affiliate links above. Affiliate links are not sponsored. Rest assured that I never recommend products we wouldn't use or don't already love ourselves.