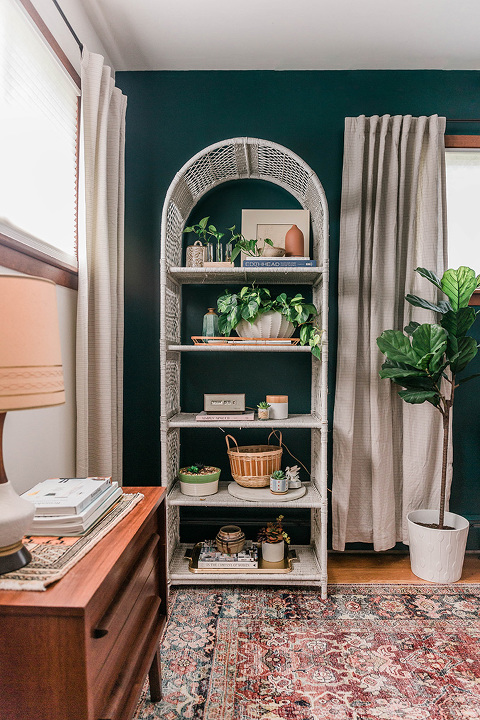 So, I just did a quick headcount of all our current living houseplants, and here's what I came up with: 28. That number is positively insane for me to comprehend considering the fact that, when we moved into this house four and a half years ago, all of our plants (except our fiddle leaf fig) were fake. And I didn't even have many of those either. There's just something about the light in this house that allows plants to really thrive, I guess!
It all started with our fiddle leaf fig. If you're new around here or if you've forgotten, I bought that little tree on a whim from Ikea about eight years ago. Back then, I knew it was going to die, but I figured I'd get some good pictures of it and be able to immortalize it on the blog. Instead of dying, though, it somehow survived, even with the meager natural light our old townhouse used to get. Then we moved to this little retro ranch with its treeless lot and south-facing floor-to-ceiling windows, and our fiddle took off. It has since reached the ceiling of our living/dining room twice, and has been trimmed for propagation once. We've also added three more fiddles to our collection!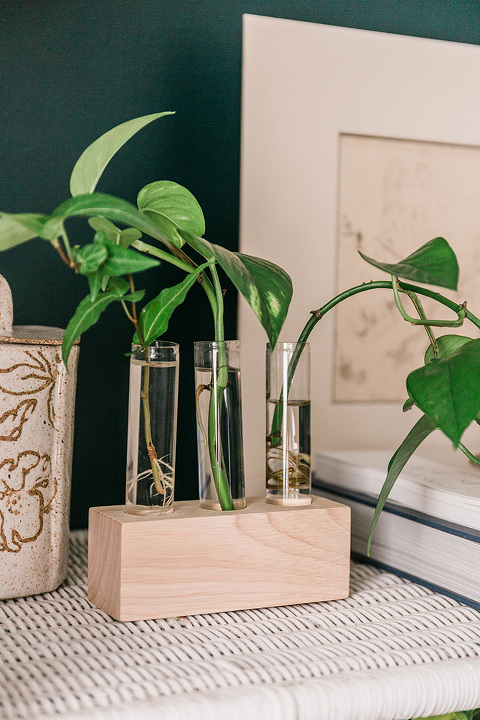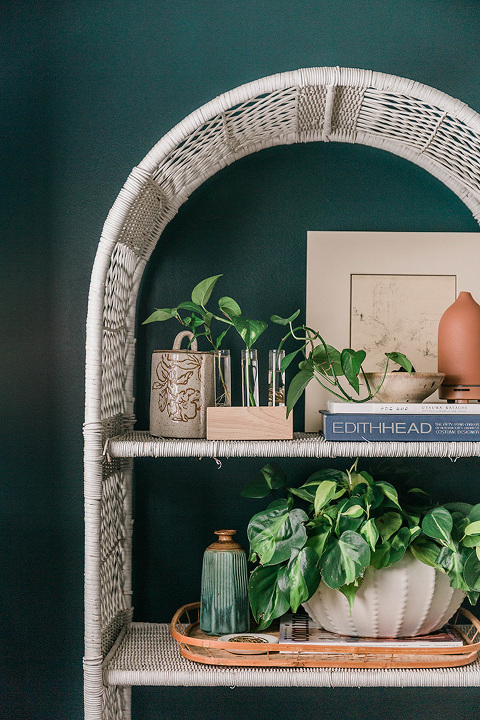 Long story long, my fiddle leaf fig success gave me the confidence I needed to try other plants, and thanks to lots of trial and error, I've amassed the type of houseplant collection that I used to envy in other people's houses.
The truth about taking care of a houseplant collection, though, is that it ain't cheap. The most I've ever spent on a plant is $50 (our rubber plant), and I just spent over $25 a pop on a couple of small mail order plants from Etsy since we can't comfortably get out to the nursery in person anymore due to the state-wide lockdown. It's an investment, but over the past few years, I've gotten really into propagation, which has allowed me to essentially grow a new plant collection for free.
Right around the time that our "Stay At Home" restrictions went into effect here in Virginia, I placed an order for all the supplies to make my own propagation stands—a DIY assignment my editor at Hunker had given me. At the time, I had no idea that I was about to be locked inside for months without access to plant shops, so it feels almost like that Amazon order I placed was meant to be. The supplies showed up at my door, and I spent the first few days of lockdown happily crafting away at my basement workbench.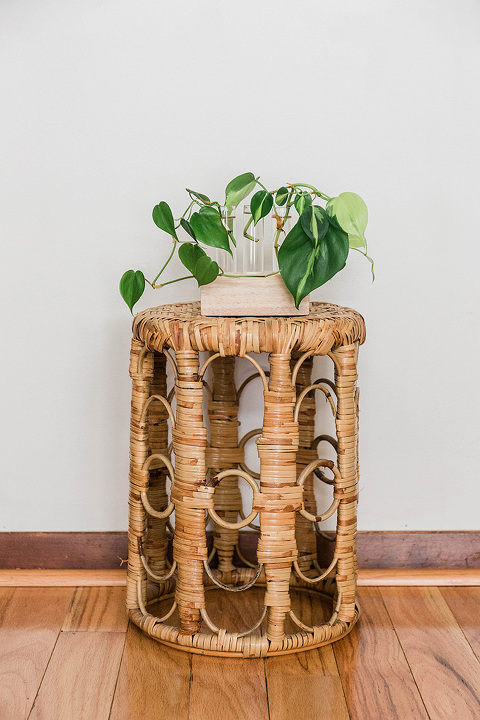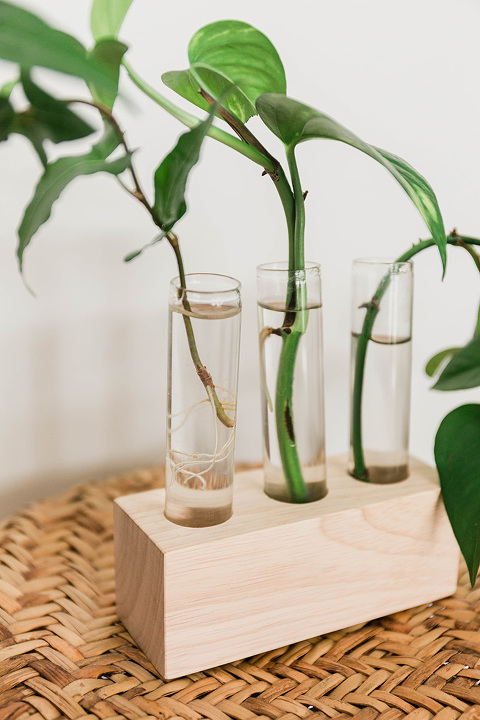 You can find out how to make your own stands using a spade bit, glass test tubes, and wood blocks over on Hunker where I'm sharing the full DIY breakdown, and while over there, be sure to check out my list of propagation tips. I tried to simplify it as much as possible in case you're looking to make new houseplants from those that are doing well in your collection.
In the eight weeks since my plant cuttings have been propagating in water, I managed to successfully grow fresh roots on Golden Pothos, Succulents, a Fiddle Leaf Fig trimming, Brasil Philodendron, and English Ivy. I also found out that you can "regenerate" the cut root ball ends of Green Onion using a propagation stand in your kitchen window!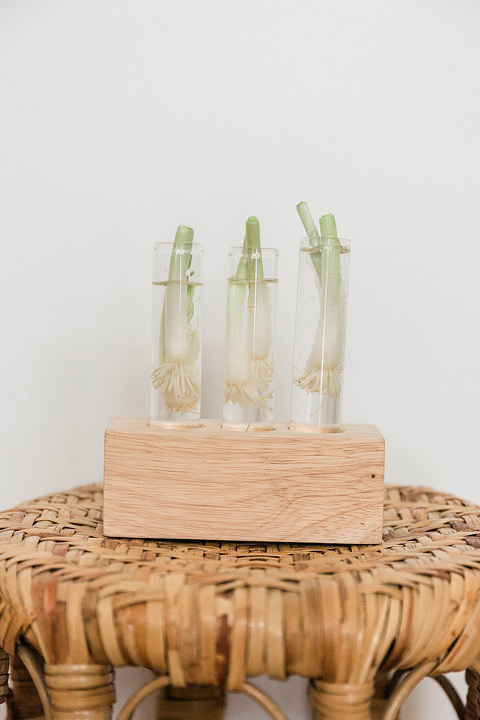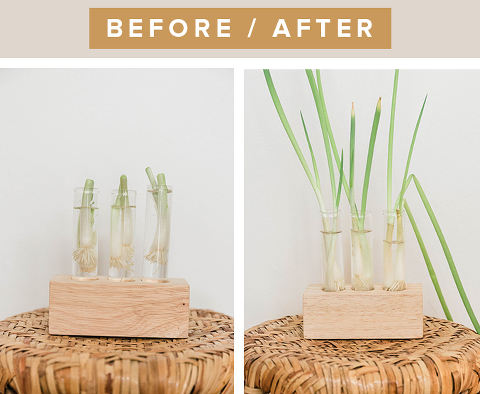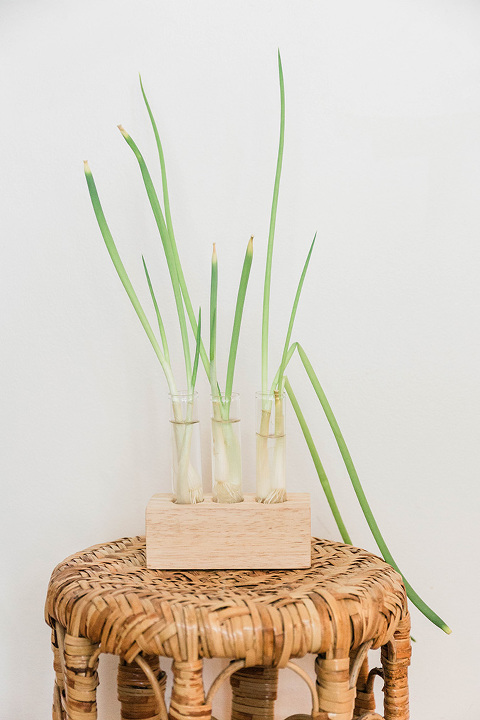 I mentioned a little bit earlier in this post about grabbing a couple of new live plants from Etsy—I got a pilea plant and also a calathea, both of which are newbies for me, so wish me luck. I decided to try them out because I read that they're non-toxic to pets. Speaking of, I'm going to share a whole post later this month or next about how to keep your pets from eating your plants (and which ones you shouldn't keep within their reach at all) because it's one of the most frequently asked questions I've been getting on Instagram lately.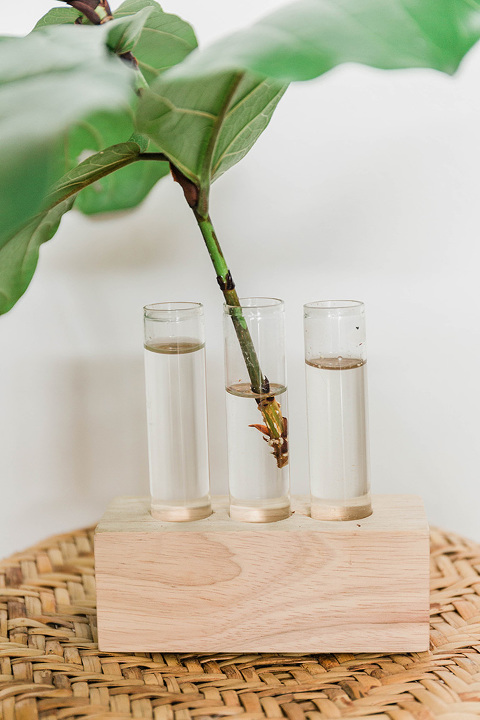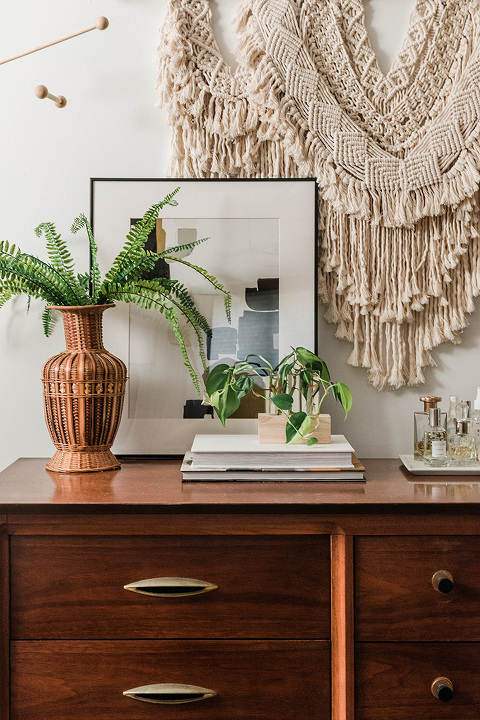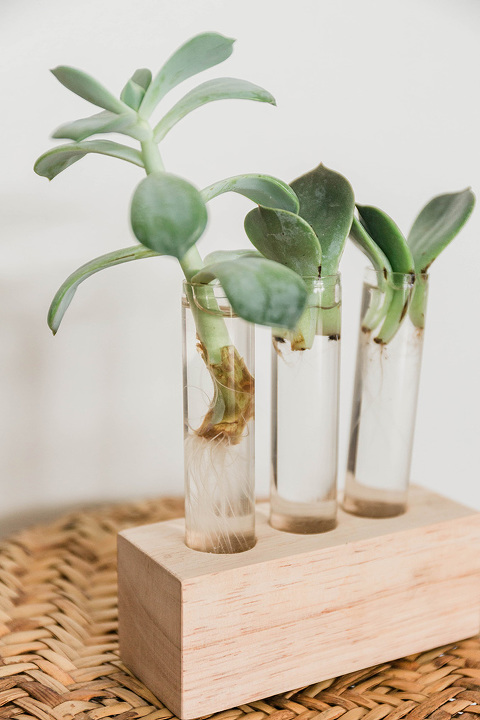 Anyway, make the leap over to Hunker here for the full scoop and DIY propagation station tutorial, and let me know in the comments here what your favorite houseplant is to keep at home. Have you ever tried propagating before?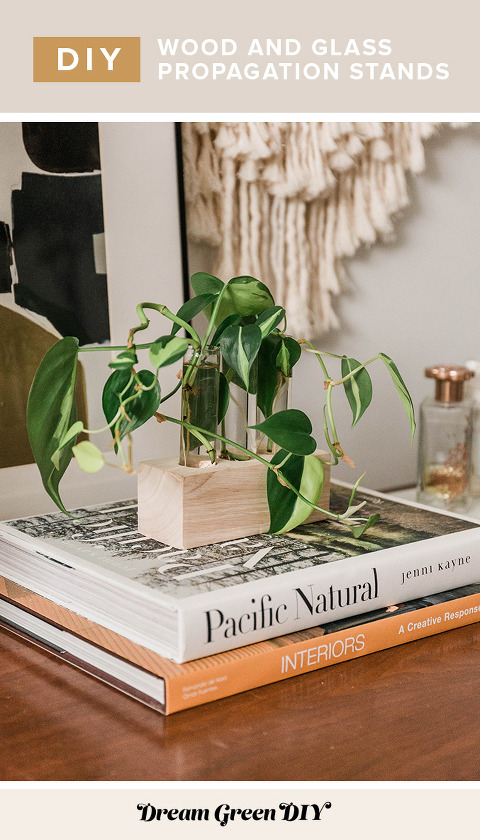 *I earn a small percentage from purchases made using the affiliate links above. Affiliate links are not sponsored. Rest assured that I never recommend products we wouldn't use or don't already love ourselves.