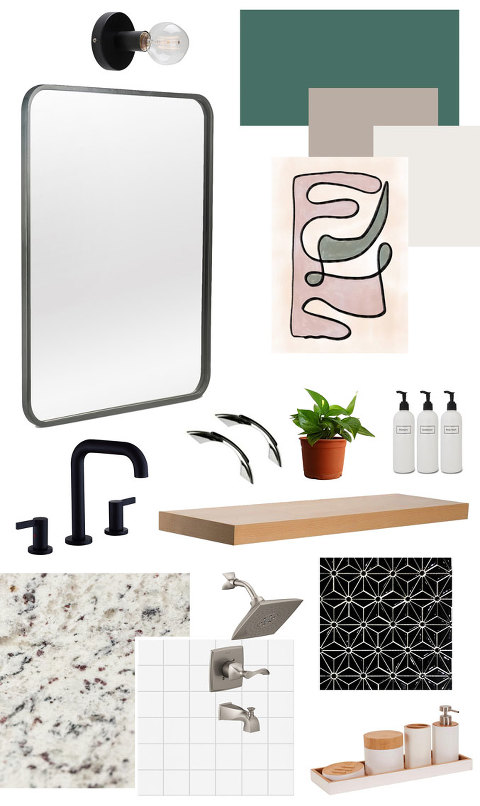 Week 1 | Week 2 | Week 3 | Week 4 | Weeks 5 & 6 | Week 7 | Week 8
(FYI that links will "go live" one at a time as the event progresses)
Thanks for following along with my role as a guest participant in this season's 8-week extended One Room Challenge event! If you're new to Dream Green DIY, hop over here to find out a little more about me. You can click those links above if you need to catch up with this year's progress as we refresh our downstairs hall bathroom, otherwise, keep scrolling to see what's next in this room renovation.
It's mood board time! I usually love to save Week 1 of ORC just for "before" photos and Week 2 just for the mood board. I know it kind of drags things out a bit, but I think it's important to really study and ruminate on those before photos. It's where the space started, after all, and focusing a whole week on those old pictures and memories gives me a chance to prepare mentally (and physically!) for all the big changes to come.
Week 2, though, is when I go into detail about the plans I have and my vision for our One Room Challenge space. This spring 2020 challenge, in particular, offers even more of an excuse to draw things out, if I'm being honest, since it's a longer event (8 weeks instead of 6). I hope you don't mind the step-by-small-step format, but I'm excited to take you guys along for the "real time" ride. Now, let's get to those plans, shall we?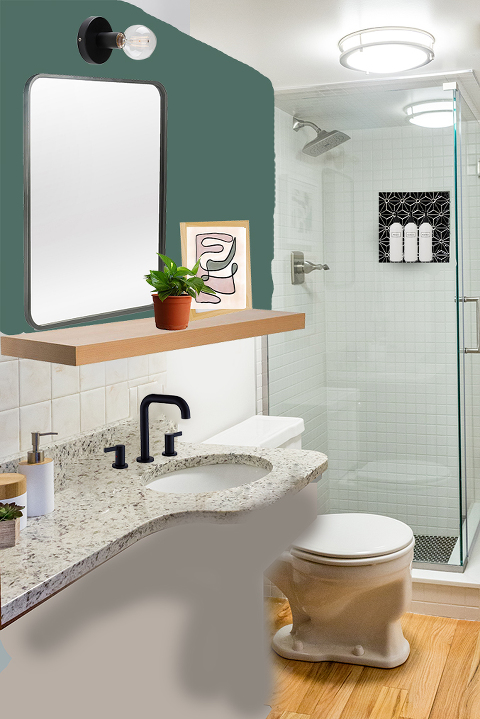 More Bold Color
Okay, so the main thing is color. As in, I want to add lots more of it. I don't plan on painting all of the walls because it's a super tight space, and I think the white walls we already have painted help give the room a feeling of spaciousness. The white color we used, by the way, is called "Snowbound" by Sherwin Williams. I do want to bring in a pop of rich color, though, to help make the room stand out. I'm pulling almost all of my inspiration from this room makeover by Dabito, of Old Brand New. I'm using the same exact Behr "Forest Edge" green paint that he did, and just on the sink wall to turn it into a feature. I'm also pulling in some brighter art and potted plants to give the room more life.
Cohesive Black Finishes
One of the many things I think I did badly when I renovated the room a couple of years ago was that I didn't narrow my finishes. I used a black framed mirror, a gold light fixture, and nickel hardware on the vanity, countertop, and in the shower. It felt more modern than where we started, but after living with the room for years, I know I made a mistake by not keeping those finishes more uniform. I'm not changing the nickel shower fixtures because that's not in my budget (and I feel like they kind of fade away against the white tile anyway), but I am going to replace the sink faucet, cabinet hardware, and vanity light with black ones to help things feel more cohesive. I think these changes will also help make the cool black tile in the shower sing!
Updating The Vanity
The final big change I've been putting off ever since we moved in is painting the dated wood vanity. I'm a huge proponent of leaving stained wood as-is, but this is one of those rare times when it would just look so much better painted. The good news is that, after doing a bit of deeper investigation, I found out the wood vanity is made entirely of thin particle board, so it's not like I'm painting over something super high quality. Again, since the room is so small, I want the vanity to disappear in a way, so I'll be painting it a purple-y gray color using chalk paint (Behr's "Pale Sepia") to help it coordinate better with the purple-y white granite counters we put in a couple of years ago. Sorry for the terrible mock-up above, but it really does help give me confidence in my final decision to paint the vanity!
Are you excited to watch these changes unfold?! I hope so! Things kick off in high gear next week with the vanity painting project, so check back in next Thursday, same time, and make sure you visit the One Room Challenge event website hosted by Linda, of Calling It Home, for even more design inspiration. Thanks for following along!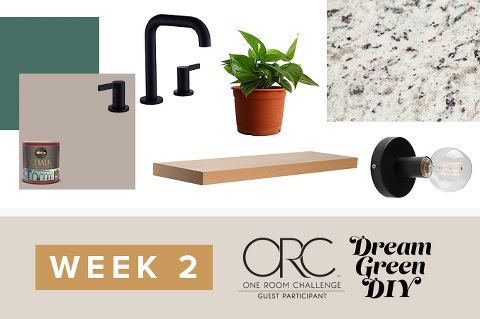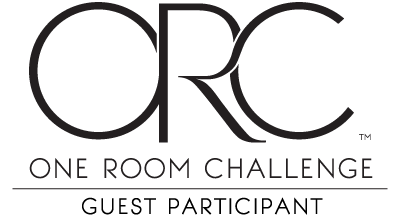 *I earn a small percentage from purchases made using the affiliate links above. Affiliate links are not sponsored. Rest assured that I never recommend products we wouldn't use or don't already love ourselves.