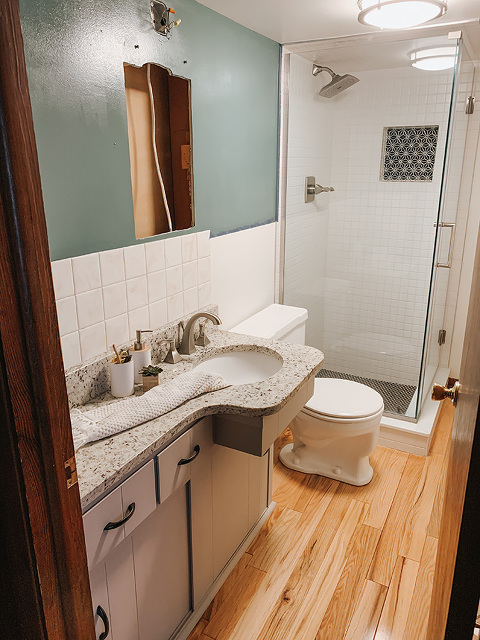 Week 1 | Week 2 | Week 3 | Week 4 | Weeks 5 & 6 | Week 7 | Week 8
(FYI that links will "go live" one at a time as the event progresses)
Thanks for following along with my role as a guest participant in this season's 8-week extended One Room Challenge event! If you're new to Dream Green DIY, hop over here to find out a little more about me. You can click those links above if you need to catch up with this year's progress as we refresh our downstairs hall bathroom, otherwise, keep scrolling to see what's next in this room renovation!
So, last week was all about de–coloring our bathroom (i.e. repainting our dark brown vanity a fresh light gray) and this week is all about adding va-va-VOOM with a fresh pop of color. Basically, you have to find balance when it comes to adding color to a space, and for me that meant desaturating our vanity and giving the walls a nice bold hit of bright blue/green. I wanted the new wall paint to be the focal point, and I'm happy to report that "focal" she most certainly is!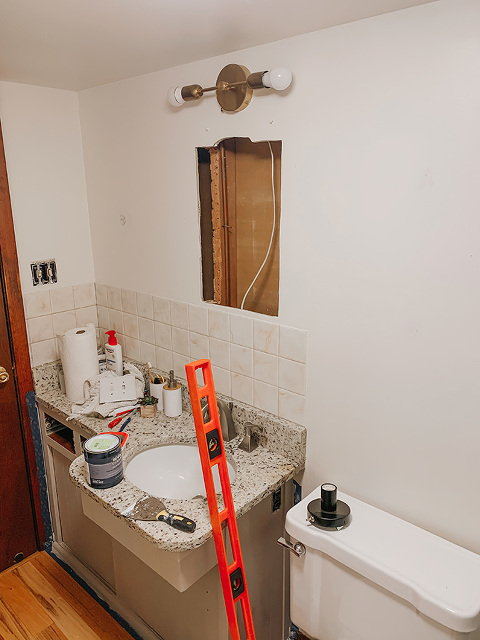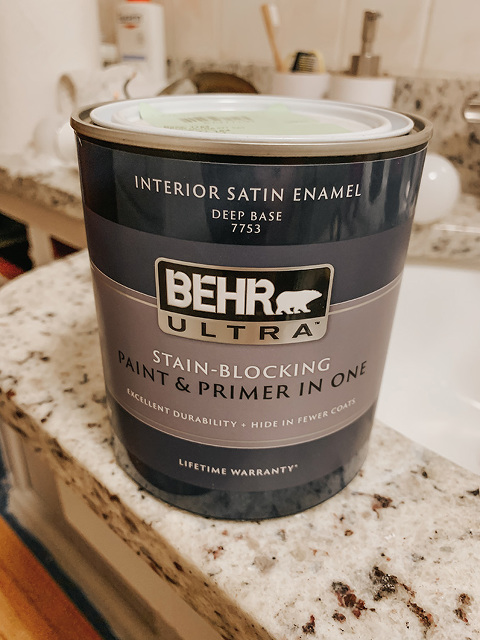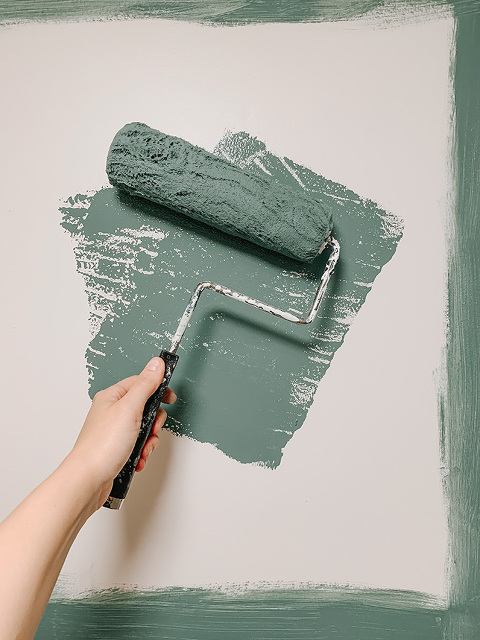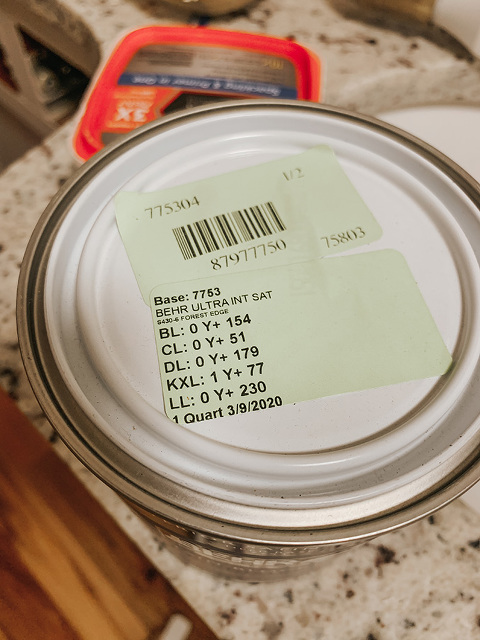 The color I chose for this bathroom update was a bit of a crap shoot since I ordered it "sight unseen" off the Internet. In other words, I didn't sample it first. That's typically how I roll around here, but I also was just feeling totally confident in my decision after seeing it used in this bathroom makeover by Dabito.
As you know, our bathroom is tiny, and I didn't want to overwhelm the otherwise all-white space by filling it entirely with our new "Forest Edge" paint. Instead, I took even more inspiration from Dabito's bathroom makeover by just painting the upper part of the wall. By the way, that big blank white space over the toilet will feel a lot more intentional in a few weeks when I share my "Big Picture" plan. I promise!
Since the wall wrapped around to the doorway by about a foot, I decided to go the extra mile and pull the color over to that wall as well. It only added about 20 minutes of extra work to the painting task, so it felt like a no-brainer, and I love how seamless it makes the blue/green color block feel, too.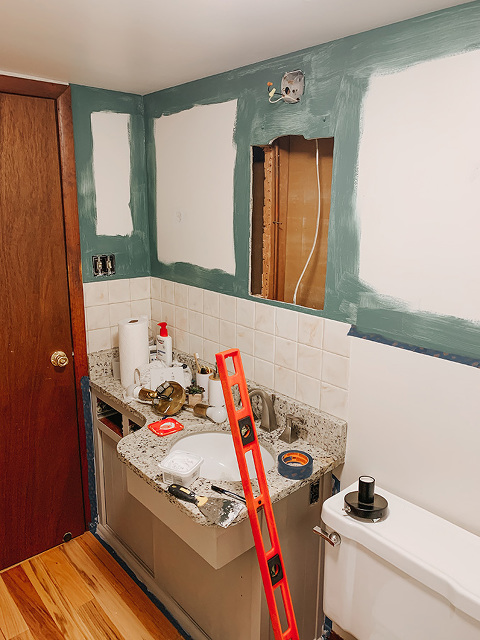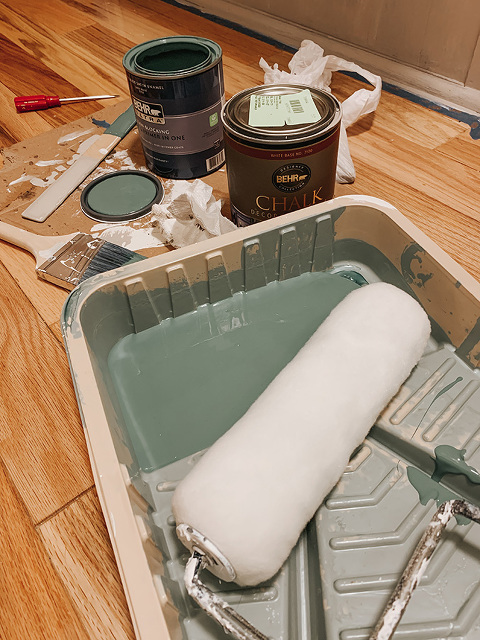 Oh, and yes, as you can see in most of the photos from today's post, we have a giant hole in the drywall. Reason being that we removed the old dated medicine cabinet that used to live in that niche, and since our new mirror covered the hole perfectly, it seemed like a wasted effort to redrywall it. The hole has actually proven useful, too, because we can easily access the electrical and see into the stud construction of the wall (more explanation on that in the coming weeks).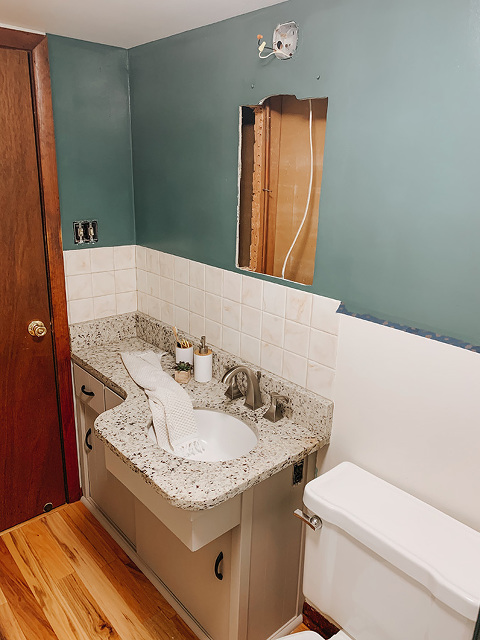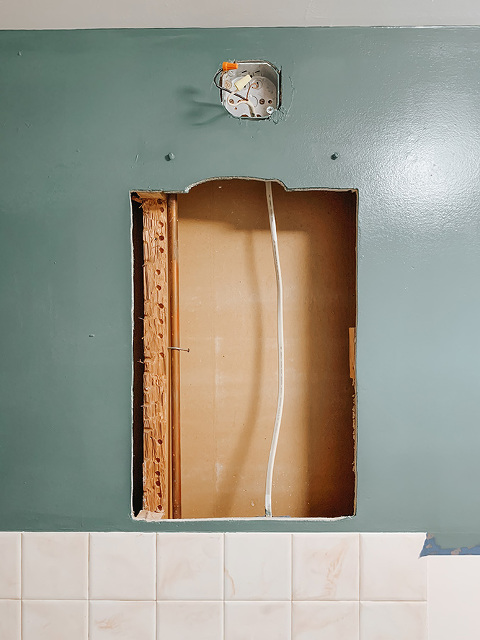 What do you think of our bold new color-blocked wall? I think it adds the perfect dose of personality to the space, and helps distract from the fact that we can't completely gut the room in order to make it over. Paint really is the most powerful and most cost-effective tool we have in our DIY arsenal, am I right?!
Anyway, that's all I can show you for now because if I share any more photos, I'll spoil next week's update: all new lighting! As always, thanks for following along with our mini refresh, and make sure you visit the One Room Challenge event website hosted by Linda, of Calling It Home, for even more design inspiration.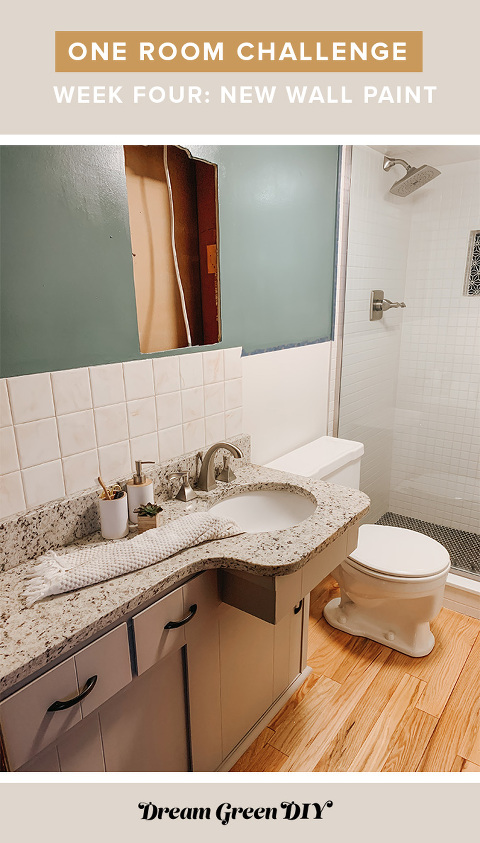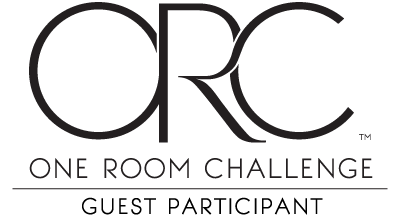 *I earn a small percentage from purchases made using the affiliate links above. Affiliate links are not sponsored. Rest assured that I never recommend products we wouldn't use or don't already love ourselves.