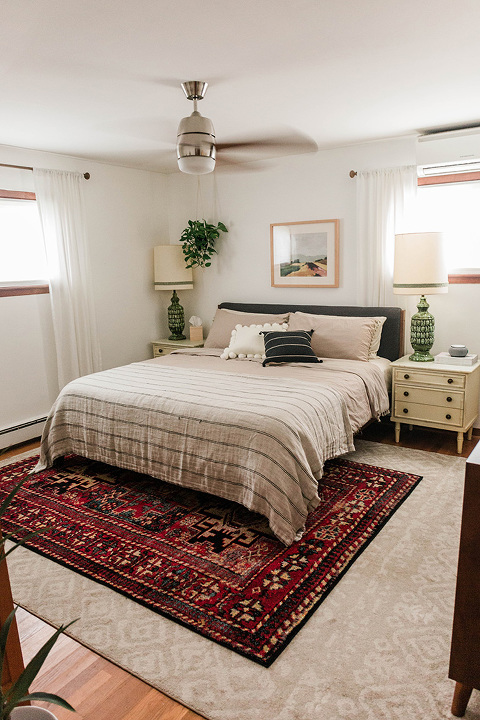 *This post was sponsored by AllModern. All opinions are my own.
I thinkkkkkk it's pretty safe to say that most of us could use a little extra TLC right about now. I'm doing pretty good, though (all things considered), and have lots to be grateful for—especially our cozy, comfortable home. I've found over the past two months stuck inside that refreshing rooms in our house goes a surprisingly long way in making me feel happier and more energetic, even if I use mostly what I already have!
For this month, I decided to focus on our master bedroom. It's a space that has always felt calm and inviting, but I wanted to inject a little more personality into the room with bolder colors and more function through better organization and upgraded furniture. Like I mentioned in this post, I wanted to use mostly what we already had to refresh the room, but I did decide that a few new pieces were in order to make it look and feel its best.
So, I teamed up with AllModern again to bring this space full circle. Keep scrolling for all the details on what we're reusing from other rooms in our house, and what we decided to add new to the room to bring a little joy to the space.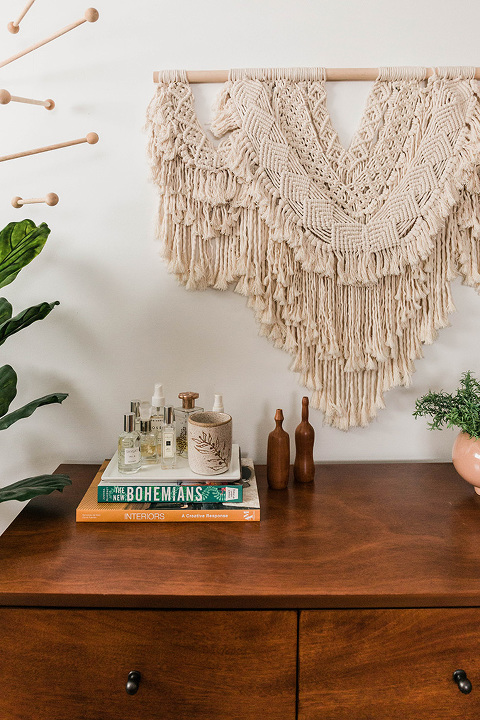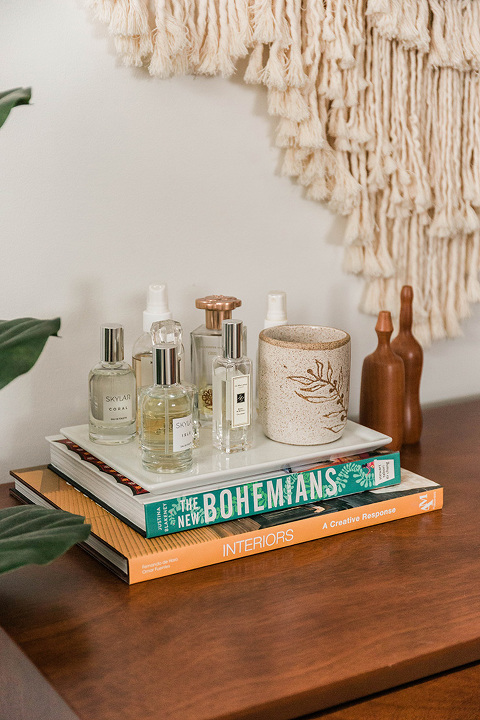 I went through my reasons for deciding on ordering a brand new dresser in my last preview mood board post, but the short version of the story is that I was hoping to find a different dresser than the vintage one I bought because that one wasn't a great color match to the tall dresser my dad had built for me, and it was also just a little too formal for our casual boho-meets-mid-century-mod taste. I was hoping to find something a little sleeker and lighter, and this new dresser fit the bill perfectly.
To be honest, the new dresser is still a little darker than the light cherry wood dresser my dad made, but I can overlook that detail because of the gorgeous retro-inspired shape. I love the sleek, simple lines of the drawers and those cool tapered angled legs. It's definitely a better fit for us style-wise than our old dresser (which we plan to sell when it's safe to relax social distancing practices), and it's way bigger, too.
I was surprised by how tall it is and how much John was able to fit inside the extra deep drawers. We're planning on installing a new closet organizer later this month, and this bigger dresser helped free up a lot of space in our walk-in closet, which I'm sure will make that organizing project much easier to tackle.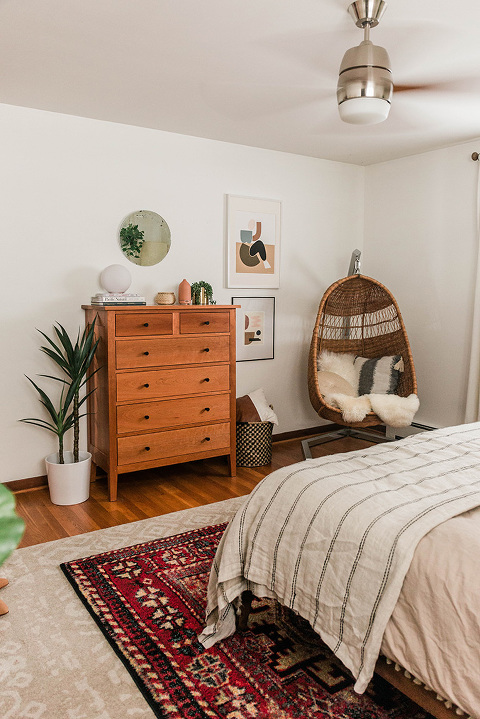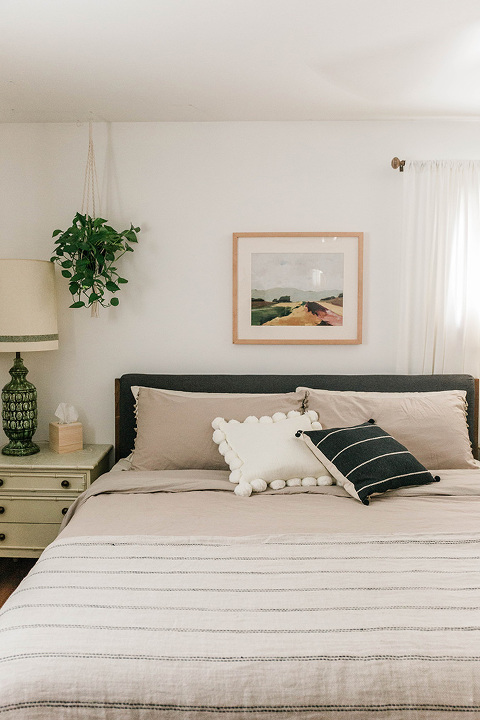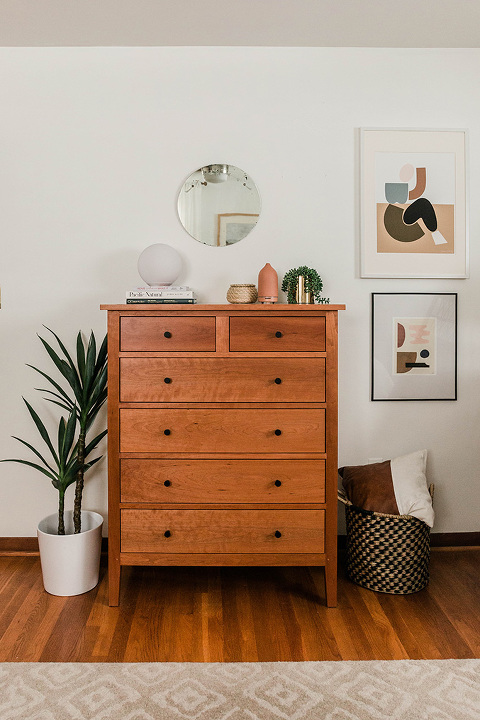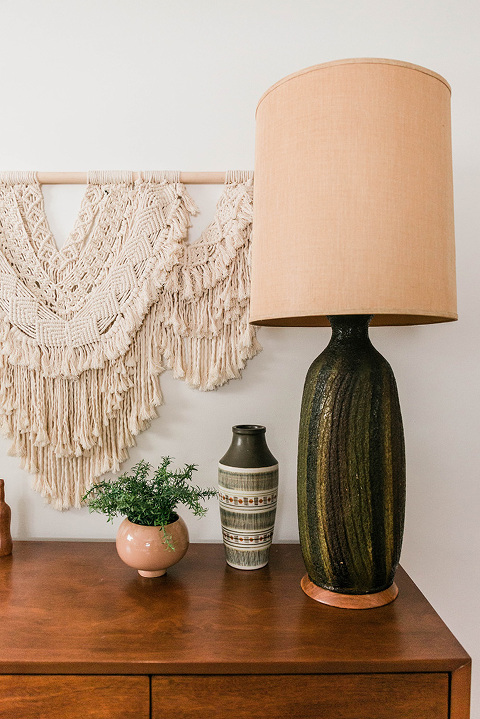 The other major thing we did in this space was pull in the bright red rug we used to have in our dining room. This helped give the room lots more defining character, and it's also much softer than the old one (which we moved to the dining room where softness isn't totally necessary). I love sinking my bare toes into this rug every morning and evening, and especially love that it was free.
To help make the new rug feel more intentional, I ordered a taupe-colored tasseled duvet set for the bed and a soft blush pink ceramic planter to put on the new dresser (see it pictured above next to my favorite vintage vase find). Pulling those slightly warmer tones throughout the room helped make the rug feel like a nice complement to the space, and I was able to finish it off with a new Juniper Print Shop print that I framed and hung over the headboard.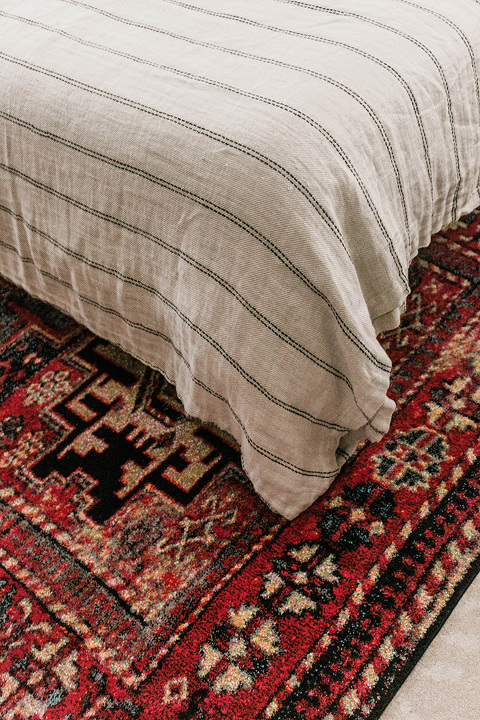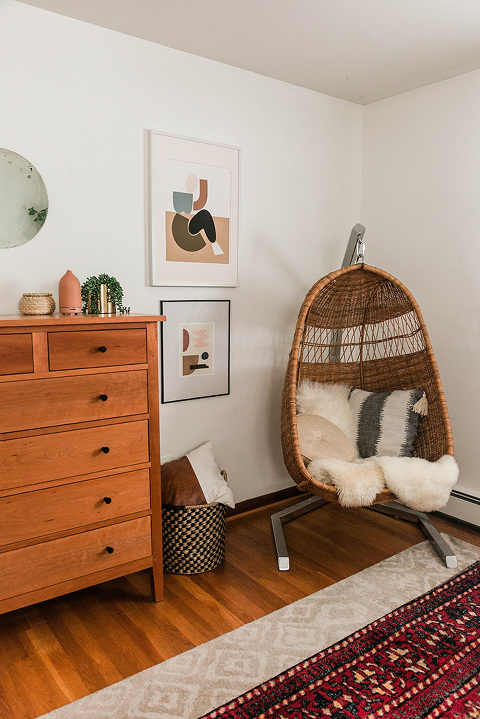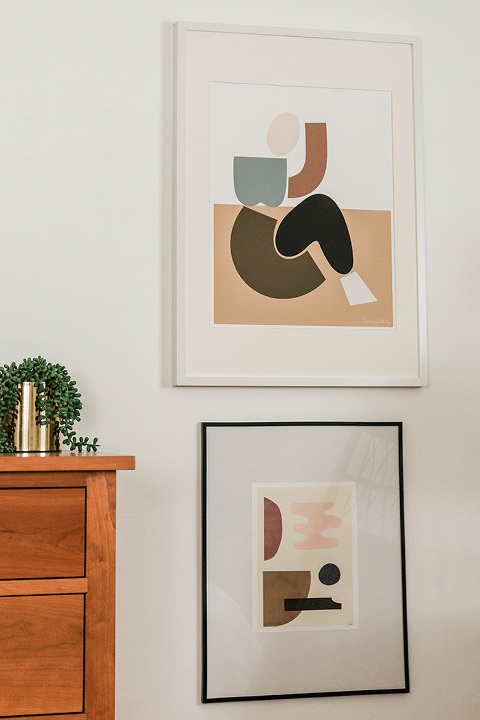 As for the rest of the room, more bolder colored abstract art prints—another from Juniper Print Shop, and the other by Czech Republic artist Jan Skácelík—plus lots of live and faux greenery finished things off perfectly. While I loved the room before, it felt very subdued and almost a little "safe." Now, with all the brighter colors I've added, I can't help but smile whenever I walk past or sleep in the room. It's my new favorite space in the entire house.
Big thanks to AllModern for helping to bring my vision to life, and feel free to check out my list of look-a-like resources below if you're looking to nail a similar joyful look in your own bedroom space—I couldn't think of a better time to treat yourself than now!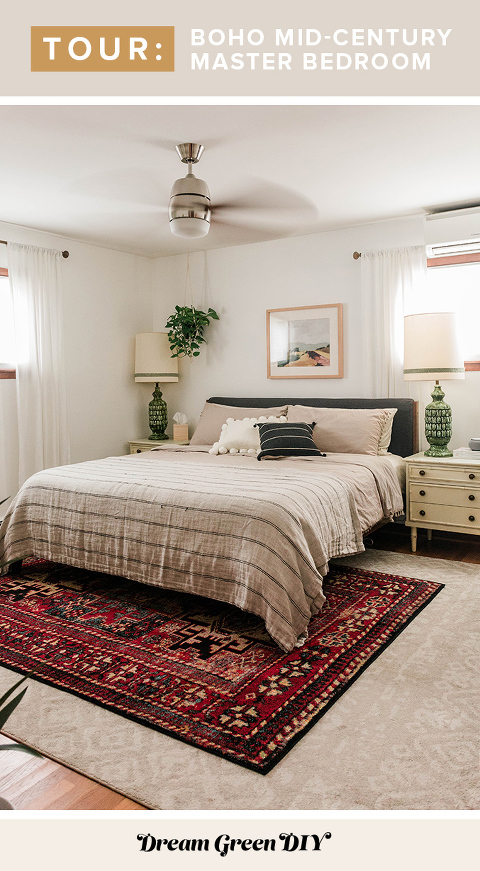 *I earn a small percentage from purchases made using the affiliate links above. Affiliate links are not sponsored. Rest assured that I never recommend products we wouldn't use or don't already love ourselves.