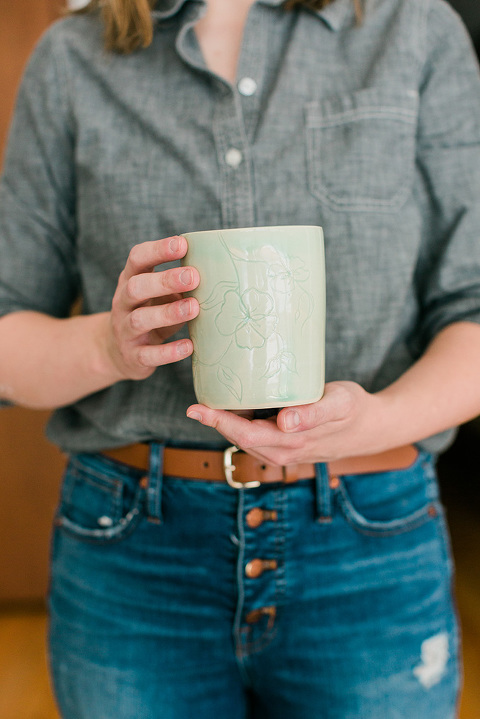 When I temporarily shut my online pottery shop down back in March in response to the pandemic outbreak, I'll be honest—I very naively thought I'd be out of commission for 2-4 weeks tops. Now that we're heading full steam ahead into August this weekend with no end in sight to the virus, I'm taking fresh stock of the state of things when it comes to my pottery business, specifically putting new measures in place so I can ship safely from home.
I've been getting all of my ducks in a row these past couple of weeks—things like prepping my socially distant shipping process, and pulling together all of my remaining inventory (I'm not currently making new pieces, but have plenty leftover from last winter!)—and today is officially the day…The DGD Pottery Etsy shop is open and ready to take your orders!
Keep scrolling for a full pottery-themed list of links to help boost your creativity this weekend, and I'm also sharing an exclusive coupon code to help celebrate the relaunch of my handmade ceramics shop.
Weekend Inspiration: No.103
1. If you have your eye on something special from the DGD Pottery Etsy shop, you can use the code "RELAUNCH2020" at checkout to enjoy 10% off the original collection now through Monday, August 3.
2. Speaking of pottery shops, I'm new to this Black-owned ceramics brand, and can't wait to add one of Lalese's stunning sculptural pieces to my personal collection when she reopens.
3. If DIY is more your style right now, check out this easy tutorial for making your own drip glazed ceramics via Collective Gen!
4. Here's another simple clay craft you can try if you're looking to try your hand at making hand-built art yourself.
5. Vintage ceramics are one of my greatest weaknesses, and I have my eye on this retro Japanese coffee/tea set from another seller on Etsy.
6. If I had to choose a single favorite from my own Etsy shop, it would have to be this multi-color mug. It will be a hard one to let go of, but it makes me smile to imagine someone making it their new favorite coffee cup!

*I earn a small percentage from purchases made using the affiliate links above. Affiliate links are not sponsored. Rest assured that I never recommend products we wouldn't use or don't already love ourselves.