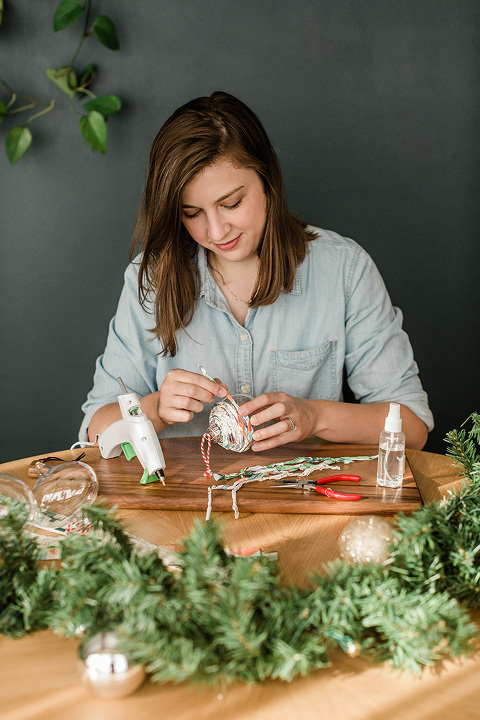 *This post is sponsored by BabbleBoxx on behalf of JoAnn.
Christmas really is so magical, isn't it? Not even the uncertain state of the world can put a damper on this holiday season, and I'm planning to take full advantage by soaking up every moment of it from the comfort of home. Good thing I'm a natural homebody at heart, huh?!
The team over at JoAnn recently got in touch with the challenge to get extra crafty this Christmas, and I was quick to say, "I'm in!" This is my favorite time of year to break out my craft supplies, after all, and I already have an entire corner of our basement stocked with goodies from JOANN. This brand has long since been a favorite of mine since it's such a convenient one-stop-shop for creative inspiration and supplies. I could (and do!) spend hours there, wandering the aisles to stock up on all the things I need for my crafting closet.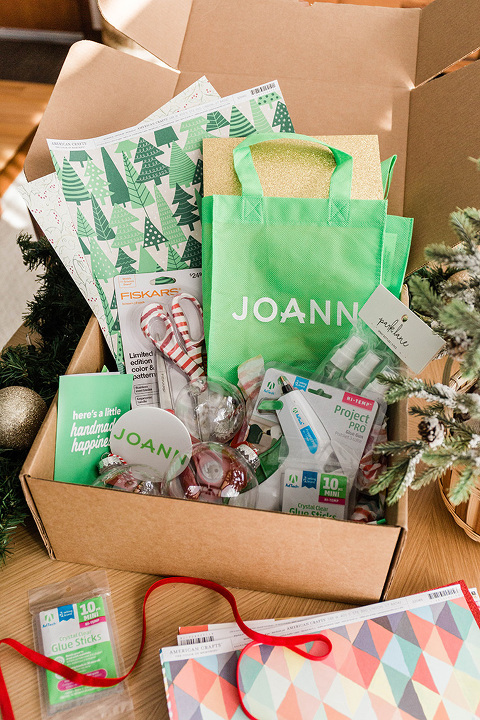 With their Christmas challenge in mind, I got to work at our dining room table creating an assortment of DIY Twisted Paper Ornaments. I'm planning on keeping some for us, of course, as a little reminder of just how far I've come this year (despite it all, I'm still happily—and safely—able to get creative at home), but I also plan to wrap one or two up to give as gifts. Keep scrolling for the how-to so you can get in on the excitement of hand-making your own holiday gifts and décor.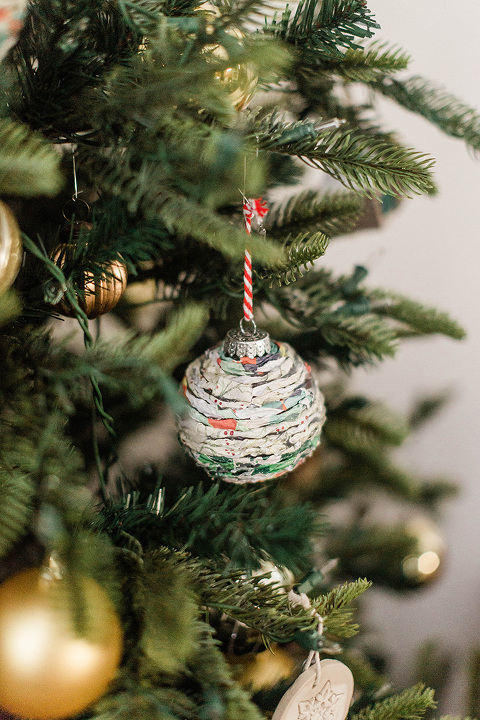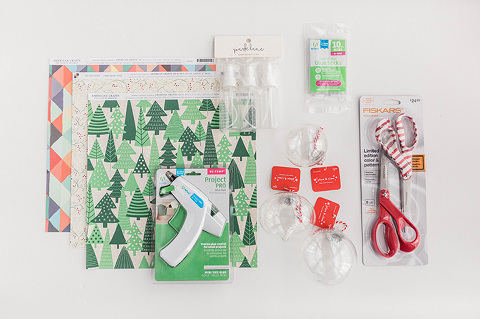 Here's What You'll Need:
1. Assorted cardstock
2. Paper cutter
3. Scissors
4. Spray bottle with water
5. Hot glue gun/glue gun sticks
6. Needle nose pliers
7. Assorted plastic ornaments

Step One
Cut your pieces of patterned paper cardstock into 1-inch strips using scissors or a paper cutter. (TIP: After you work through the tutorial one or two times to get the hang of it, consider playing around with different thicknesses and paper weights to add variety to your ornament collection!)

Step Two
Use a spray bottle to dampen each of the strips of cut paper. You'll want the paper to feel slightly floppy in your hand, but still have some structure. Don't overdo it with the water.

Step Three
While the paper is still soft and damp, fold and twist each strip between your fingertips until you form a loose, organic rope-like piece. Don't twist the paper too tightly, or else you risk ripping the strips.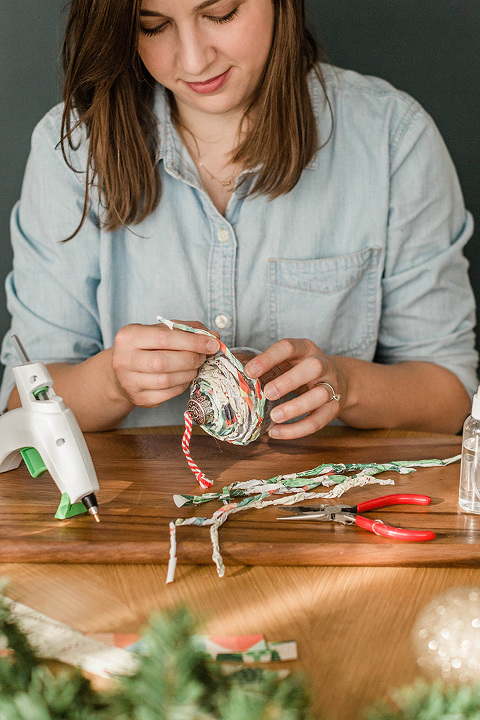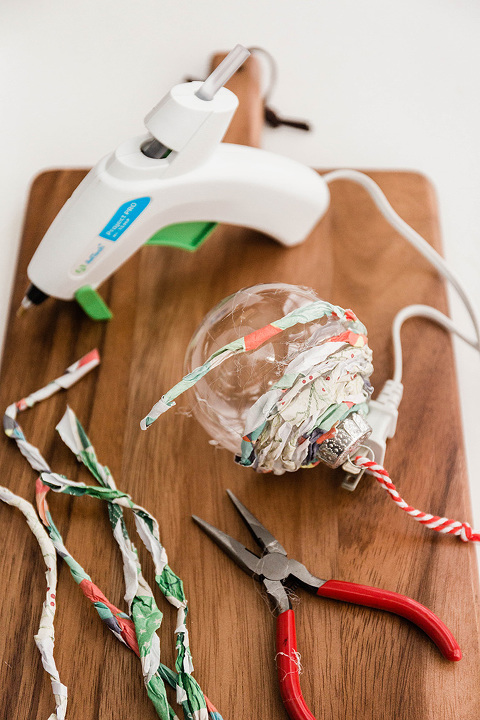 Step Four
Once twisted, hot glue one end of the first twist to the top of your plastic ornament. Work around and around the ornament, gluing the twists against the shape of the ornament as you go. Be sure to glue the twists close together and tightly, so you can't spot the bare ornament underneath. Try mixing and matching colors and patterns to create your own one-of-a-kind design. Oh, and needle nose pliers will keep your fingers from getting burned by the glue as you press the twists in place!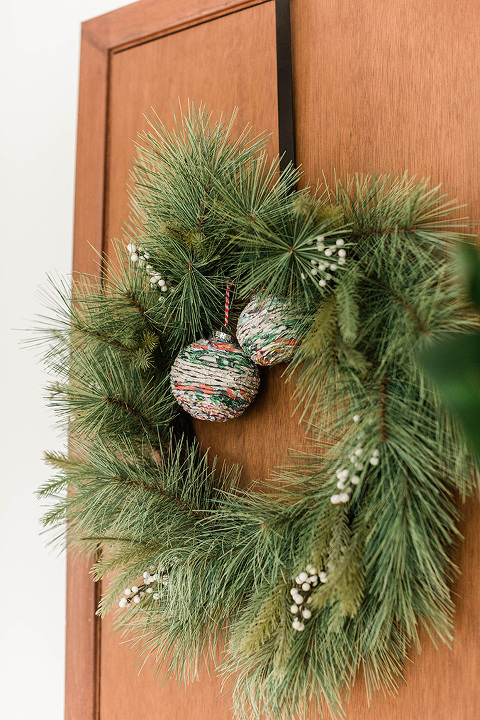 Step Five
Once the ornament is completely covered by the paper twists, allow the glue to cure for an hour or so, then add ribbon or string so you can hang it on your Christmas tree! Another idea is to attach them to your front door holiday wreath, like we did.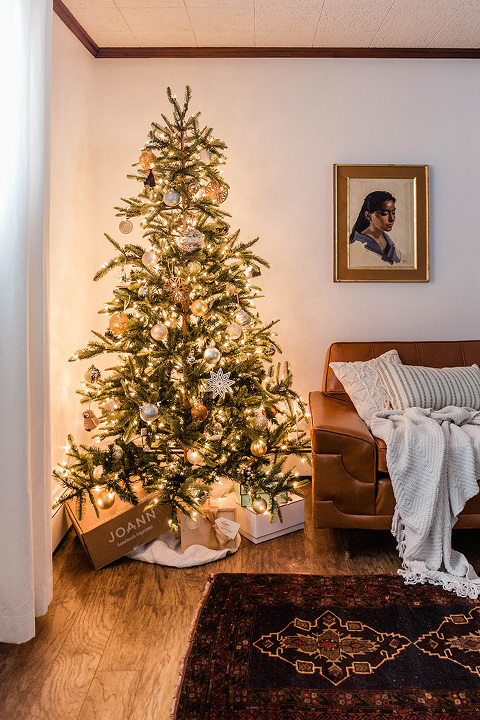 As you can see, I made a whole bunch to display all over our house, and I'm carefully tucking the very best ones in gift boxes to mail off to John's family since we won't be able to see them in person this Christmas. It's our little way of "being there" with them during the holidays. Check out JoAnn.com and the JoAnn app for lots more inspiration and to stock-up your own craft closet this Christmas.