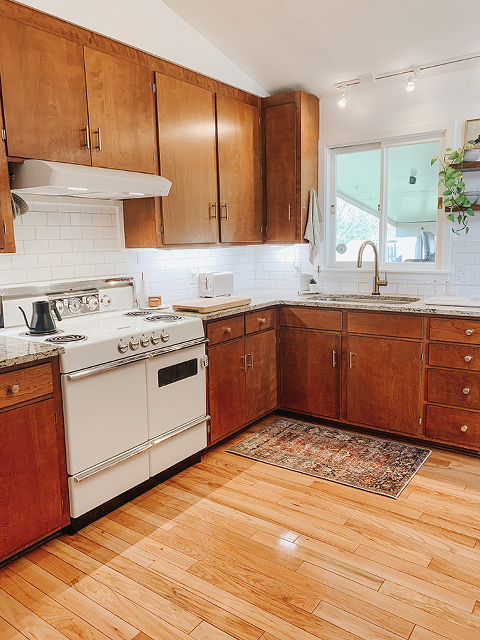 *This post was sponsored by Jasco Products. All opinions are my own.
I've spoken about it time and time again, so my apologies for being a broken record, but our kitchen is dark. As you can see in the "before" picture below, it has just one window that looks out onto a covered carport, so there's little to no natural sunlight to speak of. We've been working year after year to add functional brightness to this room through artificial task lighting, but I think today's project has officially crossed the goal off our list. I teamed up with Jasco Products to try out their Prolink Plug-in LED Under-Cabinet Light Fixtures purchased at Home Depot, and it has been the final piece to the puzzle that we were missing. We can finally see while we cook!
You might remember that we had installed a few dinky battery-powered lights a couple years ago, and while they were handy to have (especially during a power outage), the short lifespan of the batteries and dim output of light meant that we hardly ever used them. What a waste! I should have sprung for the plug-in version from the get-go because it turns out that they're not expensive and they don't take much time at all to put in. I was able to knock this whole project out on my own without an electrician in under thirty minutes. I'm sharing the step-by-step tutorial with you below in case this project has been on your list for a while, too.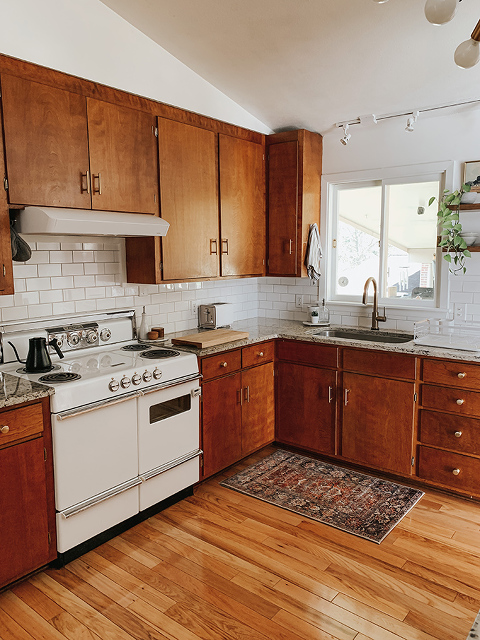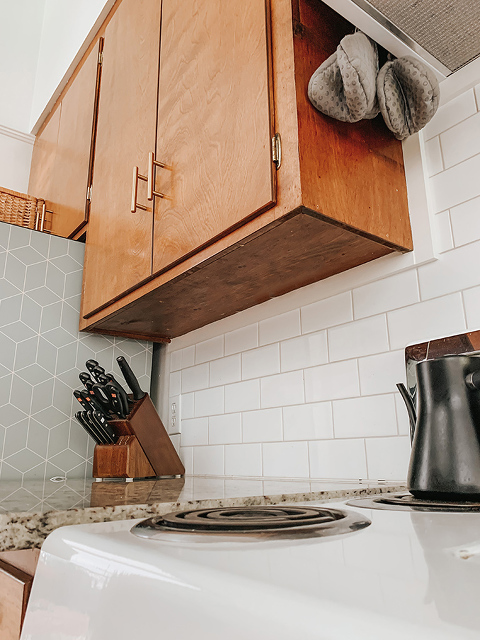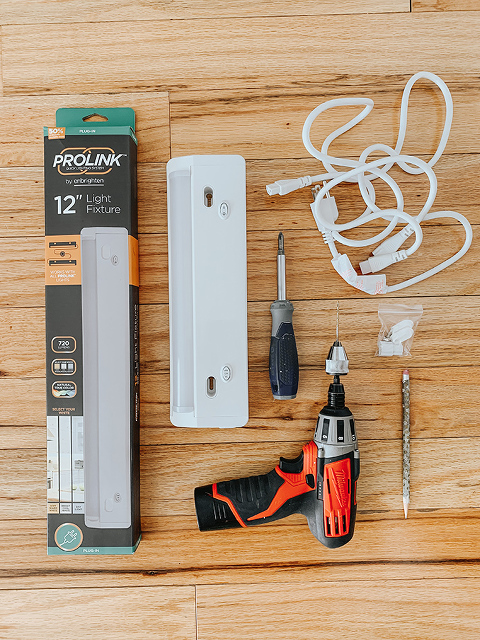 Here's What You'll Need:
1. Prolink Plug-in LED Under Cabinet Light Fixture
2. Drill
3. 3/32″ drill bit
4. Phillips head screwdriver
5. Pencil
6. Cable clamps
NOTE: Do not install while connected to power. Make sure the area where you plan to install the lights is dry. Map out your light location to ensure outlets are near enough for the plug to reach.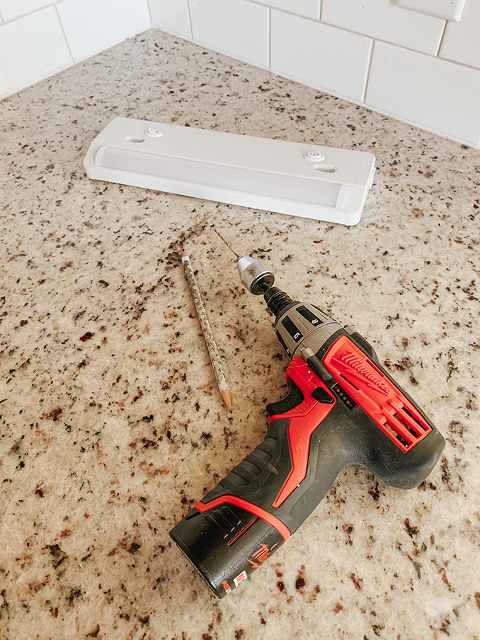 Step One: Mark Screw Locations
Decide where you want to install your light bars. We chose to hang three under the cabinets surrounding our stove since that's where we work most often while cooking. Hold the bar up to the underside of the cabinet, and use a pencil to mark through the two holes on either end of the bar onto the cabinet surface. Set the light bar aside and pre-drill holes where you marked under the cabinets.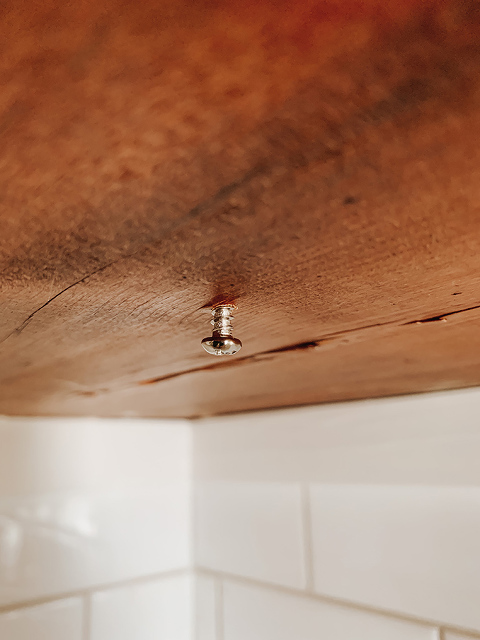 Step Two: Insert Screws
Use a Phillips head screwdriver to sink the screws into the underside of the cabinet where you pre-drilled holes. Leave the screw sticking out from the cabinet surface by about 1/4 of an inch so you have enough space to slip the light bar over top in the next step.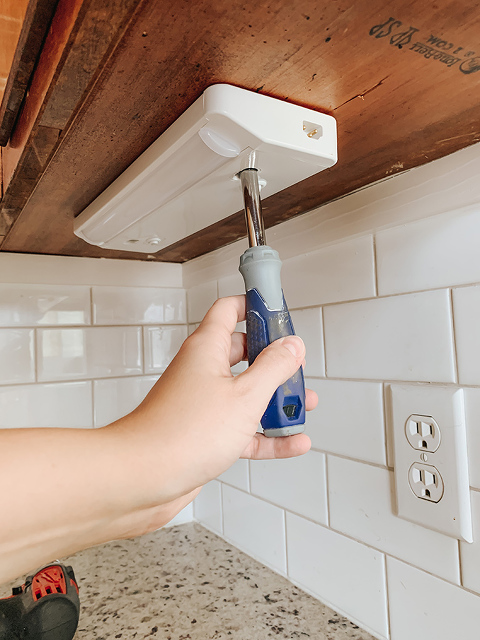 Step Three: Mount Fixture
Line the holes of the light bar up over the screw heads, and push it up and over the screws. Slide it to the side to secure it over the screws, then tighten the screws so that the light bar is snugly pressed up against the underside of the cabinet. Use the screw hole covers that came with the light bar to hide the mounting hardware from sight.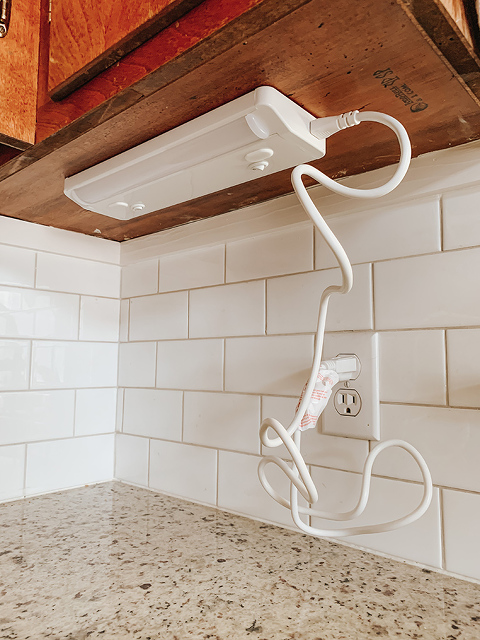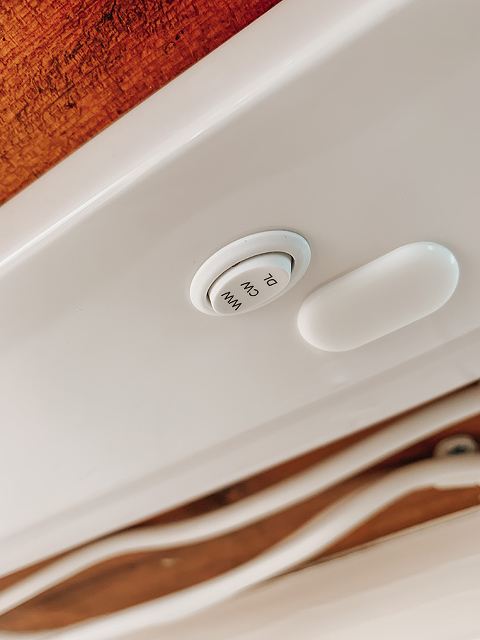 Step Four: Plug Into Outlet
Plug your light bar up to the nearest outlet, and turn it on to double-check that it's working and able to reach a power source. There's a small dial to one end of the light bar where you can adjust the light tone from warm light, cool light, or daylight.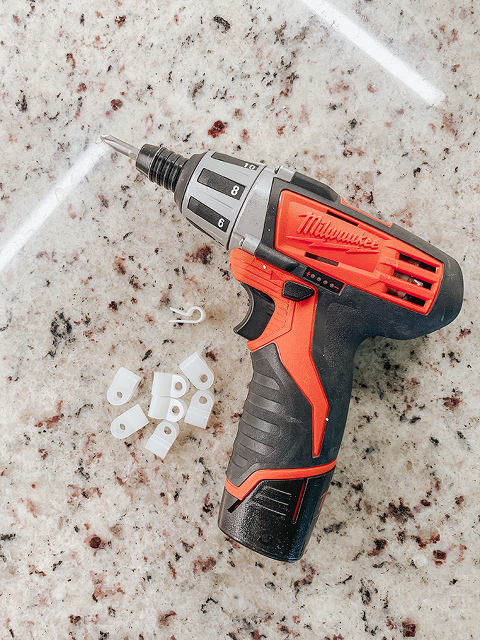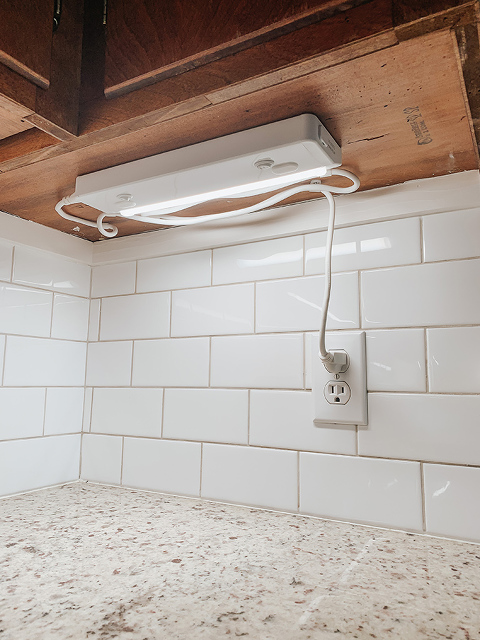 Step Five: Clamp Up Cords
Use cable clamps to hide the light bar cord from sight. Just curl it up against the cabinet underside back and forth behind the light bar so that you can no longer see it. After that you're finished! You might have noticed that I ended up turning my light bar around so that the light source was along the back. I found that the light bounced off nicely that way against our white subway tile, and the backward orientation made the bulb less visible from the front. You can hang it whichever way you'd like.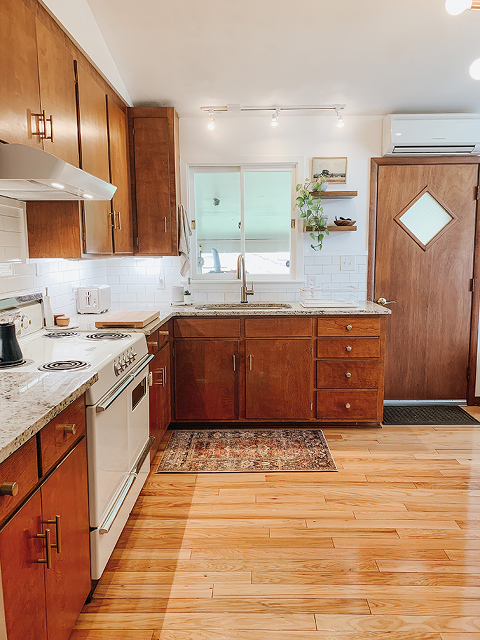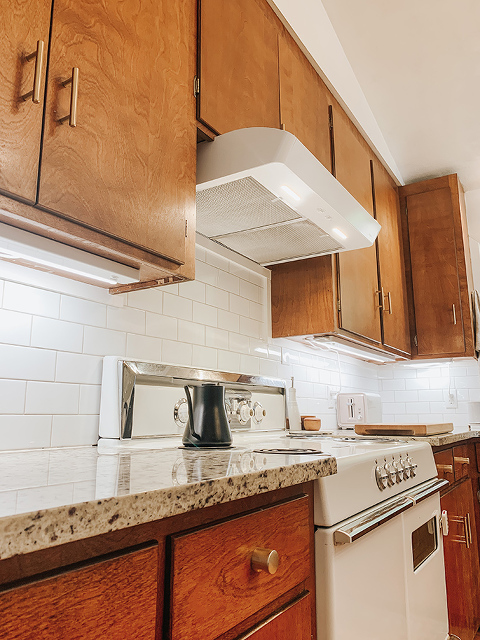 I've always known good lighting makes all the difference when it comes to design and living comfortably in a space, but I don't think I fully appreciated that fact until this past year spent largely at home. Our kitchen feels like such a professional work space now that it's properly lit. New under-cabinet lighting has been an absolute game-changer from a function standpoint, but also an aesthetic one. It makes the space feel so inviting and cozy, and really plays up all of the design features we've added to the room, like paint and wallpaper.
Now I'm planning to add some of the same types of lights to our closet and laundry room so that those areas feel more functional, too. Jasco Products offers all sorts of different styles of lights to choose from (bars, pucks, etc.), and you can connect them to each other for even more customization. I was genuinely impressed! Where could you stand to add more task lighting in your home? Shop Jasco's Prolink Plug-in LED Under-Cabinet Light Fixtures from Home Depot this way.