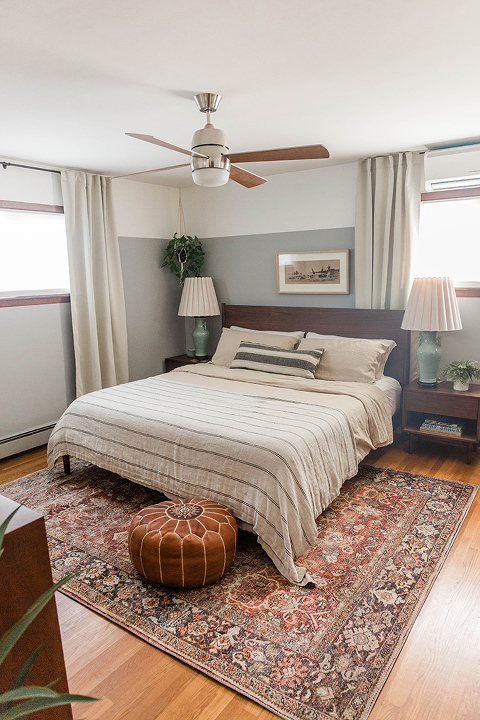 *This post features gifted product from Inmod. Thanks for supporting the brands who help make fresh content possible here on Dream Green DIY!
Well, I made a mistake. I was so excited about simplifying and switching to a headboard-free platform bed last year, but then I realized that, without a headboard, there's no way to run curtains behind the bed. Whoops. I experimented by removing all of the curtains in our bedroom, like I had in my home office, but our bedroom is much, much bigger than my office, so the lack of curtains felt too glaring for my taste. I tried. I really did try! Last month, I put one set of curtains back up, but left the other window bare until I could figure out a solution.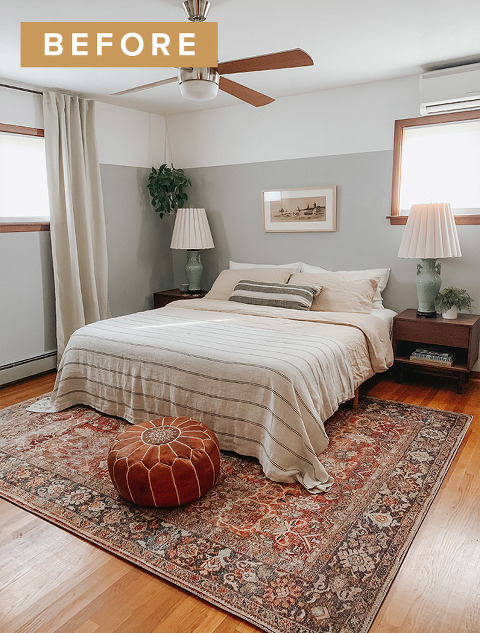 Having that single pair of drapes up on the one window proved that I really wanted to have panels back up on both windows. Curtains have this amazing ability to add a lot to a room, like extra height, elegance, and softness. The problem was how to have them in our bedroom when we didn't have a headboard. Our room isn't so big that we can have the bed pushed up against a wall without windows (well, there's one wall where that would work, but you know I like having options). My favorite place for a bed to sit is on the wall opposite the entry so you see it right when you walk through the door. Unfortunately, there's a window off to the side, and the bed inevitably ends up partially beneath it.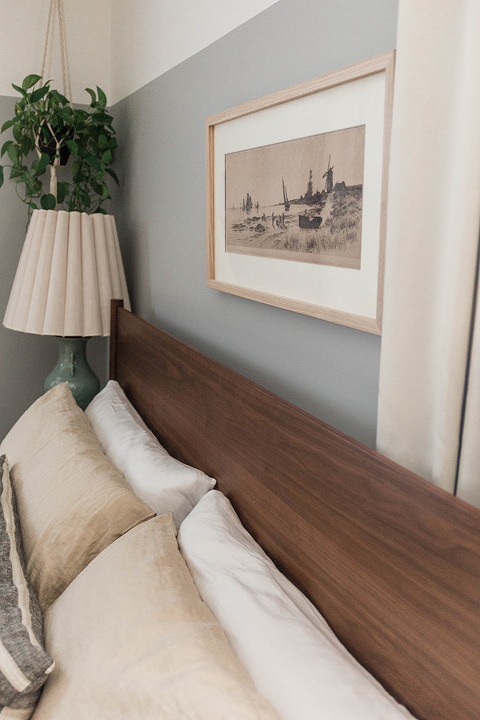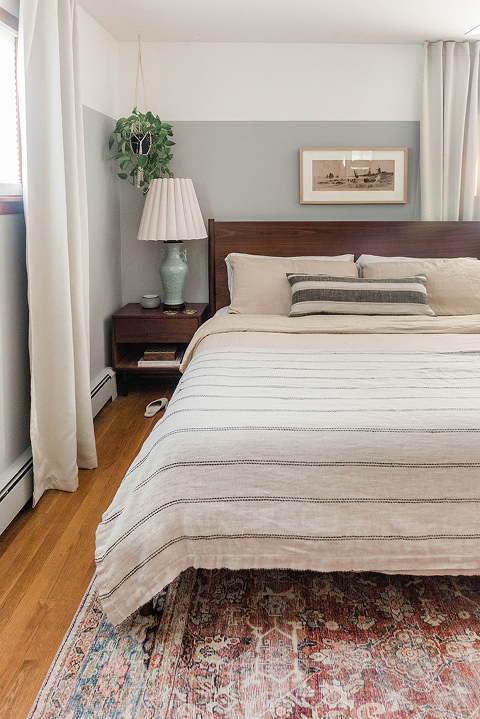 After weighing all of my options (and living with one curtain-less window for longer than I'd like to admit), I finally decided the best thing to do would be to upgrade our bed. A new frame would ultimately allow me to have all the rearranging options I could ever come up with, and I also realized that a headboard would add a mature statement back to our room, too. So, it was worth it for me to pass our old bed along to someone else and order a new one because it gave me design options while also fixing a functional issue that needed addressing (i.e. the curtains).
I've been so impressed with the furniture we've ordered from Inmod in the past, so their website was one of the first I looked at while hunting for a new bed frame. We already have their Emerson Nightstands, which flank either side of our bed, so it was a pretty easy decision to go with the Inmod Prescott Bed in 'Walnut' to match. I appreciate how fast Inmod's shipping always is, and how straightforward their pieces are to assemble. This is our third Inmod order, and I have had zero complaints the entire way through.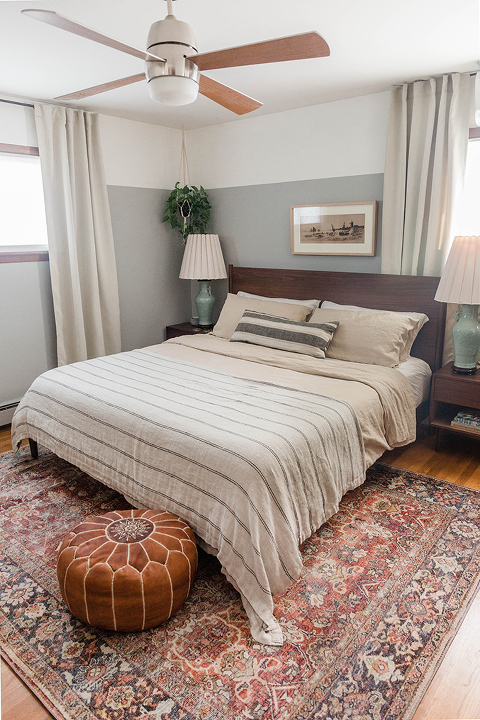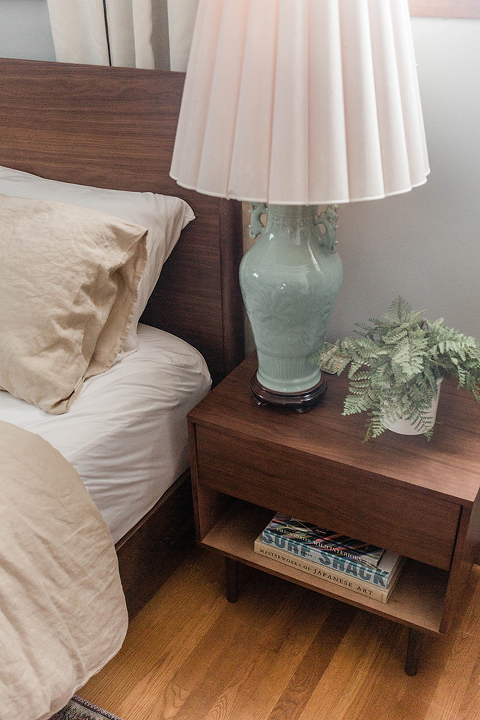 John and I were able to put the bed together in under an hour one Saturday morning without any trouble, and I immediately hung up my curtain panel. It was like magic. All of my design problems were solved with that one bed. Our room feels so much more sophisticated now that we have a headboard back in the space, and my new matching curtains make it feel complete.
As far as a review of the bed itself, it's absolutely the nicest one we've ever owned. It's super sturdy with no wobble, and was straightforward to put together. It comes with all the hardware you need, and a single front-and-back page of instructions. Definitely not overwhelming. The finish is really nice, too. The dark wood is the perfect neutral brown color (not too red, not too gray), and I love the sleek mid-century lines of the piece. We will have this bed for a long, long, long time. You can quote me on that!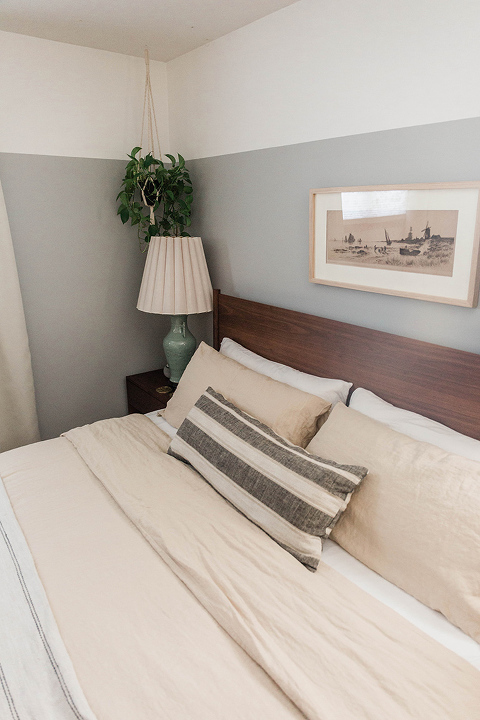 What kinds of design conundrums are you dealing with right now? Let me know in the comments so that we can all help you through the process. Sometimes it's just a matter of thinking about the issue from all sides, and figuring out a way to make the most of any purchases you might have to make. I'm here to help!