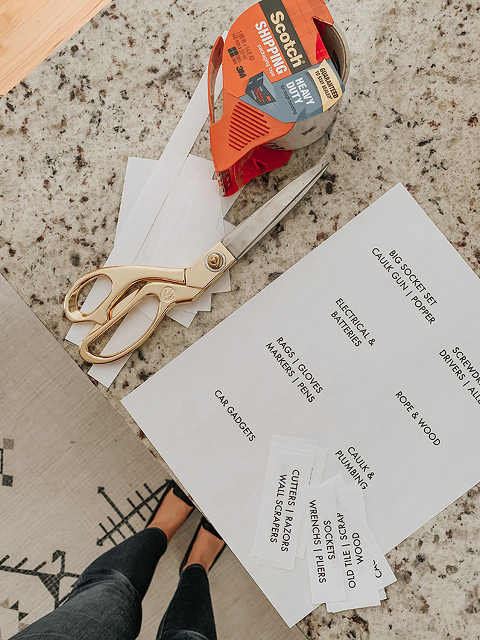 We inherited lots and lots of things from the previous owners of our 1960s home. They were the only ones to have lived here before us, so they had, not surprisingly, accumulated a lot of stuff in those fifty plus years. We ended up with loads of scrap wood, old light fixtures, artwork, appliance manuals, and shelves. Unfortunately, there wasn't much of the lot that suited our needs, so most of it was donated or disposed of. One of the few things that we kept and still treasure, though, is the workbench in the basement.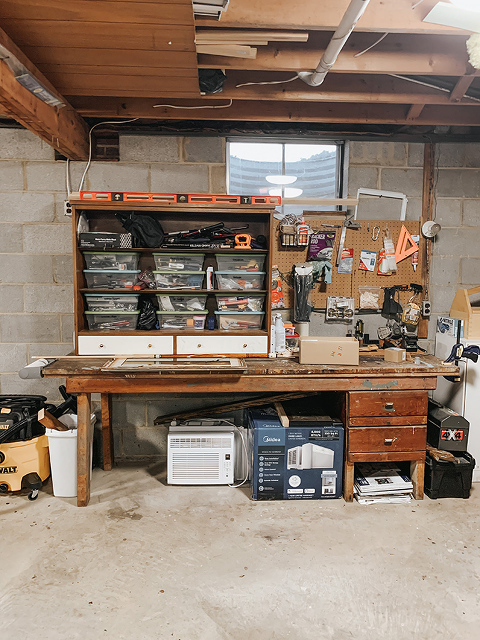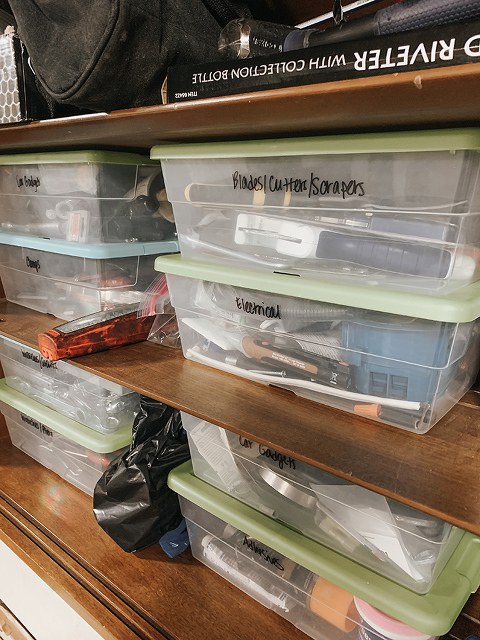 The old paint-stained and hole-ridden workbench was clearly very loved by the previous homeowner, and I've been using it myself practically since the moment we moved in. I use it to organize all of my DIY tools, and love the functionality it gives me to get projects done, especially since I had never had a workbench of my own up until now. Before, I used to lay all of my DIY projects on the floor of the kitchen to work. The workbench was a huge upgrade, but, as you can see pictured above, it had gotten to be a big mess over the past five years of living here.
I had tried to make the old wall-hung pegboard work that was original to the house, but having everything hanging out in the open just looked cluttered to me. I had put an old hutch top on the bench's work table to hold boxes of my other tools, but that also looked messy. If I'm not excited about an organization system or if it looks cluttered to me, I won't keep it up. It was time for a change.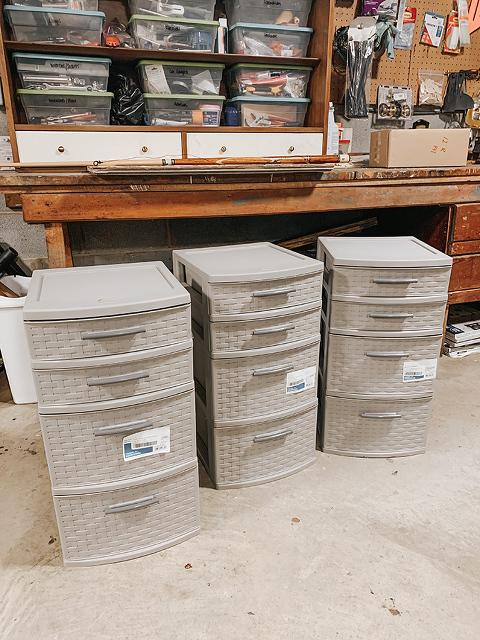 The one part of the workbench that I never really used was the open negative space underneath. I think the previous homeowner had used it as a spot for him to sit down to work on projects, but I never sat at the bench, so I didn't need a place for my legs to fit under. So, the negative area under the bench was largely useless. To fix that, I bought three slim plastic drawer units from Target, and one larger version, that I planned to slip under the worktable to fill that negative space.
I pulled everything off the workbench and took the old pegboard down to simplify the look, then I spent time organizing things by category, and put everything inside the drawers of the plastic units. Believe it or not, I managed to fit almost everything you saw in those scary, disorganized "before" shots at the top of this post! I got rid of maybe a plastic grocery bag's worth of old stuff we didn't need anymore, but everything else fit perfectly in the plastic drawers.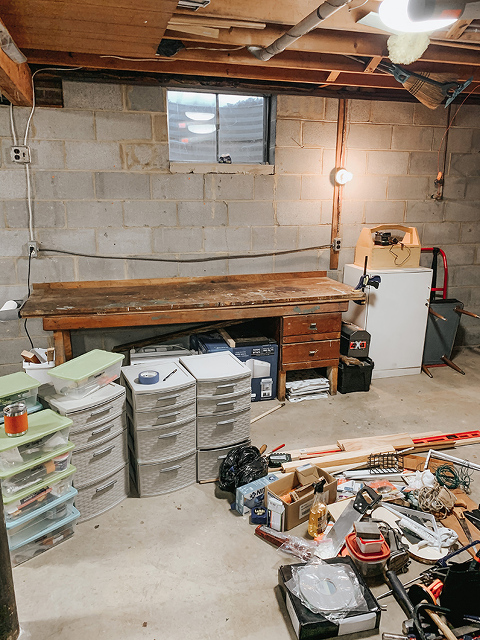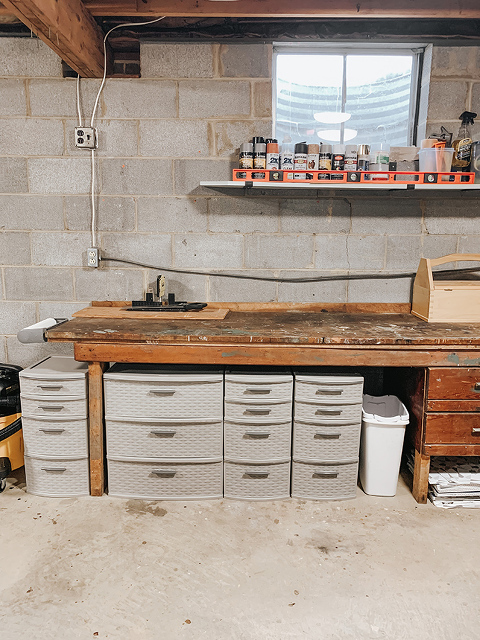 The one problem I ran into was that the units didn't all fit under the workbench. I had measured ahead of time, but must not have accounted for some measly little inch somewhere, because all four units next to each other were too tight to slip easily under the work table. I could have left it alone, but like I said earlier, I need to feel excited about an organization system to keep it up. It would have bothered me that they weren't all under the table.
My solution was to pound out the old leg of the workbench (the one to the left in the photo above that was originally inside the apron of the workbench), and then I cut a new one to install a little further out. As you'll see below, the new leg allowed all of the plastic drawer units to fit perfectly (even with a little room to spare) under the worktable.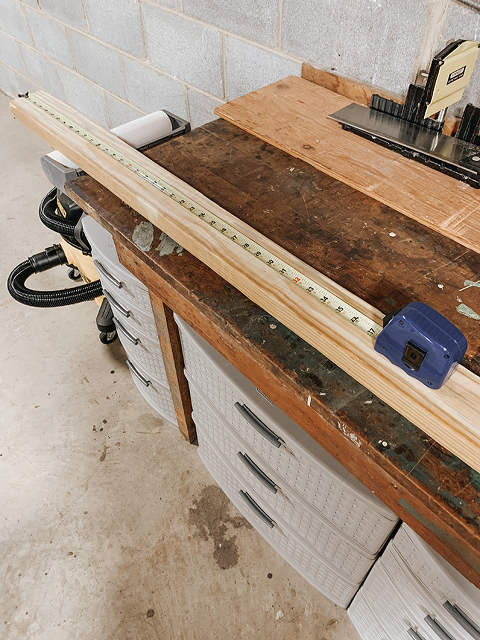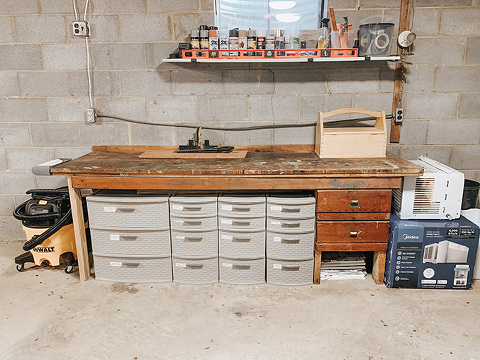 Next came the labels. Since I had opted for drawers that you couldn't see through, I didn't know what each drawer contained, so the logical next step was to add labels. I don't own a label-maker, though. They always seem so overpriced, and the fact that you have to consistently buy new cartridges for them makes me as mad as running out of printer ink. It's just not practical.
So, I came up with a system years ago that works for me using supplies I always have on hand (although, ironically, it does involve a printer). I type up all the labels I need on my computer in a Word document, space them far enough from each other so I can cut them out easily, print them, cut them to size, and then I "laminate" them between two pieces of packaging tape that I later trim to size. I figure I need my printer for lots of things other than building DIY labels, so it's worth it to me to use that ink for this purpose. And it means I don't have to store a whole separate label maker in my closet.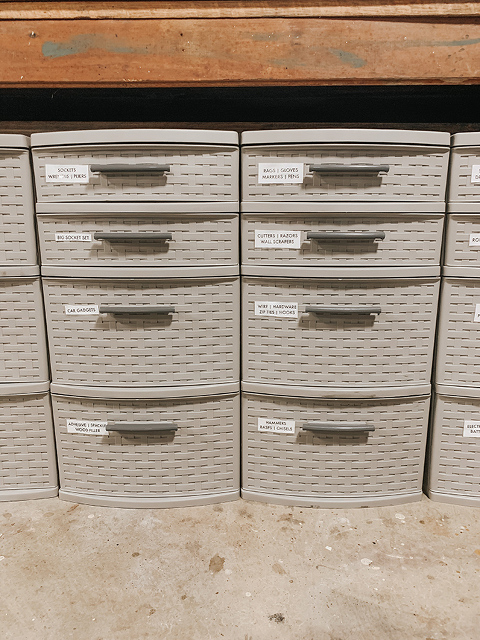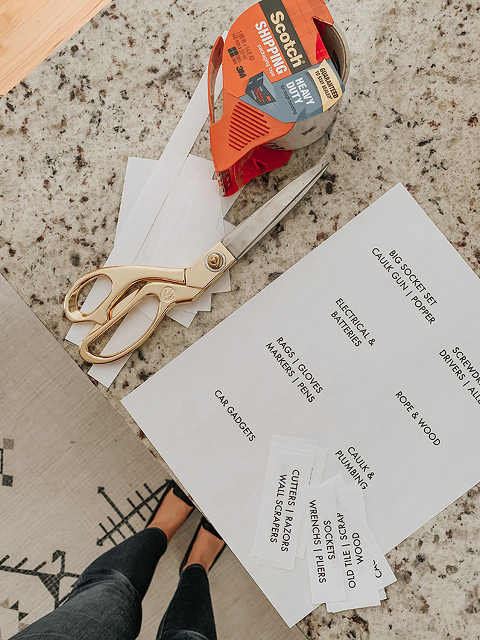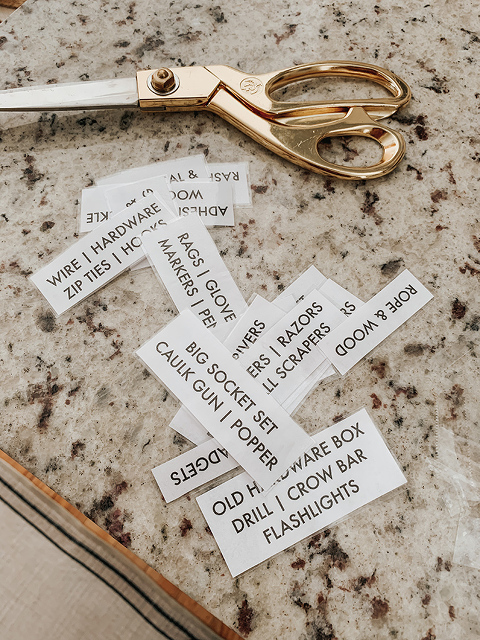 I stuck each label to the correct drawer using double-sided rug tape since it was, again, something I had on hand. The process was quick and easy, and I didn't have to run out to get anything new to pull off this organization step. I also repeated the steps to create labels for the two built-in drawers inset on the face of the work table to the right.
Did you notice the new shelf above the bench? I added that using scrap wood and these metal shelf brackets to store things that were too long to fit inside the drawer units, and also our spray paint collection. I don't really use spray paint anymore, so I might end up donating all of those, but I'll keep them around just in case for the time being. I figure if I don't use any of the spray paint cans in the next year, I'll get rid of them.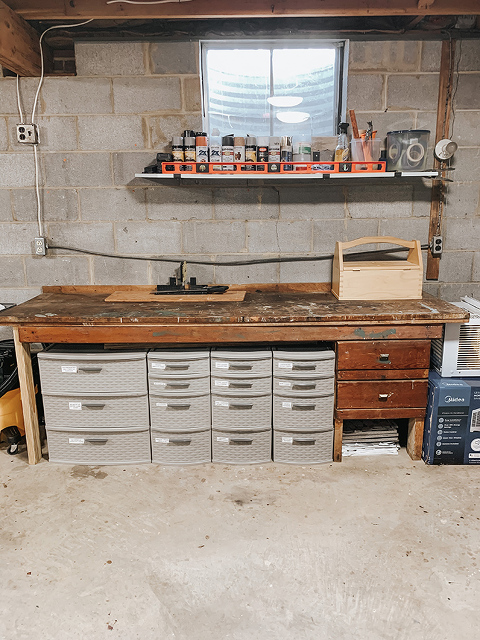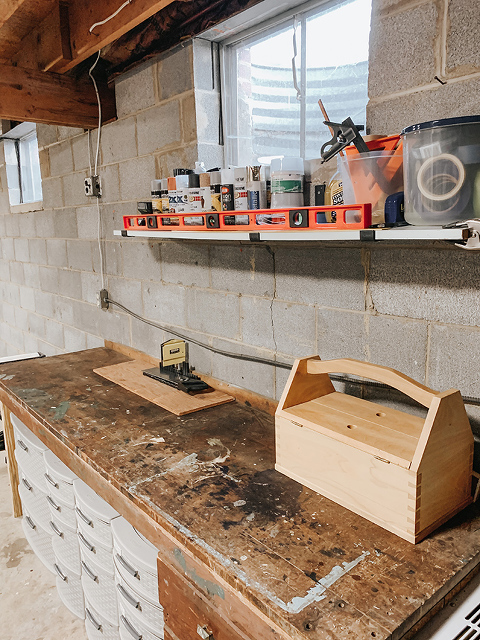 Things were definitely looking so much better than the situation at the start of this whole process, but I really wanted to take it another step further with paint. I don't mind patina on a workbench—in fact, I prefer it—but the new table leg I had added on the left side of the bench was so glaringly new, I decided to paint just the lower half of the bench. As is the theme for this project, I didn't want to spend much money, so I just grabbed a can of chalk decorative paint that we already had in our stash to get the job done.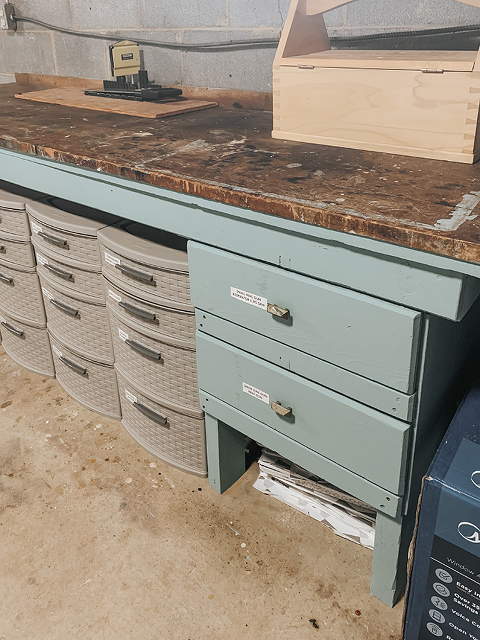 The color is called "Picnic Table" from BEHR, and since I used chalk decorative paint, I didn't need to sand ahead of time. I just painted it right on top of the old workbench surface. If it ends up chipping over time, it won't matter since this isn't supposed to be decorative. The color is there just to help make the bench look a little less rugged. We left the top alone to let the warmth of the old wood shine against the new bright blue base, and I love how it turned out. It feels like mine now instead of something I simply inherited from the previous homeowner, and now that I have a clean, open work surface, my DIY projects are easier than ever to pull off.
There are obviously other things to do to this space to make it look "prettier," and I hope to get to those things this winter—things like painting the raw cinderblock walls bright white, give the exposed concrete floor a uniform color, and purge some of the stuff up in the rafters that we haven't used in years. I hope you'll stick around as I keep transforming our basement into a space we love working in!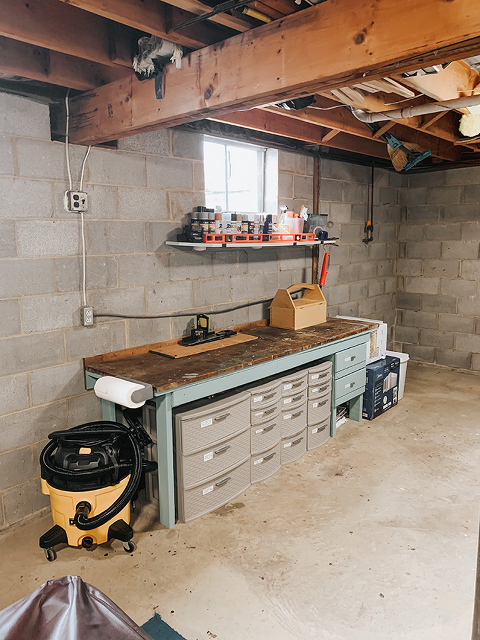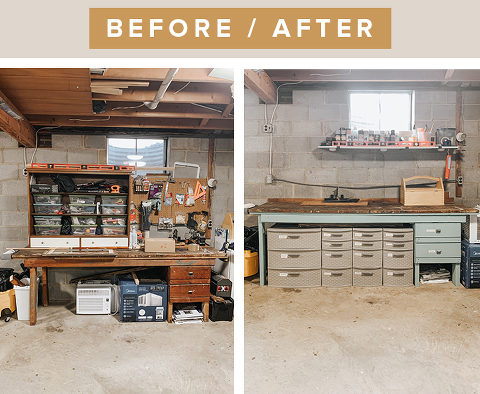 *I earn a small percentage from purchases made using the affiliate links above. Affiliate links are not sponsored. Rest assured that I never recommend products we wouldn't use or don't already love ourselves.