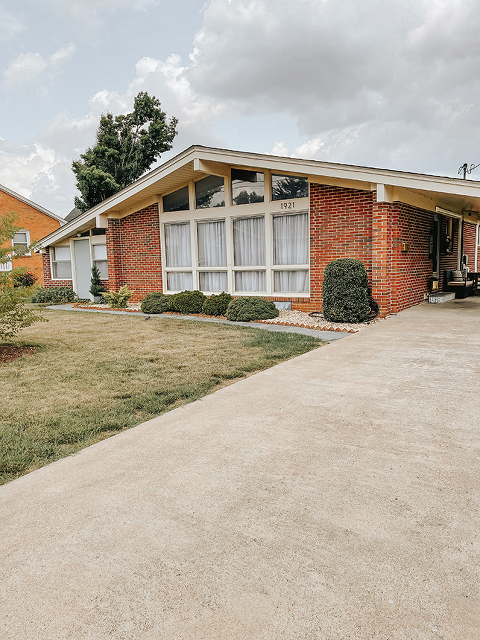 Owning a mid-century ranch house is a big undertaking. There's no denying that. Of course, it's worth it, though! I wouldn't have it any other way, but caring for and maintaining a 1960s home has definitely been eye-opening.
Before, John and I lived in a townhome built in 2003 that came with professional landscaping maintenance as part of our HOA fees. The maintenance crew also routinely stained our deck for us, as well as a couple other odds and ends. It was so nice not to have to think about those things, but it put me in an incredibly naive state when we drove up to this single family home. I had no idea just how much work was going to be involved in maintaining a yard and other exterior jobs, and all of this on top of the things inside the house that ultimately needed to be done since it's a 50+-year-old house.
As I said, it's still worth it to me to live in my dream mid-century home and to be able to keep this beautiful retro ranch functioning into the next 50 years, but I also don't want to downplay the amount of work that has gone into it.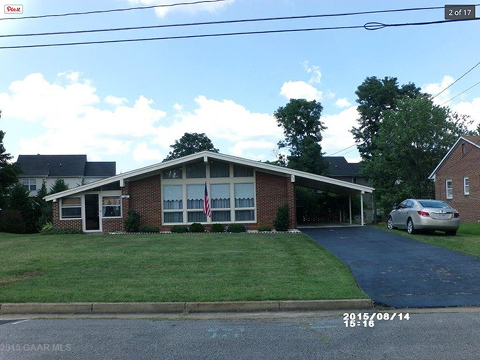 One example is our driveway. When we first moved in, our driveway was almost entirely black (see above listing photo for proof). There were a few chips in the finish, but we figured it would be years and years before the chips spread and we'd need to address a full driveway makeover. Unfortunately, we were very wrong. The blacktop started chipping off in huge chunks within a year of us living here, and pretty soon it was a patchy mess.
We have no idea what the previous homeowners used on the driveway, but we eventually figured out that it wasn't paved like we had originally thought. Instead, it was basically some kind of black paint or something that had been brushed/rolled on top. At least that's what we think. The previous homeowners didn't leave behind any information about the driveway, so we were flying blind.
Anyway, after a year or so of living in the house and using the driveway (as one does…), the surface was pretty far gone. It was, frankly, embarrassing to have the drive looking the way it did, but we just didn't know what to do. I had a paving company come out about two years ago to talk about repaving the driveway, but the person who came encouraged us to think of a different option. He said we actually had a really, really nice concrete driveway on our hands, and that we should find a way to preserve it.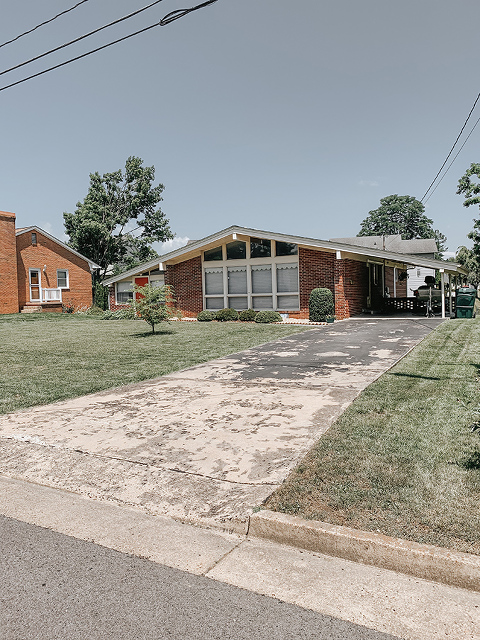 So, we put our repaving plans on hold and turned a blind eye to the drive. We figured if we kept driving over the chipping black "stuff," that eventually it would wear completely away and we could enjoy a nice clean concrete driveway. The plan worked fairly well for another year, but, again, we were really mortified by the way the driveway looked. We don't live in a fancy, upscale neighborhood by any stretch of the imagination, but the little homes on our street are very well-kept. I like to think that you can tell we all care very much about our homes and want to make a good impression. I was really sad to think that our ugly patchy driveway gave the wrong first impression. So, about this time last year, we decided to really buckle down and figure out a plan of action.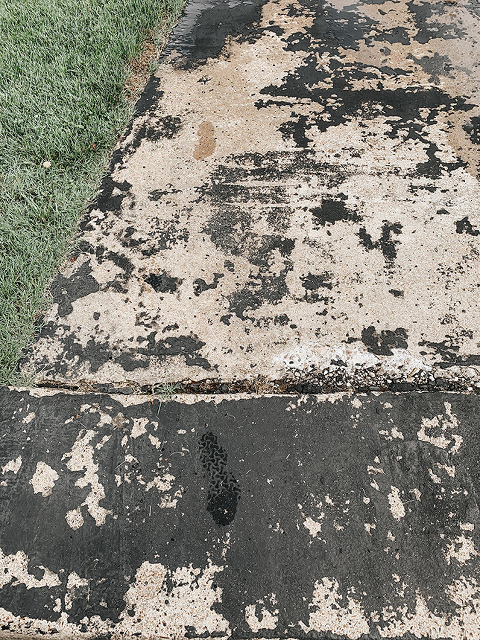 Like I said before, the black topcoat was really chippy. As in, it would chip off with your fingernail if you messed with it. That's when it occurred to us that a pressure washer could work to get the black stuff off thereby revealing the nice concrete underneath. We bought our own pressure washer, but (long story short) it didn't work. It's not that it didn't work on the black paint (or whatever it is). It just didn't work from a practical standpoint. John spent hours on it and barely got a couple of square feet done. It was a good learning experience because we found out that pressure washing would work, but we just needed to bring in "the big guns."
We were, happily, able to return the pressure washer we had bought, and then I called a local pressure washing team to come give us an estimate. The owner of the company came with his work truck with all of the equipment on it, and although he was entirely (and I mean entirely) sceptical that it would work, he gave one spot a good effort, and low and behold the clean concrete driveway peeked through!
We got our estimate, which was a little over $1,300, and went ahead and booked the appointment. It was a lot of money, yes, but worth it to us (a) to get our curb appeal in order once and for all, and (b) to not have to spend hours and hours on the driveway wasting tons of precious water in the process. The professionals came out and had the job done within just two hours—maybe less, I'm having trouble remembering. All I remember is how peeved John was that we had to shell out over $1,000 for them to be done in such a short time, haha…I don't blame him, but I was just so glad to have it done!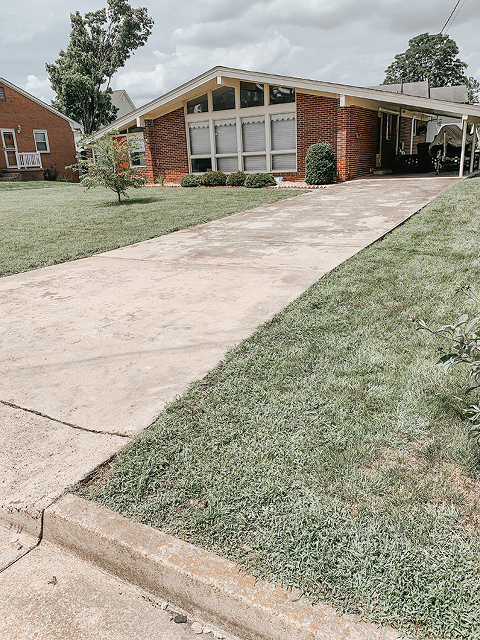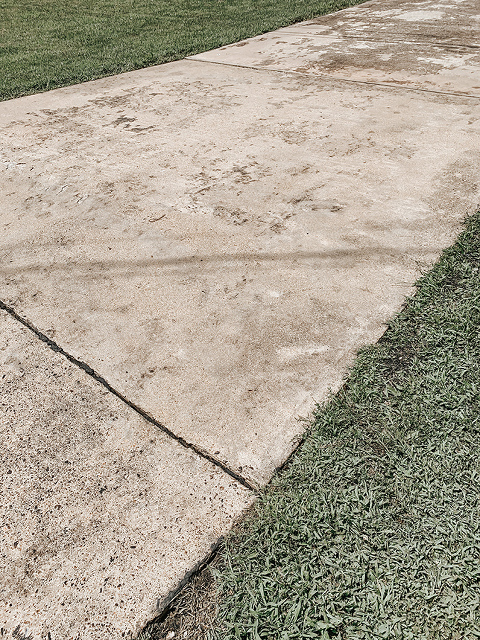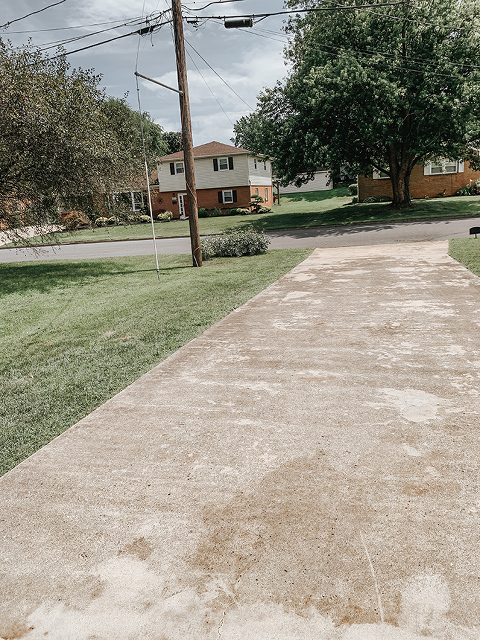 The photos you see above (and the two below) show what the driveway looked like right after they had finished pressure washing the driveway. You could still see a lot of gray haziness where the black topcoat used to be, and that butted right up against areas of the concrete driveway where the black stuff had eroded away naturally. Those naturally eroded areas had been exposed to the sun and were much lighter, which gave us hope that the newly pressure-washed areas might eventually lighten up, too, now that they could get bleached out by the sun, too.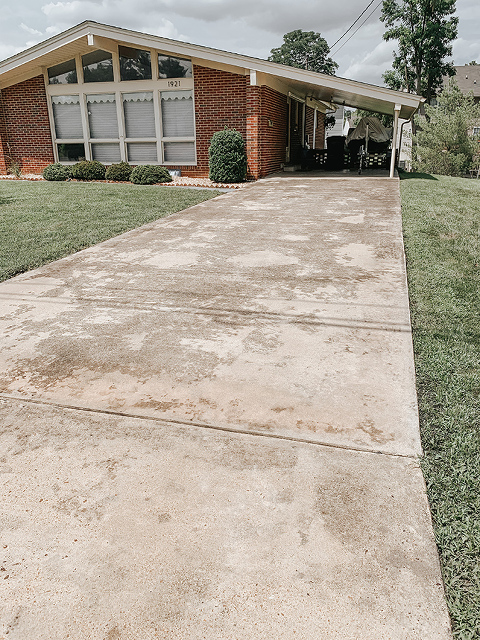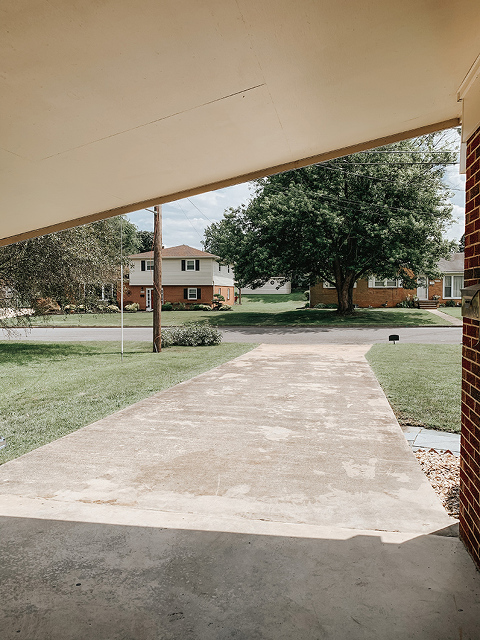 One year later, and you can now see that the sun did its job beautifully (photos just below). Nothing else was done to the driveway between those photos above and those below—it was just the sun! Now, we have a pretty much perfect concrete driveway that looks so much more uniform and clean. John and I had initially been thinking about painting it to make it look more like one solid color, but we don't need to (might just do a clear sealer later on). It looks great, in my opinion, and I'm so glad we invested in this area of our home to make it look just right.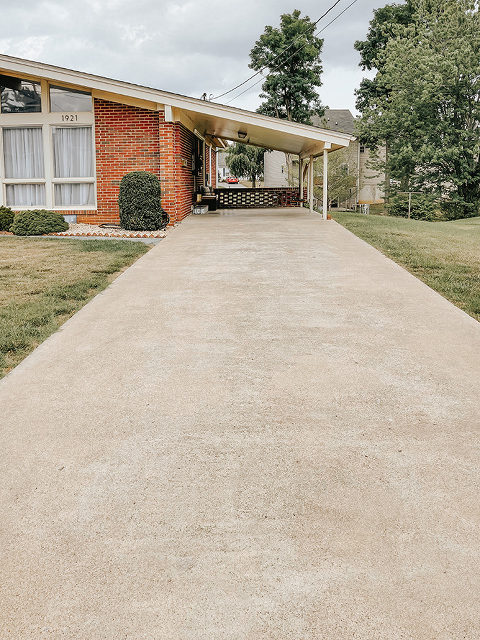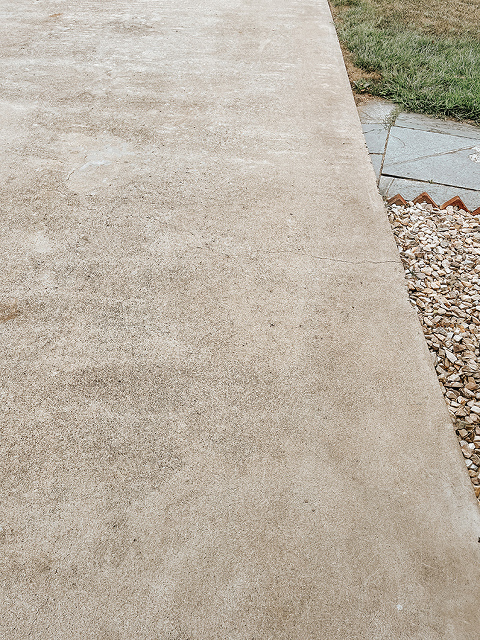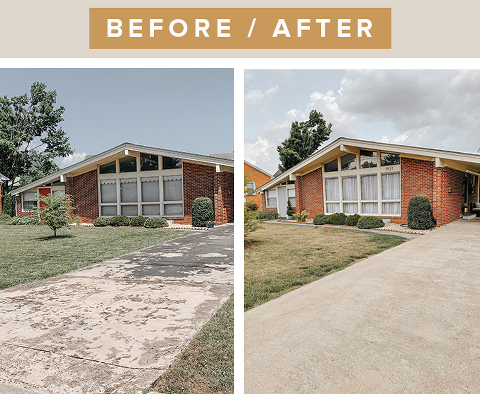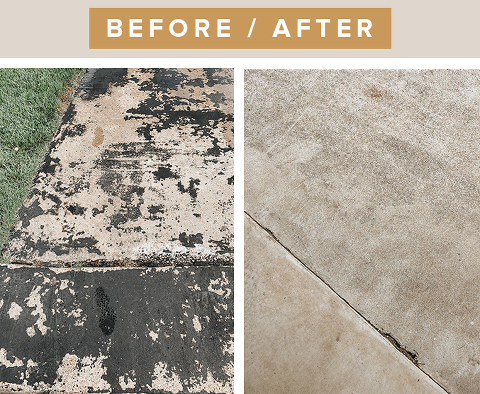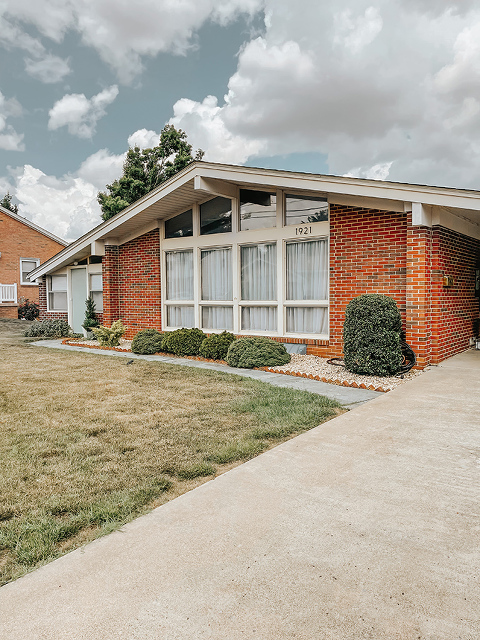 This post is probably the longest story I've ever told here on the blog, but I wanted to get it down just in case anyone is in the same position we were. That seems like sort of a long shot, but even if I can help one person come up with a game plan for their own spotty driveway, I'll feel satisfied. At any rate, hopefully, you can just sit there and feel grateful that you didn't have to shell out $1,300 on your driveway just to give it a cosmetic upgrade! What's done is done, and we can finally feel proud of the exterior of our retro ranch.