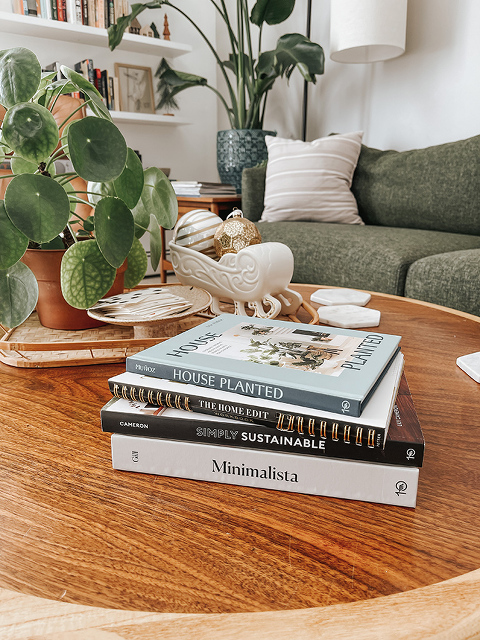 *This post was made possible by Penguin Random House, and contains gifted product for review purposes. All opinions are my own.
Right at the beginning of this year, I made a commitment to myself to read more books. I'm happy to report that I've made good on that goal, and am working on finishing my twentieth novel. That's more than I've read in the last three years combined! It has been such a nice change to opt for a book instead of more screen time in the evenings or during the afternoon hours of the weekend.
Just in case you've been hoping to make the same type of change (or if you already have!), I wanted to share a list of a few coffee-table-style books to consider, plus a couple other creative-focused goodies. Keep scrolling for my quick gift guide for the book lover in your life, whether that's you yourself or a friend/family member.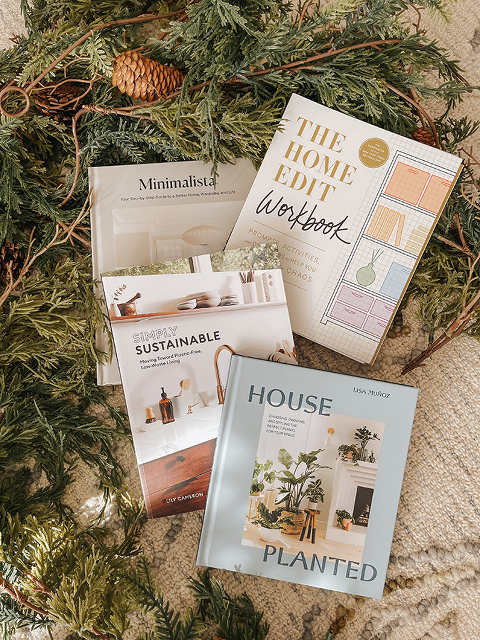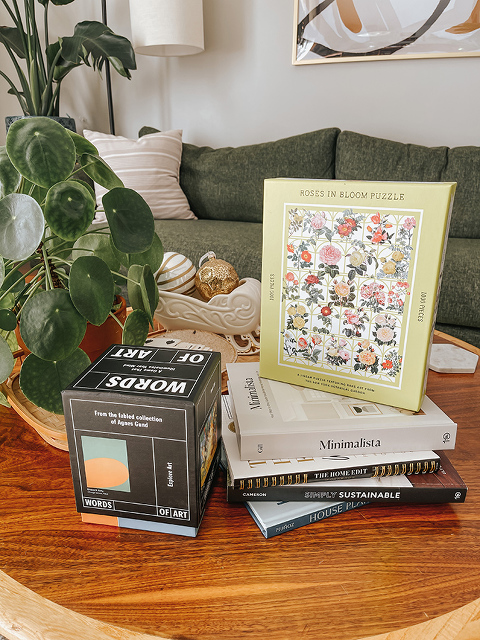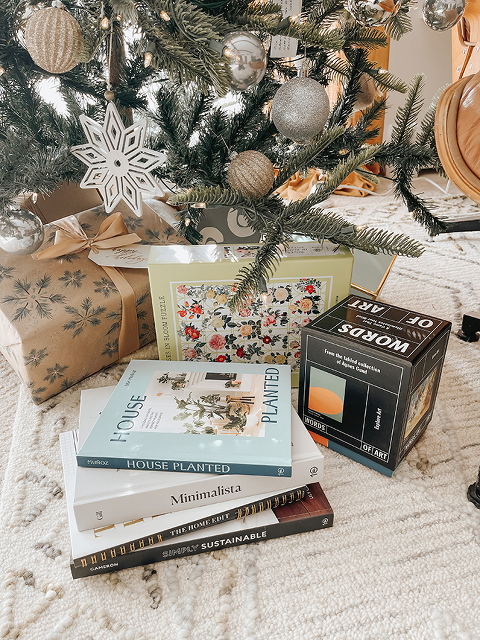 Book Lovers Gift Guide (Plus 2 Extras!):
House Planted, by Lisa Munoz: This book is perfect for those of you out there who stocked your spaces with extra greenery during the pandemic quarantine of last year (or if you were already in on that trend!). House Planted is maxed out with dreamy photos of plant-filled homes, plus tips for how to care for each different variety. You'll learn how to deal with plant pests, pruning and fertilizing 101, plus ways to style your plants, too. The book is on the smaller side (it's roughly just eight inches square), so it's an easy one to wrap up and ship to someone on your gifting list.
Minimalista, by Shira Gill: Whether you're a true minimalist decorator, or you're like me and just want to minimize what you have, Minimalista, the book, is for you. There are checklists to peruse on how to minimize things in your closet, laundry room, kids' spaces, your office—you name a space and it's covered! There are also suggestions for how to maintain your lack of clutter and excess, which is something I've struggled with in the past, so I'm excited to put Shira's tips to the test. I love the chunky feel of this book, and the thick matte finish of the pages. It was a pleasure for me to read from cover and cover.
Simply Sustainable, by Lily Cameron: If you've been following along with me for any length of time, then you know I'm on a quest to make our home and lifestyles more sustainable. I'm by no means perfect, and honestly don't even intend to become totally zero waste, but I am 100 percent committed to doing what I can to help make our home less wasteful. This Simply Sustainable book is a nice complement to my goals. As you'd expect, there are plenty of suggestions, lists, prompts, and tools listed out for you to try, and the floppy paperback feel of this coffee table book makes it easy to grab and go—especially if you're carting it to a gift exchange this holiday season!
The Home Edit Workbook, by Clea Shearer and Joanna Teplin: Have you read (or heard of) The Home Edit? Chances are good that you have since this duo has taken the home organization world by storm. They even have a series on Netflix! Anything from The Home Edit brand is a great destination for those looking to get their spaces in order. The spiral-bound layout of the book is easy to flip through, and there are lots of open lists where you can write your own responses to prompts, like, "Things You Need To Get Rid Of," "Ways To Beautify The Space," and "Things This Space Could Use." Don't worry if you don't know what you'd put on those lines right now! The book has action tips and ideas that will help inspire you light bulb moment. Did I mention you get a sheet of actual gold star stickers to reward yourself for each challenge completed?! Talk about motivating.
Words of Art, by Catherine Gund: I may be biased (I definitely am), but I think this card game is such a fun addition to this list! You don't need to know anything at all about art in order to play, by the way. It's essentially a creative reimagining of Apples To Apples, if you're familiar with that game. The box comes with 150 cards each featuring images of twentieth- and twenty-first century art works, and players get to come up with the art card that best expresses the prompt given by the designated Storyteller. Full rules are explained here if you want more detail, but trust me that this is a good one to break out during holiday parties.
Roses in Bloom Puzzle, by the New York Botanical Garden: I know this puzzle and the game above aren't technically books, but I feel confident that the creative premises behind each of these activities will go along nicely with a book lovers' lifestyle. This puzzle is a perfect rainy or snowy day type of pastime (like books are!), and could be another handy thing to have during this year's holiday get-togethers. The colorful floral image of the finished puzzle is so lovely, and will help you think ahead to spring if you long for warmth during winter.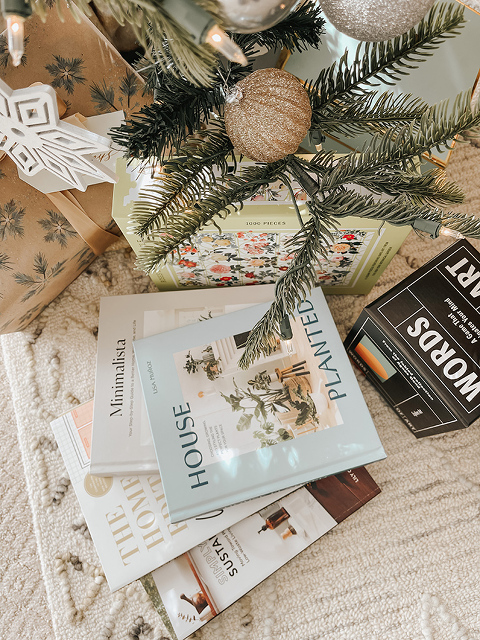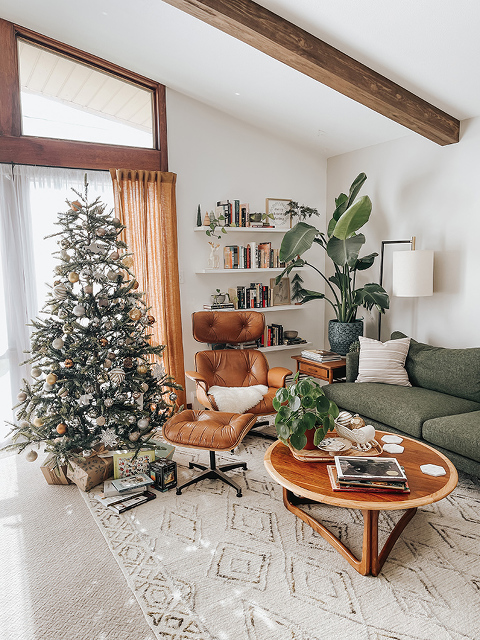 If you want to see the inside of the books, make sure you're following me on Instagram! I'm planning to share a couple of extra snippets on social media this afternoon, and will also be showing a quick flip through the physical books themselves if you're like me and can't buy a book without at least a tiny peek at the actual pages. I've got you covered.
Did I leave a great coffee table book, puzzle, or creative game off my list above that you adore? Let me know about it in the comments since I'm always looking to add to our collection. Happy reading, everybody!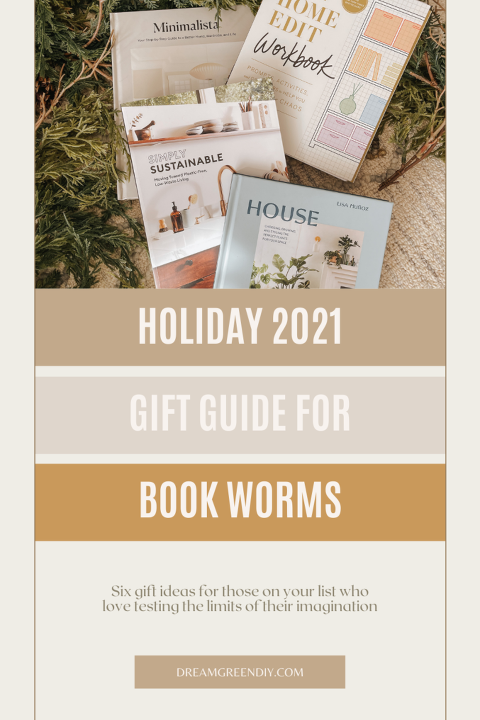 *I earn a small percentage from purchases made using the affiliate links above. Affiliate links are not sponsored. Rest assured that I never recommend products we wouldn't use or don't already love ourselves.