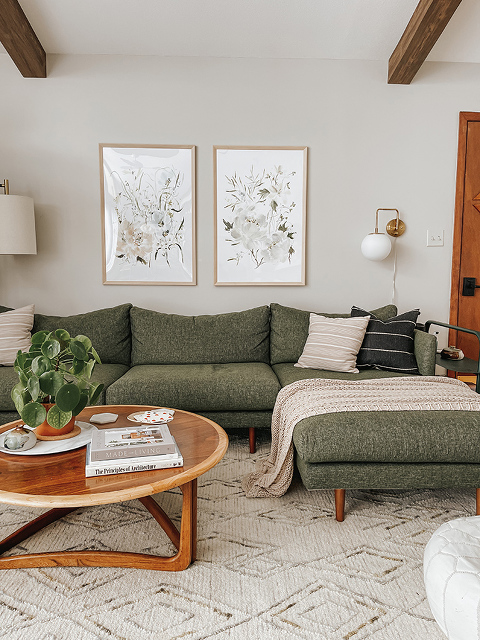 *This post was made possible by the generous support of Juniper Print Shop, and features gifted product for testing purposes. All opinions are my own.
Happy spring! I don't know about you, but I'm especially excited to see winter fade into the past. I'm ready for sunshine, warm breezes, flowers, and for the leaves to grow back onto tree branches. Spring is also my birthday season, so it always feels extra special to me. Just a few more weeks to go before I turn 36 on April 17!
Anyway, I tend to get the urge to redo at least some small bits of our décor with each transition to a new season, and it's no different this month as we welcome spring back into our lives. This time I decided to focus on our living room, specifically the art on the wall behind our couch. Keep scrolling to see what I chose for the space, plus a special offer in celebration of Juniper Print Shop's fifth birthday celebration.
The photo below offers a reminder in case you forgot what art prints we had up on the wall before this springtime switch-a-roo. I loved that art gallery wall collection so much, and felt like it was a great visual representation of fall and winter, but now that we're headed into spring, it was time for a change.
I carefully removed all four prints (which all came from Juniper Print Shop, too, by the way!) and tucked them safely away in storage—I'm sure I'll be ready to bring them back out again when the weather cools down in October. Then it was time to decide what to hang in their place. I obviously wanted something that embodied all of the best parts of spring, and I ultimately couldn't think of a better focus than flowers. They're one of my favorite subjects in art anyway, and are the perfect "mascot" for this season, so that's what I picked for our living room.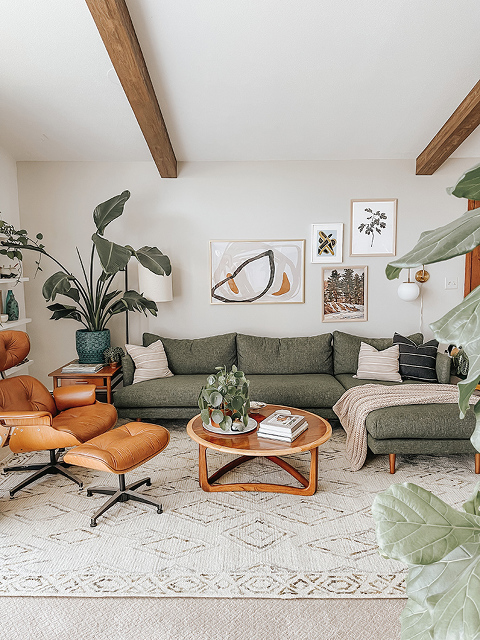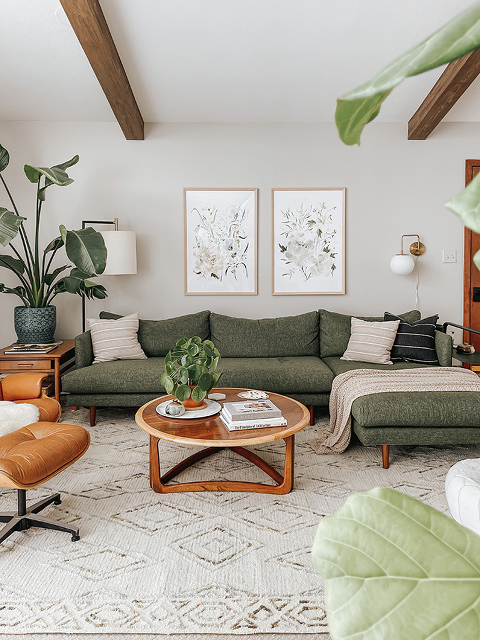 Juniper Print Shop actually has a bunch of floral options to consider on their website, but I ultimately ordered TERRACE I and TERRACE II. This pair is by watercolorist Kelly Ventura, an artist I've been following along with for a while on Instagram. Her expressive style is so calming to study, especially up close, and she always uses the most inspiring colors for her art. She's also a talented surface designer for products. You can find some of her work at Target, on things like backpacks and tumblers.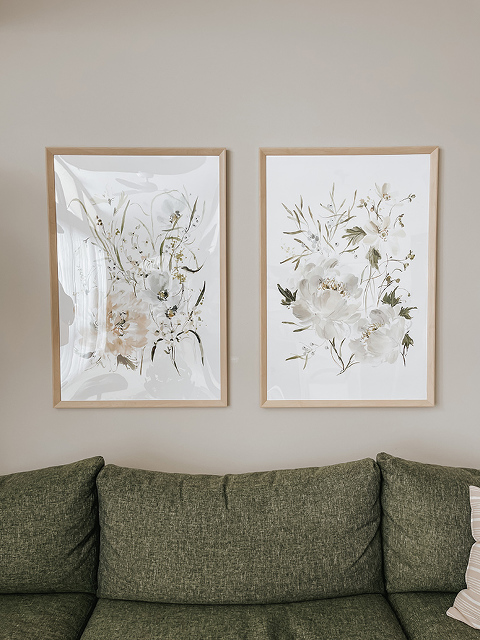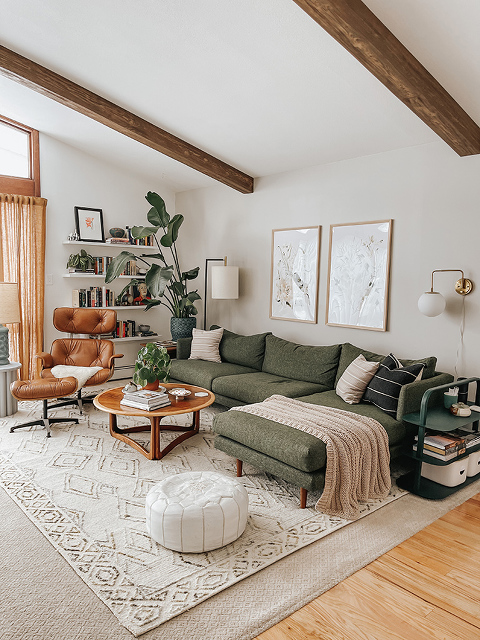 Instead of copying my original asymmetrical gallery wall arrangement, I decided to go in a different direction with two oversized prints of the same size. I used my favorite budget-friendly frames to hang the pieces, and they were the perfect match, size-wise. I didn't have to cut the art down at all to fit, which is another thing I love about Juniper Print Shop art—everything comes in standard sizes, so it's a breeze to frame.
It took less than 10 minutes for me to get the new art framed and hung on the wall, and I absolutely love the new look. The updated symmetrical arrangement feels really fresh in our space, and the floral design definitely gives our living room a hearty dose of that telltale springtime feeling. The best part of all was that I didn't have to change anything else in the room. The new art is already a great match for our existing color palette, but is high impact enough to make the whole room feel brand new. This was the ideal budget-friendly way for me to "make over" the room for the new spring season.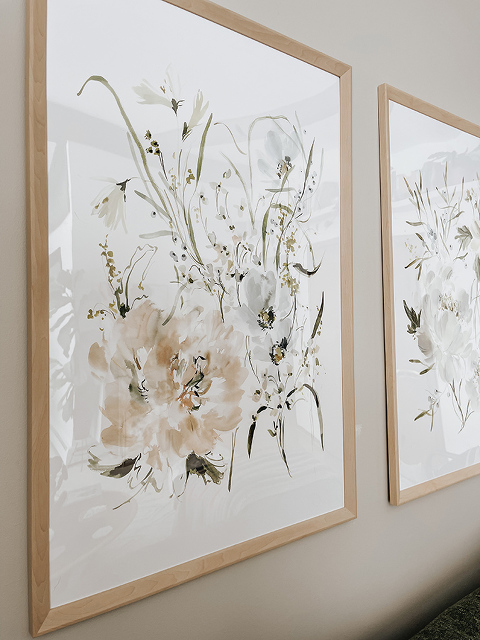 Click "Play" on that video above to see the space come to life in action, or, if you're reading this post in your email inbox, hop over to the Dream Green DIY YouTube channel here to watch the video. Note that all of the room resources (including the old art prints) are linked in the description box over on YouTube in case you're curious to know where things are from. I hope you like how everything turned out, and I'd love to know your favorite ways to transition a home from winter to spring. Leave your tips in the comments below.
Big thanks to Juniper Print Shop for supporting this room makeover, and also congratulations to their team for five years in business! The brand is hosting a big sale in honor of their birthday, so hop through to JPS here to score 20% off their art prints, plus you can enter to win a 65″ Samsung Frame TV and all of their landscape-oriented digital downloads. Contest details this way. Good luck!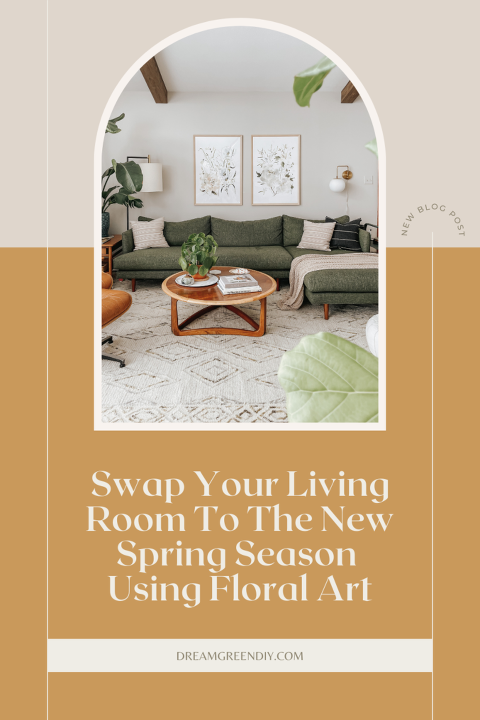 *I earn a small percentage from purchases made using the affiliate links above. Affiliate links are not sponsored. Rest assured that I never recommend products we wouldn't use or don't already love ourselves.