I've been meaning to write this post for ages, first and foremost because you guys ask about the paint colors in our house all the time and I needed a single place to direct everybody to, and, second, because it's so helpful for me to have a resource point when I need to check to see if a new paint color or piece of décor will match the overall palette of our home. If you haven't compiled a visual grouping of all the paint colors in your home, I highly recommend doing so since having it will help you make informed, cohesive décor decisions down the line.
At any rate, the graphic above is the new "official" breakdown of all the current paint colors inside our home. You might notice that it's entirely devoid of warm tones. That's because we have so many warm wood tones scattered throughout our home (things like our hardwood floors, stained wood mid-century furniture, wood trim, etc.) that we didn't need to incorporate that section of the color wheel into our paint scheme. The cool-toned paint colors we have collected over the years perfectly complement our orange- and red-toned wood furnishings and architectural details. You might be able to see what I mean in the room pictures below.
Keep scrolling for a linked list of all the paint colors alongside photos of what the colors look like in "real life" rooms inside our mid-century ranch.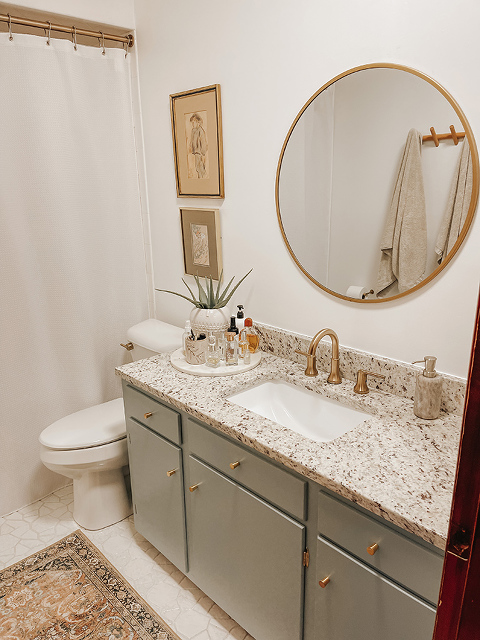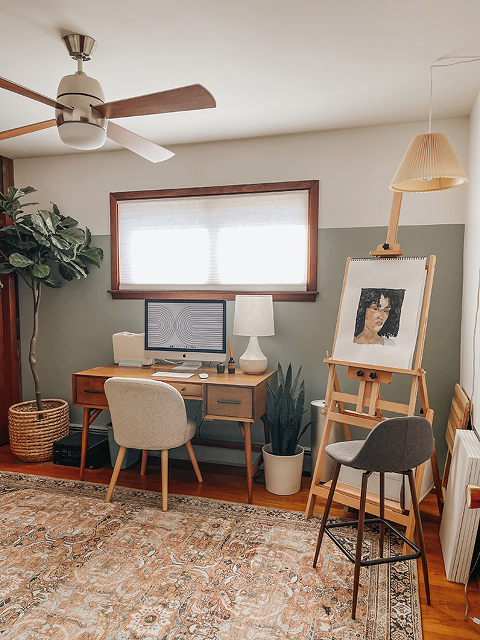 1. Halcyon Green: The previous homeowners of our old townhouse had used this color as an accent in the living room, and we've been copying them ever since! We also used the color on our front door. It's the perfect desaturated mid-tone blue/green.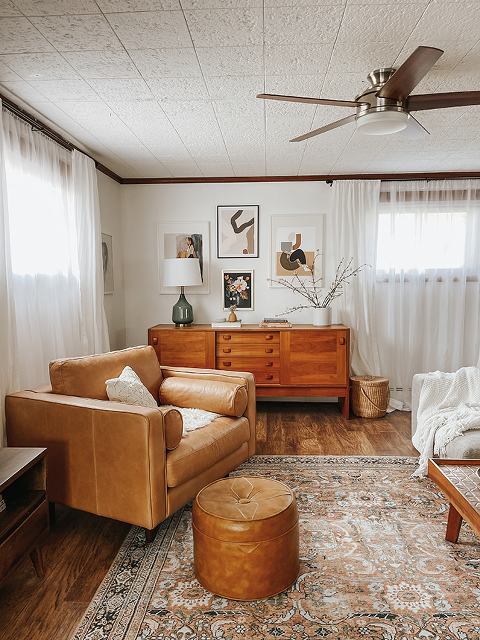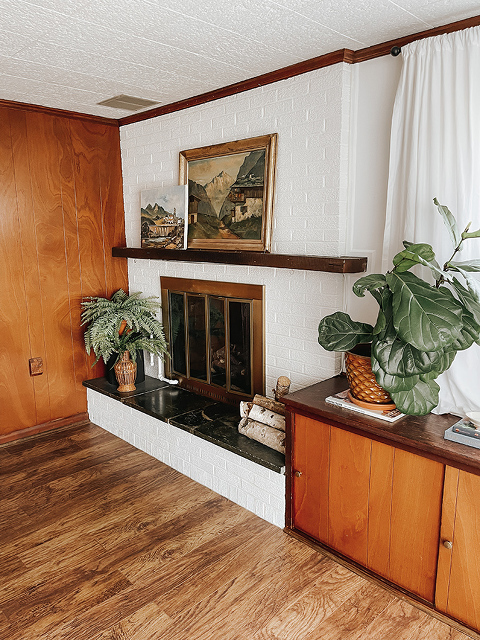 2. High Reflective White: This is our go-to white paint color. You can get it right off the shelf at Sherwin-Williams because it's their most pure option for white paint. It brightens just about any space we put it in, even if the room gets no natural light.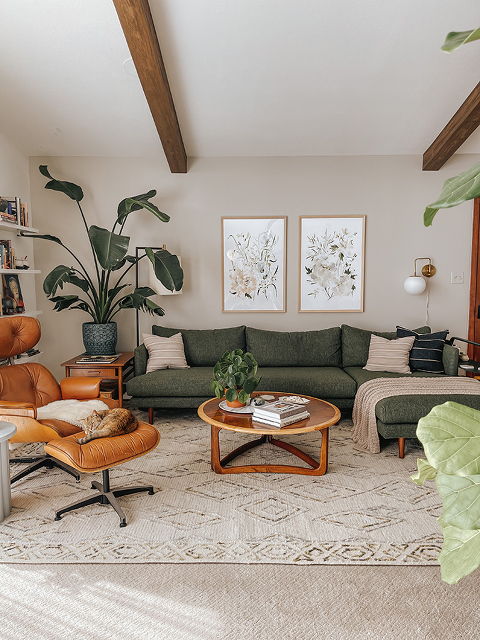 3. Agreeable Gray: My parents used this color in their new house when they moved to town back in 2019, and, after seeing it, I decided that I just had to try it in our house! It's a warm gray/beige tone that helped add some coziness to our bright white-painted living room when used on just one wall.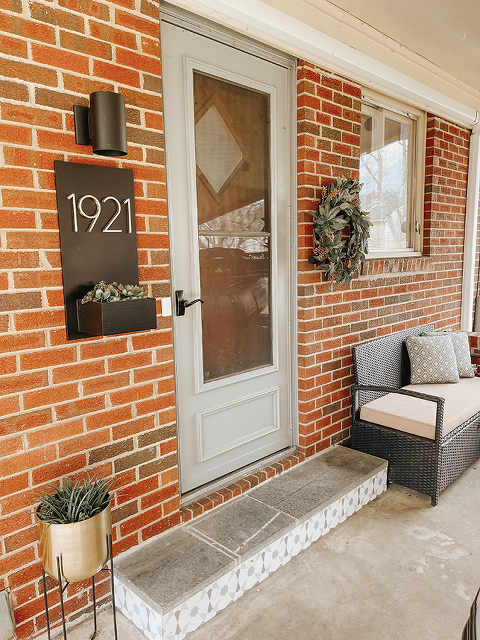 4. Illusive Green: This is the gray/green tone we painted our side door, and also the door to our new shed out back. Having the colors match one another along the exterior of our home adds a sense of cohesion.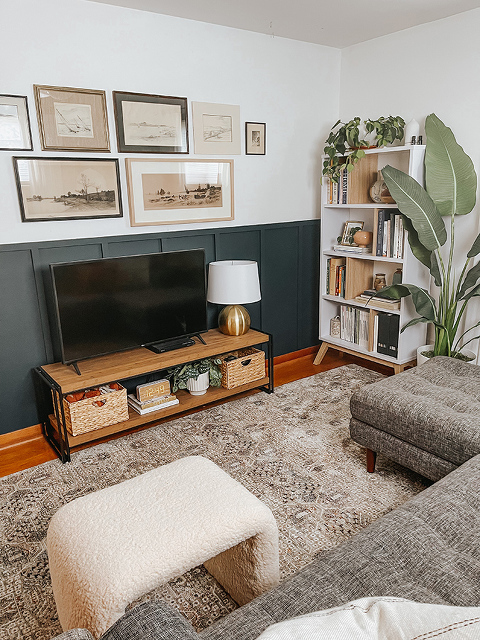 5. Surf Camp: I experimented quite a bit with dark colors a couple of years ago, and this rich navy blue (with just a hint of green!) is a true favorite. We painted it on the DIY board and batten trim in our lounge to help hide the TV.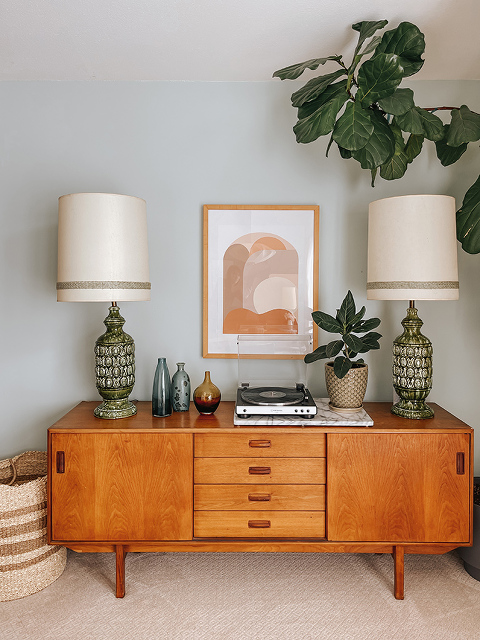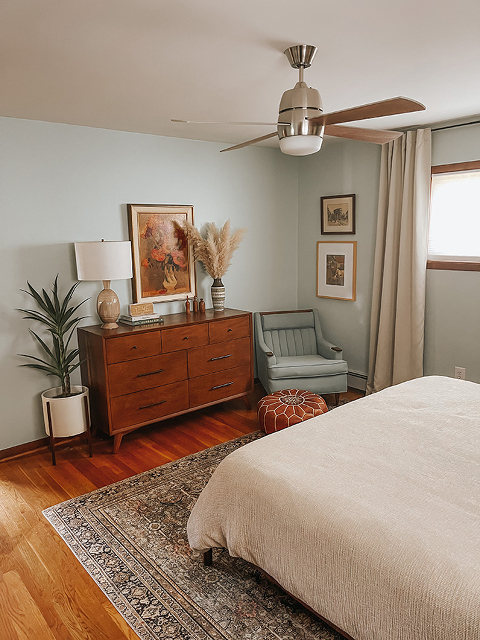 6. Mist on the Moors: This is a brand new addition to our paint scheme, and was an instant favorite! I love the soft, spa-inspired color. We put it in our dining room, and then in our main bedroom, again, to add a sense of cohesion from the front to the back of the floor plan.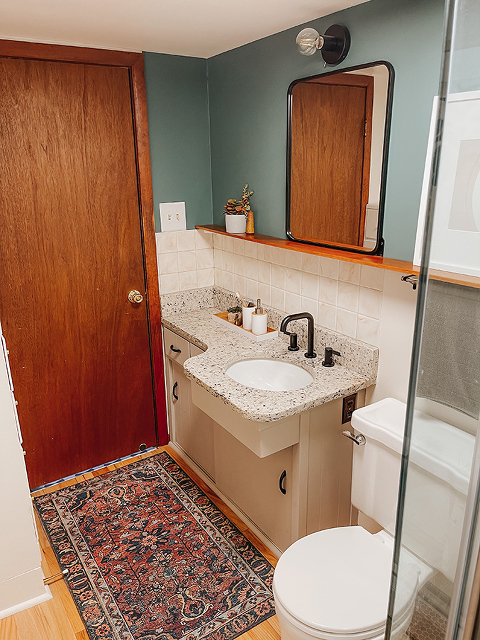 7. Pale Sepia: We put this soft gray, barrreeely purple paint color on the once-dated vanity in our downstairs hall bath to give it a more updated look. We also painted the stairs of our made-over landing this color! It's a chalk decorative paint, so it's very easy to use.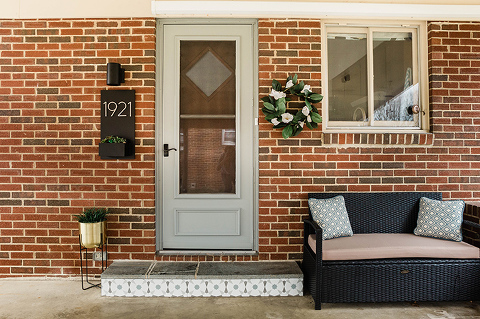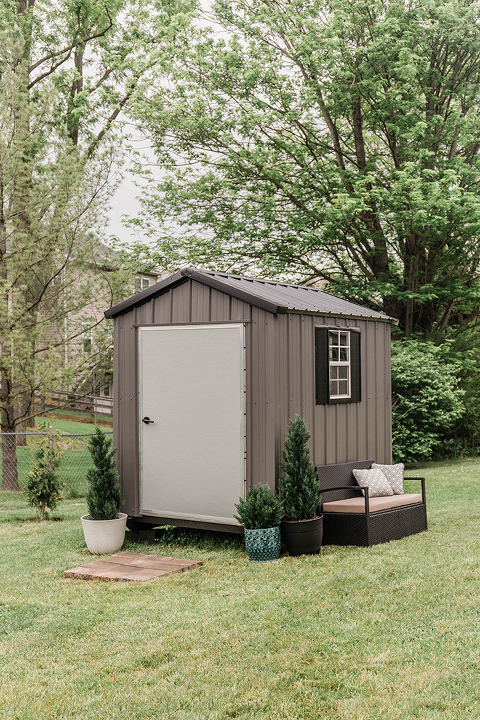 8. Rebel: If you're looking for a version of black paint that isn't quite as pure/dark as true black, then Rebel is the color for you. I love using it on furniture and décor projects, like the house numbers planter box on our side entry and a bird house by our deck in the backyard. I also used it on the base of our new shed to make it look more grounded and finished.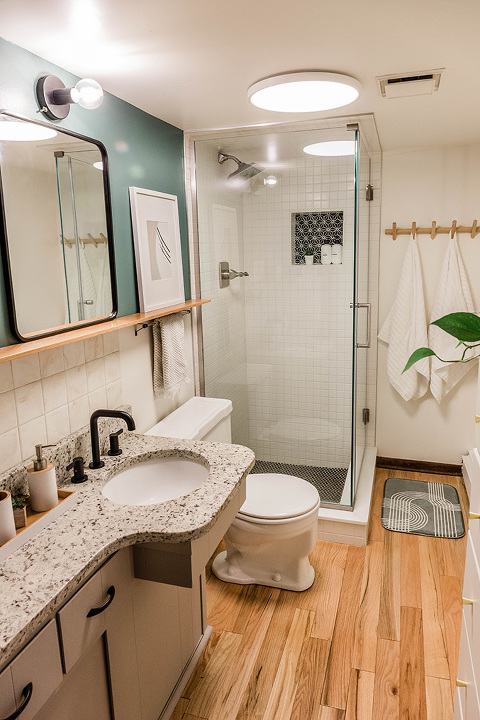 9. Forest Edge: I always felt like our downstairs hall bathroom was missing something until I decided to incorporate a feature color block of this bright teal paint. I love the pop of personality it adds to the space!
10. Cascades: This is my all-time favorite dark paint color. We used it in our lounge and also our dining room, and it has been my most-asked-about paint color on Instagram. I adore it, and couldn't recommend it more if you want to paint a dark feature wall in your home.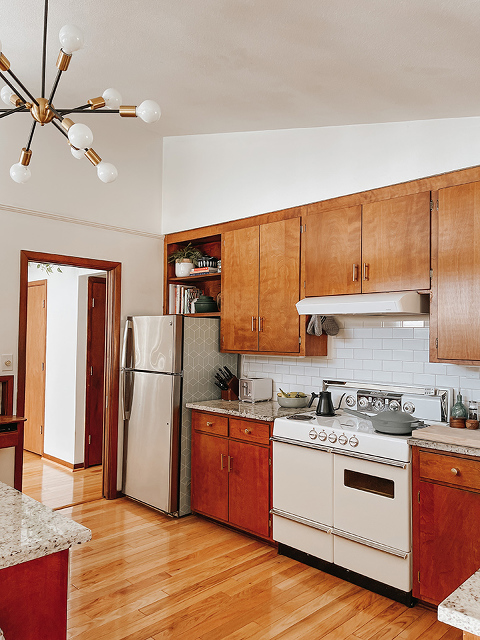 I think that covers everything! We have used a handful of other paint colors over the years in this house that didn't get mentioned above (like "Spiced Brandy," "Modern Love," and "Snowbound"). I liked those colors a lot, but they didn't end up sticking around for the long haul. I wanted to focus on our absolute favorites this go-around, so I hope you found it helpful! Let me know if you have a favorite paint color or two that you've used in your house in the comments below.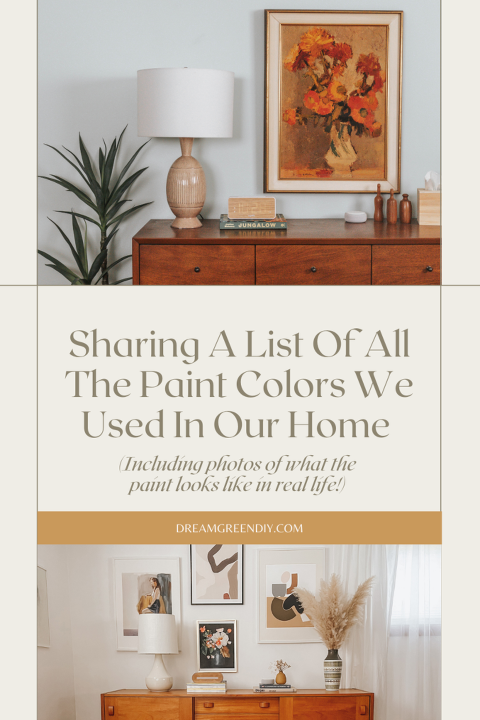 *I earn a small percentage from purchases made using the affiliate links above. Affiliate links are not sponsored. Rest assured that I never recommend products we wouldn't use or don't already love ourselves.