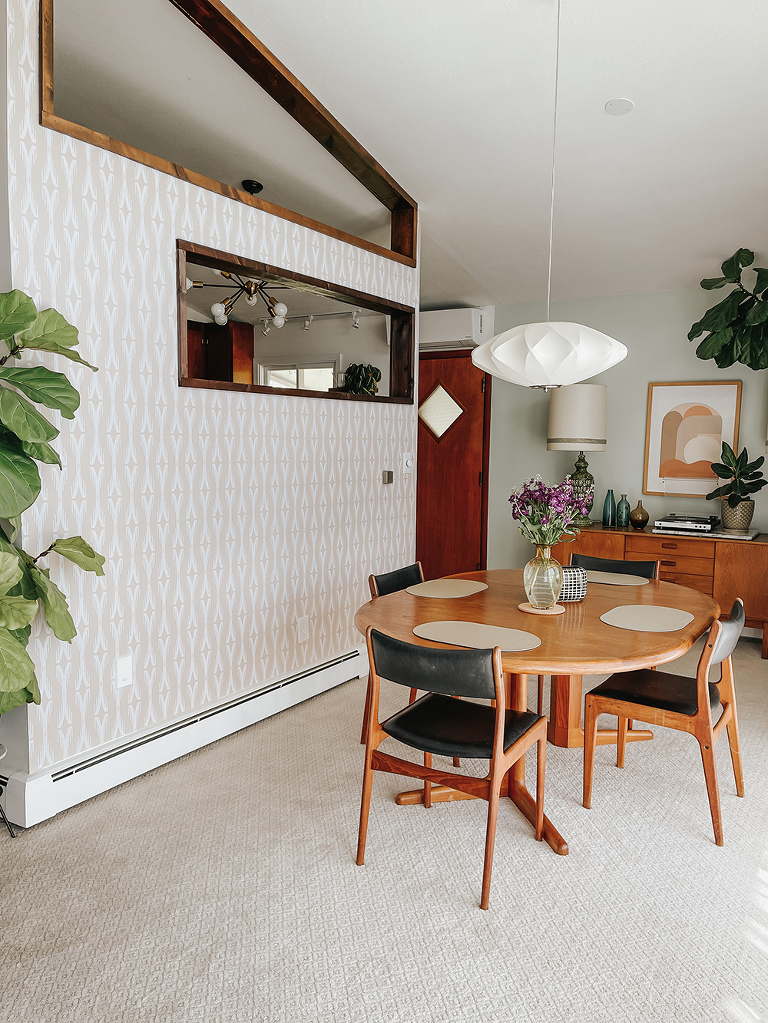 **This post was sponsored by Fancy Walls. All opinions are my own.
Of all the home décor tricks available to me, I think creating feature walls is my absolute favorite. I love change so much, and having the freedom to add pops of personality here and there just by using a unique paint color or wallpaper pattern on one wall gives me all the excitement I need in a space. It's easy to change, doesn't cost much, and has huge impact. I couldn't recommend this concept more, and it works well whether you own your home or you rent.
Case in point, our new wallpapered feature wall in the dining room. I teamed up with Fancy Walls for this mini home update, and really appreciate that their peel-and-stick wallpaper is easily removable if I change my mind (again, it's really ideal for you renters out there). That said, I don't see myself changing my mind about this patterned paper any time soon—I love how it turned out! Keep scrolling for before/after photos, plus the whole story behind why we decided to give this trick a try in our home.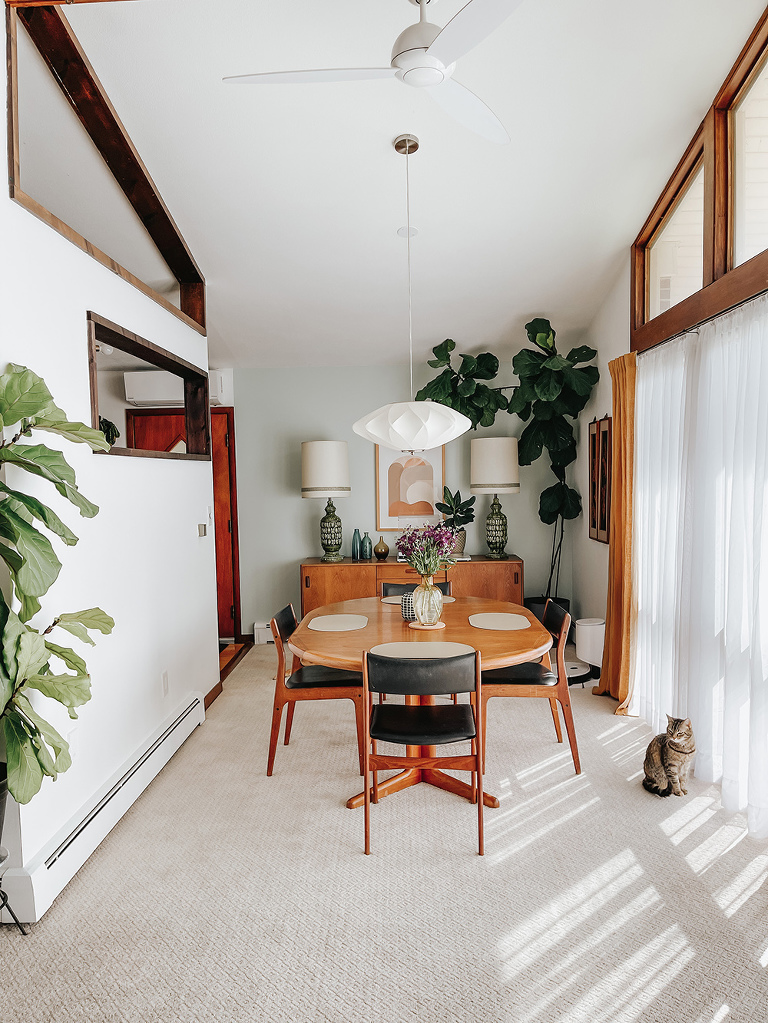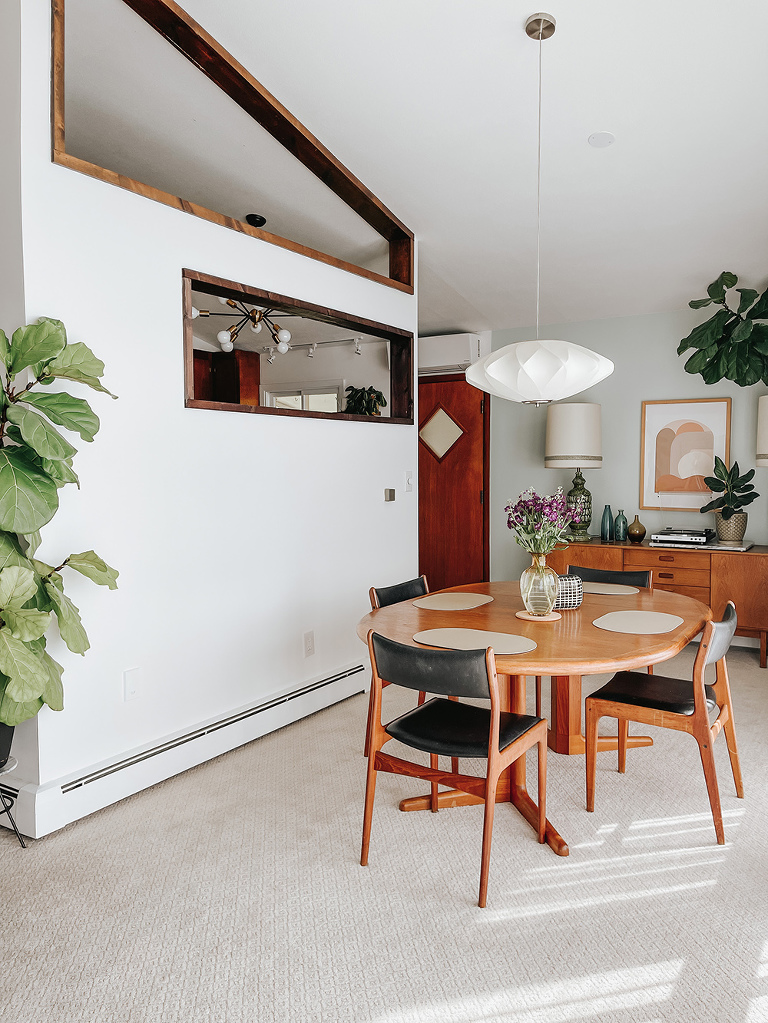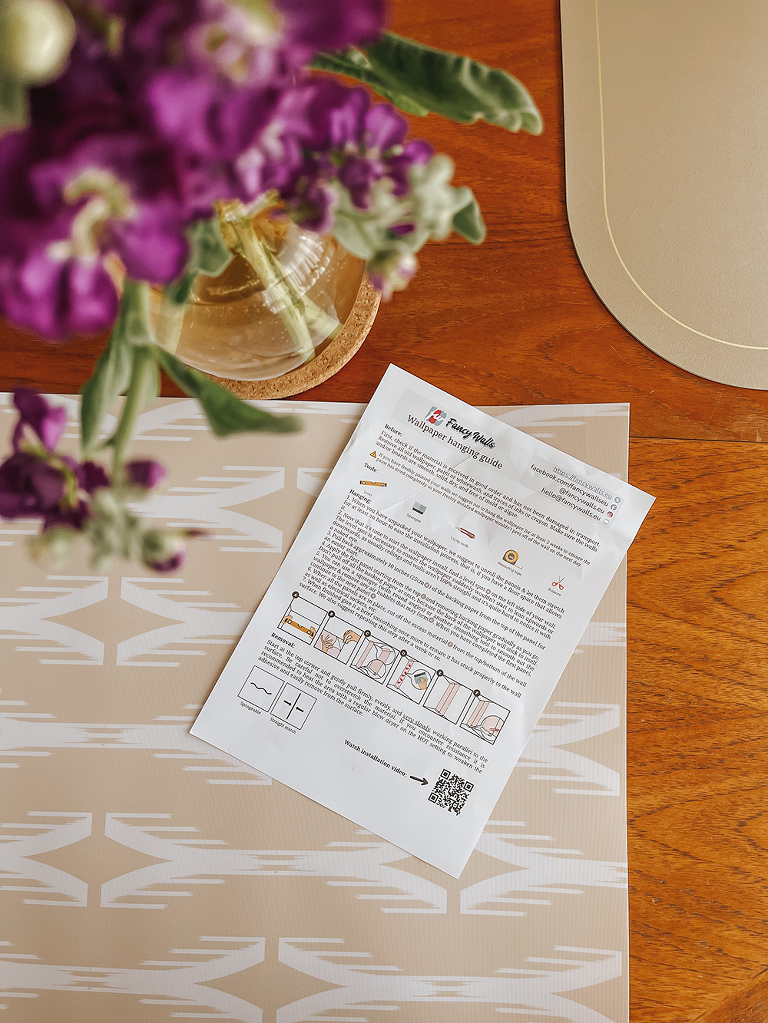 As you may know, this isn't the first time that I've added one wallpapered feature wall to a room. We recently tried this concept in our main bedroom, and absolutely loved how it turned out, so I was more than game to give it a try in our dining room. This was my first time working with material from Fancy Walls, though, so I wanted to give you a thorough breakdown of my experience in case you want to try it yourself.
I decided to try their ikat wallpaper in the beige and white colorway because I thought it would add a bit of personality to our dining room without overwhelming it. In case you didn't know, I actually just recently painted the feature wall in our dining room back to white. It used to be a dark teal paint color, but I was ready to lighten things up. I liked the white wall, but it did leave a tiny bit to be desired, so when the Fancy Walls team reached out to see if I was game to test their wallpaper collection, I figured this was the perfect opportunity to give it a try. I decided to try something not quite as bold as the dark teal paint color, but also something with a little more dimension than the white paint offered.
By the way, this is a brand based in Europe, but they have a huge (and growing) base of customers in the United States, so you're safe to give them a try if you're based here in America.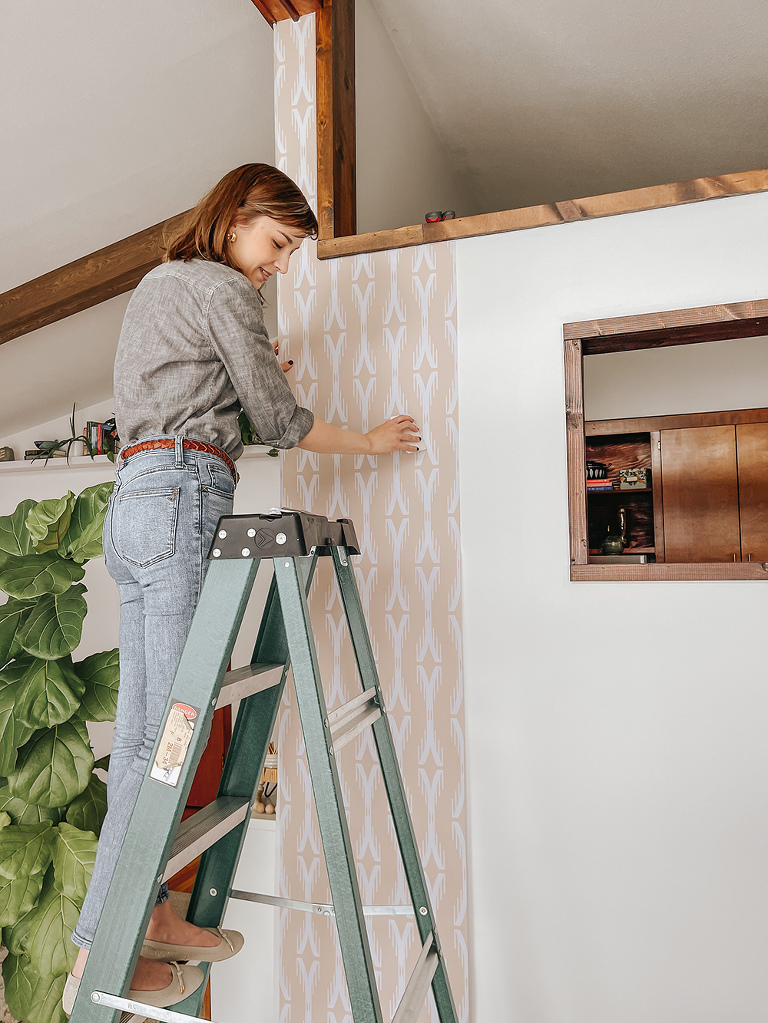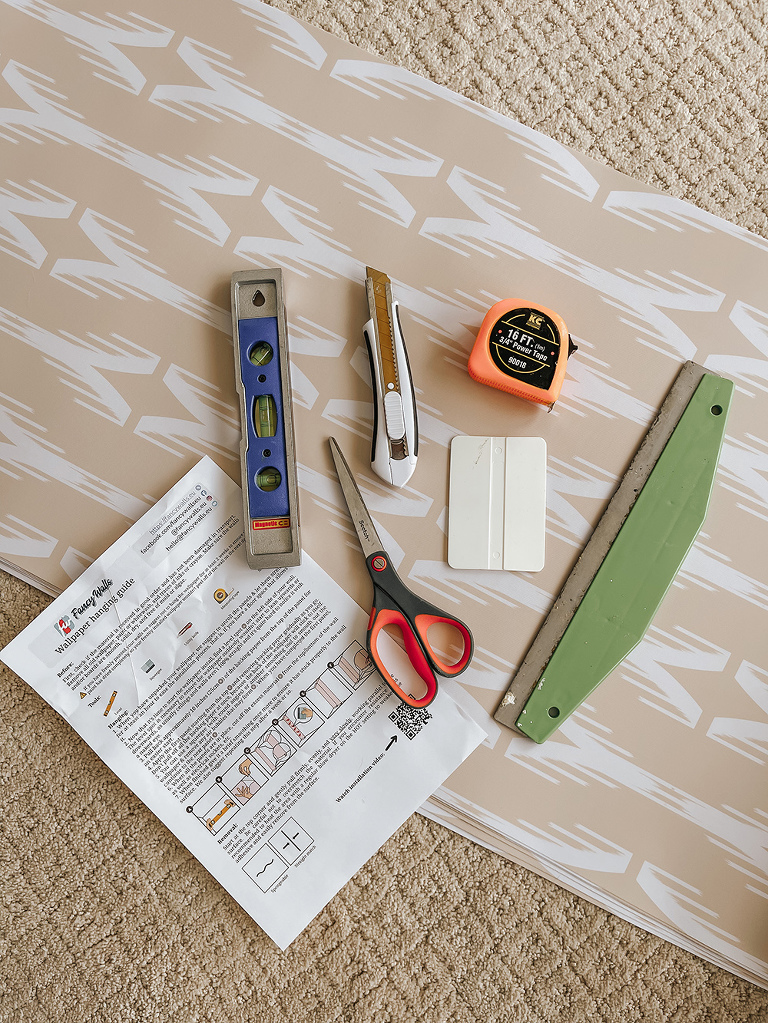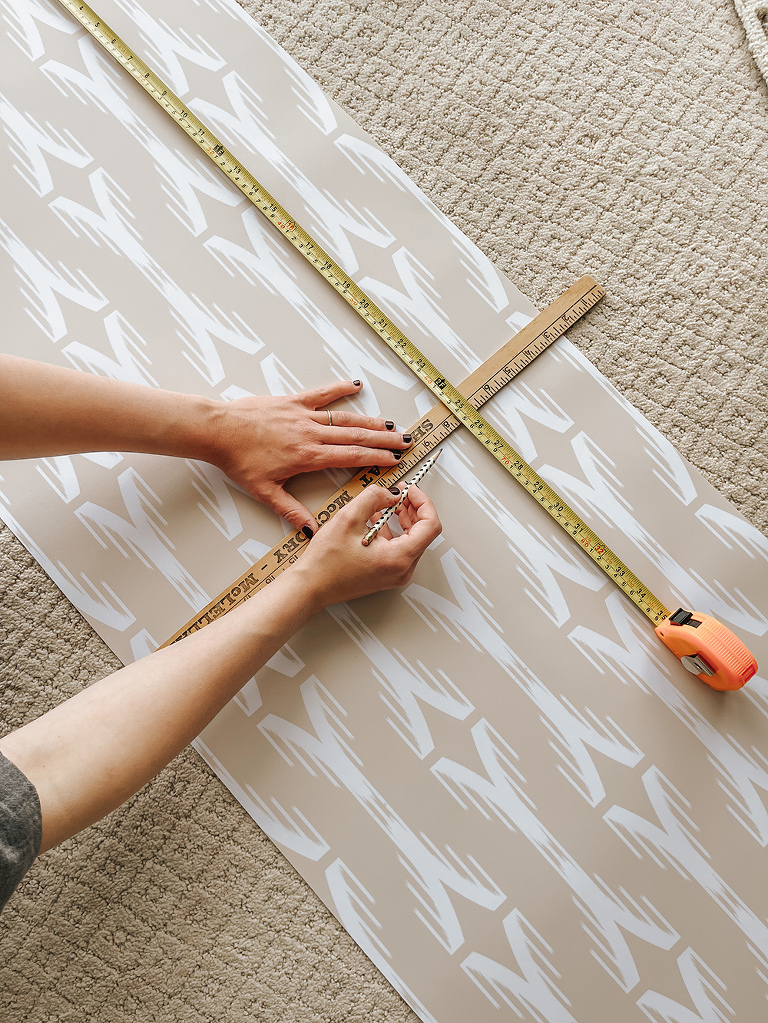 I ordered seven 19-by-120-inch panels for our 10-by-10-feet wall, and ended up having just enough for our project. I did have one leftover panel (and plenty of decent-sized scraps) that I'll use if we ever need to patch our dining room wall, or if I come up with another DIY project to wallpaper. My biggest tip when wallpapering is to over-order rolls. I made a couple of miscalculations during this project (and pretty much every other wallpapering project I've ever done), so I appreciated having the extra paper on hand.
Overall, though, the project went off without a hitch. I wallpapered the entire wall on my own in under two hours, with just a little help from John. Another big tip I have for those of you looking to try wallpapering for the first time is to have a buddy available. It's always nice to have someone hold the paper as you line things up, or to simply have someone to hand you tools as needed. Don't try to do this project on your own if you're new to wallpapering. It's possible. I've done it. But it's best to get one or two rounds of wallpapering under your belt before you tackle this one solo. It'll definitely go faster with two people, no matter your experience level.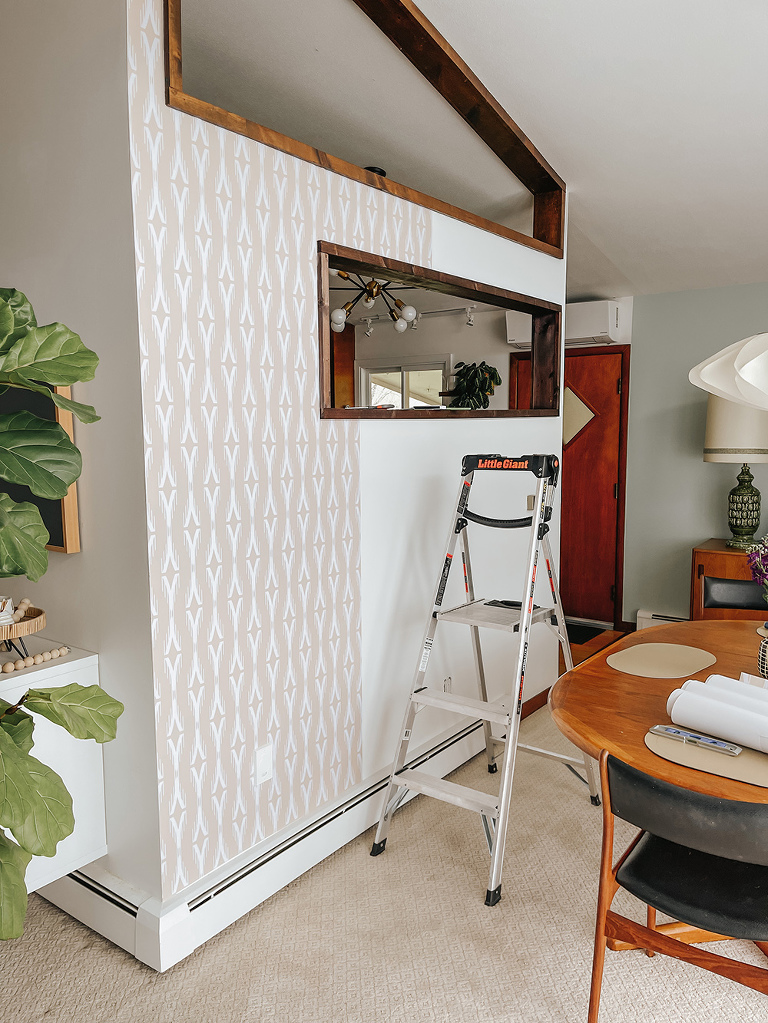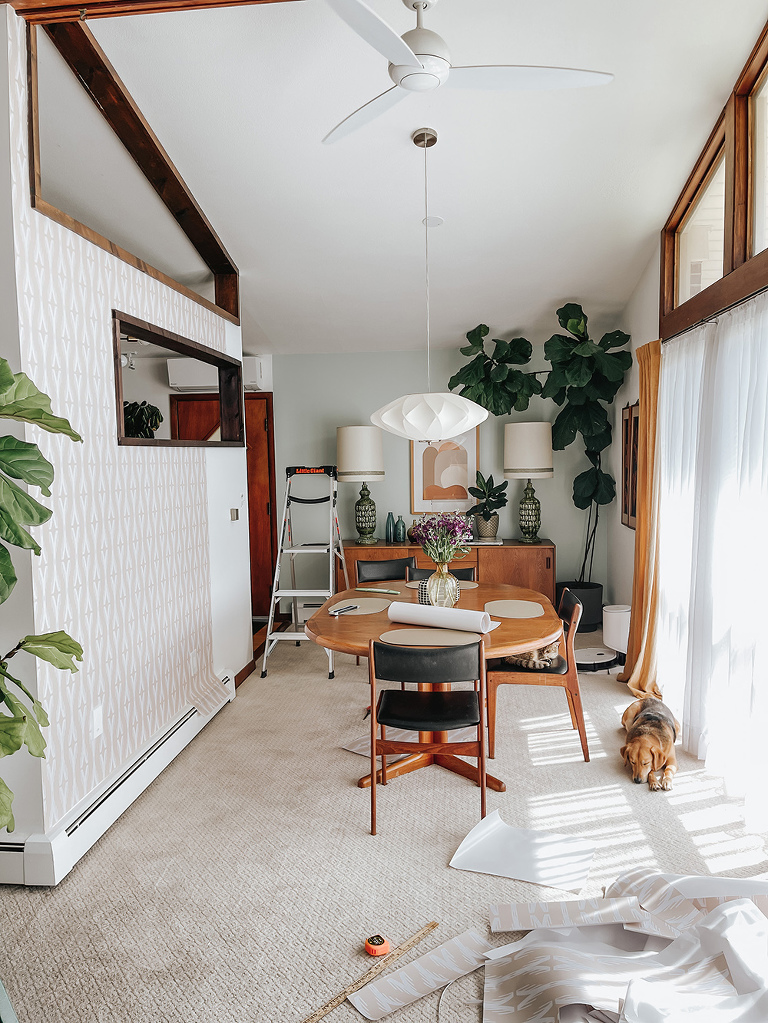 There are a handful of really fabulous things about this particular paper. It's a fabric-based design, so it's nice and thick, which means it's not as flimsy as the thin, cheaper plastic stuff you might be used to. It felt very heavy in my hand, and wasn't quite so floppy during the installation process. It was easy to handle, and felt very tough, which is essential for this high traffic area.
This wallpaper also lined up especially easily during installation. I've worked with other papers that featured an awkward seam between panels, which meant they were next to impossible to match up across the wall. This one, on the other hand, was really simple to line up. I love the retro-inspired ikat pattern, and the subtle beige and white color scheme means that it doesn't pop too much against the rest of the room's décor. It's exactly the punch of personality our space needed without overwhelming it, like the old dark teal paint did, or underwhelming it, like the white paint did. This wallpaper feels juuuuuust right.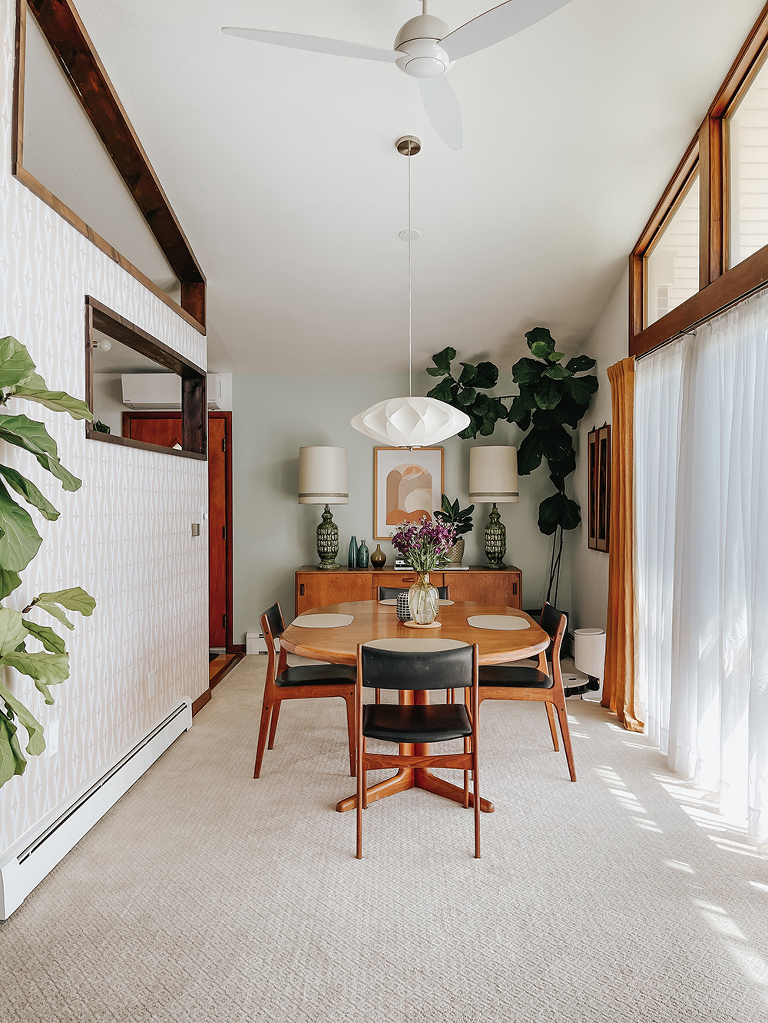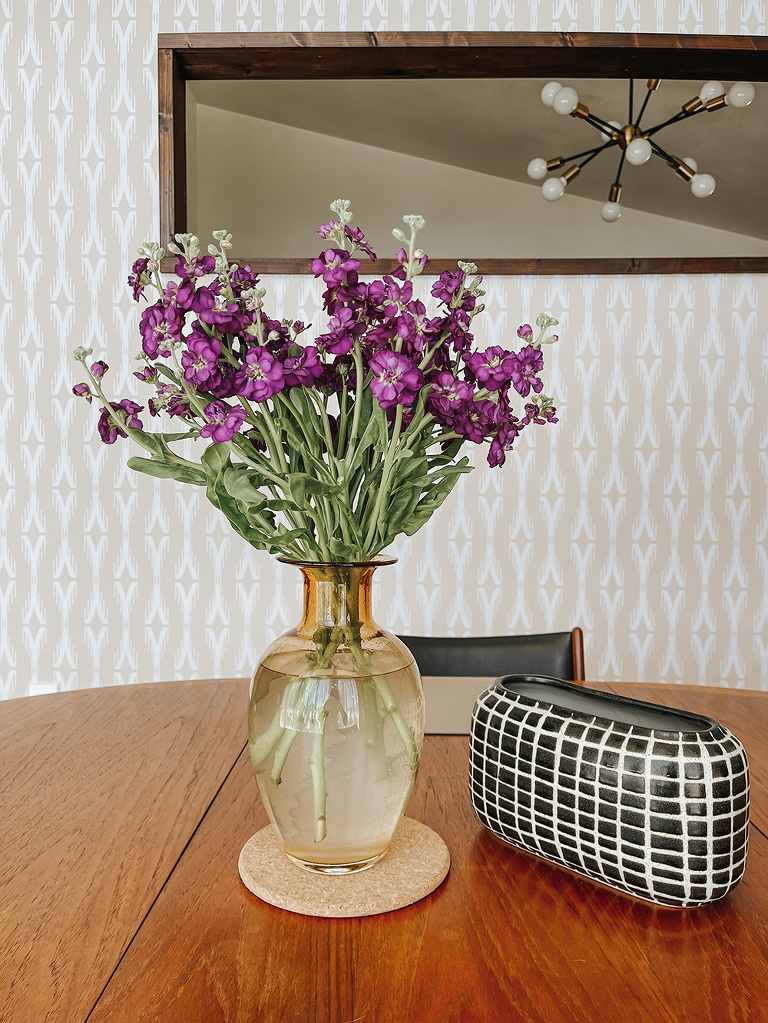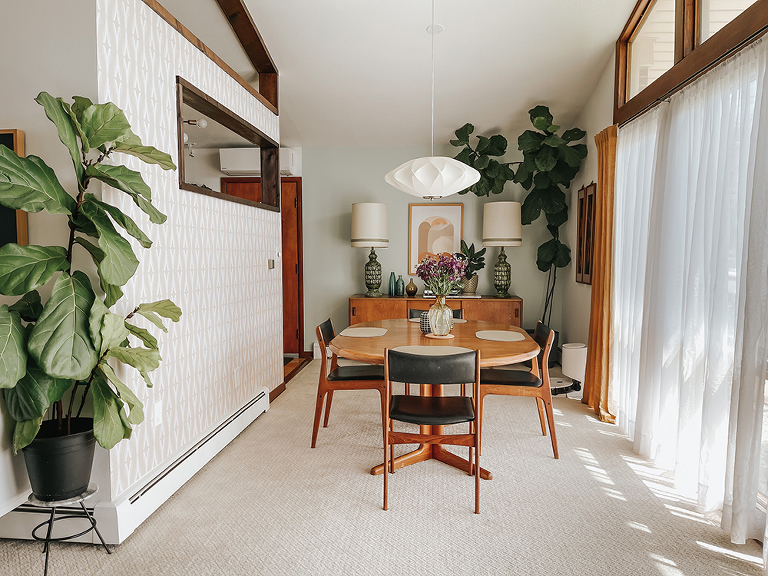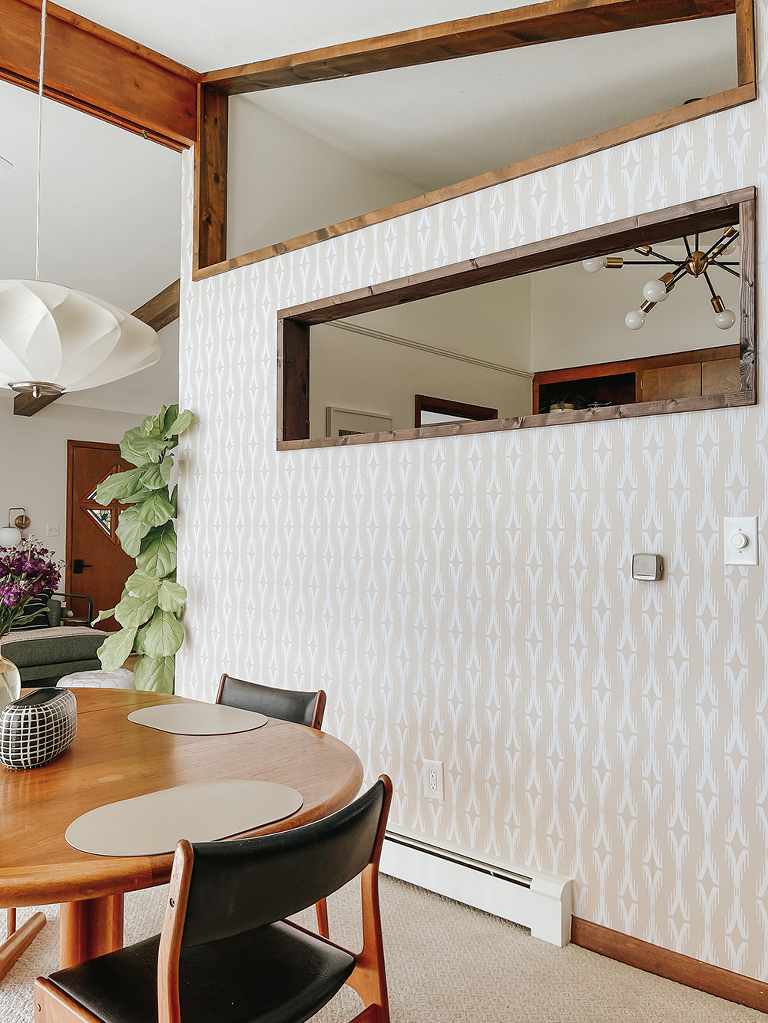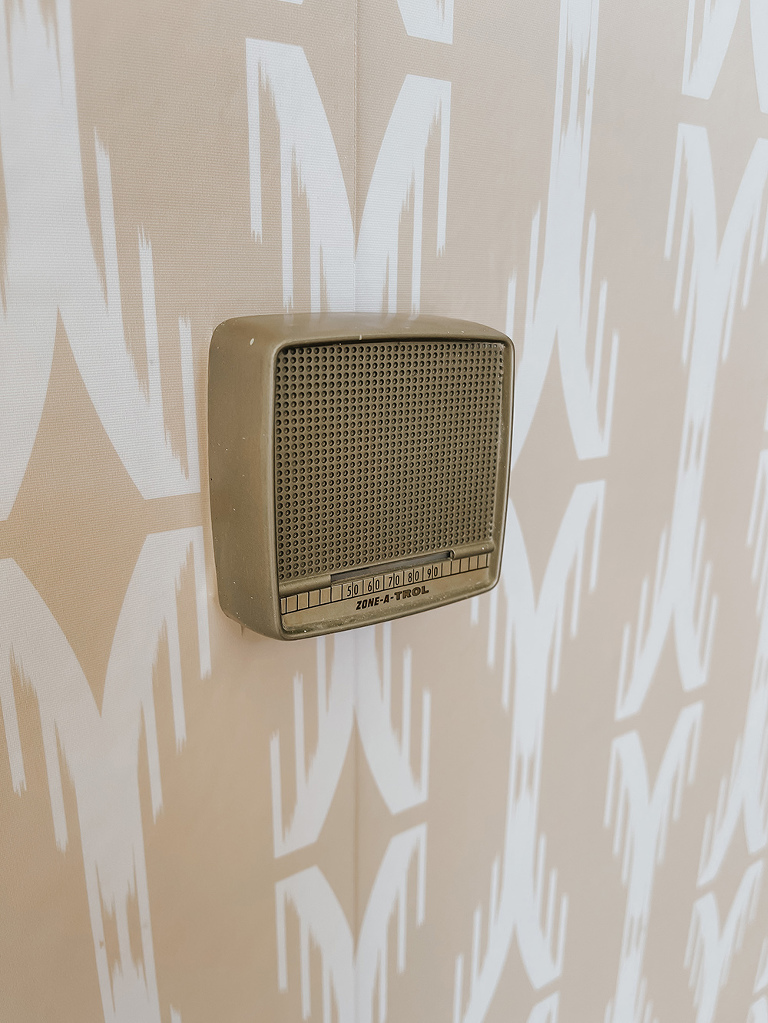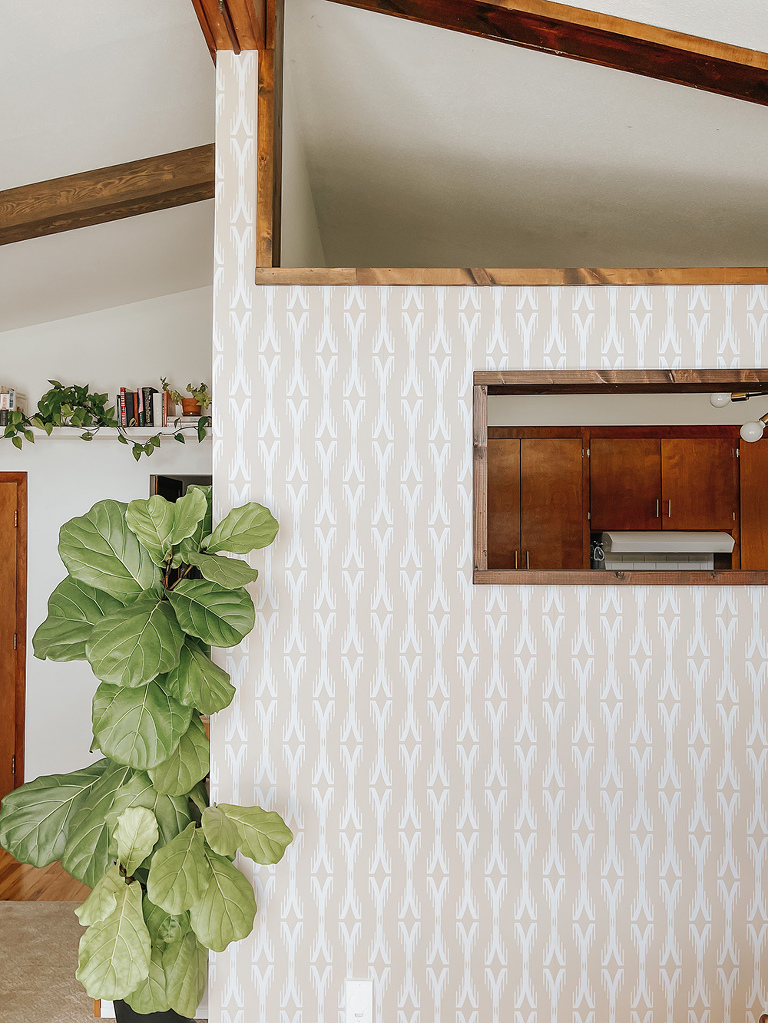 It somehow feels like it has always been here in our 1960s house. I stepped back and felt immediate stars form in my eyes, I love it that much. What do you think of the new look? Would you have gone with wallpaper, or would you have tried a different paint color? If you would have wallpapered, what kind of pattern would you have picked for our space? Do tell in the comments, and if you want inspiration for your own house, check out the collections available on the Fancy Walls website right this way.