If you've been following along for any length of time, then you know I don't really celebrate Valentine's Day. In my opinion, the holiday feels a tiny bit contrived and obligatory. I much prefer showing John how much I love him by cooking him his favorite meal on a random Tuesday or with a special store-bought gift that shows that I was thinking of him.
That said, since I'm at the risk of coming off as cynical, I did decide to pick up a surprise Valentine's Day card and treat for John this holiday. As I was hunting down practical Valentine's Day gifts to get for him, I kept a running list of the non-cheesy items I found so that I could share them with you. Keep scrolling for the linked list, plus my thought behind each gift idea.
Valentine's Day Gifts That Aren't Cheesy:
1. Matching Hoodies: I love the idea of getting each other matching hoodies for the V-Day holiday—bonus points if you get pink ones! John would look great in this color.
2. Portable Tabletop Fireplace: Sitting around a campfire is one of my favorite couple-y things to do. I love that this one can safely be used indoors. Roasted marshmallows for Valentine's Day? I'm in.
3. Takeout Food Dice: Give your date night dinner out a boost of spontaneity with this pair of customizable dice.
4. Minute Mimosa Sugar Cube Trio: If champagne is a Valentine's Day tradition for you, try these flavor-infused cubes. They turn plain bubbly into flavored mimosas or bellinis.
5. Grill Top Pizza Oven Kit: Another one of my personal favorite things to do as a couple is homemade pizza night. I might just have to get this for John so that we can up our game this holiday.
6. Conversation-Starter Cards: I usually think these types of question cards are super cheesy, but I read through the sample prompts for this particular set, and they look decent! A very genuine way of striking up fun conversation with your significant other—just make sure you skip the cards that might bring up negative reactions.
7. Valentine's Day DIY Cupcake Kit: Need I say more? Didn't think so. Yummm…
8. Furry Blanket For Two: I love that this blanket works well for snuggly Valentine's Day movie night, but also looks good year-round draped over the back of a sofa.
9. Mini Portable Movie Projector: Speaking of movie night, try this mini portable projector in a totally random spot in your house to mix things up.
10. Urban Map Glass: I actually do love sentimental gifts, but anything too overt isn't my taste. For example, I would personally never hang up a giant map of the city where we first met, but I absolutely would keep a pair of subtle etched map drink glasses on our bar cart to commemorate where we fell in love (awwww…).
Anyway, I hope that list helps spark your Valentine's Day gift-getting this holiday. Tell me: do you usually go all out for this holiday? I remember my sister used to adore this holiday back when she was single. I loved that about her! Even if you don't happen to have a significant other in your life, consider treating yourself to a little lovin' this holiday. Buy yourself that dress that you know will make you feel good, or splurge on nice take-out for dinner. You deserve it.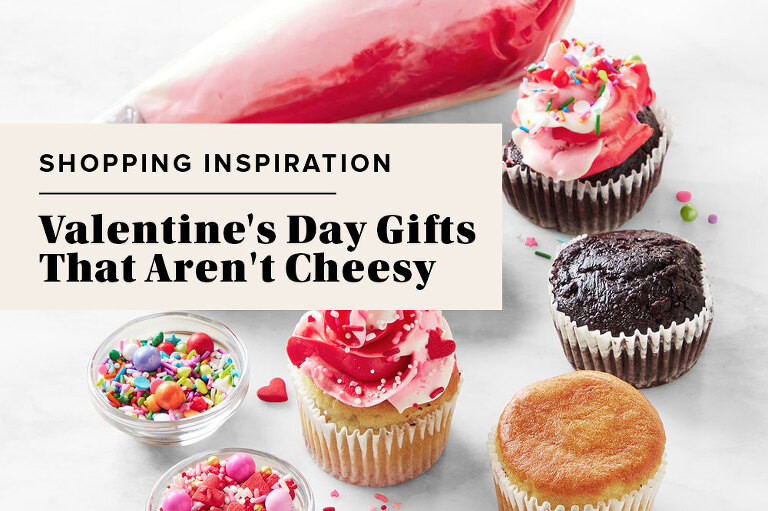 *I earn a small percentage from purchases made using the affiliate links above. Affiliate links are not sponsored. Rest assured that I never recommend products we wouldn't use or don't already love ourselves.