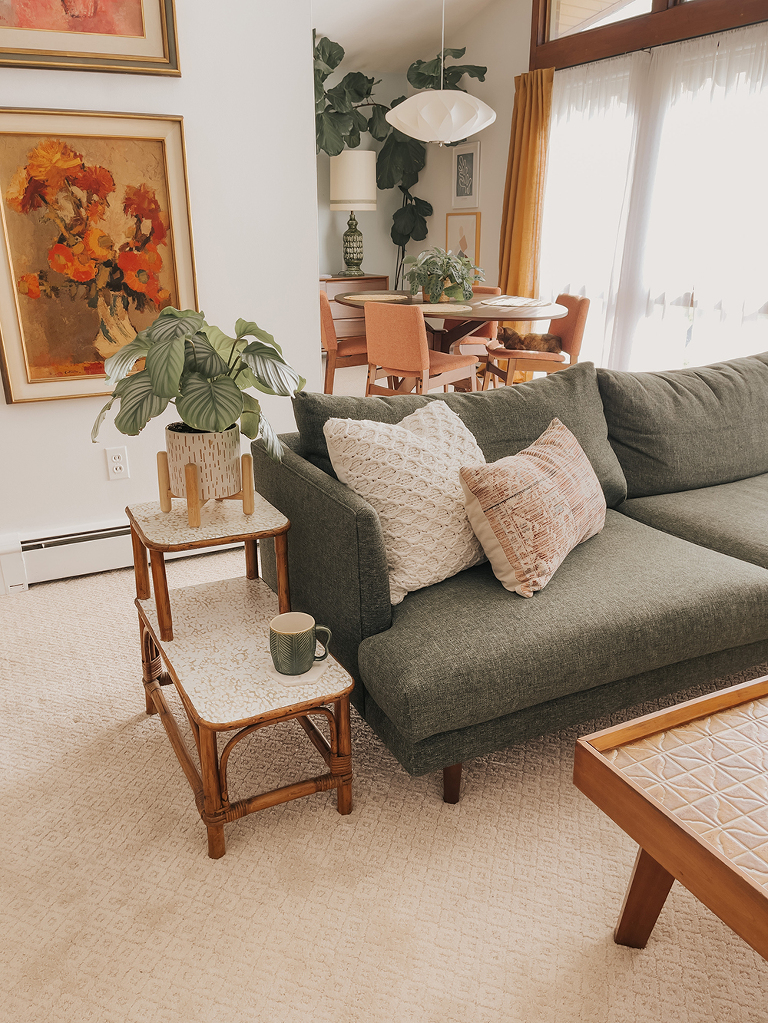 One of the very last projects that I finished before we moved out of our old house was this DIY wallpapered side table. It was, honestly, the perfect distraction from the stress and anxiety of our impending move, so I'm really grateful when I think back on it. I had found the table a few weeks beforehand at a local secondhand shop in town, and knew that it had potential to be something great.
I actually kept the table in its original badly sponge-painted state (seen pictured below) for a week or two as I brainstormed a solution, and that's when Better Homes and Gardens reached out to ask if I wanted to team up on a string of do-it-yourself Instagram videos. It was perfect timing, and didn't take long after that for me to decide that BHG peel-and-stick wallpaper was the ideal makeover material for my vintage rattan table. Keep scrolling to see how I pulled it off.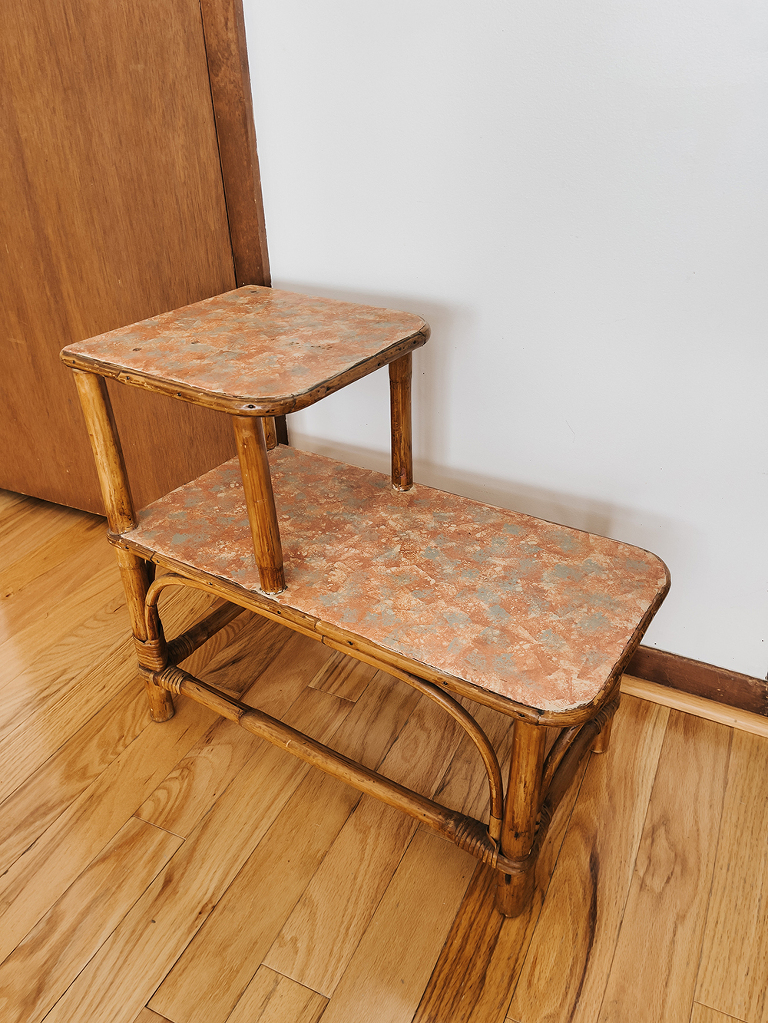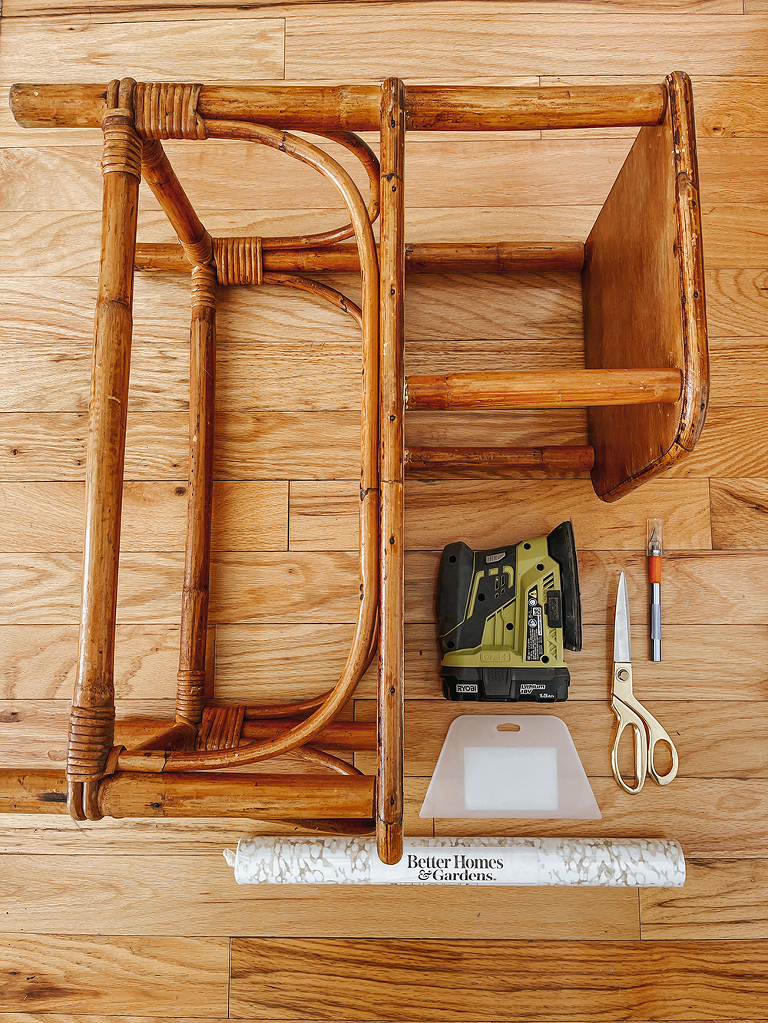 As you can see in the pictures below, the table came with a pretty rough hand-painted multicolor pattern on it. I don't mind sponge painting as a finish option, but the way this one had been done looked obviously "DIY," if you know what I mean. It wasn't good, so the first step in this process was to sand it down as much as I could. The paint was stubborn, so my palm sander didn't get much of the visible sponged pattern off, but if you ran your hands over the two tabletops, they felt much smoother and less bumpy from the texture of the sponge. That was really all that mattered.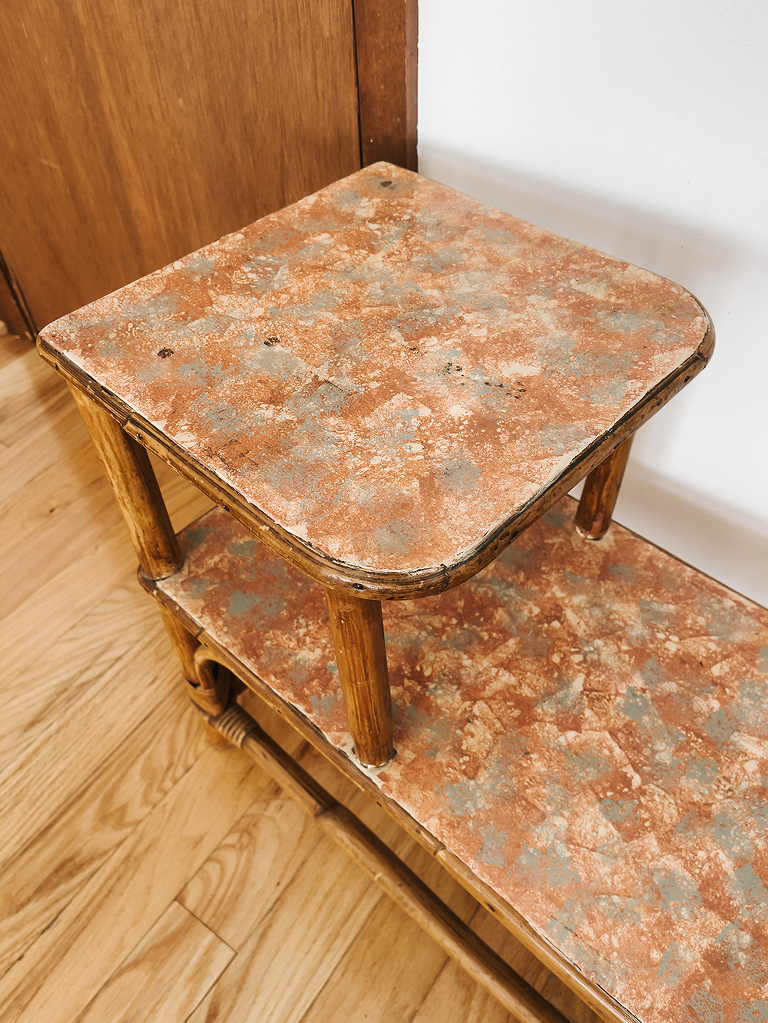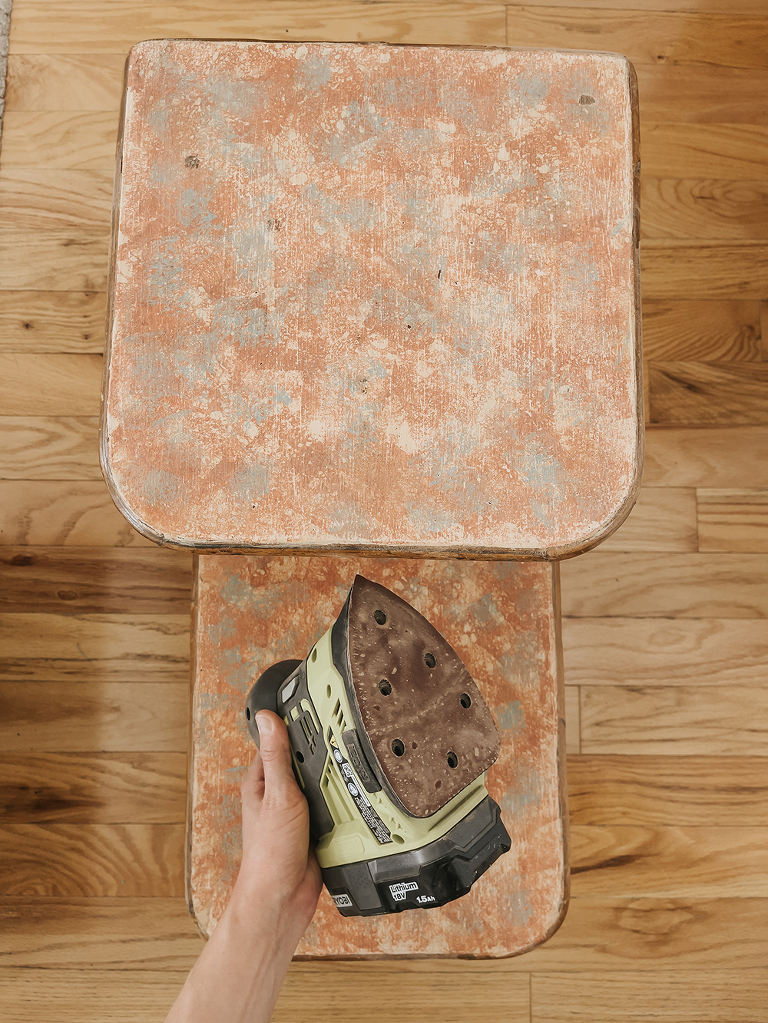 After sanding the table, I wiped it down using a tack cloth and then with a clean, dry microfiber towel. Next, it was time to work on the wallpaper. I used this pattern from BHG's line at Walmart, and it was really easy to work with. I unrolled the wallpaper to the same rough size as my table, then cut it out into big rectangles. After that, I cut those down even further to get them to just about fit the two tabletops exactly, leaving a 1-inch overhang that I would later trim off.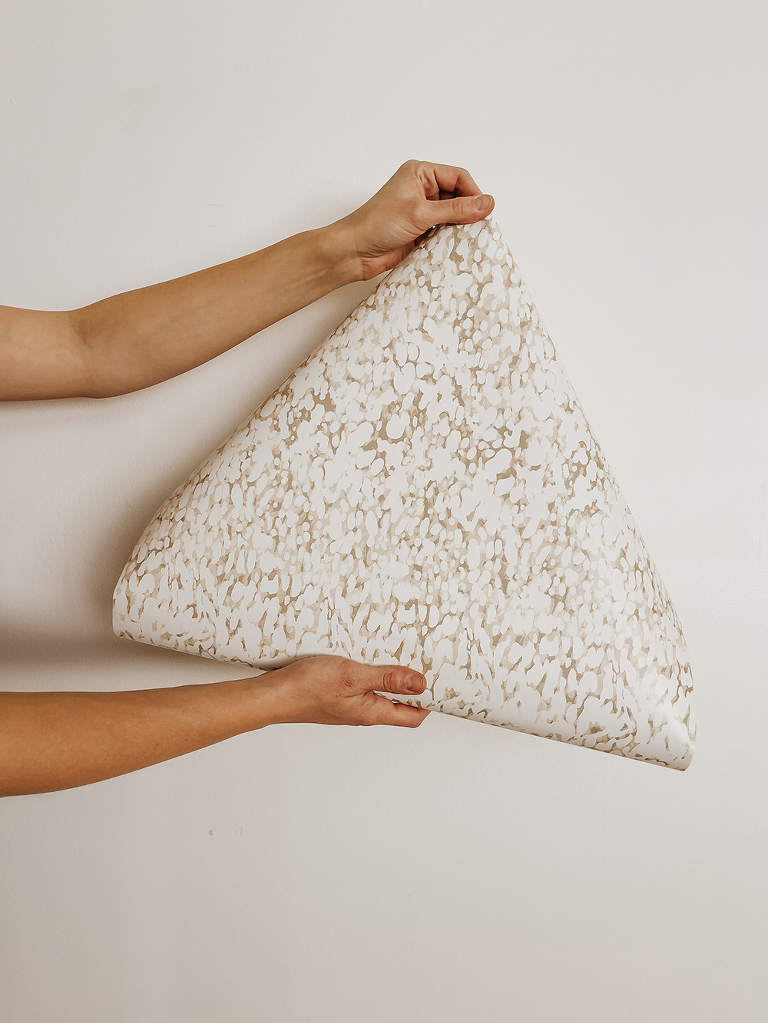 Next, I removed the backer paper from the first sheet of wallpaper, and pressed the sticky side down onto the tabletop. I used a wallpaper smoothing tool to push any air bubbles out through the sides, and then I used a handled razor blade to trim off the excess wallpaper around the edges of the tabletop. I did the same thing on the bottom larger tabletop, although, this time I had to trim around the posts holding up the small upper tabletop. It was a little tricky, but no different than trimming around the clean outer edges. I just took it slow.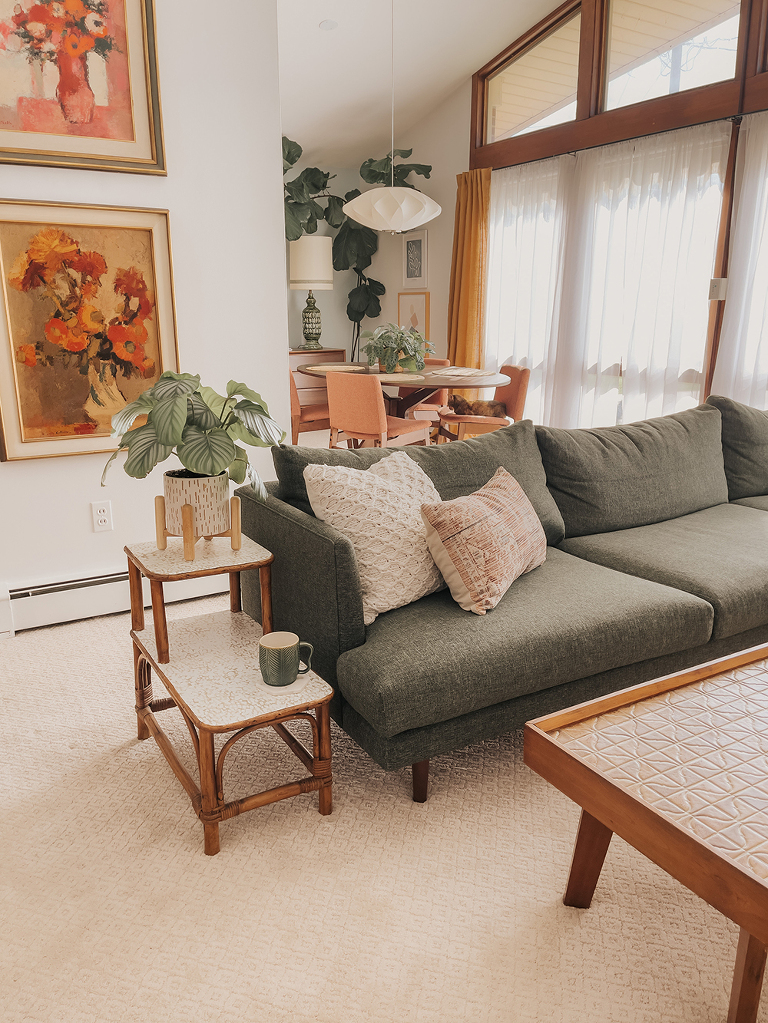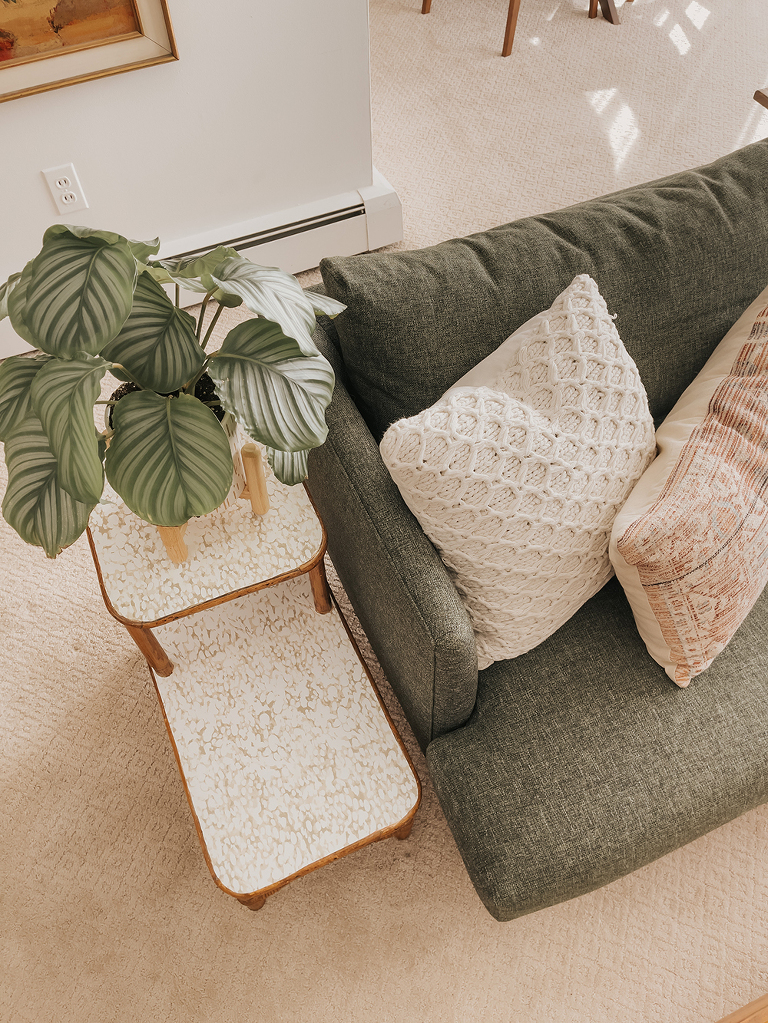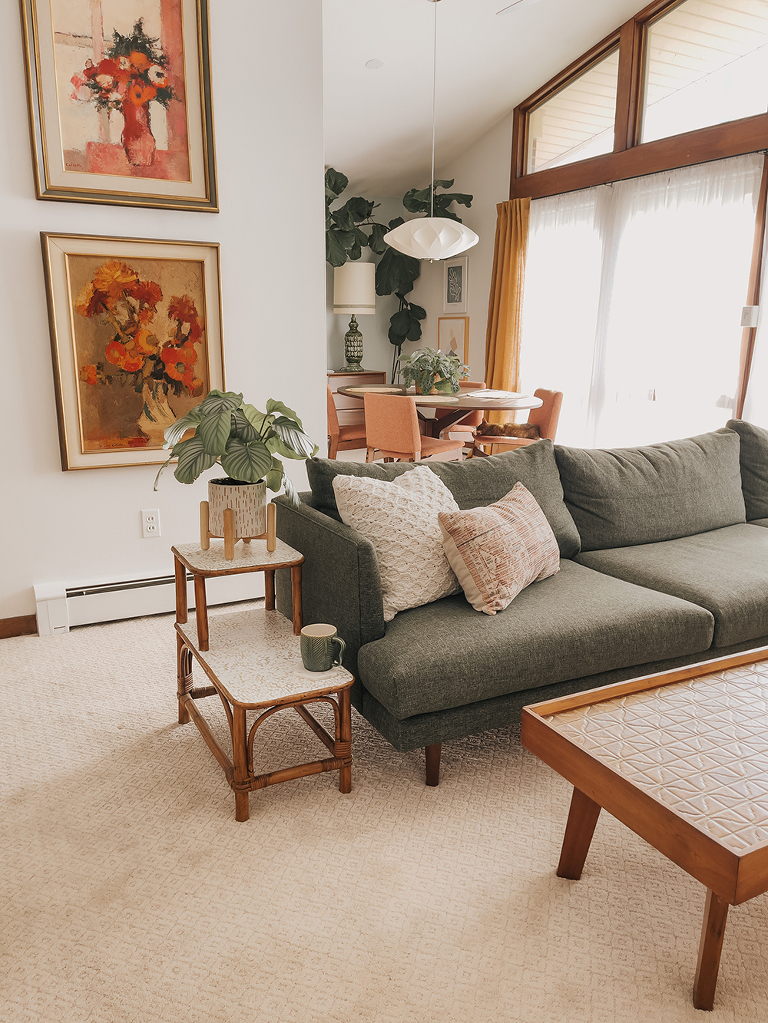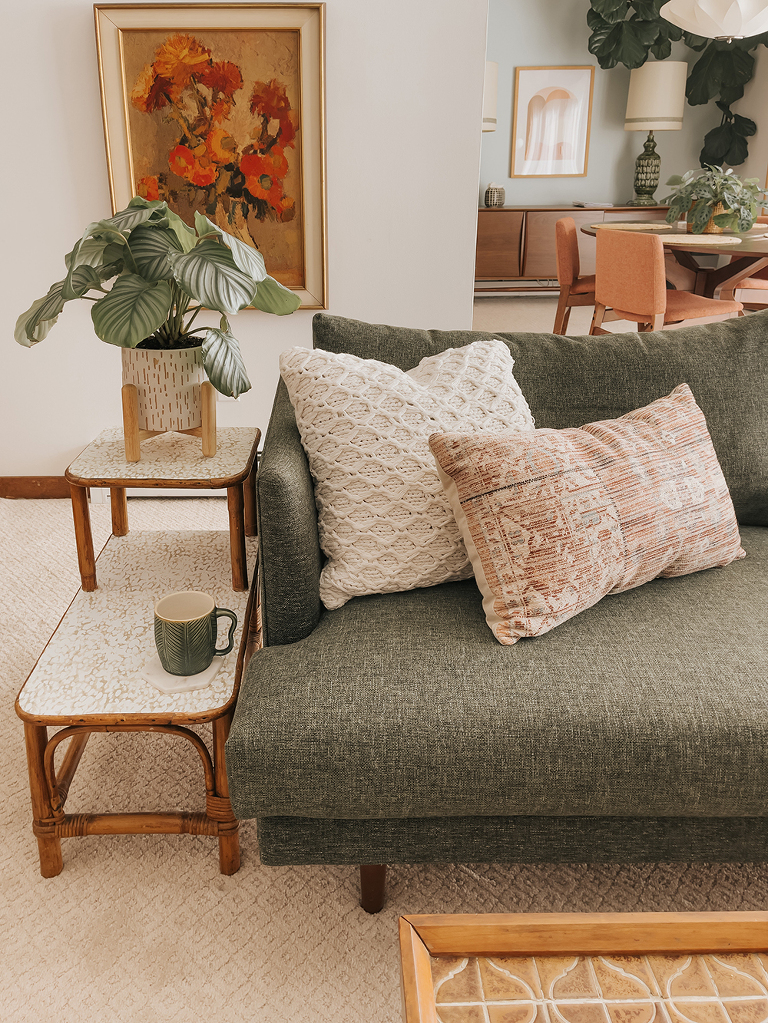 The great thing about wallpapered furniture projects like this is you don't have to wait for anything to dry or cure. If I had painted over the tabletops, for example, I would have had to wait probably 24 hours before placing anything on the table or even setting it down somewhere in our home since I know the cats would sit on it. Wallpaper is an almost instant fix for things like this, and I was able to use my freshly made-over table as soon as I finished trimming the pressed-on paper.
Click here to watch this project come to life in video format on the Better Homes and Gardens Instagram feed, and let me know in the comments if you would have done something different to this secondhand rattan table. Would you have painted it? Replaced the old tabletops entirely, maybe with remnant stone? Share your creative ideas below!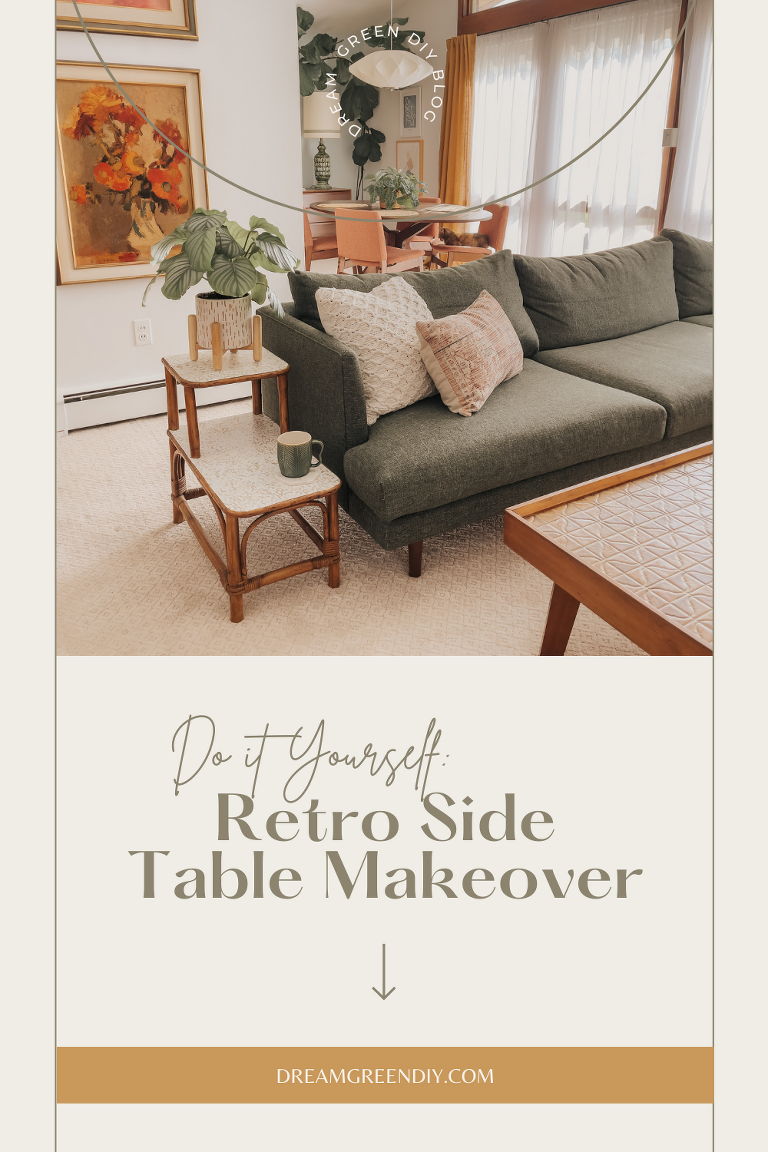 *I earn a small percentage from purchases made using the affiliate links above. Affiliate links are not sponsored. Rest assured that I never recommend products we wouldn't use or don't already love ourselves.