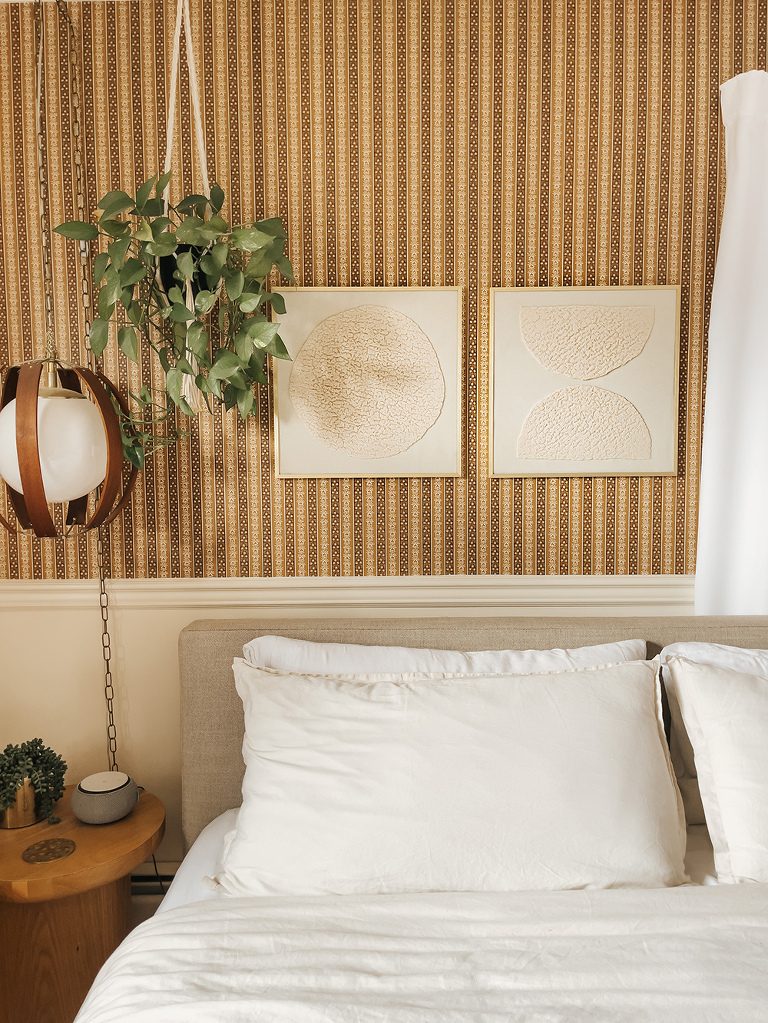 Believe it or not, nearly all of my ideas for DIY home décor come from flipping through catalogs. Every time a home décor catalog shows up in my mailbox, I make a point to sit down with it so I can concentrate as I flip through the pages. There's so much (free!) inspiration to be found in the styled rooms photographed for these types of catalogs—you just have to put your "maker" hat on so you can spot the potential projects. A fancy upholstered ottoman with trim could easily be made at home using wood, batting, fabric, and tassels. Or a patterned designer planter pot might be recreate-able using a plain pot from the hardware store and leftover paint you already have.
Anyway, that type of train of thought is exactly how today's DIY art project came to life. I was flipping through a recent Lulu & Georgia catalog when this mixed media art and its companion piece happened to catch my eye. I loved the asymmetrical pairing, and how the neutral color palette allowed the rest of the room to shine. Of course, my head started spinning with ways to get the look without spending $700. Scroll on to find out how I pulled it off using an old cut-up blanket leftover from this DIY ottoman project.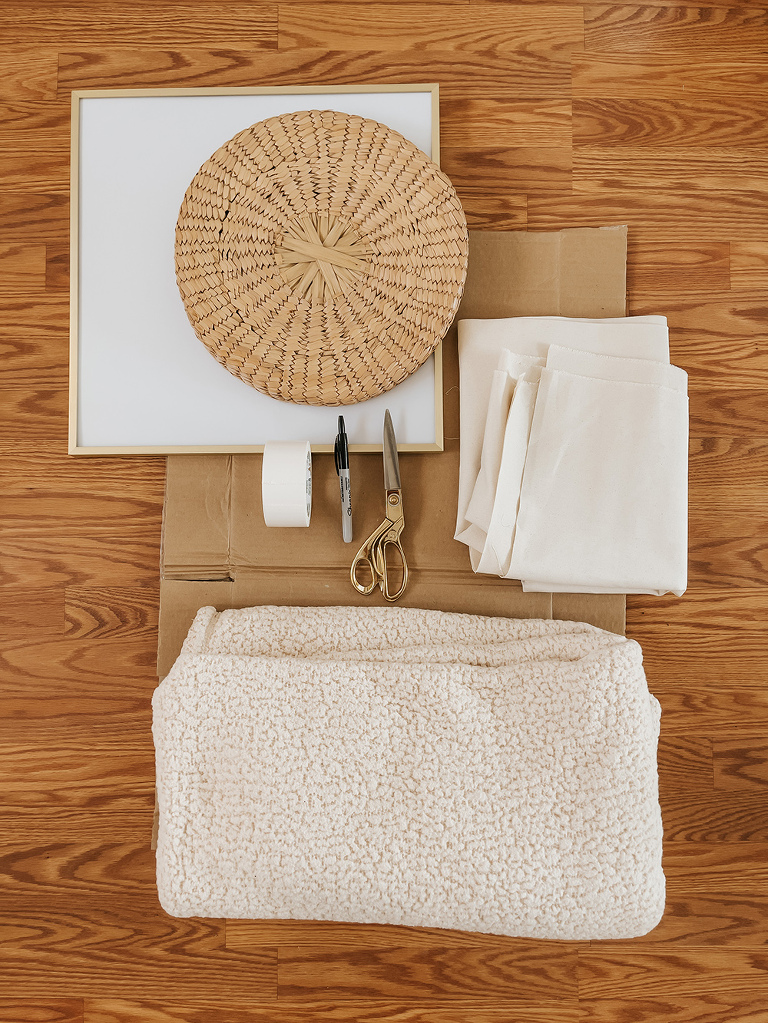 Here's What You'll Need:
1. Ivory-colored textured blanket
2. Linen-type fabric in a coordinating neutral color
4. Something round to trace
5. Marker
6. Scissors
7. Scrap cardboard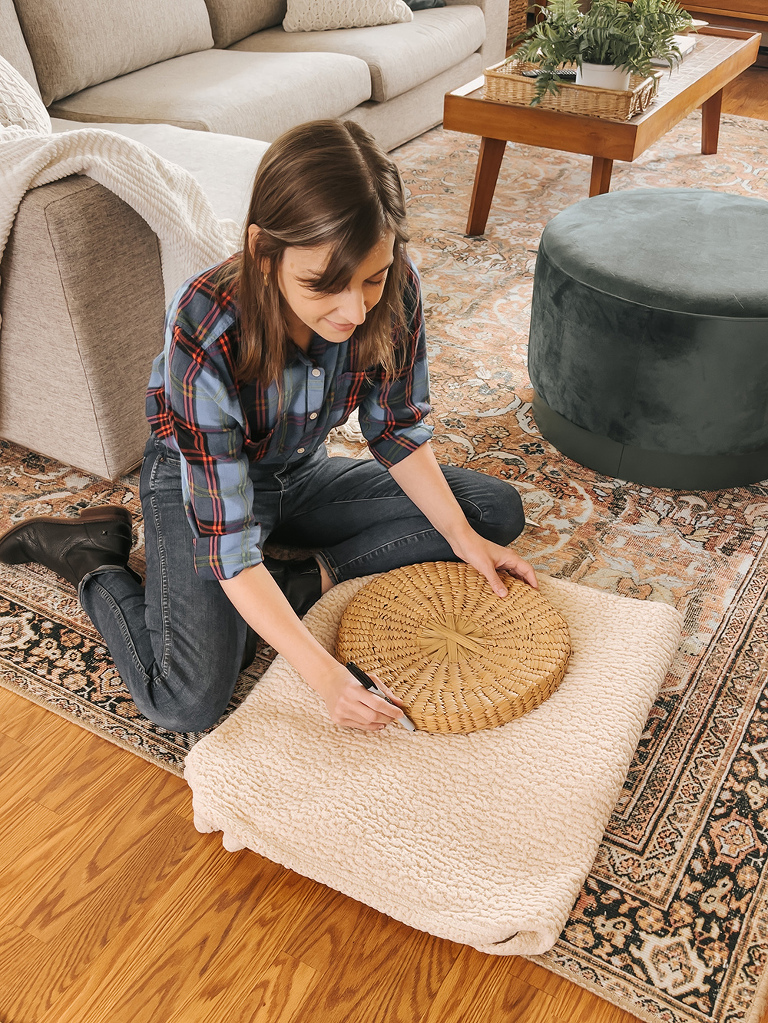 Step One:
Lay your round object on top of the textured blanket. I used a basket top for this step because I had it handy and it was the right size (about 14 inches in diameter), but you can use anything that works for you and your particular frame, such as a large ceramic bowl, a clock, a planter pot, or even a vinyl record. Make small marks every few inches onto the blanket all the way around your tracing object.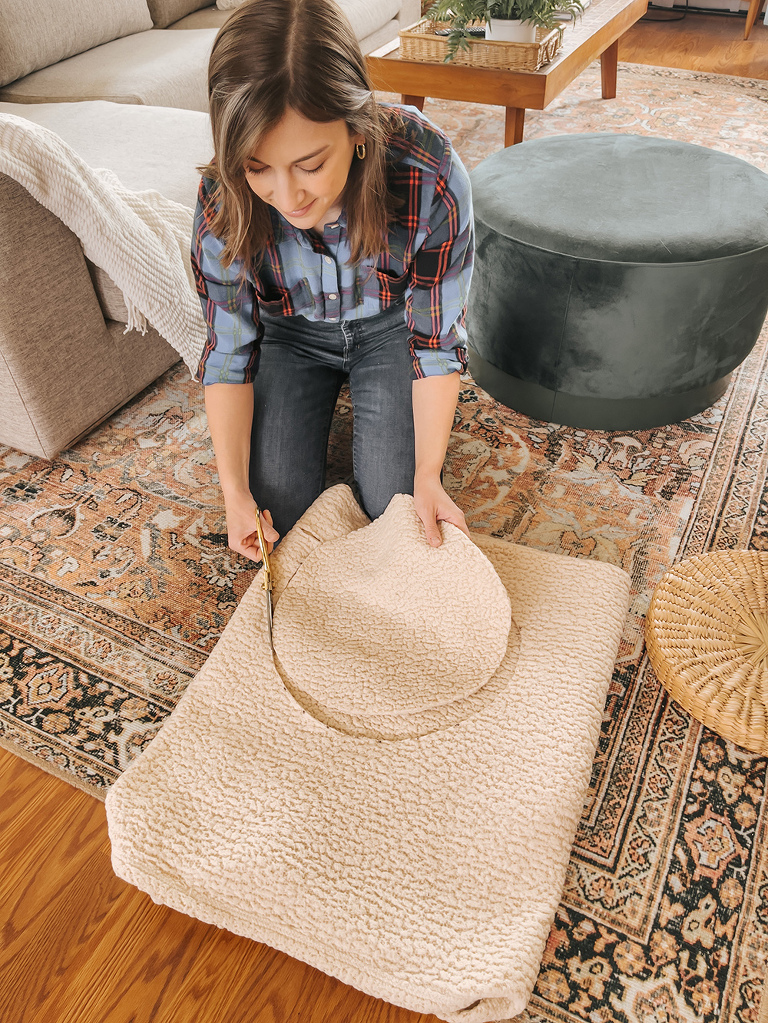 Step Two:
Cut out the circle shape you traced. Repeat this step for the accompanying half circles design by tracing and cutting out another circle, folding it in half, and cutting the circle down the folded middle to create two equal-size pieces.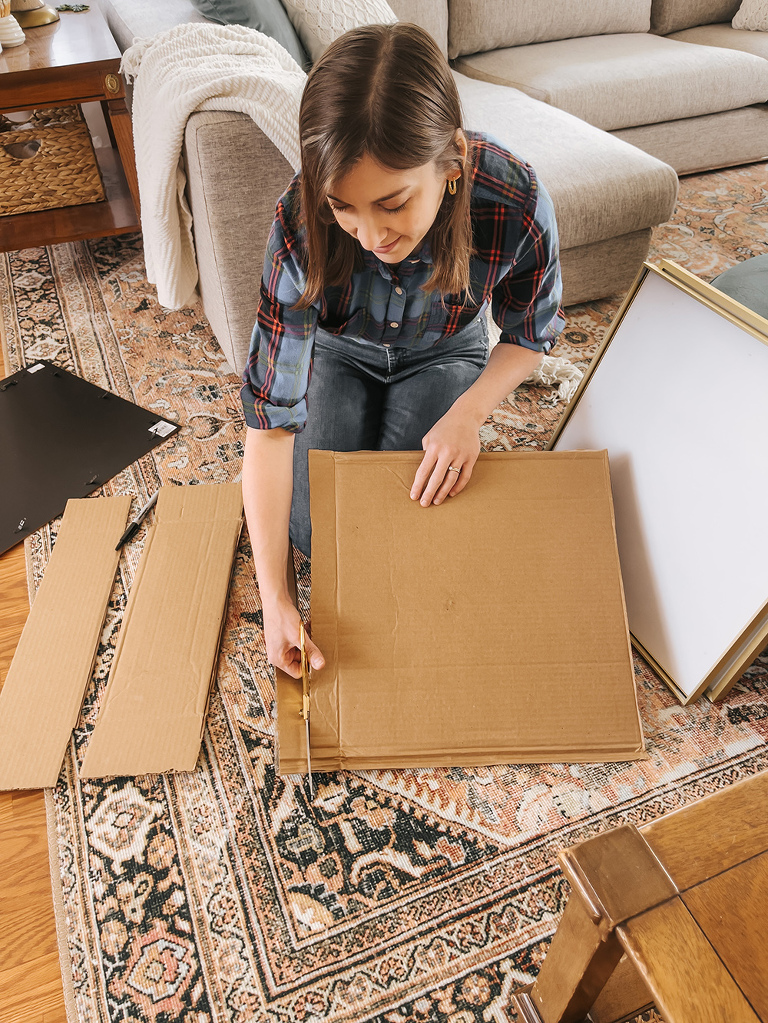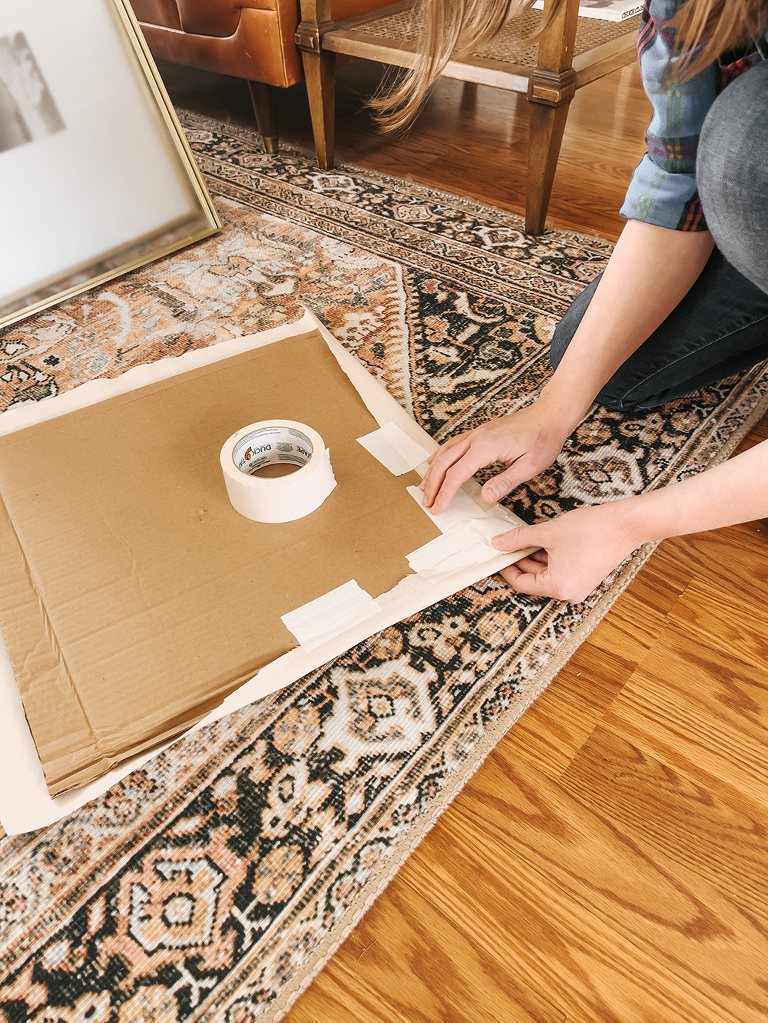 Step Three:
Cut scrap cardboard to fit inside your frame. Then, cut linen-type fabric down to roughly the same size as the cardboard, but make sure you add a couple of inches of overhang on all four sides. Lay the fabric face-down on your work surface, place the cut cardboard on top, wrap the excess fabric around to the back of the cardboard, and secure it in place with heavy-duty tape.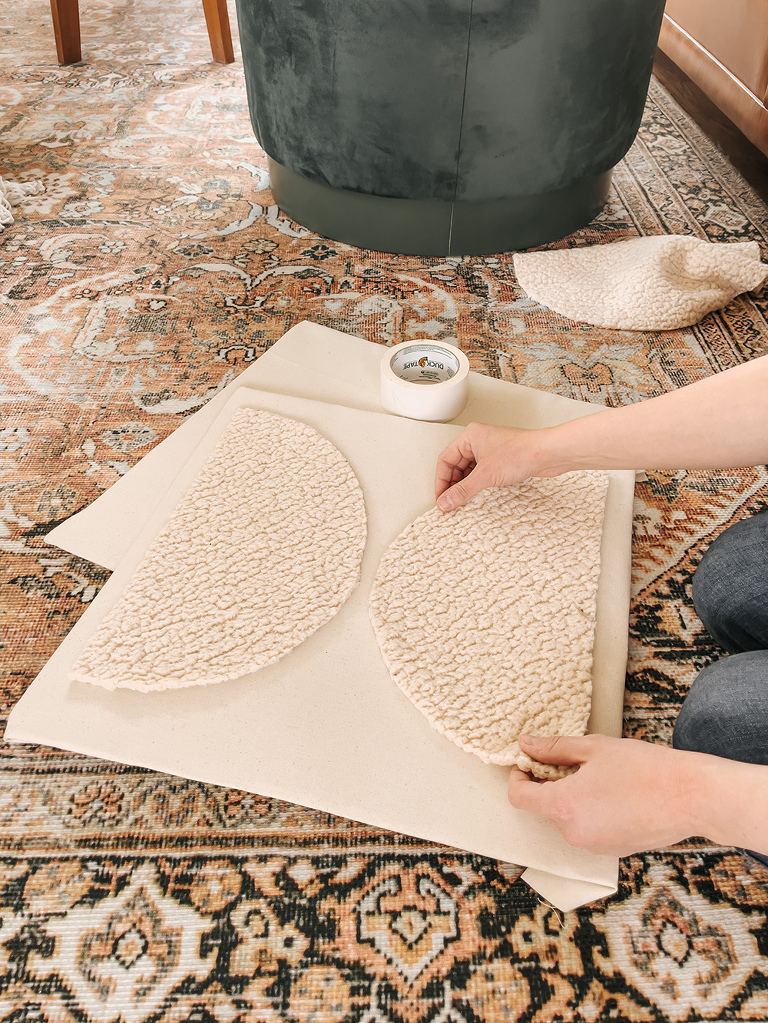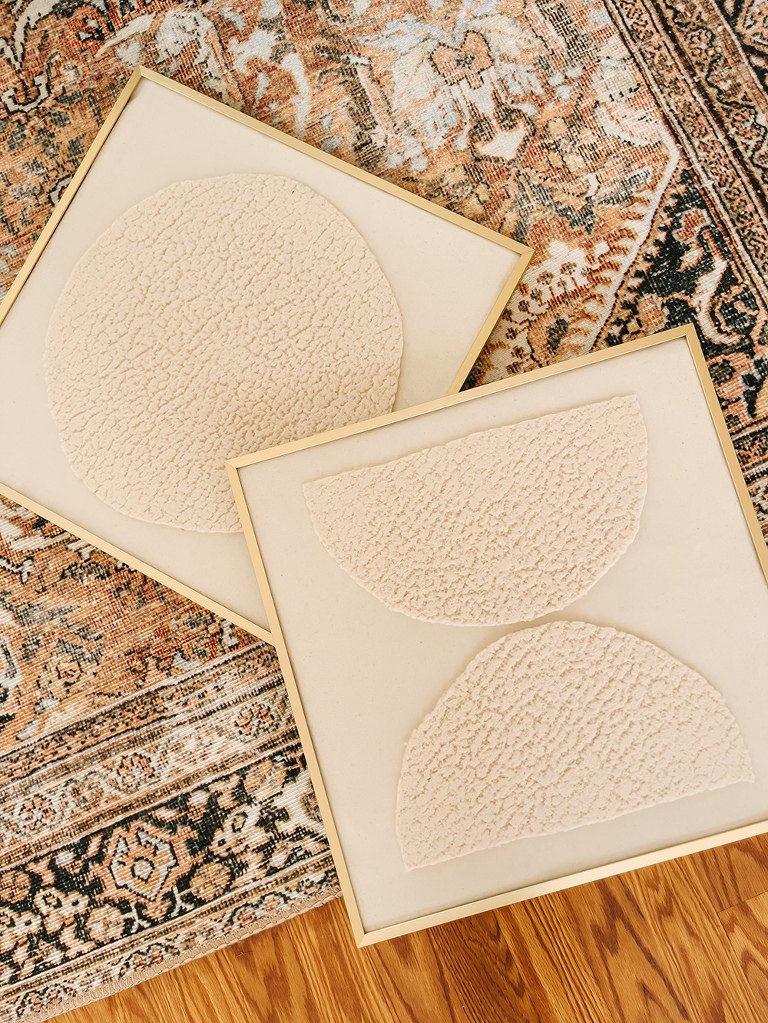 Step Four:
Use more heavy-duty tape to secure the cut blanket pieces to the front face of the linen-wrapped cardboard. Do this by wrapping the tape around itself sticky-side-out to create a loop, and stick multiple pieces behind the blanket shape to make it adhere to the linen. Pop the art into frames to finish!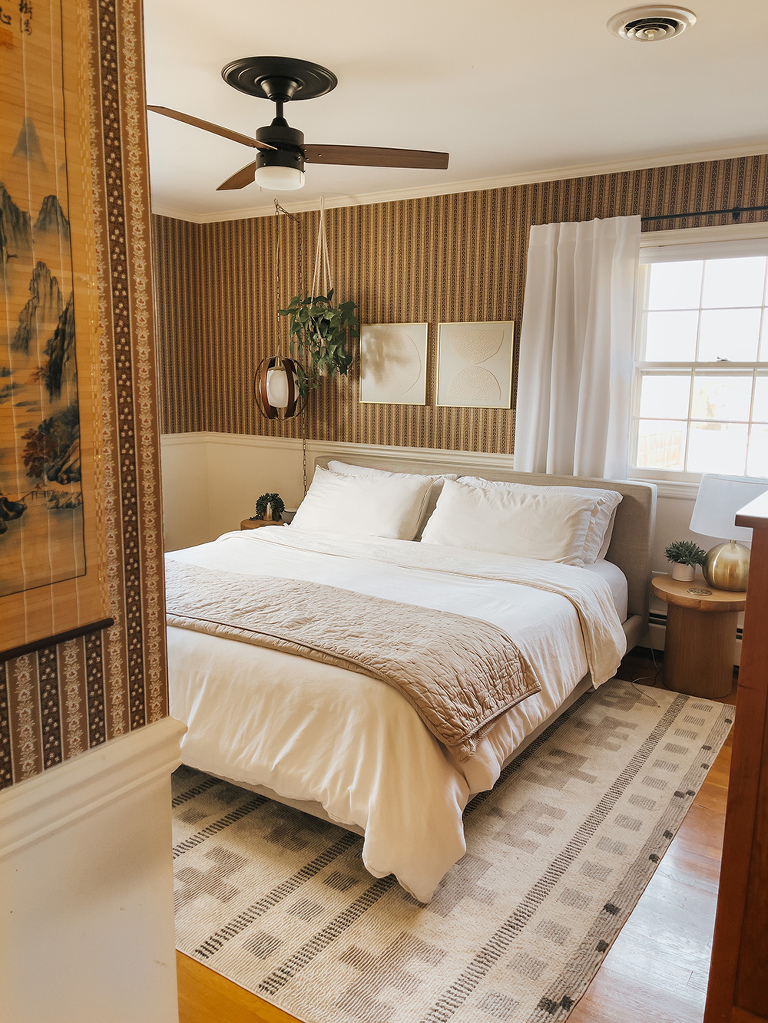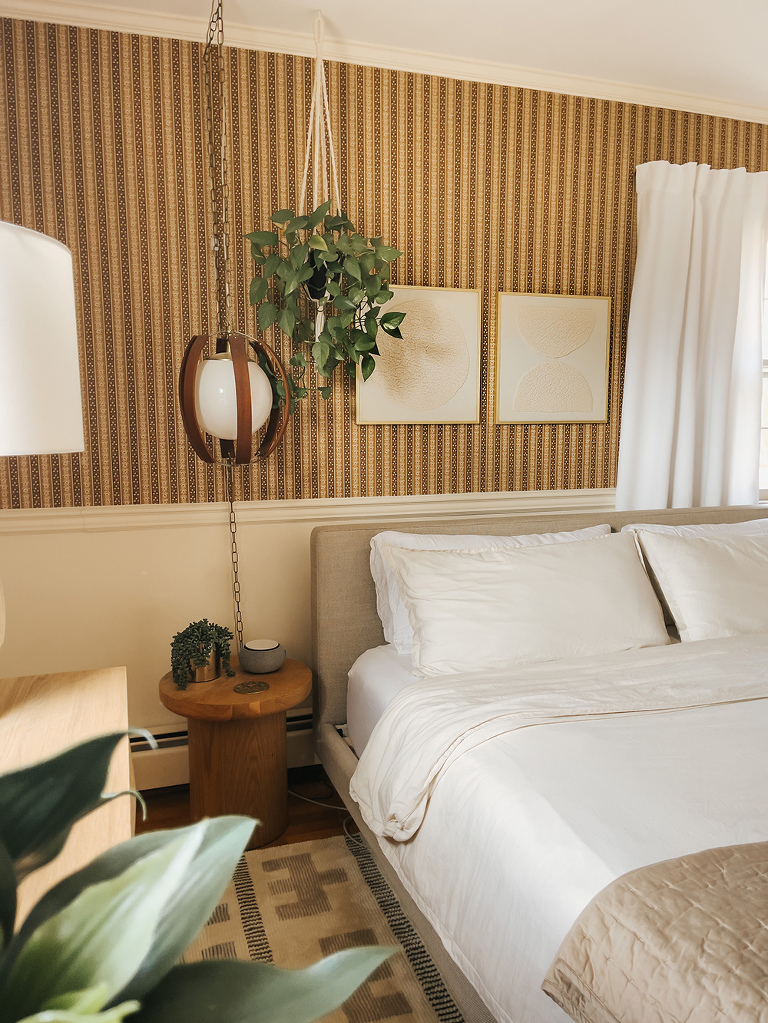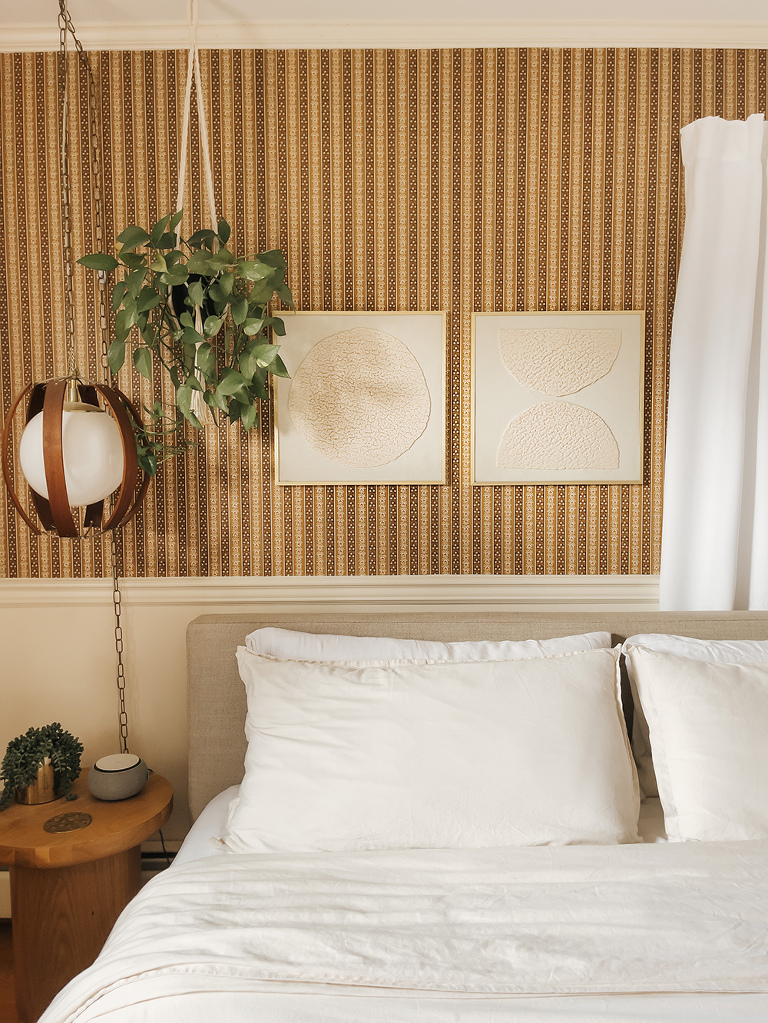 This project took thirty minutes to pull off and only cost me about $10. I had to buy some linen fabric for the background, but I had the rest of the supplies on hand. I know some of you might balk at the idea of cutting up a blanket, but I've already gotten two fun DIY projects out of this $35-dollar piece of "fabric" so it's well worth it to me.
I should also say that the blanket actually can still be used if you buy a big enough version of it. Just cut off an even rectangle from one side to use for craft projects, and then use the rest of the blanket to cuddle with. It doesn't really even need to be re-hemmed thanks to the rough texture of the fabric—that hides the cut side so it's nearly invisible.
So, tell me…Would you buy this art? Or would you use my tutorial above to DIY it? Let me know in the comments!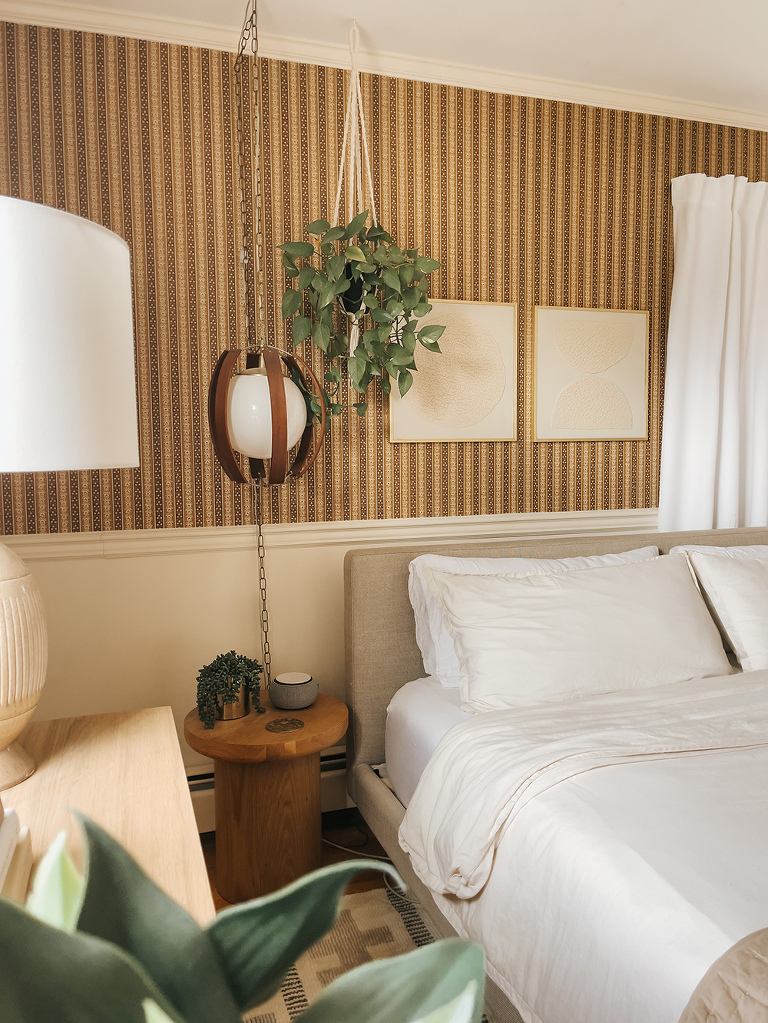 *I earn a small percentage from purchases made using the affiliate links above. Affiliate links are not sponsored. Rest assured that I never recommend products we wouldn't use or don't already love ourselves.