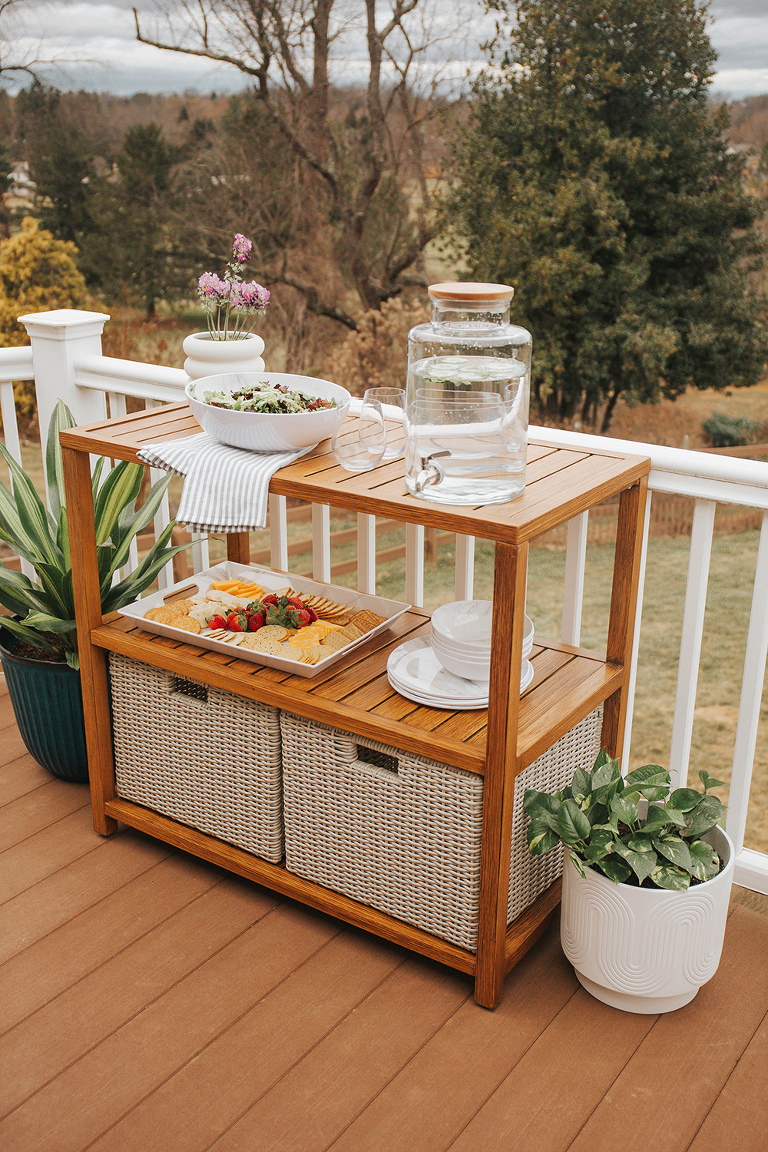 *This post was made possible by the generous support of Better Homes and Gardens, and features gifted product. All opinions are my own.
The weather has finally started to heat up semi-consistently here in Virginia, and we've been spending lots more time outside, specifically on my parents' back deck. Their house is built so nicely for outdoor lounging, and I recently helped them design an upgraded look for their back deck dining space. There's just something so inviting about plush pillows, a colorful outdoor rug, and pretty potted plants, am I right?! Keep scrolling for links to everything I picked from the Better Homes and Gardens collection at Walmart, and also for my top five tips for outdoor spring dining this season.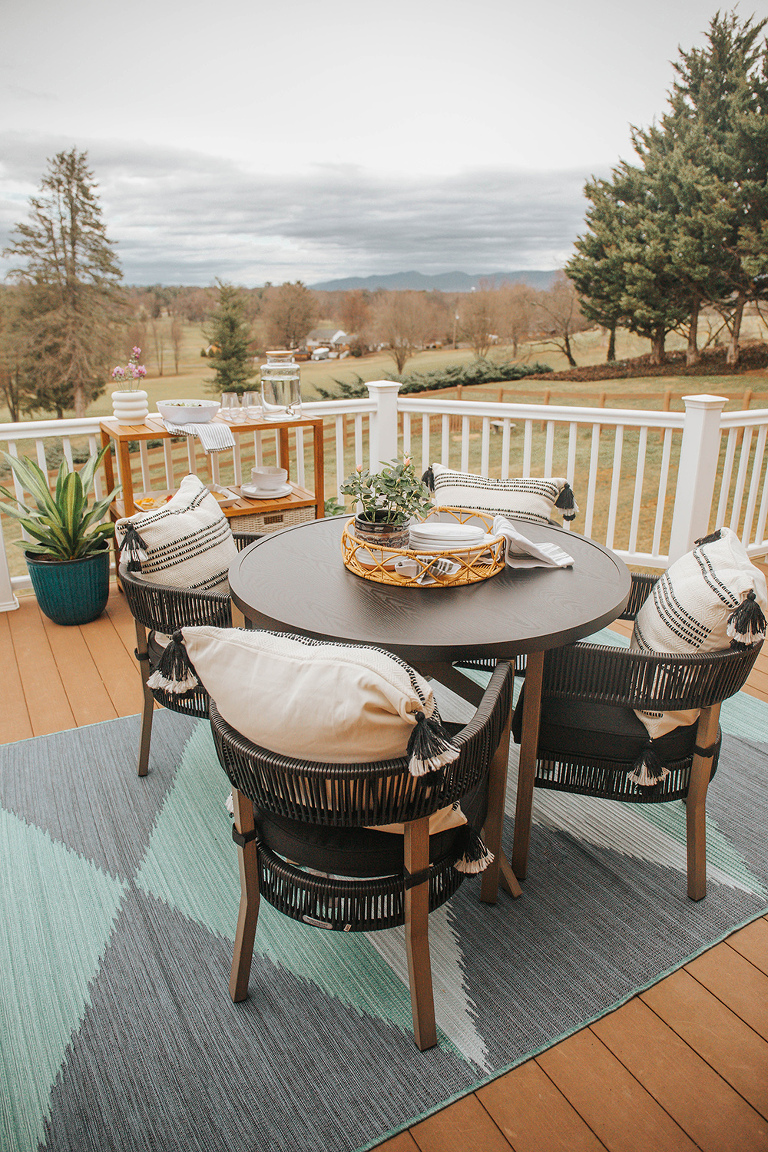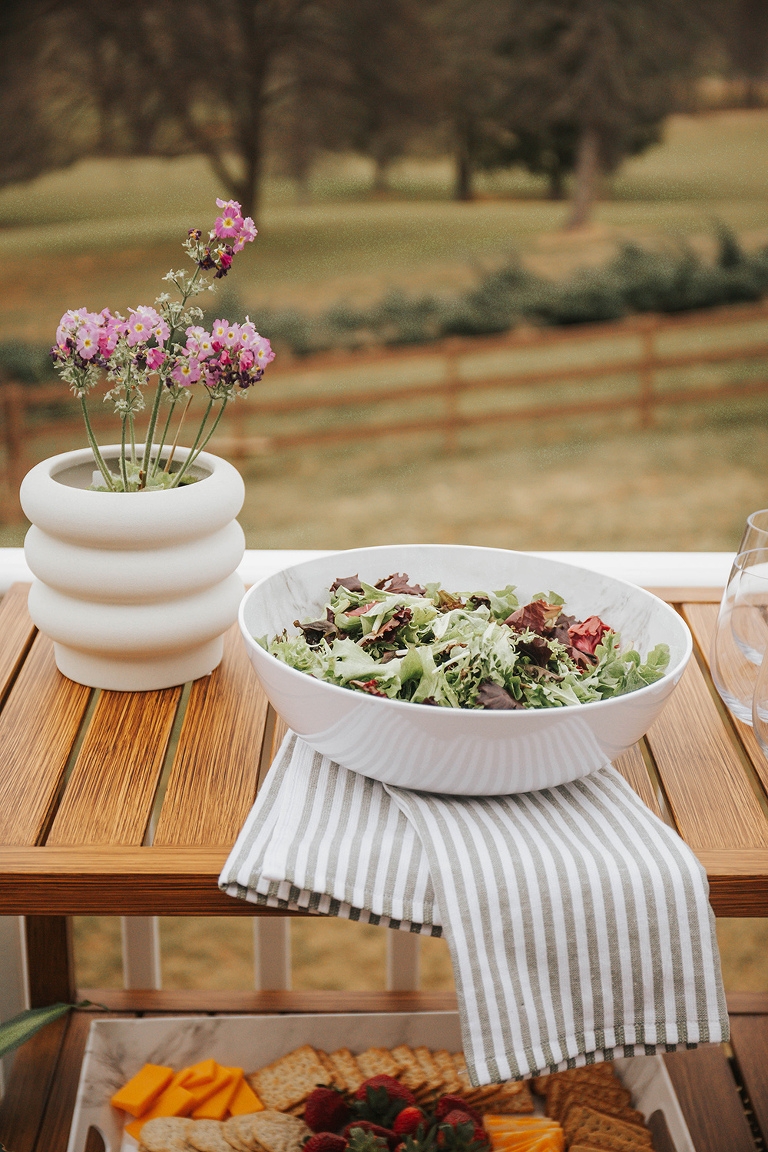 1. Buffet Style Food & Drink
Even if it's just my parents, my husband, and me eating out on the back deck, we generally have a lot of stuff! I think it's so helpful to have some sort of drop zone for buffet style dining. We added this metal console table to the outer part of the deck railing, and it has been so handy for corralling things like a wine bottle and chiller, shatterproof wine glasses, trays of food, and extra kitchen towels for quick clean-up.
We kept the dogs locked inside for these photos, but we're generally surrounded by pups while mingling outside. Having a console that sits a little higher than the average tabletop is important to keep inquisitive snouts away from the food. A bar height buffet is going to be ideal this season, like this one, and I really appreciate the all-weather basket storage below for stowing away grilling tools and outdoor serving pieces.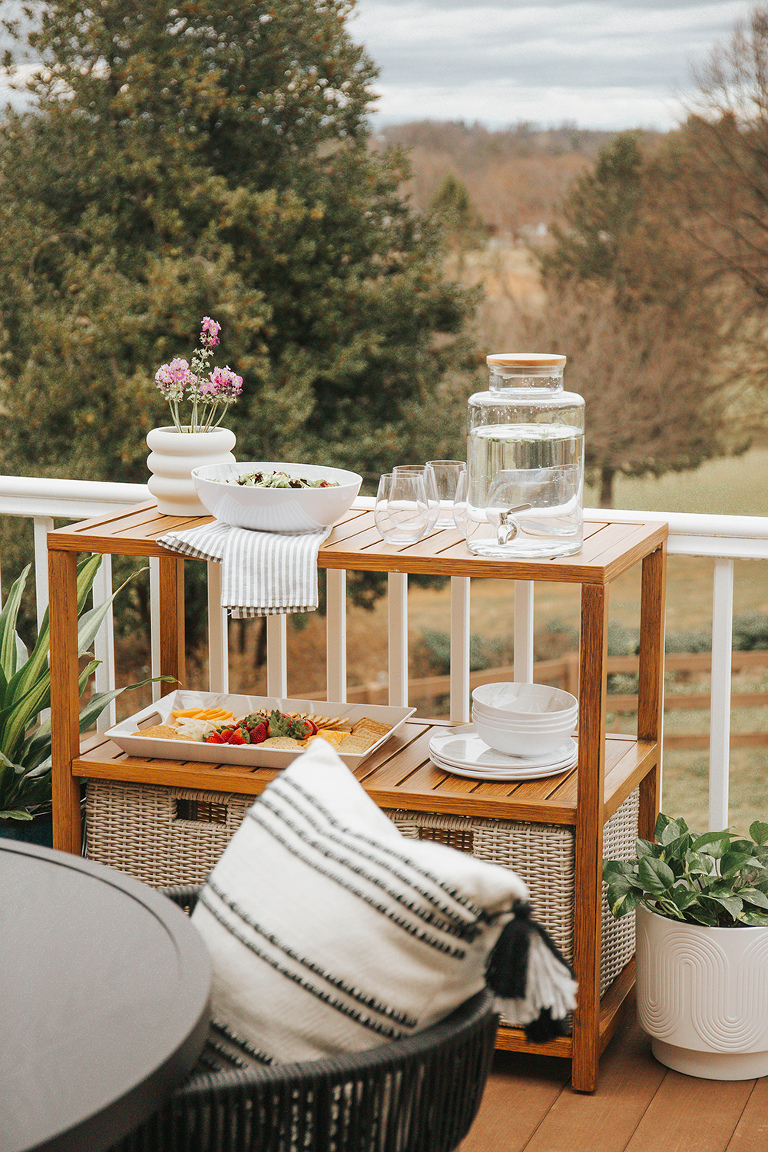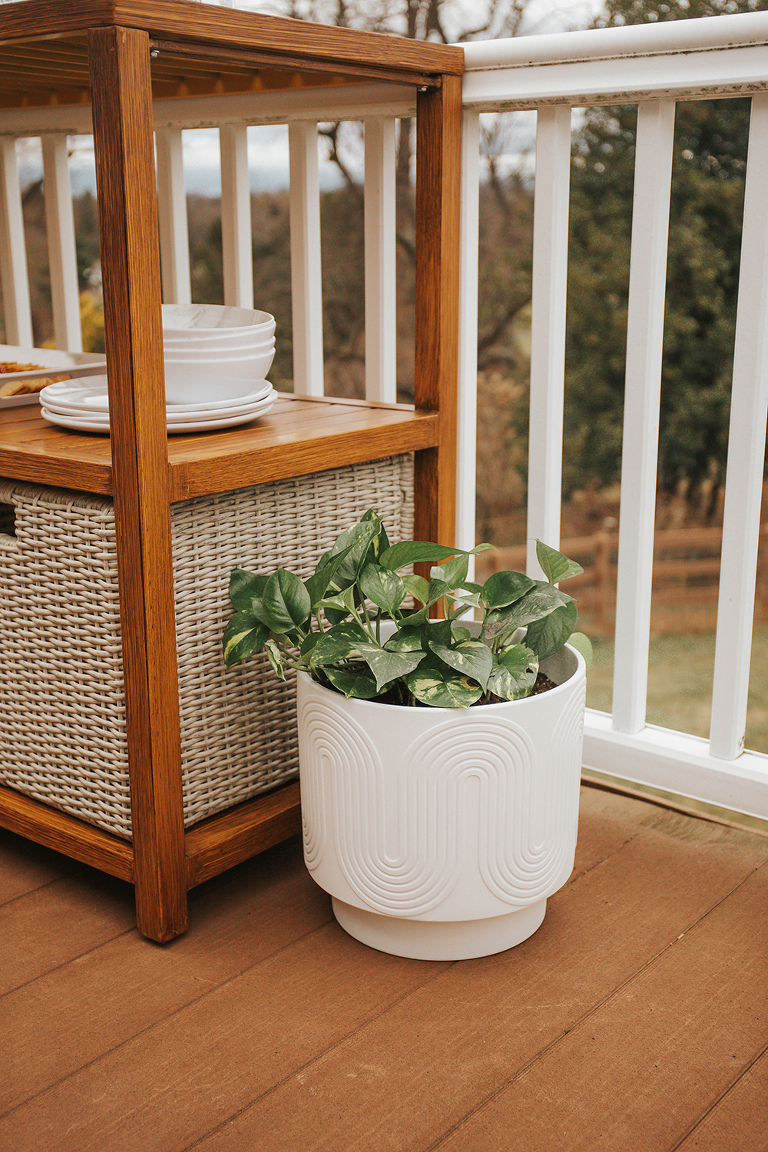 2. Potted Plant Décor
Fresh cut flowers are undeniably gorgeous and easy to get this time of year, but I personally love the look and functionality of potted plants and flowers. These can be left out all season long, and don't fade within just a few days like regular cut flower arrangements do. Sometimes, I think it's sad to see an outdoor dining room after all the food and drinks have been brought inside. It looks so bare, but if you have potted plants and flowers that can be left on the table and near the buffet all day every day, then your outdoor dining room looks more colorful and consistently ready for a gathering.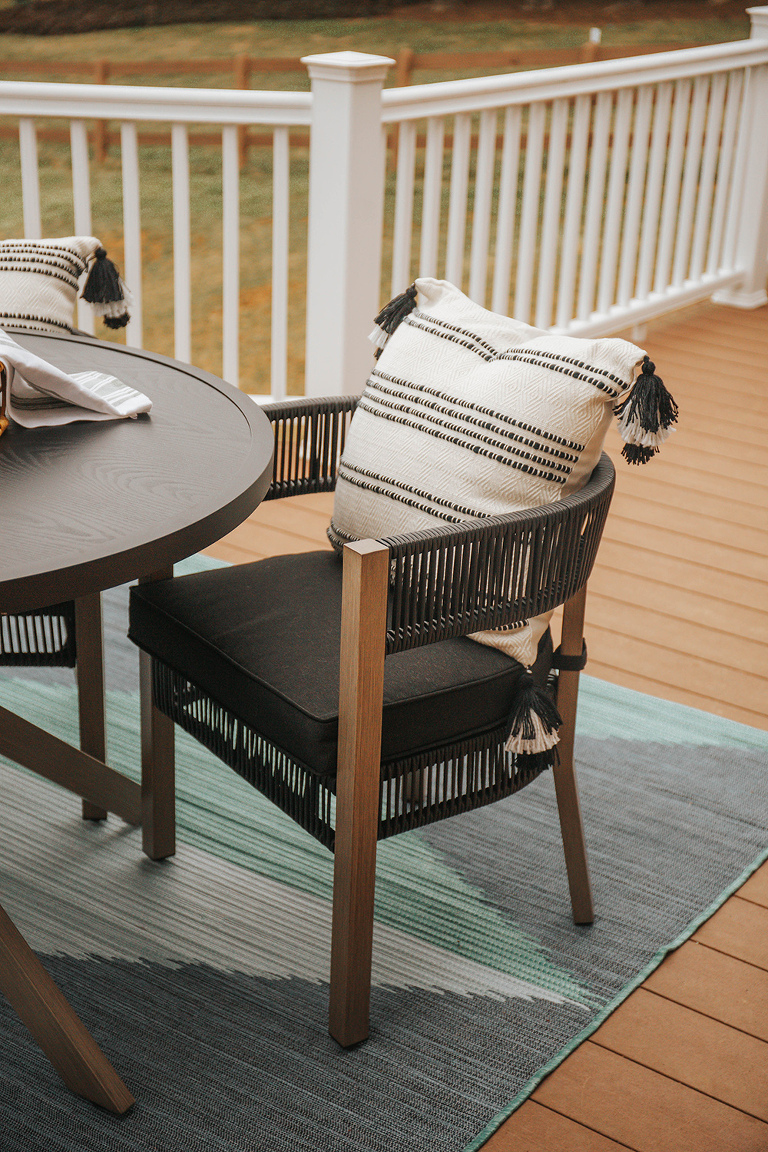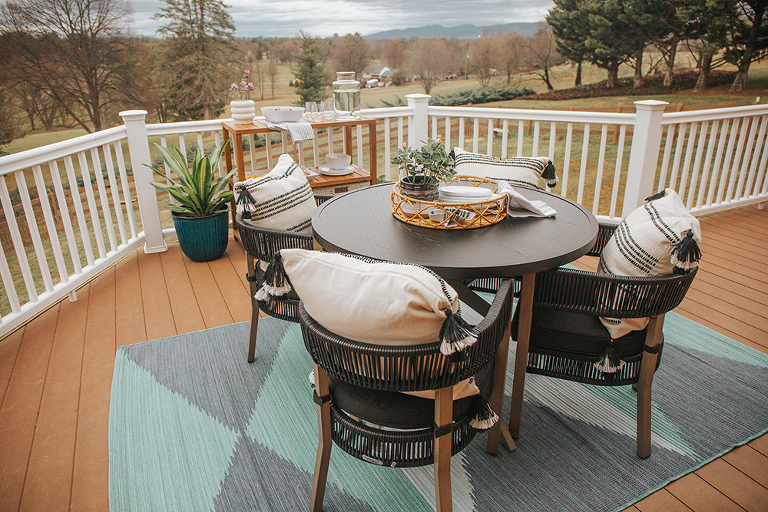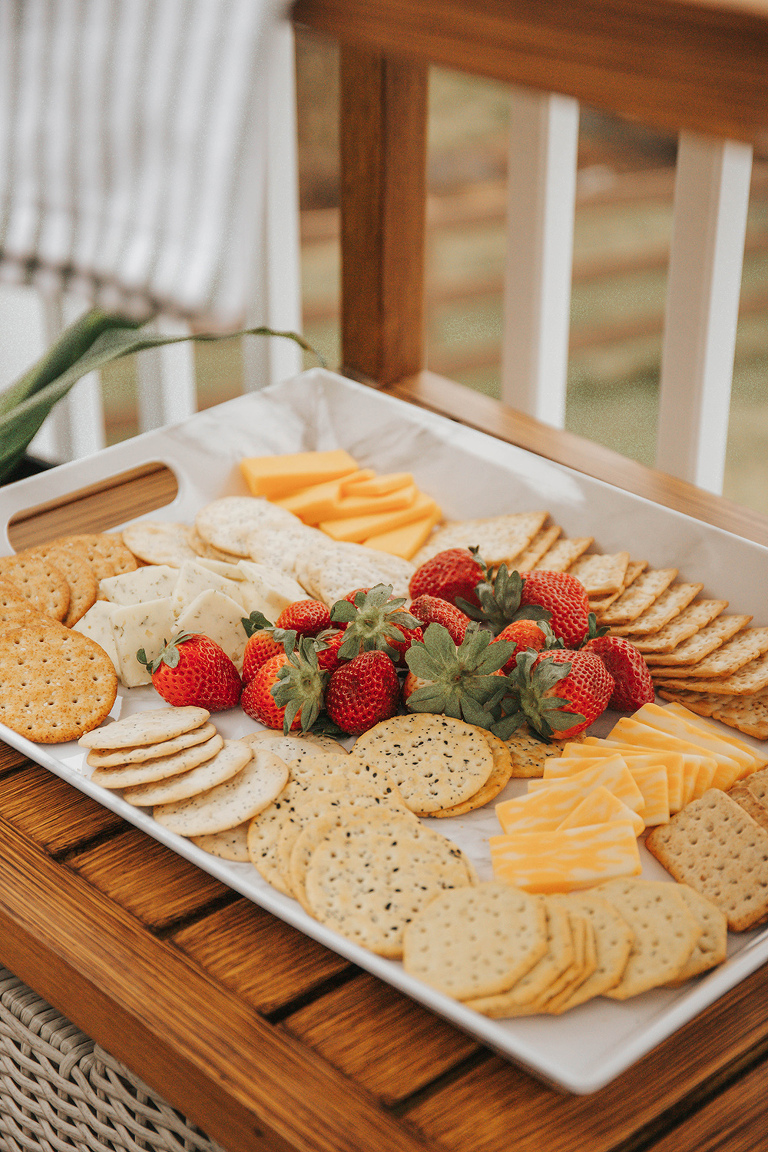 3. Prioritize Cozy Seating
I don't know about you, but when the weather is nice and I have time to be lazy, I really take advantage of it. I want to sit for hours and hours in the fresh air and sunshine, so comfortable seating is a non-negotiable. My parents used to have a metal dining set in this spot on their deck before they upgraded to this round table and four cushioned chairs, and there's really no comparison. The Velcro seat cushions are super plush, and the addition of an outdoor throw pillow along the back of each chair really makes this a spot we can lounge in pretty much all afternoon without getting achy.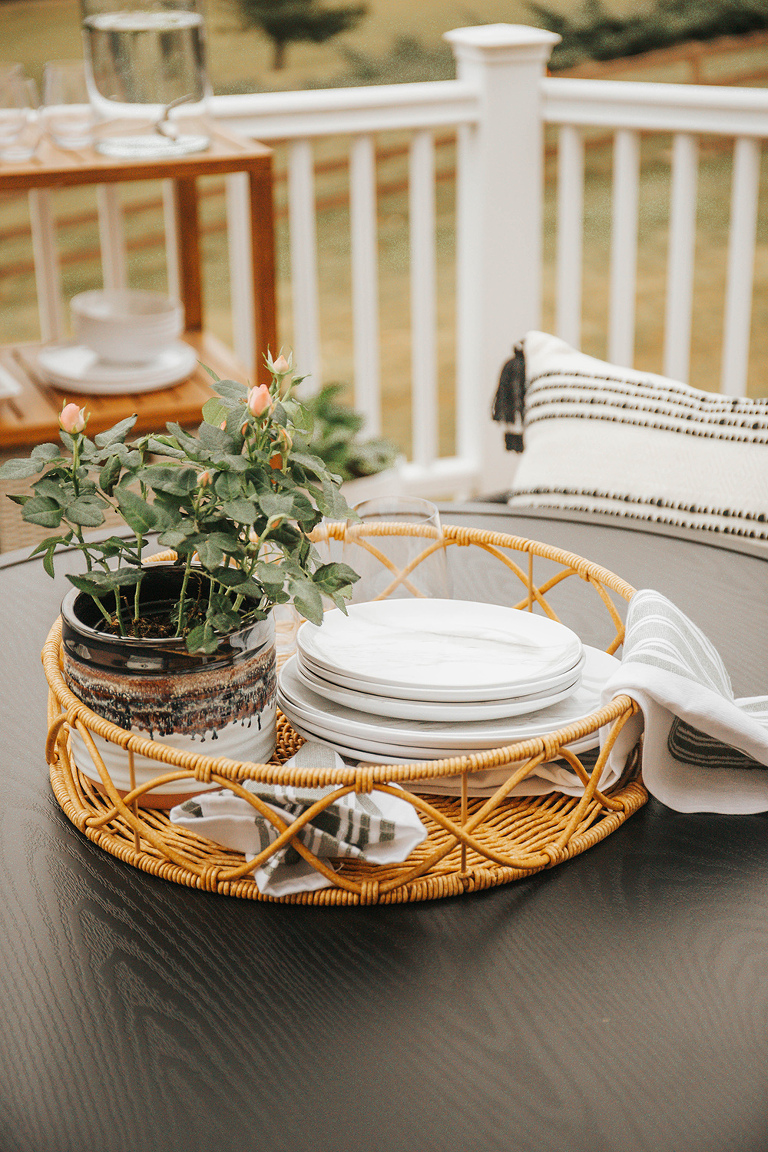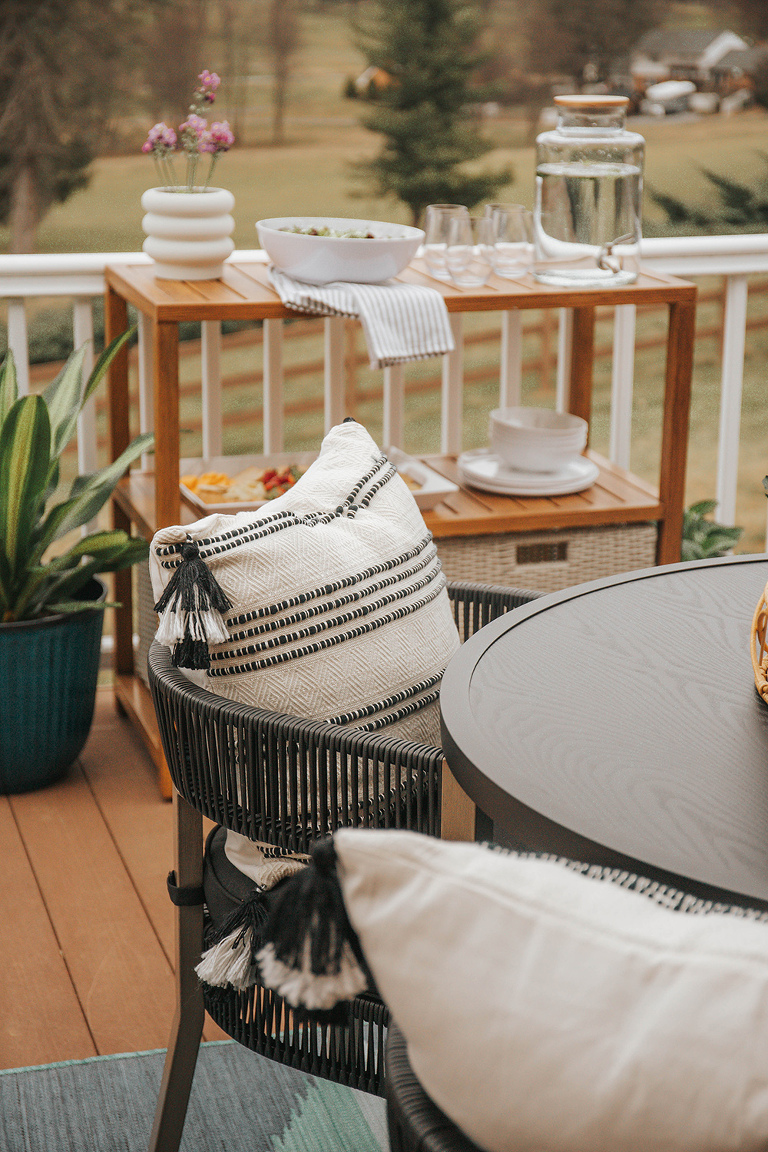 4. Create Eye- Catching Drop Zones
When I'm designing a room—especially a large one, like a whole-house-wide deck—I like to create definitive zones. You can do this in a big way by laying down a bold outdoor rug to sort of delineate where dining furniture should go, or in a small way, like putting a pretty outdoor tray in the center of your table to hold extra cutlery, outdoor dinnerware, a potted plant, and cups. Creating these visual zones helps the space feel more intimate and less lost in the expanse of an oversized back deck or hardscape.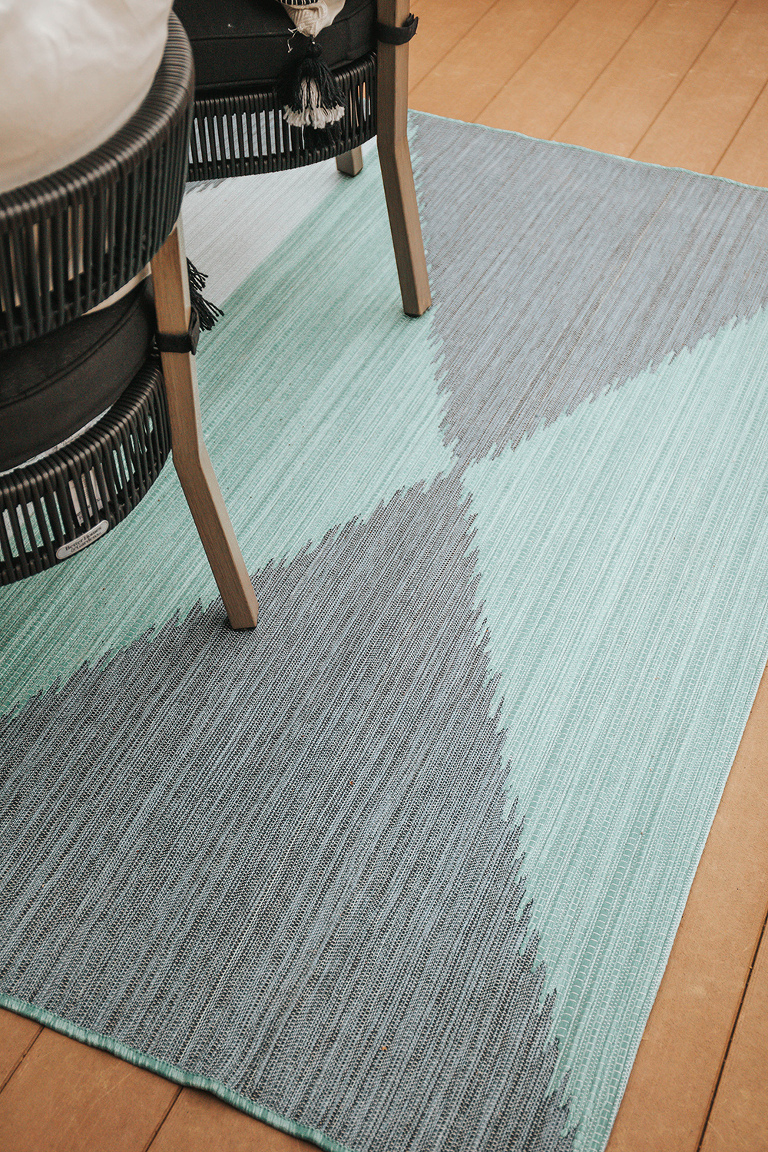 5. Prep Most Things Ahead
If you're going a step beyond just hanging out with your family—like, say, you're hosting a more formal gathering of friends for a spring luncheon—then you'll need to plan things out a little more strategically. These photos were snapped with the intent of demonstrating what the setup could look like for that type of springtime get-together, complete with a drinks station, cut fruit, cheese slices, and a large bowl full of farmers market greens. None of these things are particularly hard to put together (it took my mom and I maybe 30 minutes to create the entire spread for photos and this video), but a little pre-planning goes a long way in making your outdoor dining room look more festive and "party appropriate."
Our best advice is to do all of your slicing and cutting ahead of time and store everything away in the fridge until your guests arrive. We created a mint- and cucumber-infused water station by slicing the veggies and tearing the herbs ahead of time and stowing them away in a refrigerated container. About an hour before guests arrive, just fill your drink dispenser with filtered water, ice, and the cut produce, then the water should be perfectly infused come party time. The cheese and fruit were also cut ahead of time and put in the fridge, alongside the salad, which we prepped well in advance. I hate rushing around in a panic before guests arrive for a gathering, so I always opt for these types of make-ahead food and drink options. The menu I've described is full of classic crowd-pleasers that hit the mark every single time.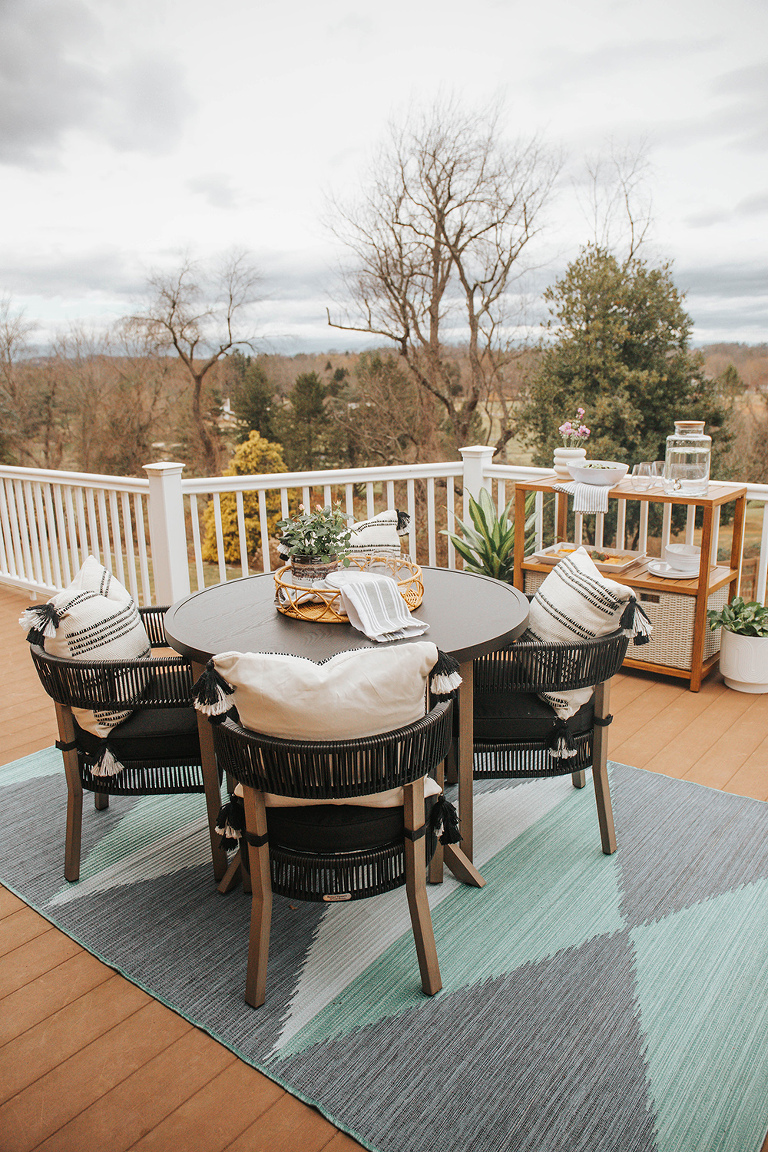 I hope these tips and photos help inspire you to make some modern upgrades to your own outdoor dining room this year. John and I have plans to eventually expand the outdoor living options at our new house, so I'll be sure to show how I translate these ideas to our own home when the time comes. As always, let me know your outdoor lounging traditions in the comments so we can be inspired by you!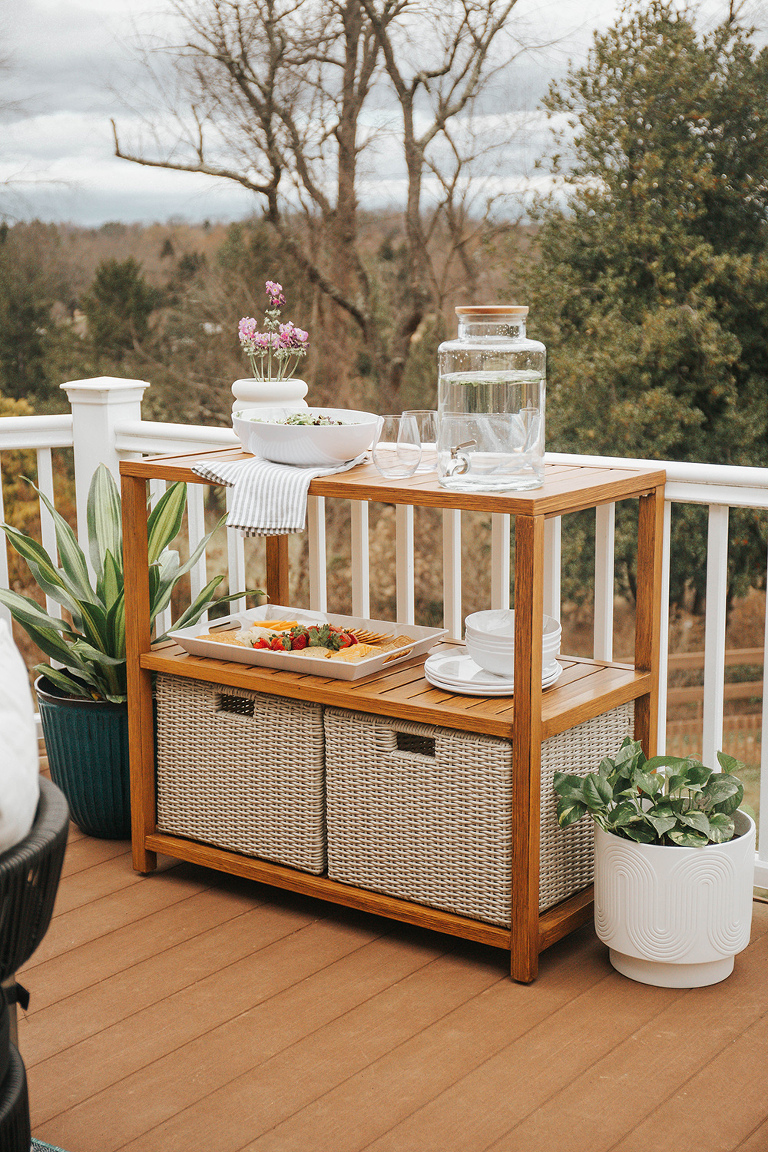 *I earn a small percentage from purchases made using the affiliate links above. Affiliate links are not sponsored. Rest assured that I never recommend products we wouldn't use or don't already love ourselves.