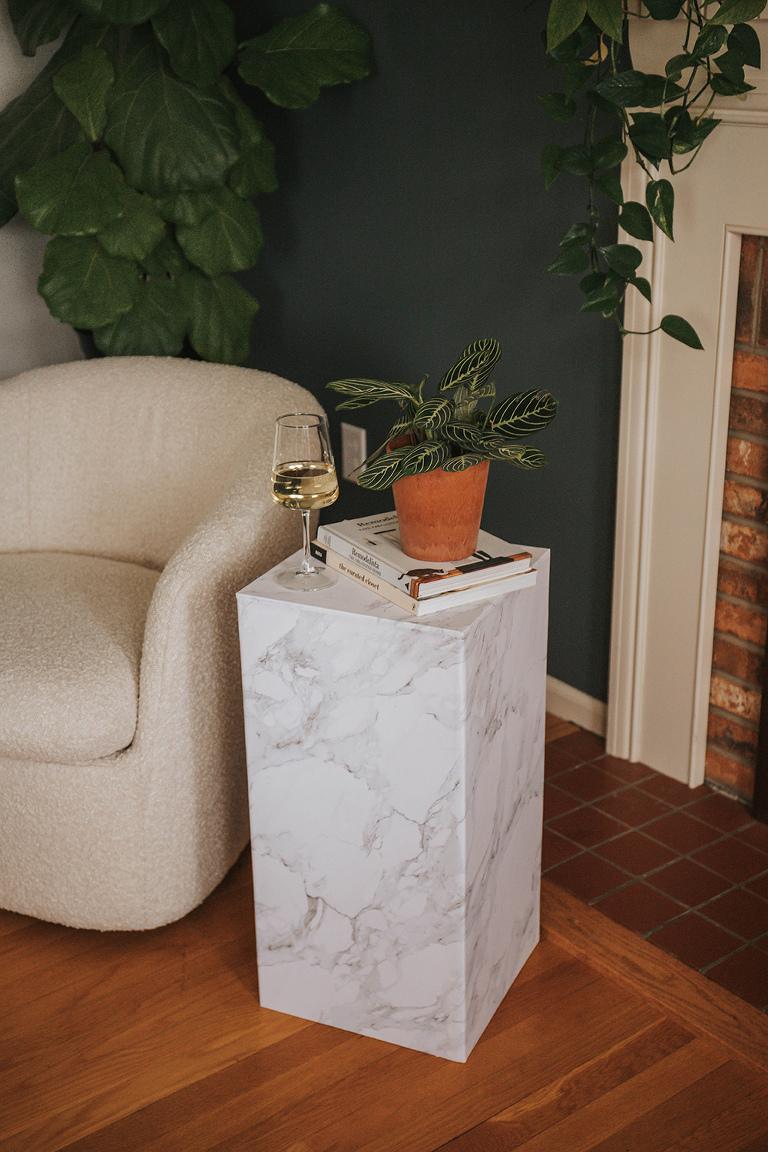 Ultra modern contemporary design has never really been my favorite when it comes to decorating a home. I like a more maximal style of décor, and could never see myself using a strict black, white, and gray color palette, or incorporating sculptural glass throughout our space. That said, there are definitely parts of contemporary design that I find interesting. Case in point, the plinth style pedestal table!
I think it's fairly common to see these types of stark rectangular furniture display items in really modern, minimalist spaces. They're usually made of marble and are used to show off a prized sculpture or maybe a cool plant or floral arrangement. As a former studio art and art history major who has an interest in gallery design, this really appeals to me, and I've always wondered if there was some way I could incorporate the look into our more eclectic mid-century home.
I've been keeping a casual eye out for one of these marble plinth pedestals for years now, but have never seen anything like it at our local antique or thrift stores. If I did, I'm pretty sure the piece would be out of my budget anyway, so eventually I started thinking about how I could create one without having to spend hundreds of dollars (or years of my life in a fruitless search for something secondhand). It wasn't an easy project to plan, but I finally pulled it off, and today I'm sharing how you can get the look if this unique type of contemporary table has been on your "want" list for years, too.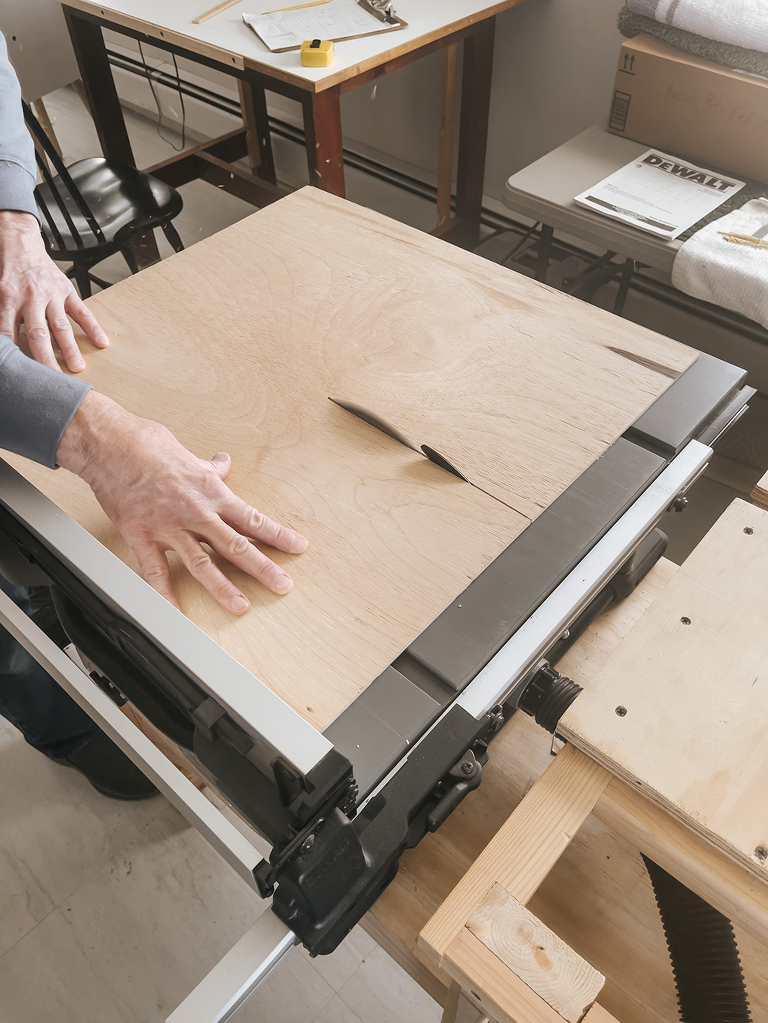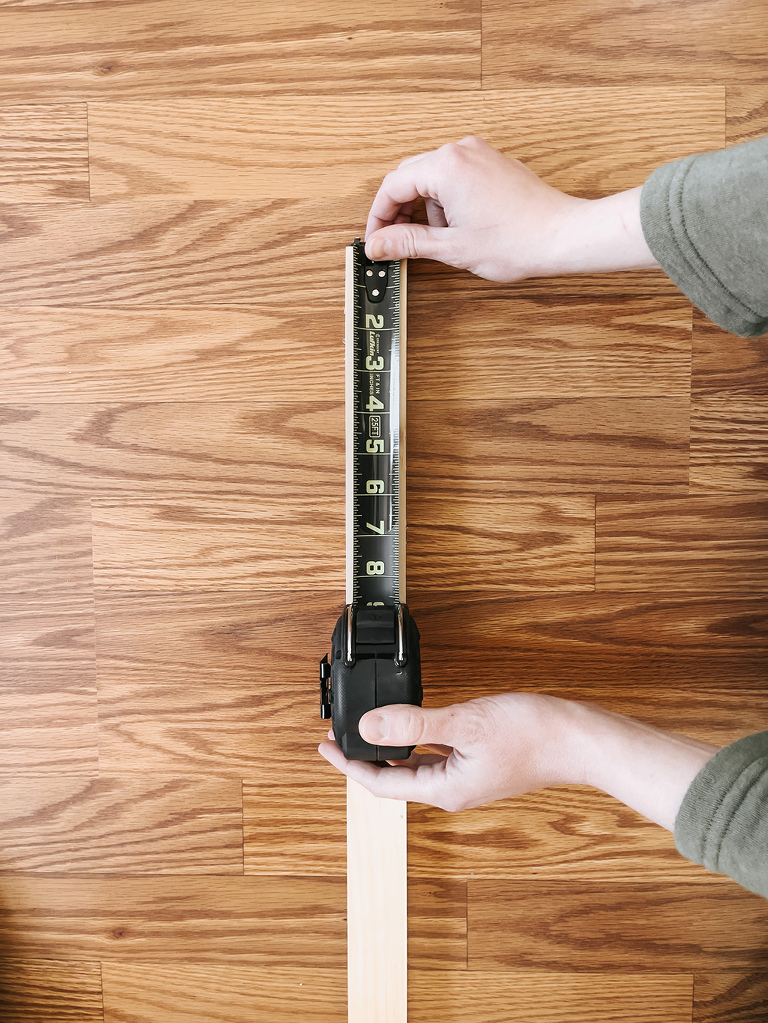 For this project, you'll need some thin paint-grade plywood, and a few long lengths of 1″-by-2″ pieces of wood. I don't have exact measurements for you since everyone's table will probably be a little different in terms of height and overall shape. Just buy more than you think you'll need since you can always return the leftovers once the project is finished. I had my dad help me cut the plywood to size, but you can always ask your hardware store to cut the wood down for you if you don't have access to a table saw. For reference in case you like the scale of my table, it measures 1′ square at the top, and 24″ high.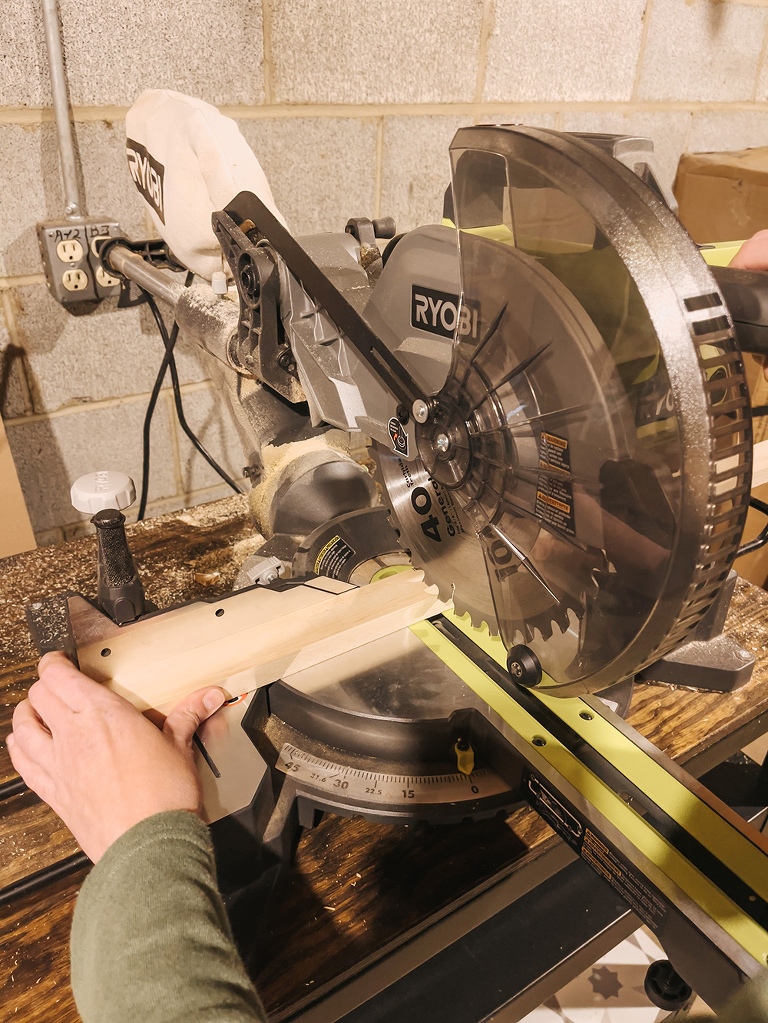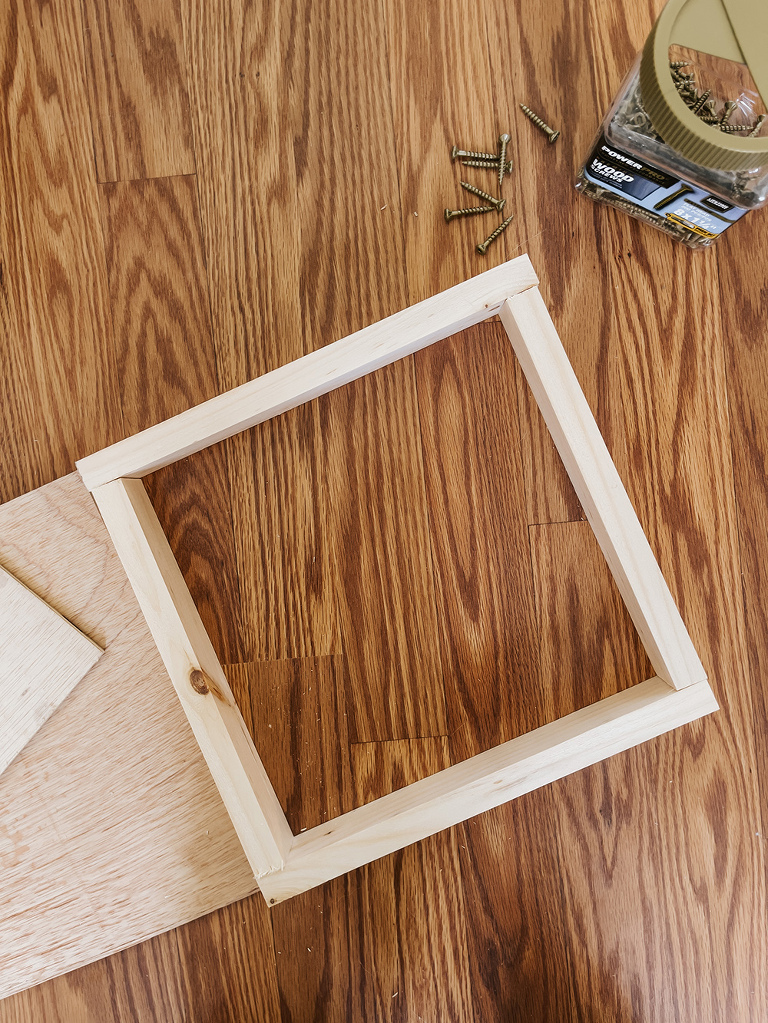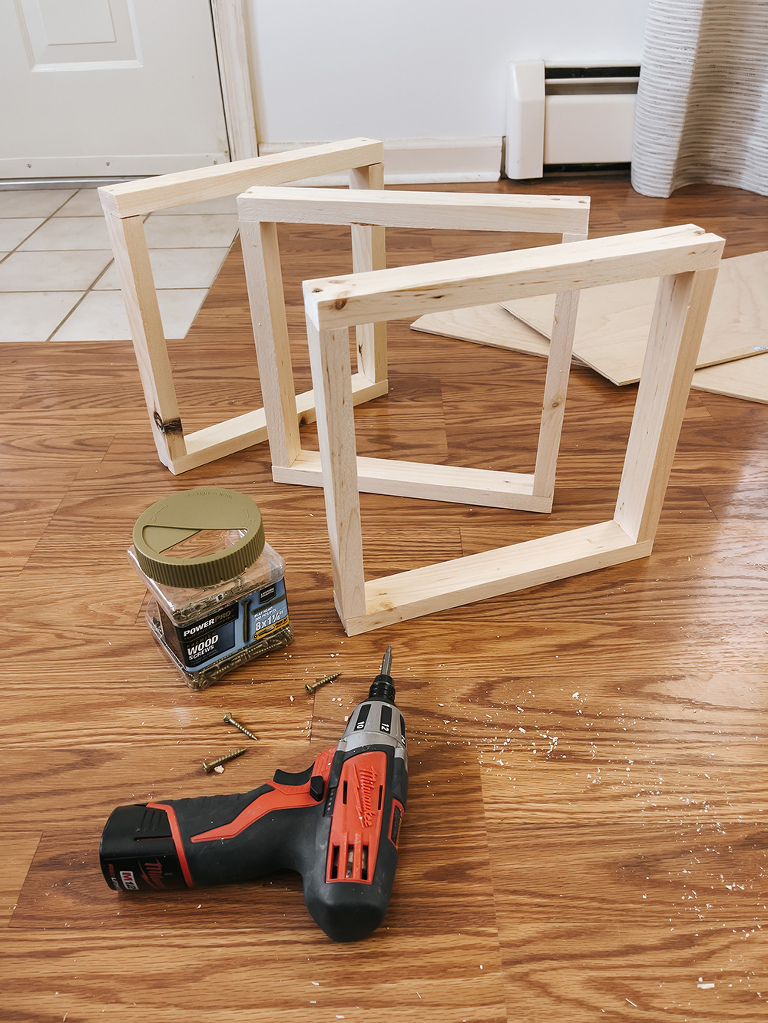 So, to build the "skeleton" of your plinth table, you'll first need to cut the 1″-by-2″s down to create three equal-sized squares. Note that two of the four pieces of wood used to create your squares will be longer than the other two if you assemble your squares with butt joints, like I did. Screw the squares together using wood screws, and be sure to add a dollop of wood glue between the pieces of wood for a sturdier fit.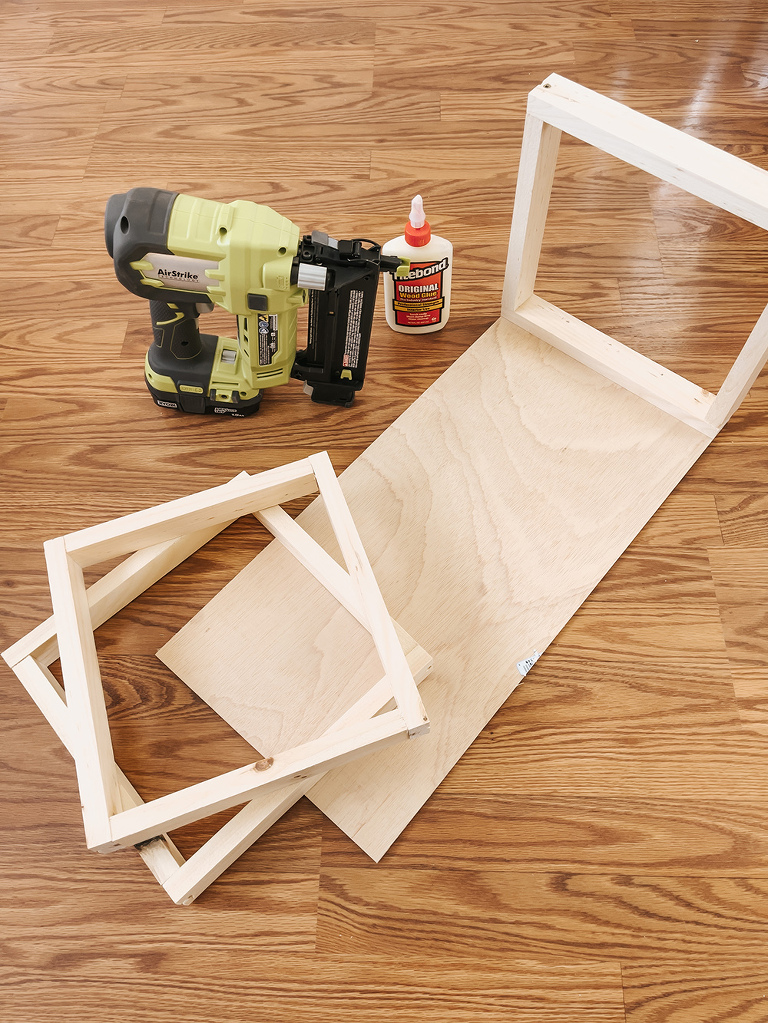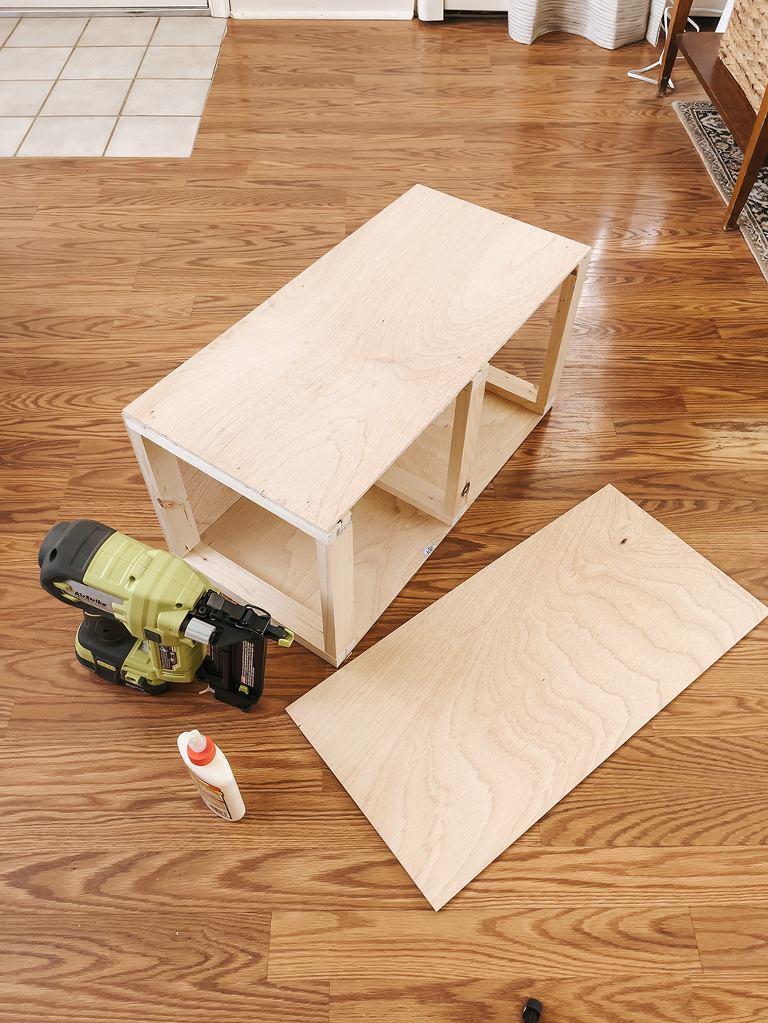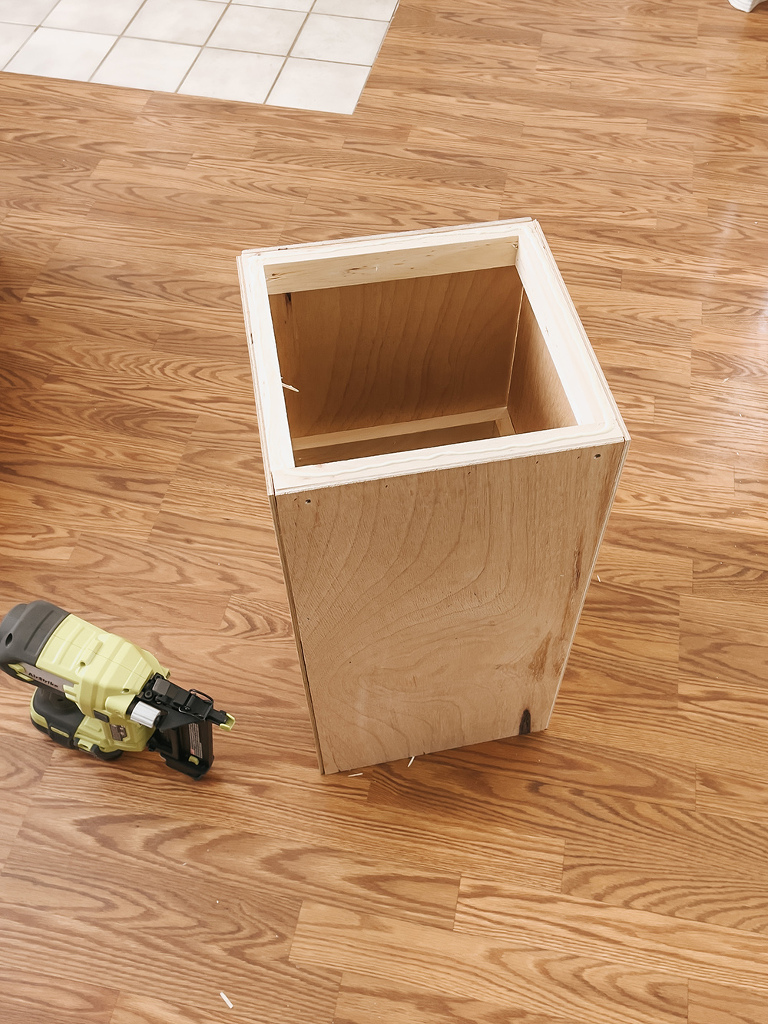 Next, add a little more wood glue to one outer-facing side of each square, and use a nail gun to attach your first piece of cut plywood to the squares at equal distances apart. Then, nail your other pieces of plywood to the squares to create a rectangle. This isn't the easiest thing to explain, but I think the photos above demonstrate exactly what I'm describing. After you have all four sides of the table nailed to the three squares, you should have a very sturdy form. Nail on the top to finish. Note that there's no need to put a bottom on the table since that will be hidden from view, and would ultimately add unnecessary weight to the form.
From here, it's really important to spend time getting your table form as square as possible on all sides. If the top overhangs beyond the sides of the table, for example, use a trimming plane to shear off the wood until it's flush. You can do this with the side panel corners, too, if needed. You may also need to use wood filler and caulk to create a smoother squared-off transition on those vertical corners of your table. The reason you need to make sure you don't skip this step is because it will make the finished table look cleaner and more realistically marble.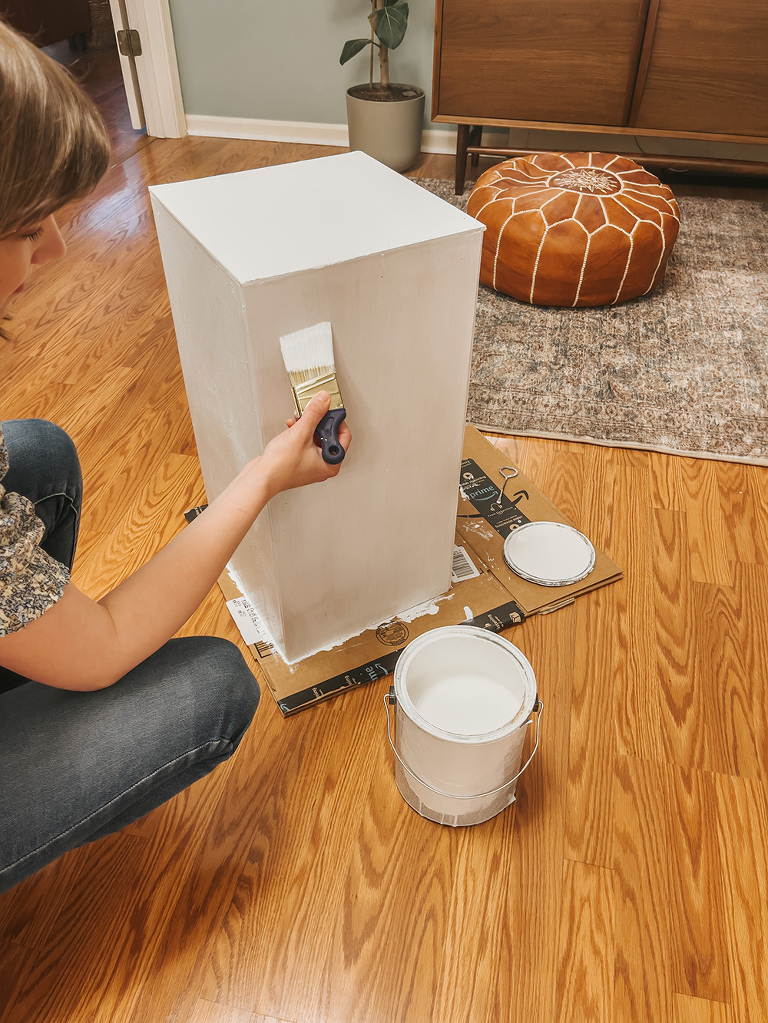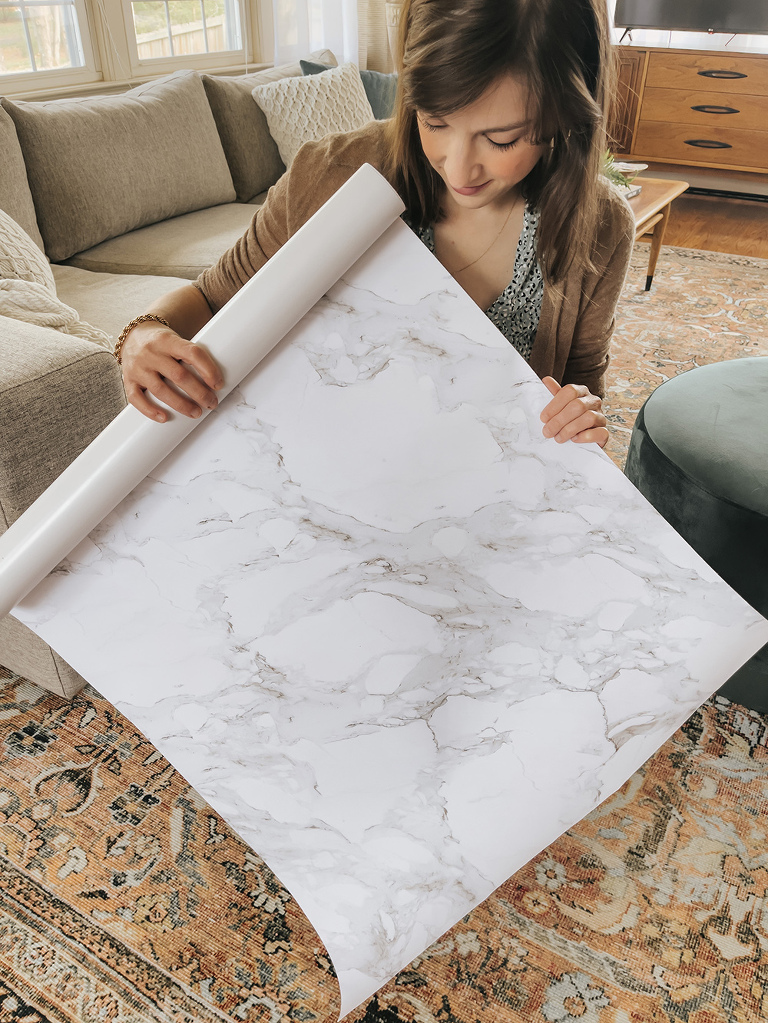 Speaking of the marble, I used a custom peel-and-stick wallpaper ordered from Fancy Walls. Their wallpaper is a really sturdy 100% polyester, woven fabric construction, which is perfect for this project. You need something that's pretty heavy duty—not just any type of thin plastic or vinyl wallpaper. The believability of your faux marble plinth table rests almost entirely on the quality of your wallpaper, so don't scrimp here! By the way, the brand has since added the design I had custom made to their website, and you can order it here.
For this phase of the project, I sanded all of my table edges smooth one last time to ensure everything was nice and square, and then I painted the table using a satin finish white paint. This step is important because peel-and-stick wallpaper will adhere best to a smooth, semi-glossy surface. I used white paint since that matched the white background of my wallpaper and wouldn't show through.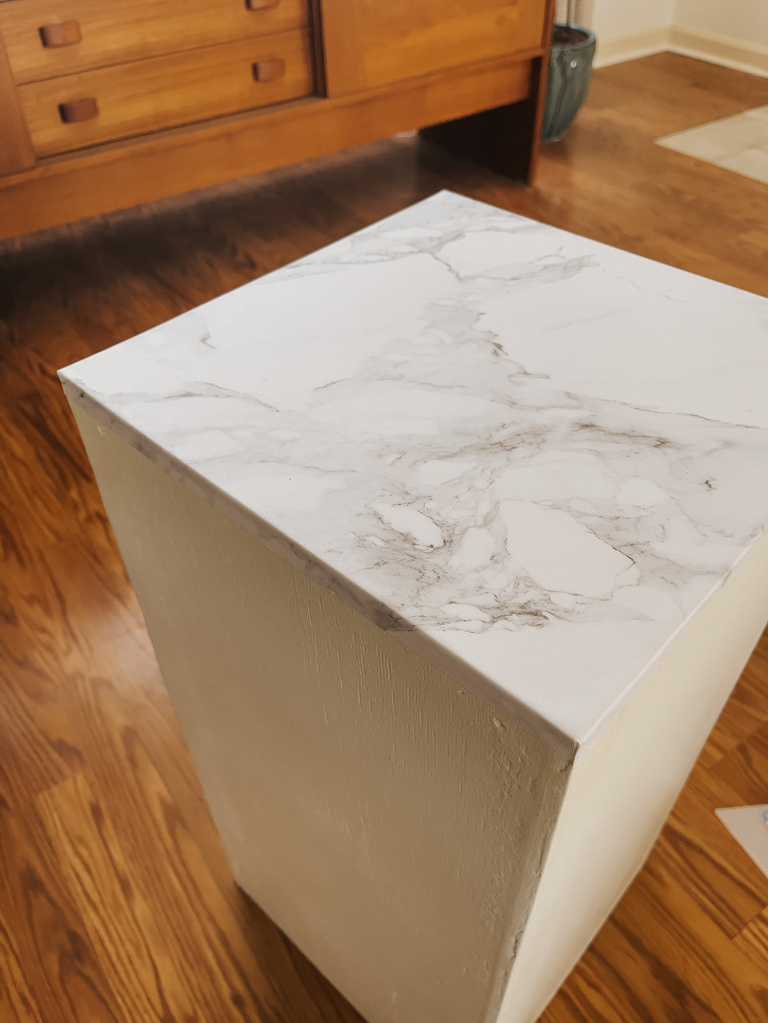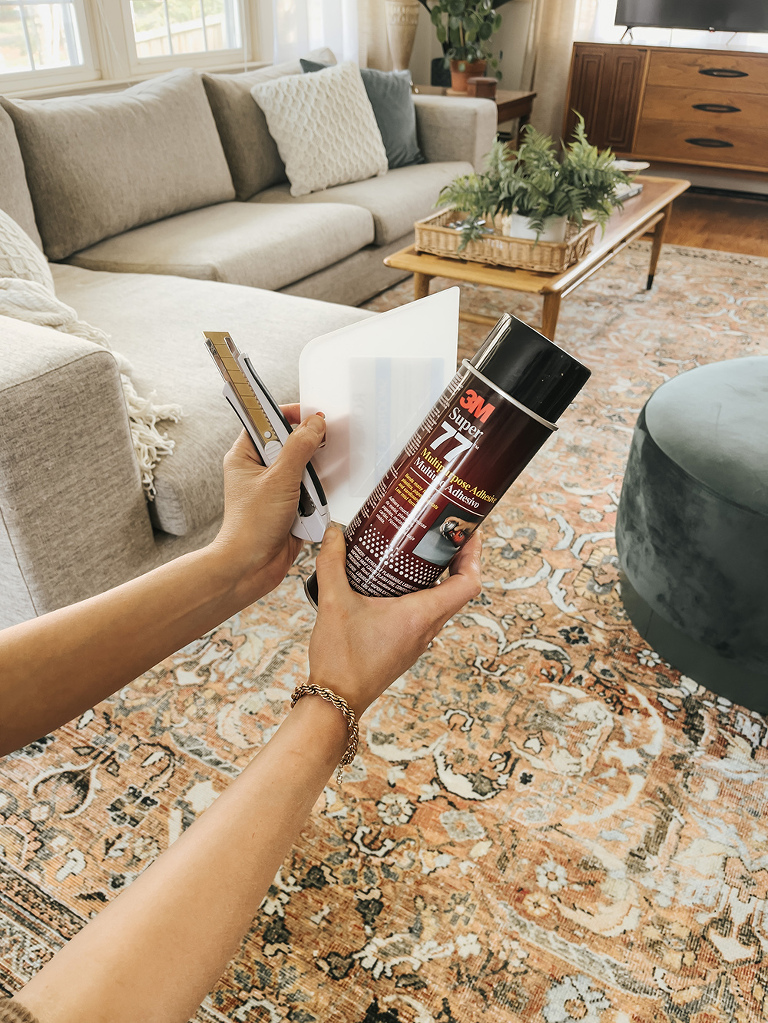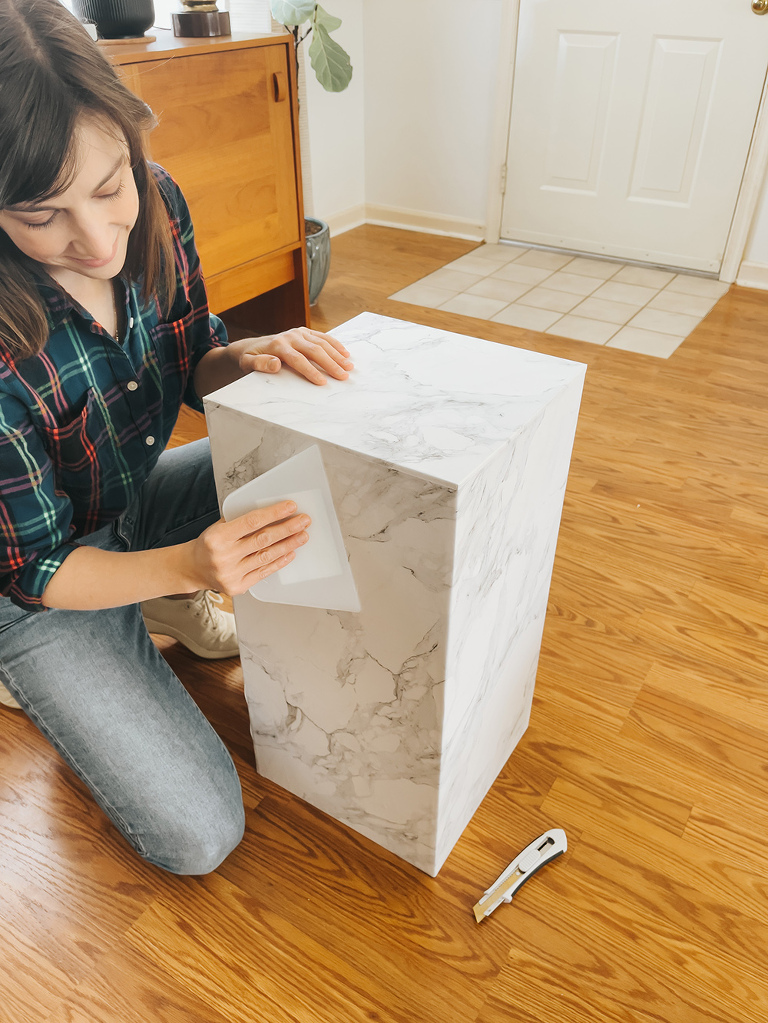 First, I added a piece of wallpaper to the top of the table, letting the pattern fall down the sides of the tabletop by about half an inch. This gives the illusion of a slab marble construction when viewed from the side. Then I stuck on one large piece of wallpaper all the way around the sides of the table in one continuous motion, simultaneously covering that topmost overhang by about a 1/4-inch so that I was left with a clean edge.
One extra supply I used during this process was spray adhesive. Even though I knew the wallpaper had a good amount of "stick" to it, I wanted an extra layer of strength, so I took the table outside, sprayed it with a thin and even coat of spray adhesive, and then stuck my wallpaper on top. This did make it harder to peel back and reposition the paper as I worked to lay it down, but I only had to do that a couple of times, and it worked out just fine. Work quickly, and really commit to your design. Don't overthink it or hesitate too much! Just go for it, knowing that you can trim things as needed with a utility knife at the end. Oh, and don't forget to use a wallpaper smoothing tool to get rid of air bubbles as you go.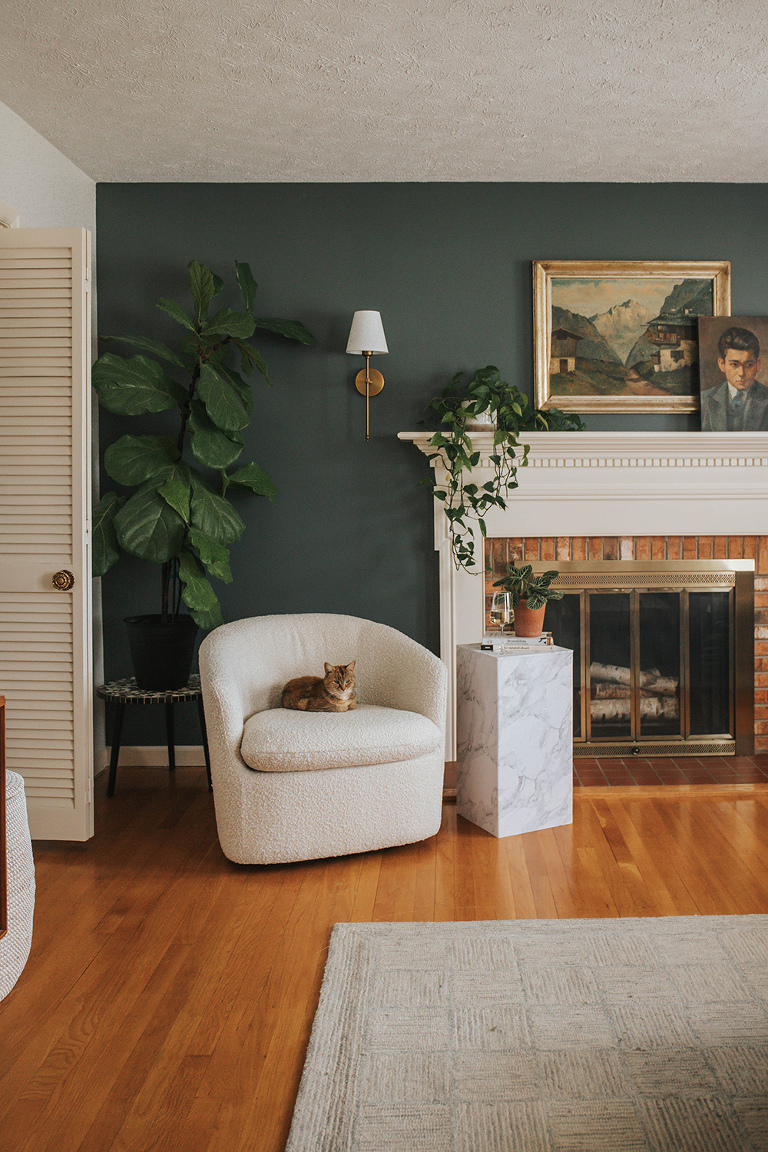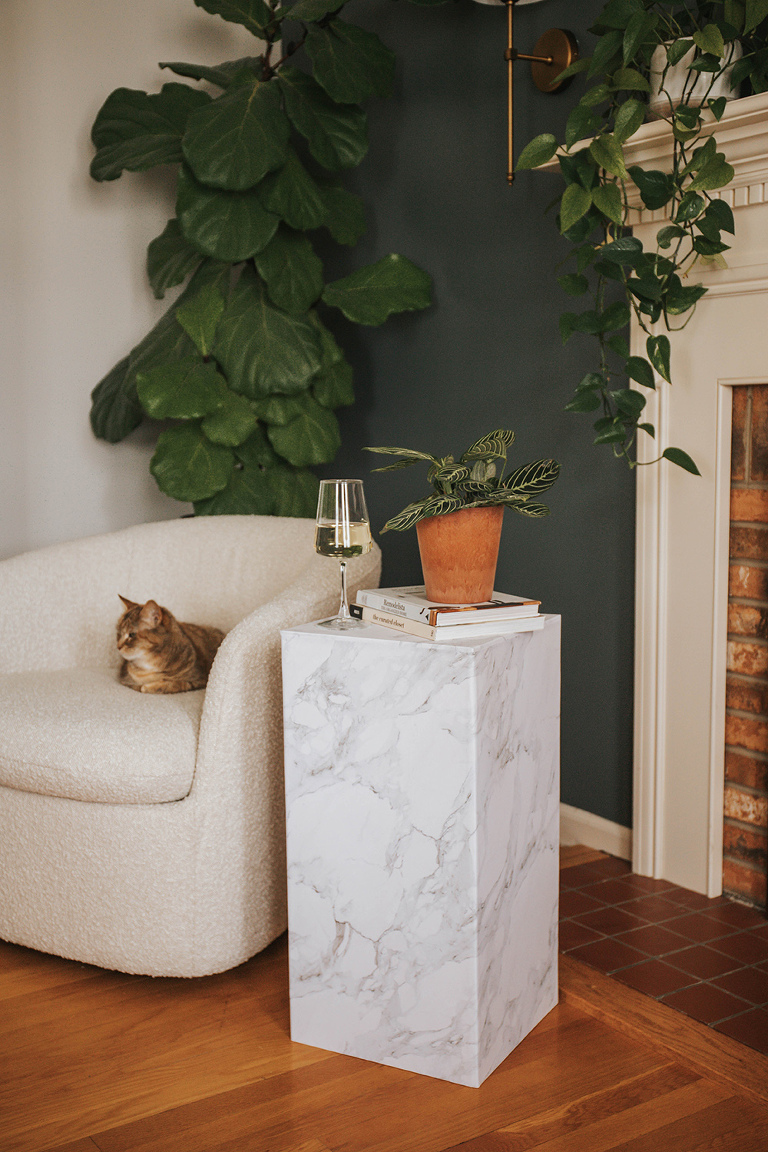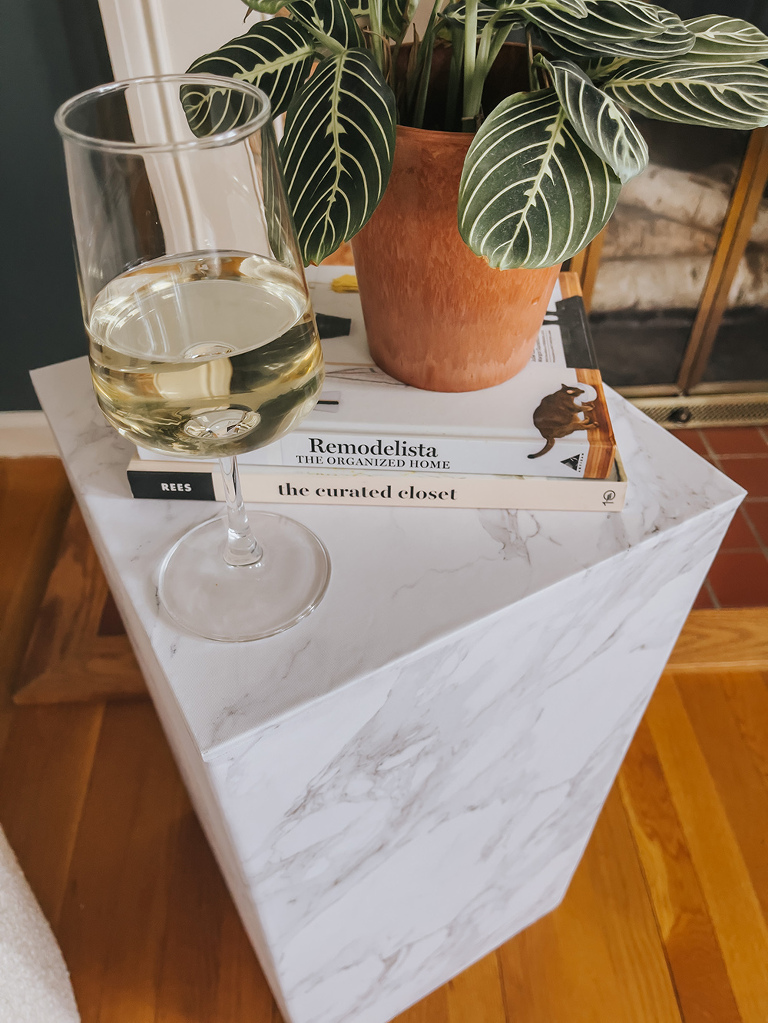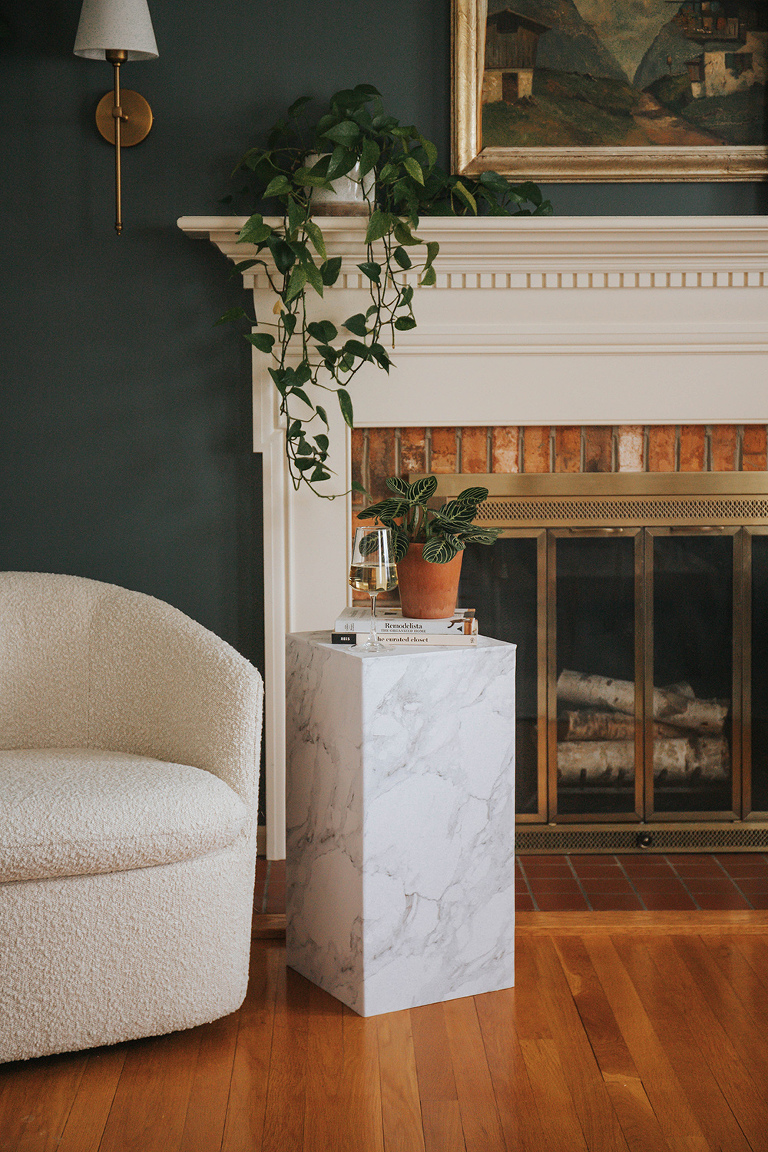 The great thing about this project is that once you're finished wallpapering, you're done! I love a good instant finish to a DIY project, especially when the first few steps took days to complete. I will say that this project is more of an advanced one and may test your patience, but I think a good chunk of the excess time and stress I felt during the project was because I was going at it completely blind. I didn't have a tutorial to go off of. I was problem-solving and creating completely on the fly as I went, so you can skip all of that now that I've been able to test the method and prove that it works.
I don't say all of that to frighten you off from trying the project, by the way! I highly recommend giving this one a shot if you're feeling like advancing to the next stage of your DIY abilities. I love how the table turned out, and genuinely think it has a good chance of fooling people who see it in our space and don't know that it's made of faux materials. What do you think? Does it look like real marble to you? And could you see yourself recreating this project for your own space? Let me know in the comments.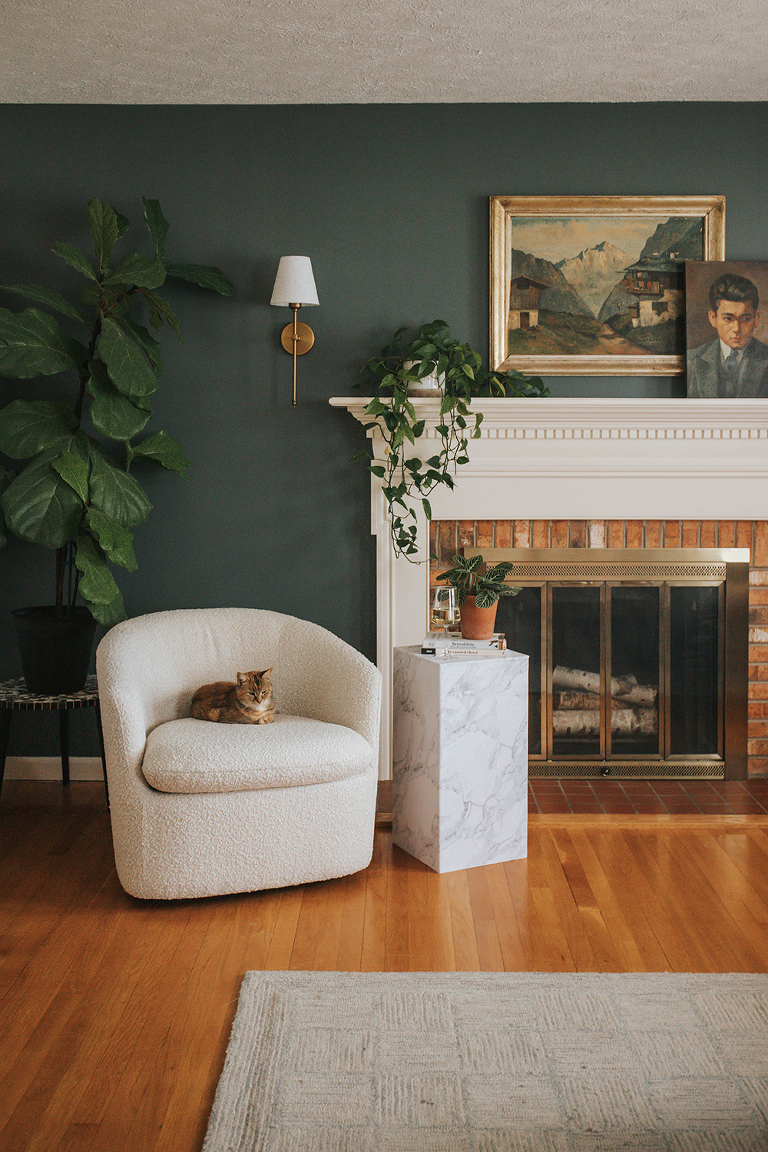 *I earn a small percentage from purchases made using the affiliate links above. Affiliate links are not sponsored. Rest assured that I never recommend products we wouldn't use or don't already love ourselves.