Well, it's certainly not the prettiest project I've ever shown off here on the blog, but it may take the cake for "most functional," so I'm still considering it a win. Introducing the brand new set of custom built-in shelves in our main entry closet! This project has been on my list pretty much since the moment we moved in last November—or at least it's been on my list since that first week we lived here. There's so much you learn about your new home in those first few days, and I knew early on that this entry closet was going to need some work.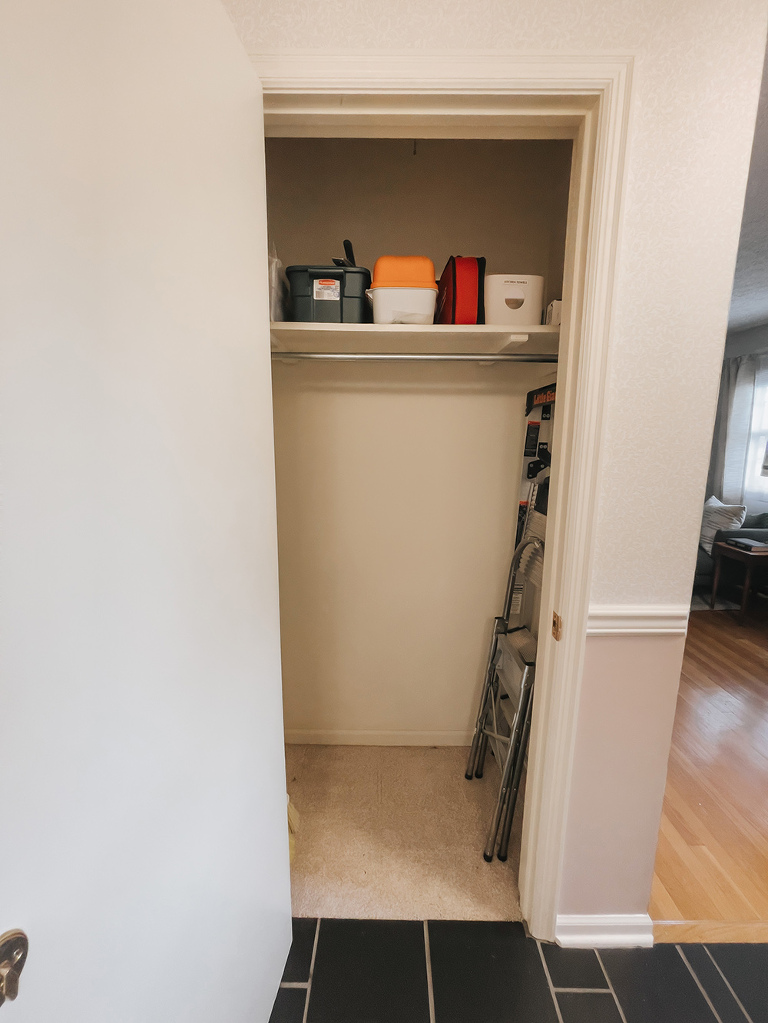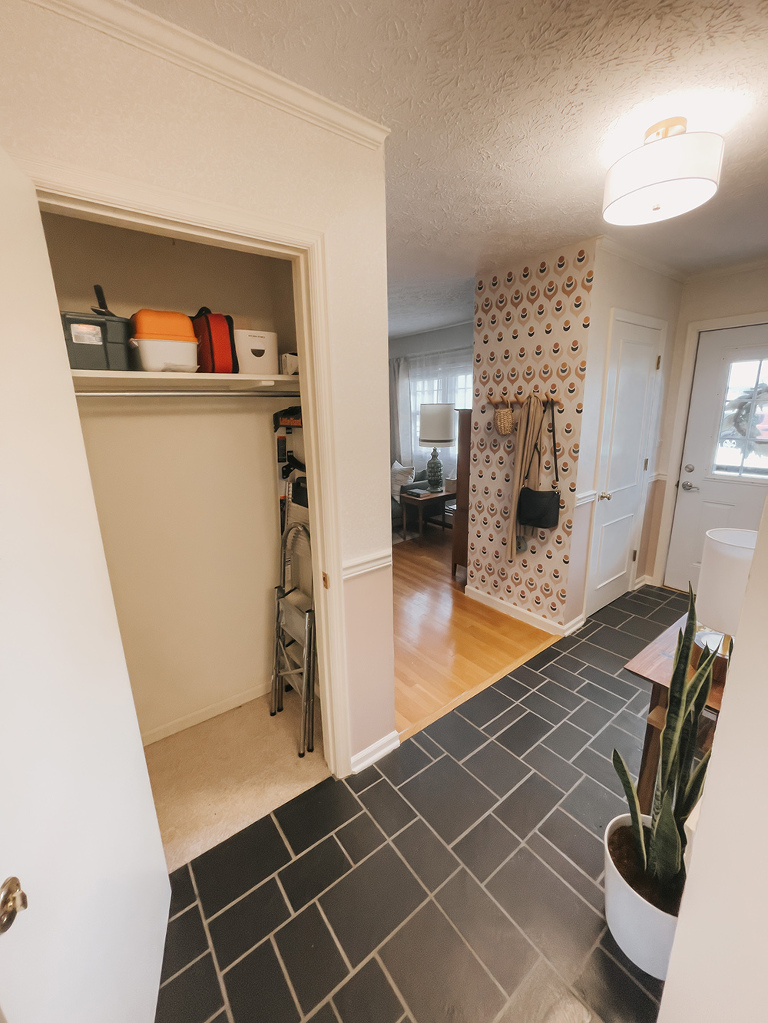 As you can see in the photo just above, our entry actually has two closets. Both were set up for hanging clothes, namely coats, but it's just John and me in this house, and we don't have that many coats between the two of us. We filled up the one closet near the front door with outerwear, but we definitely didn't need a second coat closet. Instead, I decided to use that bonus space to store my tools.
Because of this closet's central location in the house, it made sense to use it for all of my most-used DIY project materials. Think: hammer, level, hardware, step ladder, etc. After filling up the single top shelf with those items, there was just so much wasted room in that negative space made for hanging coats. I spent some time mentally coming up with a plan, but other projects took precedence, so I made do with the closet space I had for months and months. This past April, though, I finally had time to fix the situation once and for all.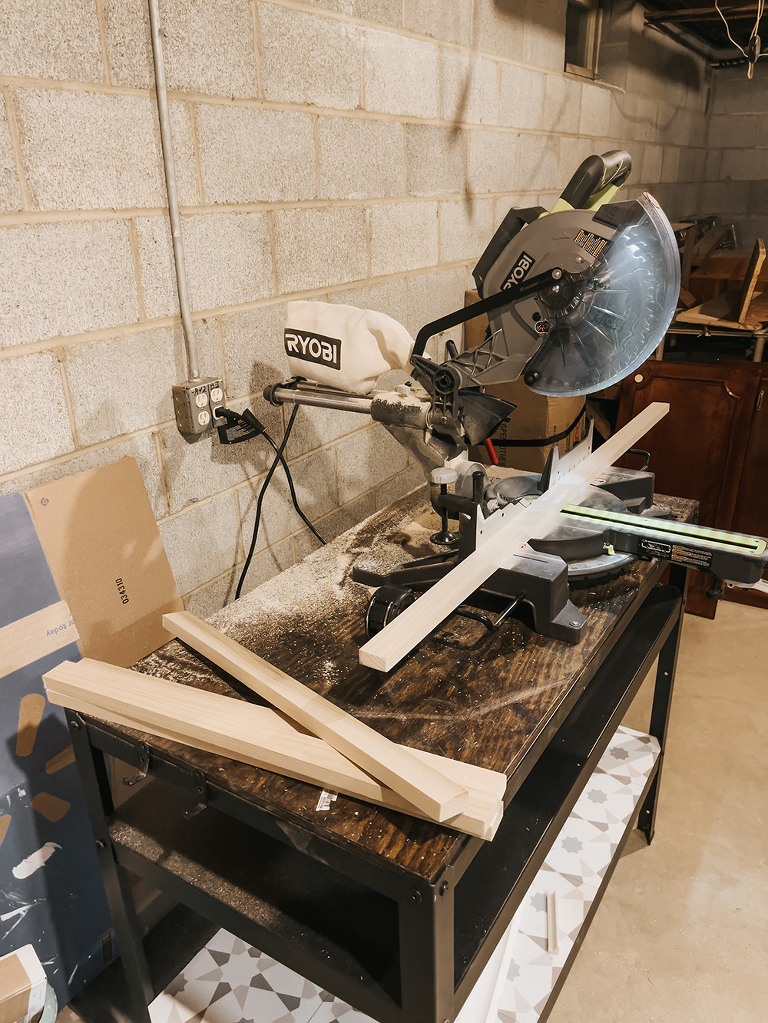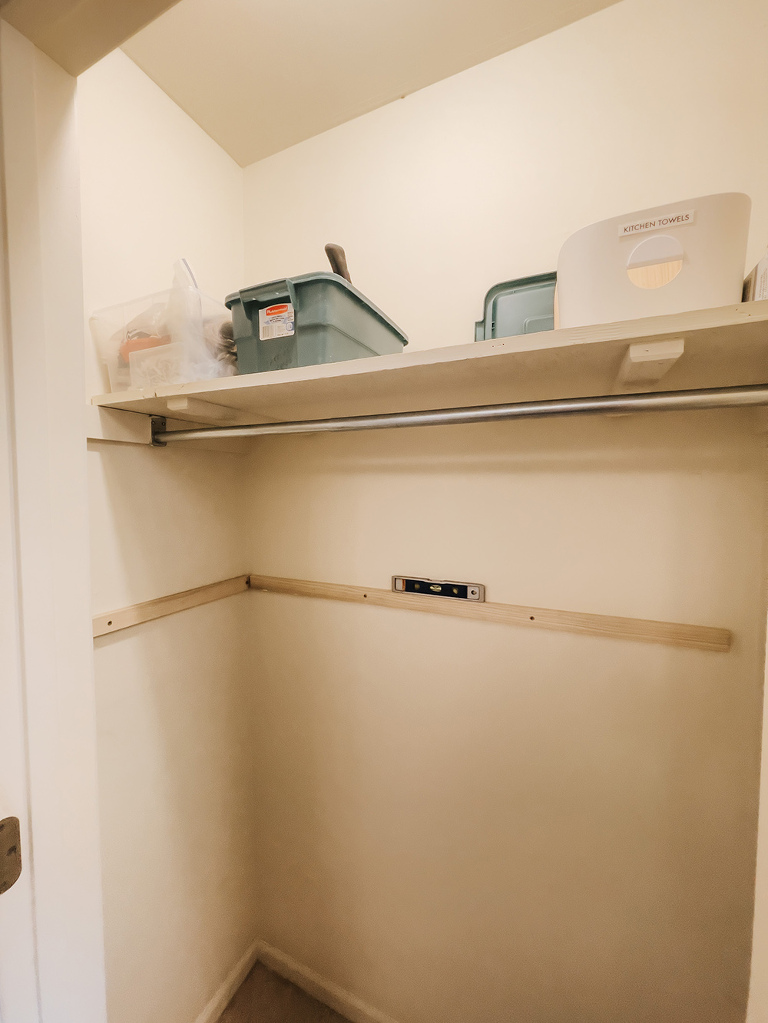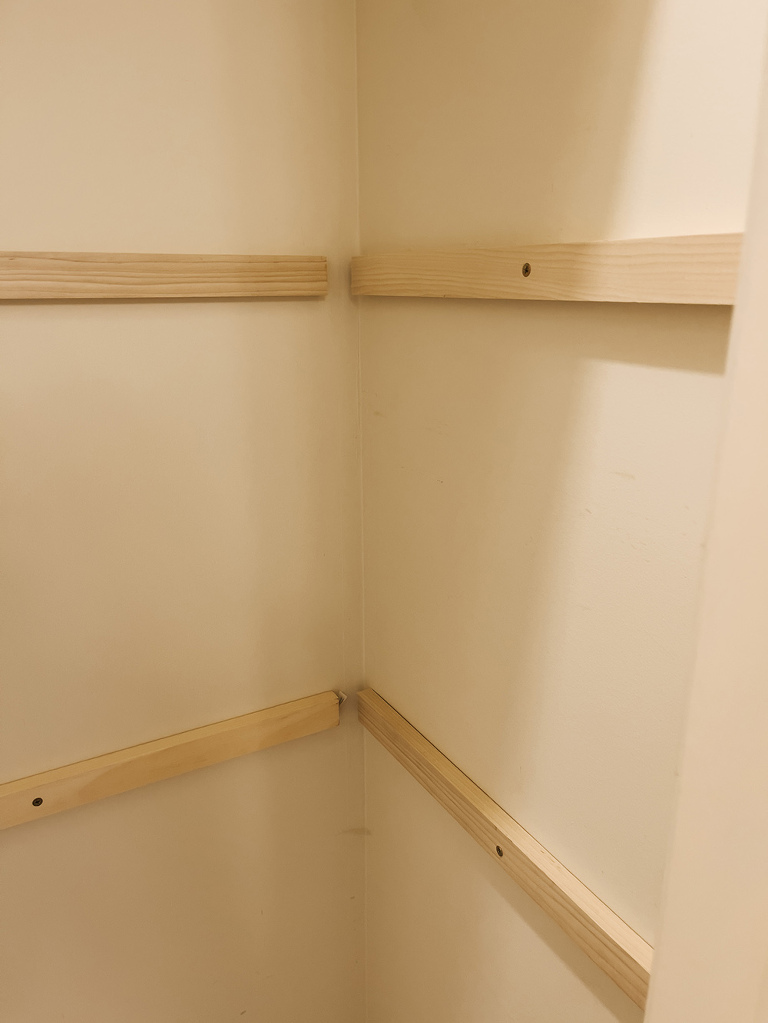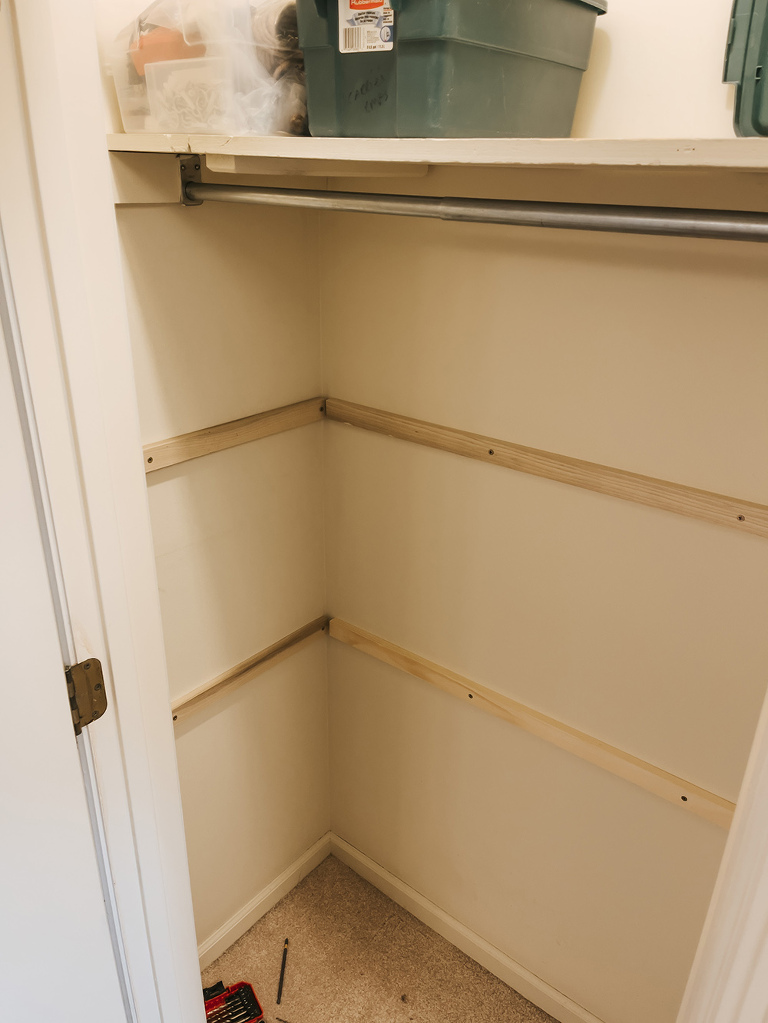 The idea was to build a series of new shelves below the one existing top shelf using the same exact construction method employed for that one. Essentially, I would cut some 2-inch-by-1-inch pieces of wood to the length and depth of the closet, screw those levelly into the studs, and then place a cut piece of shelving wood across the expanse, and nail it into place. It really was that simple and straightforward.
I should mention that since the small pieces of wood screwed into the studs were going to be entirely hidden by the top shelf wood, I didn't really bother with making them look super uniform in the corners. The strength and function was taken care of, and I didn't see any point wasting time making it look "pretty" when no one would ever actually see that part of the construction. It works and that's what matters!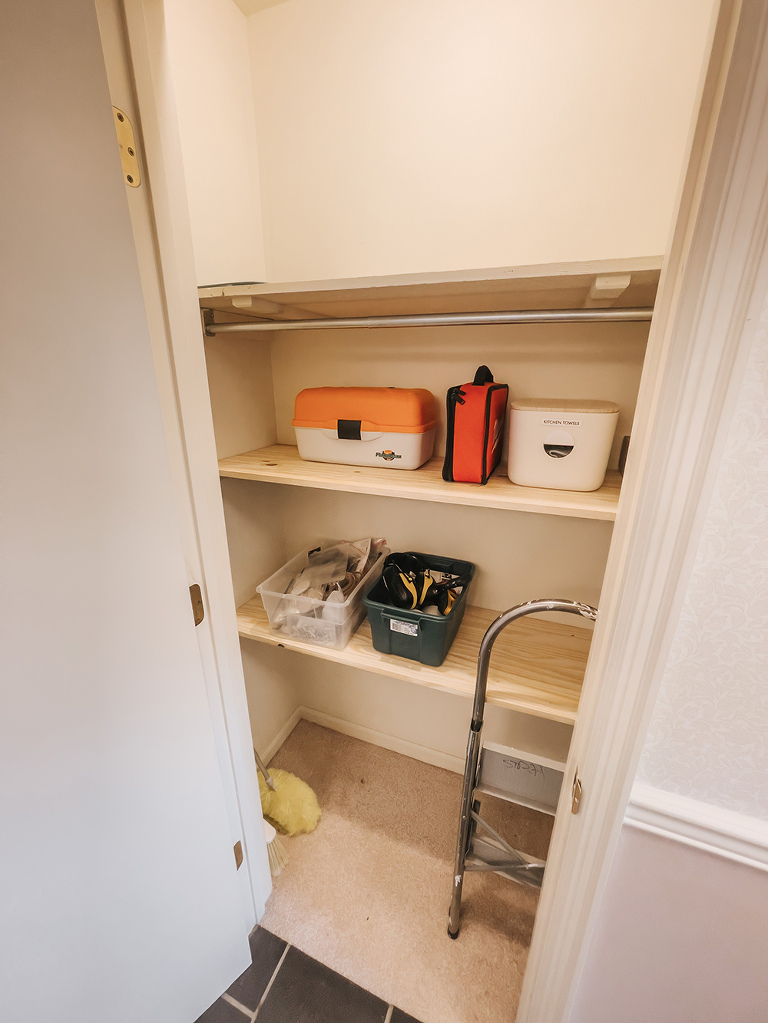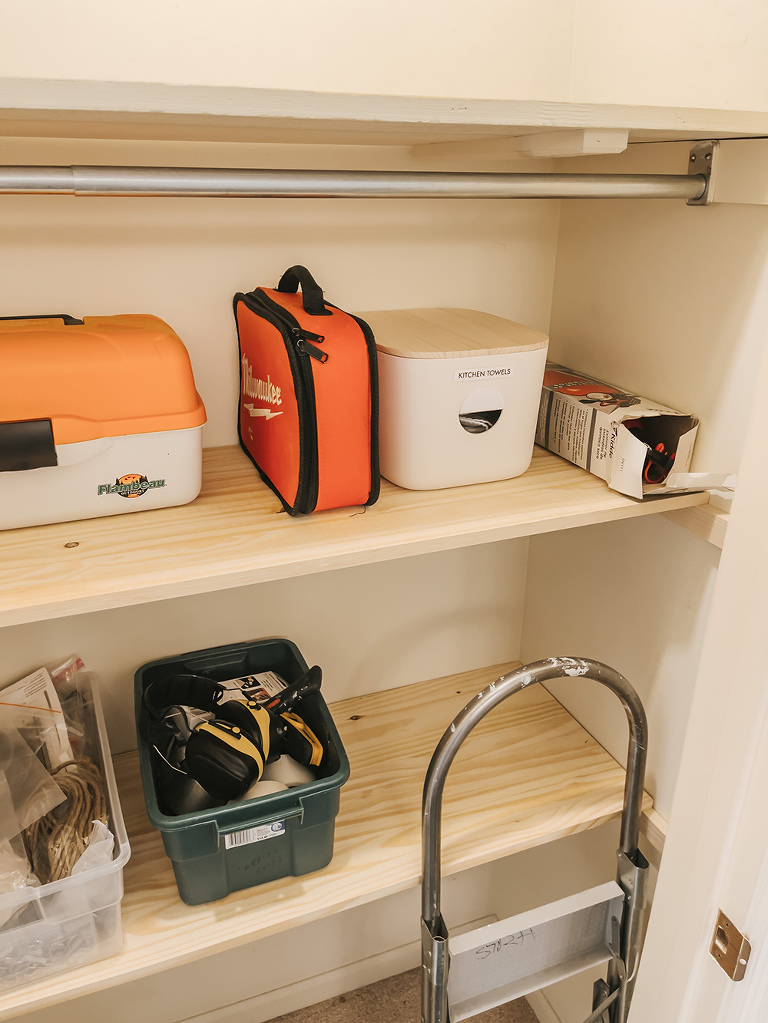 The entire process went off without a hitch, and that's really saying something considering my bad track record with measuring. I just took things slow, measured multiple times, and kept a notepad nearby so I could jot my numbers down as I went instead of trying to remember them on my own. Like I said, these shelves aren't the prettiest surfaces in the world, and I do plan to eventually paint them to match the walls and trim, but the functionality of the closet has multiplied ten-fold with the new addition of these full-length shelves.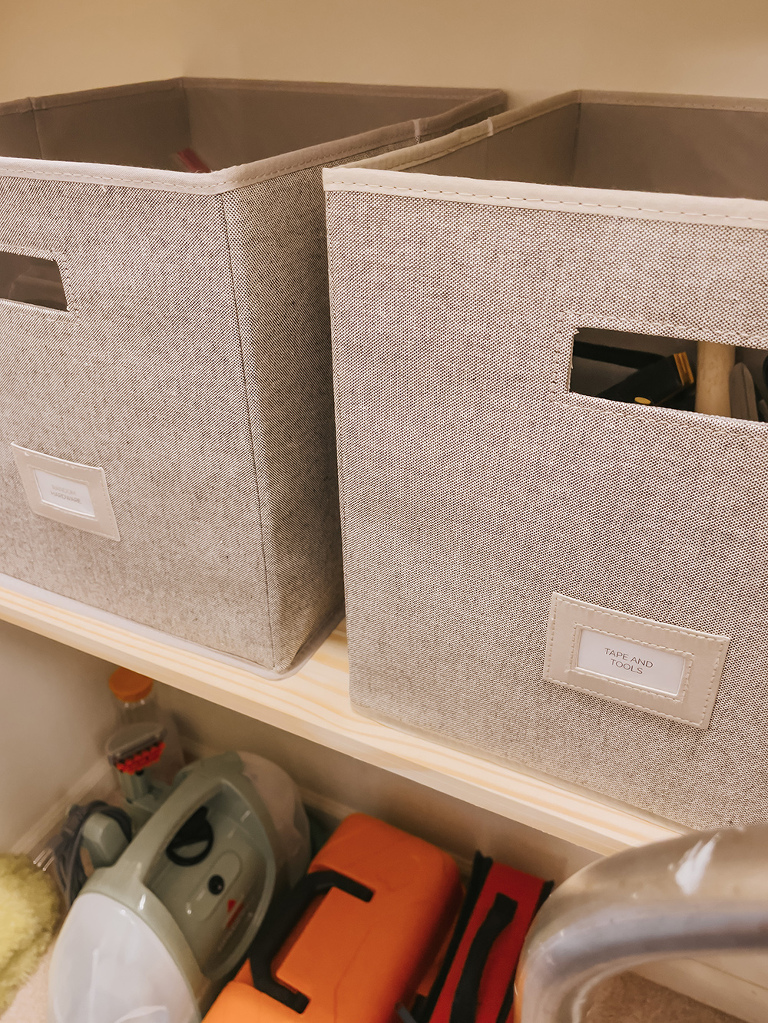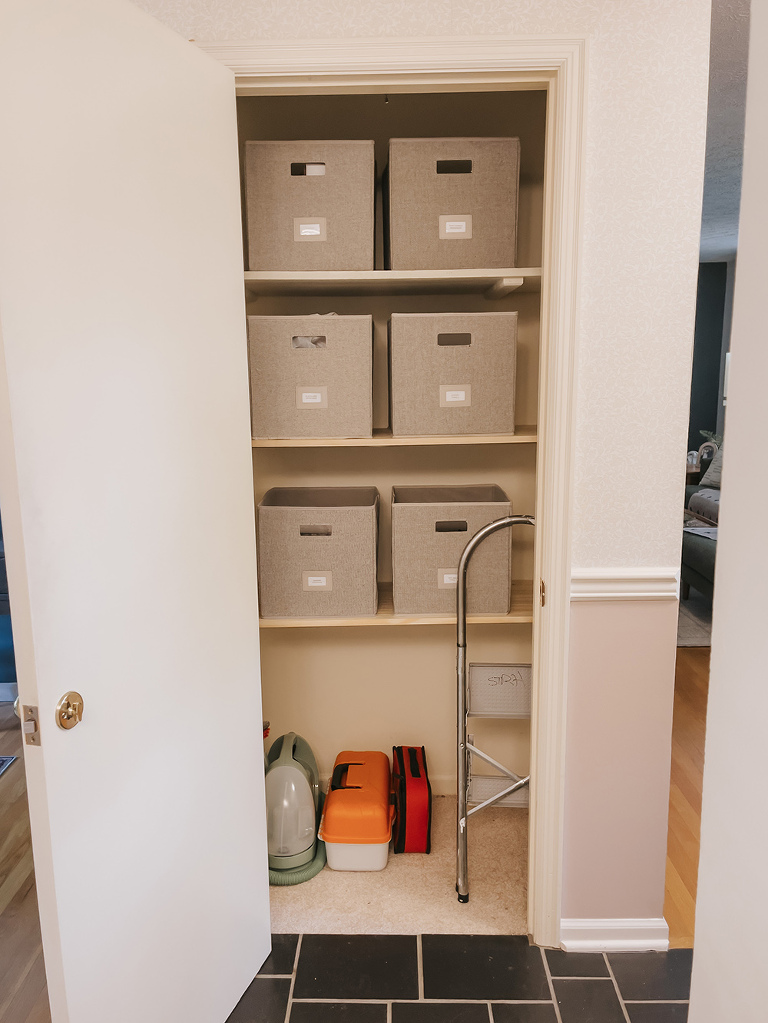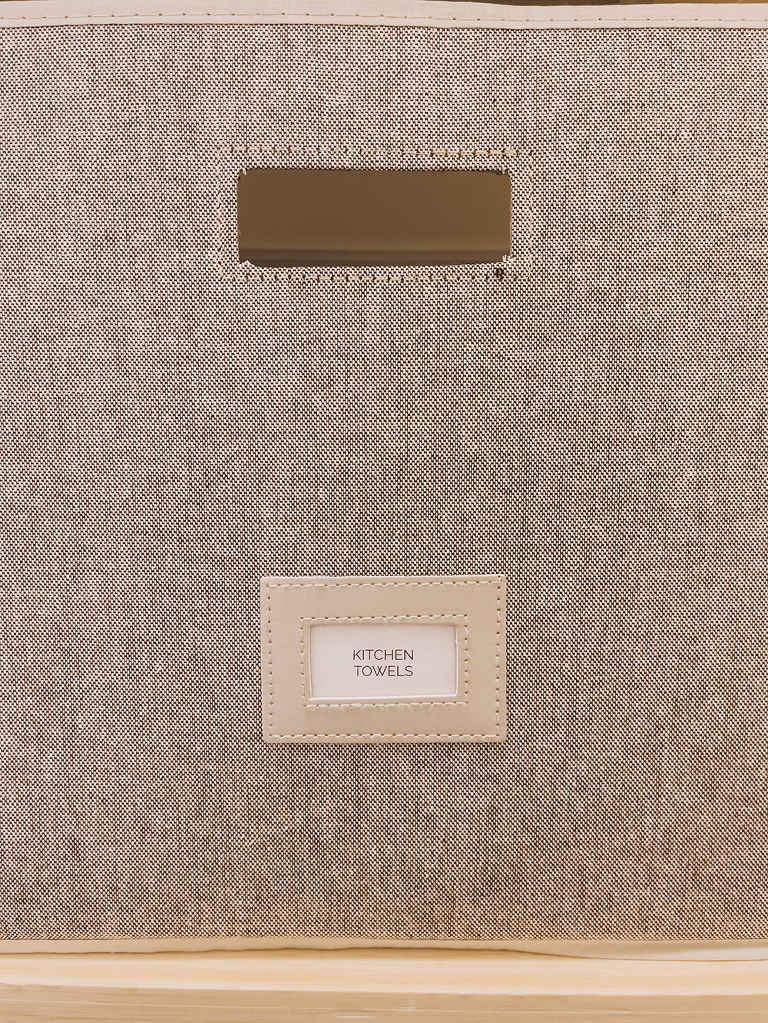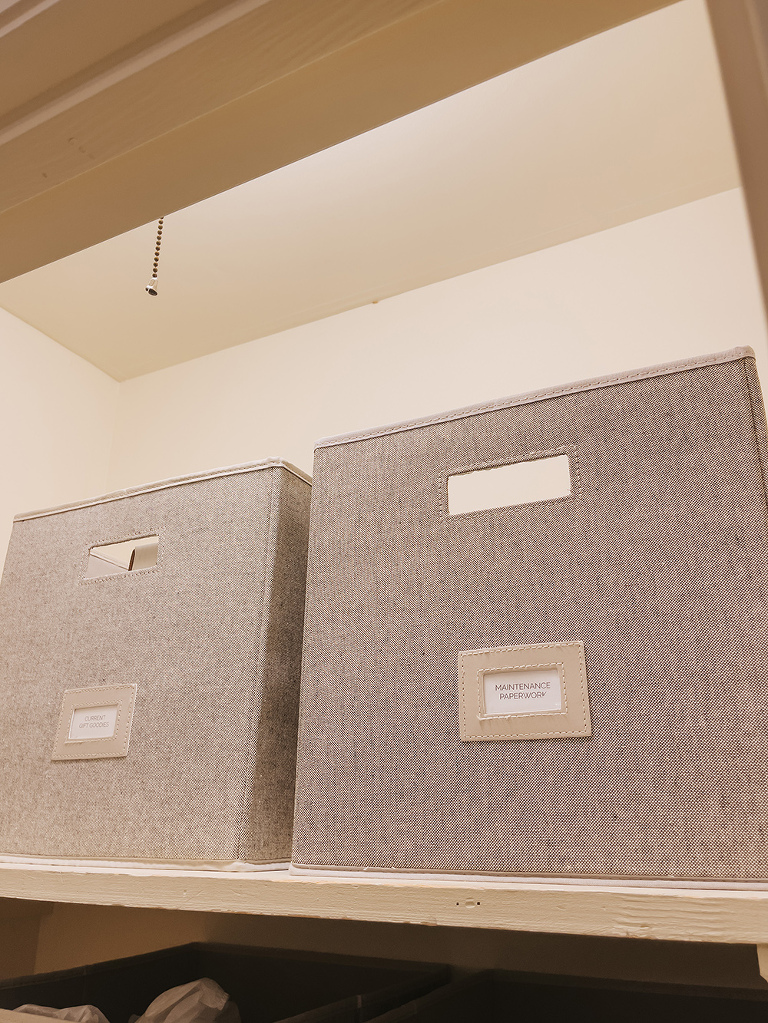 I even decided to spring for a set of matching fabric storage boxes to commemorate the occasion. These came from Walmart, and were super affordable—less than $9 a pop. I love how the matching texture and color of the boxes helps give the shelves a little bit of sophistication and uniformity. I kept some random boxes and totes on the floor because, after all, this is just a closet, but the matching boxes at eye level make me feel like it's at least semi "designed."
I now have room to store all sorts of extra things, like current gifts that have yet to be given (anybody else an early holiday/birthday shopper?!), our pile of house maintenance paperwork and records, clean kitchen towels, plastic and paper bags to be given a second life, and, of course, all of my tools. This new setup has made life so much easier, and I can't wait to copy the look in other closets in our new home. Is there a closet in your home that you could stand to outfit with new shelves? Let me know if you have any specific questions on how I did it!


*I earn a small percentage from purchases made using the affiliate links above. Affiliate links are not sponsored. Rest assured that I never recommend products we wouldn't use or don't already love ourselves.